Fact Checked
Optus has a lot to offer as one of Australia's biggest telcos and ISPs, but did you know company also offers home wireless broadband plans? If you're not a fan of the NBN, or can't get a wired connection where you live, then home wireless broadband may be perfect for you as a simple 'plug-and-play' home internet alternative. And as home wireless providers go, Optus is hard to beat.
Optus is one of few providers that offers 5G network coverage for home wireless broadband, in addition to its mobile plans. However, you'll have to be lucky enough to live in one of the select areas where 5G is available. Away from these suburbs, Optus home wireless plans operate on the telco's existing 4G Plus network. If you're interested in picking up a home wireless plan from Optus, read on for everything you need to know.
How much does Optus home wireless broadband cost?
Optus offers 4G and 5G home wireless broadband, with the separate technologies meaning different prices – 4G plans start at $59 per month for unlimited data, whereas 5G plans start from $79 per month for unlimited data. 4G plans are widely available, with the network sprawling across the country, whereas 5G plans are much faster, although the network is limited to certain locations in major cities.
Optus 4G Home Wireless Plans
4G Internet Unlimited: Unlimited data for $59 per month, minimum cost $1,416 on a 24-month plan or $275 month-to-month
You can pay either for a 24 month plan or a month-to-month plan. If you stay connected for 24 months on the 24 month plan, you'll get the included modem for free, otherwise you'll need to pay an upfront modem fee of $216. See the plans below.
Optus 5G Home Wireless Plans
5G Internet Everyday: Unlimited data for $79 per month (capped at speeds of 100Mbps), minimum cost $655
5G Internet Entertainer Superfast: Unlimited data for $99 per month (no speed cap), minimum cost $675
Optus' 5G home wireless broadband plans offer a '50Mbps Guarantee', whereby if you're not reaching speeds that high, you can cancel your contract without any extra fees. The typical evening download speed for Superfast plans is 210Mbps between 7pm and 11pm, but Everyday plans are capped at download speeds of 100Mbps.
The modem is a necessary purchase for 5G, but is included free if you stay connected for 36 months. If you cancel early, you'll need to pay a device fee to cover modem costs, which can be up to $576 depending on the length of your connection.
What do you need for home wireless broadband?
You'll need a wireless modem and a SIM card, which is delivered by your chosen provider. You can buy a modem alongside a SIM card, although some providers allow you to bring your own modem. All you need to do is plug the modem into a power socket, insert the SIM card into the modem, and you should be good to go.
What network does Optus home wireless use?
Optus uses its own 4G Plus network for its 4G plans, and own 5G network for its 5G plans. Smaller telcos typically have to use the networks owned by Optus, Telstra and Vodafone, and usually don't have access to the whole network, but you don't have to worry about that with Optus because you'll get the best coverage available from the telco in your area. Keep in mind that 5G is still being rolled out across Australia.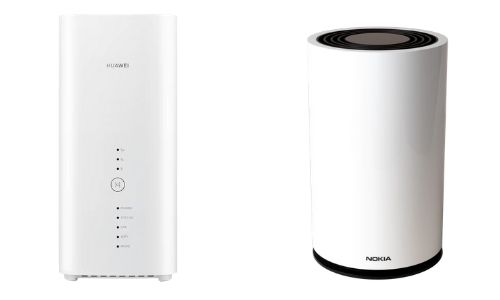 Two wireless broadband modems offered by Optus: The Huawei B818 for 4G plans and the Nokia FastMile for 5G plans.
How fast is Optus home wireless broadband?
On an Optus 4G home wireless plan, you'll be able to reach download speeds of up to 25Mbps, although real-world results will vary. This puts 4G coverage on par with Basic NBN 25 internet, which should be perfectly fine for most web browsing, social media and streaming/gaming. It is theoretically possible to achieve 4G download speeds anywhere up to 100Mbps, but Optus throttles its plans to a maximum of 25Mbps for downloads, and 2Mbps for uploads.
On an Optus 5G home wireless plan with no speed caps, the telco says average download speeds sit at 210Mbps, much higher than most NBN plans on the market, and Optus is willing to guarantee it – promising you can expect speeds of at least 50Mbps.
Optus Home Wireless Plans Compared
If you're considering switching to a 5G home wireless plan, Optus isn't your only option. We've compiled a selection of 5G home internet plans below.
Optus might be one of a handful of providers offering 5G home wireless broadband plans, but its 4G home wireless plans are worth comparing to other providers, including smaller carriers that also use the Optus network.
Optus Home Wireless vs NBN
Optus' NBN plans start from $79 per month for Standard Plus NBN with a $331 first month minimum cost (including a required modem at the checkout), meaning fixed line internet from Optus is similar in price to its home wireless offerings. But of course, there are numerous pros and cons to both types of broadband connection and price is unlikely to be the deciding factor for you, especially if NBN is simply not an option where you live.
If you'd like to compare Optus' home wireless broadband plans to its NBN plans, see the table below. The following table includes a selection of unlimited Optus NBN plans listed in order of standard monthly cost, from the lowest to highest, and then by alphabetical order of provider. Use our comparison tool above to see plans from a range of other providers. This is a selection of products with links to a referral partner.
Why should I switch to Optus home wireless broadband?
Optus simply has some of the biggest and best home wireless plans on offer, especially if you can access 5G coverage where you live. 5G home wireless broadband is the potential 'NBN killer' Australia has been waiting for, so Optus is at the forefront of the best internet options available across all types of broadband.
As far as 5G plans go, Optus currently offers a 50Mbps satisfaction guarantee, along with frequent 'first month free' specials for new customers. While the base 5G Internet Everyday plan is capped at 100Mbps speeds, the pricier 5G Internet Entertainer Superfast option offers an average download speed of 210Mbps between 7pm – 11pm, with no speed cap. If for some reason the 5G network goes down, you'll automatically be redirected to the 4G network, which is slower, but at least you won't drop out.
On the 4G side of things, Optus offers contract and month-to-month plans, perfect for any consumer's needs, with all plans featuring unlimited data. The only downside is the maximum download speed of 25Mbps.
Optus home wireless key takeouts
'NBN killer' 5G plans available in select areas
4G plans start at $59 per month, 5G plans $79 per month
4G plans speed capped at 25Mbps
Choice of month-to-month or contract plans
All plans come with unlimited data

Original Author: Simon Downes