Have you ever thought you're paying too much for the mobile phone service you receive? A lot of people question their phone plan's value, but don't actually do anything about it. Canstar Blue research has found that only 1 in 10 Aussies have switched providers in the last 12 months, which means many of you have fallen into 'lazy trap' and are likely paying too much.
To get the best deal, you usually have to choose a SIM Only plan (i.e. not bundled with a phone) from a Mobile Virtual Network Operator (MVNO) that uses the wholesale Telstra, Optus or Vodafone networks to provide a cost-effective plan. These plans can come in either a prepaid or postpaid format. So what are Australia's cheapest phone plans? We'll compare prepaid and postpaid options to find you a better deal.
Our research found that prepaid mobile users spend an average of $28 per month with their service, while postpaid users spend $43. Consider how this compares to your normal spending and see if any of the plans featured below might offer you better value.
Compare Cheap Phone Plans
Cheap iPhone X Plans
We'll go on to compare the cheapest SIM Only phone plans in a moment, but if you're here looking for cheap iPhone X plans, here are the latest offers from Australia's big telcos:

What are Australia's cheapest phone plans?
There are a number of prepaid providers offering cheap phone plans for under $10 per month, or with very short expiry periods of just 7-10 days. However, the first lesson to learn here is that cheapest does not mean best, because these cheap plans come with minimal inclusions, sometimes with no data. They are often simple PAYG plans where you get the dollar value that you pay for. You will likely require more than these plans can offer, but if your usage requirements are modest, here are the highlights:
TPG offers a $1 per month prepaid plan with PAYG call and text rates, plus 50MB of data and uses the Vodafone Network.
Telstra offers a '$5 for five days' recharge that brings unlimited talk & text, plus 100MB of data over one day, billed every five days. Telstra obviously uses the Telstra Network.
Yomojo offers a $7 base prepaid plan where you can build your own plan to suit your specific needs over 30 days. Yomojo uses the Optus Network.
All three account for calls & texts differently. For example, with TPG a two-minute phone call costs 29.8c with 10c flagfall and texts costs 9.9c each, while with Yomojo calls are minutes-based and texts are variable, and with Telstra you get unlimited calls as well as texts. With TPG's plan, the $1 portion could easily be blown out if you aren't careful. Data costs are also a huge factor, with TPG charging 10c a megabyte.

You've probably realised that if you're spending under $10, you probably don't stand to receive much in return. These plans above, while cheap, may fail to meet the demands of modern day mobile phone use, where data, browsing and streaming are kings. For those desiring more data to play with, some arguably more exciting plans await your perusal below.
Other carriers that may be worth a look:
Cheap Phone Plans with 1GB Data
We've looked at cheap phone plans with short expiry periods, but what about those over 28 or 30 days? 1GB of data a month should be just about enough for those people who simply crave some social media chat and web browsing on the bus journey home, but you won't always get unlimited talk and text chucked into the bargain.
Jeenee Mobile – Unlimited calls & texts, 12 month contract for $9.90.
OVO Mobile – $200 call value, unlimited texts, prepaid 30 days, $9.95.
Amaysim – Unlimited calls & texts, postpaid or prepaid 28 days, $10.
There is so much competition out there in the budget end of the market. Other providers worth keeping an eye out for are SpinTel, Exetel and Moose Mobile.

Cheap Phone Plans with 2GB Data
2GB is a significant step up in terms of data, as you'll now likely have enough to get all the basics done, plus some cat videos to laugh at every now and again. 2GB plans boost value not only in data, but most providers also offer unlimited calls and texts at this price point.
Jeenee and TeleChoice are two of the cheapest providers, but you do have to be willing to sign up for 12 months.
Moose Mobile and Yomojo are the cheapest no-contract options with unlimited calls and texts.
If you desire something on the Telstra network then TeleChoice may be what you're after.
Catch of the Day also has a suite of phone plans, labelled Catch Connect, with one option coming in at just $15 for 2GB
Once again Amaysim is tough to beat with 2.5GB for only $20. Keep in mind that this is over 28 days, however, and not 30 or a full month.

Cheap Phone Plans with 5GB Data
This is the business end of the mobile phone plan market, with some serious competition between the providers. While there are plans from Jeenee and Exetel that are pretty cheap, you do have to be willing to sign up for a year.
If you want something on a no-contract basis,SpinTel is one of the cheapest to offer 5GB data
Jeenee offers its 6GB plan for less than $25,  These plans are over 12 months but there are no lock-in options with slightly less data
Amaysim also comes to play with good value here, and has historically been a strong contender in both our prepaid and postpaid customer satisfaction ratings.
Unlimited calls & texts are pretty much a foregone conclusion by now, and to get the best deals you may need to sign up for 12 months. But you'll need to ask yourself how that plan will look at the end of the contract, and find out if your needs will change in a year's time.

Cheap Phone Plans with 10GB Data or More
By now we're starting to talk big bucks, but these days you'll certainly get value for money if you're a data heavy user. No longer do you have to pay over $50 a month if you want 10GB – the cheapest plans come in at under $40!
Moose Mobile currently lays claim to a very cheap, no-contract plan with 10GB, costing just $34 a month.
Jeenee Mobilealso gives you a choice – 10GB with no-contract, or 12GB on a 12 month contract.
Vaya also comes in with a competitive option, with regular extra stuff to keep you on your toes, while Kogan Mobile is a provider on the Vodafone network and also has a pretty competitive plan.
Amaysim also comes to play with a competitive plan over 28 days. If telcos are already offering this much now, imagine how much they could offer 12 months down the track! In this fast moving segment, by signing up to a no lock-in contract, you may lose out now, but may benefit in the long run when the next hottest plan comes to your doorstep.

If you can manage to use even more data in a month, then you're still well taken care of. Jeenee Mobile once again comes to the ball game with a massive 18GB for $50 if you're willing to stick around for a while, while Amaysim offers 15GB for about the same price, albeit on a no-contract basis. Kogan also offers a massive 23GB on a prepaid basis. Also keep an eye out for Jeenee's 'Mammoth' plans that provide large amounts of data but at 3G-only speeds.

Are cheap phone plans a good move?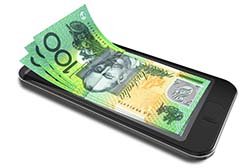 Cheap mobile phone plans may seem tempting, but some of them come with some limitations that put off many a discerning customer. At the most bargain-basement end of the spectrum, a lot of providers offer seemingly solid value, but plans commonly feature short billing periods – say 7 or 10 days – which means costs can quickly add up if you recharge three or four times to get a full month's worth of service. Suddenly that plan won't be so cheap after all.
At these low prices, you'll also be subject to call and texting caps, which can dissipate quickly if you're used to dearer phone plans with unlimited calls and texts. You'll also find some other providers have PAYG call, text and data rates that can also add up rapidly if you are not constantly on-track with your phone use.
The good news is, you can get a full 30 day or monthly phone plan with unlimited calls and texts for as little as $10 these days, and these come with 1GB data to boot. Value only seems to increase the more you spend, with 10GB plans coming in at under $40. A common theme appearing is that providers offer data bonuses if you're willing to sign up for 12 months. While these deals look great on paper, you will have to consider whether you like flexibility and what else will be out there a few months down the line.
Either way, it's best to compare a range of different providers with both postpaid and prepaid payment terms, because there is no one size fits all answer. Whatever you do, make sure you take action if you suspect you're paying more than you need to.