SIM-Only Mobile Phone Plans
If you've been locked into the two-year new-phone-on-a-plan cycle, you may not be familiar with SIM-only phone plans. An alternative to signing a standard 12, 24 or 36-month phone contract, a SIM-only plan allows you to bring your own device to the provider and select a plan of your choice. There are plenty of telcos that offer SIM-only phone plans, which means these plans are quite competitive as providers fight it out to offer the best value for money to entice you over. Let's take a look at SIM-only plans and how comparing SIM-only plans can help you save money on your phone bill.
What is a SIM-Only phone plan?
A SIM-only phone plan provides call, text and data services, all through a small plastic SIM card that's inserted into your device. SIM-only plans do not come with a new phone, but are great for those who already have a phone they want to keep or if you choose to buy your phone outright. If you want a new phone bundled with a plan, you'll need to choose a phone on a plan, which is only available from a limited number of telcos.
How do SIM-Only plans work?
Instead of receiving a new handset, you'll simply receive a SIM card that's connected to the telco's network. Simply insert the SIM card into your unlocked phone, activate and set up your plan, and you're good to go – without the long-term contracts and hassle of signing up for a new device.
Generally, a SIM-only plan will feature all or most of the inclusions and extras provided on your telco's standard postpaid plans. But because you're not adding in the cost of buying a brand-new smartphone, you'll pay less each month. Plus, you won't be required to sign a lock-in contract unless, of course, you opt for a SIM-only plan on a contract over 12-months for example.
You'll also get to pick your own device: whether it's brand new, pre-owned, a budget-friendly smartphone or a device handed down by a family member, you're not limited to the range of new phones stocked by providers, which are often the premium and more expensive devices. Telcos use the promise of a new, shiny smartphone as a means of chaining customers to a network long-term, but if you skip the phone upgrade, you can enjoy more flexibility, choice and even some savings.
If you're interested in signing up to a SIM-only phone plan, or you want to compare SIM-only plans currently on the market, read on to find out more.
SIM-Only Plan Comparison
Further down the page we'll take a deeper look into the different SIM-only plans available to help find the best SIM-only plan for you. But if you're in a hurry, the table below shows a comparison of select SIM-only postpaid plans from Canstar Blue's database with a minimum of 10GB data, listed in order of advertised standard monthly cost, lowest to highest, then by data allowance, largest to smallest. Use our comparison tool to see a wider range of plans from other providers. These are products with links to referral partners.
Why choose a SIM-Only phone plan?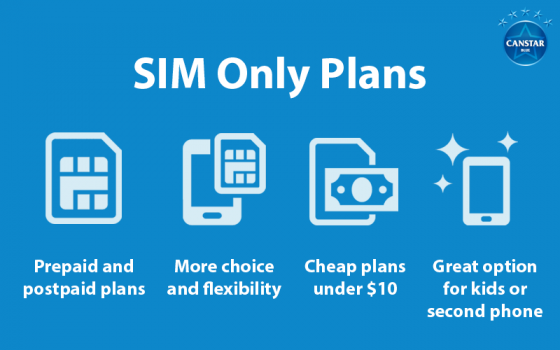 The obvious reason to jump to a SIM-only plan – also known as a bring-your-own (BYO) phone plan –  is the potential to save some money, even just short-term. Reasons you might be better off on a SIM-only plan include:
You love your current phone and don't need to replace it
You're looking to cut down on your monthly mobile costs
You're waiting for an upcoming phone release and don't want to upgrade or sign a new contract just yet
You like to swap between phones
You're looking for a phone plan for your kid, and already have a handset for them
Your mobile usage can vary month-to-month
You want more flexibility from your mobile plan
Essentially, if you're happy with your current phone and want to save on your phone bill, SIM-only plans are worth looking into. You'll need to make a few decisions on whether you want a prepaid or postpaid SIM-only plans, how much data you'll need, if you want to go month-to-month or sign up on a 12-month plan.
You'll also find that there are more telcos to choose from when going with a SIM-only plan. While Telstra, Optus and Vodafone all have SIM-Only plans Mobile Virtual Network Operators (MVNOs) are the smaller operators using the Telstra network, Vodafone network or Optus network to provide services. Many of these smaller telcos tend to offer cheaper phone plans than the big three, although you typically won't get the same perks such as data-free entertainment streaming, entertainment subscriptions or unlimited data.
Prepaid SIM-Only Plans
If you like to pay in advance, and don't want the worry of paying for excess data use, prepaid plans are your best bet. You'll pay for a set number of inclusions or credit each billing period (usually 28, 30, or 35 days); once this is exceeded, you'll need to manually recharge before you can call, text or use data. Some telcos do allow you to set up auto recharge for prepaid plans.
The one disadvantage to a SIM-only prepaid plan is the billing period, also known as the expiry period. Because you're pre-paying for a set amount of time, rather than being billed each month, you may have to recharge your plan more than 12 times in a year. Many prepaid telcos offer their plans on different expiry periods. These expiry periods can be short (7 or 10 days), 'monthly' (28 or 30 days) or a long-expiry (90 days, 180 days/6 months, 365 days/12 months or longer). Keep an eye out for cheap prepaid SIM-only plans as that $10 plan might only have a 7 or 10-day expiry period, meaning you'll have to recharge several times a month and suddenly, it's not so cheap.
Prepaid mobile phone plans can be every bit as competitive as postpaid options, and brands such as Boost Mobile, Amaysim, Catch Connect and Yomojo can offer great deals. You'll also find great value in supermarket mobile brands, such as Woolworths Mobile or ALDI Mobile. The below table includes links to referral partners.
12-Month SIM-Only Plans
Although many people opt for a SIM-only plan to avoid signing contracts, the biggest deals are usually reserved for customers on 12-month BYO postpaid phone plans. Telcos want you to stick around, so it makes sense that year-long plans come with the biggest value; if you're not afraid to commit, it's a great way to lock down a good price and score some great plan inclusions.
If you're happy to sign on for a year, smaller brands such as Woolworths Mobile, Southern Phone and Moose Mobile are worth checking out. Below are several 12-month SIM-only plans, all of which include unlimited talk and text, and plenty of data each month. The below table includes links to referral partners.
Month-to-Month SIM-Only Plans
Not ready to be locked into a single plan or provider? You can always sign up for a month-to-month SIM plan. Most telcos will offer no-contract plans, on either a prepaid or postpaid basis, for customers bringing their own devices, although they may come with slightly less data or inclusions than equivalent plans on a 12-month contract.
Plenty of MVNOs sell affordable, data-packed SIM-only plans with no lock-in contract (for example, Boost Mobile and Exetel), but you may also enjoy the extras offered by Telstra. The below table includes links to referral partners.
Cheap SIM-Only Plans
One incentive you might have for switching to a SIM-only plan is to find a cheap plan. You'll find many of the smaller telcos will offer really basic plans for $10 or less. Many of these plans are specifically aimed at kids or other light phone users, such as seniors, therefore they won't include much data and calls might be capped.
If you want a plan around $20 and under, there are some smaller data inclusions but you can also pick up some decent inclusions at these price points. Both prepaid and postpaid providers offer cheap plans, so you'll most likely find something to suit your needs no matter which plan type you choose.
Below is a selection of prepaid and then postpaid plans from Canstar Blue's database for $20 or under, listed in order of standard cost from lowest to highest, and then sorted by data allowance, largest to smallest. Use our comparison tool to see a wider range of plans from other providers. These tables include sponsored products with links to referral partners.
Cheap prepaid plans
Cheap postpaid plans
Unlimited data on SIM-Only plans
If you think going SIM-only means limits on your data, think again. Vodafone has unlimited data on all four of its postpaid options and the good news is they're BYO-phone compatible.
Vodafone's $40 SIM Only Plus Plan, $50 SIM Only Plus Plan, $60 SIM Only Plus Plan and $80 SIM Only Plus Plan feature unlimited data, but there is a catch. Once you've gone through your high-speed data inclusion, your speeds are capped at 1.5Mbps. However each plan includes a hefty amount of high-speed 4G data: 10GB on the $40 option, 60GB on the $50 option, 100GB on the $60 plan and 150GB on the $80 plan.
All of these plans include unlimited standard national talk and text, plus international call allowances included each month on select plans.
Not to be outdone, Telstra now also includes unlimited data on all of its SIM Only postpaid plans, in the form of eliminating excess data charges. Like Vodafone, this unlimited data is capped at speeds of 1.5Mbps, but you'll also get great full-speed data inclusions on all four plans. Plans start at $55 for the Small plan with 40GB of data, $65 gets you 80GB of data, $85 will get you a generous 120GB while the Extra Large plan is $115 for 180GB of data.
Telstra's postpaid plans also offer a range of extra perks including data-free streaming of Apple Music, data-free sports streaming (including the NRL and AFL), three months of BINGE access and free access to the Telstra Air WiFi data network.
Unlocking your phone
Before you take your phone to a SIM-only plan, you'll need to make sure that it's unlocked from its original network. If you bought your device on a postpaid plan, it's probably already unlocked, but there are exceptions. Fortunately, unlocking a device from a specific telco's network is easier than ever; you can usually do it yourself online, provided you have your phone's IMEI number.
To find this number, simply dial *#06# from your mobile phone. Once you've got this number ready, head to the website of the telco that you bought the phone from originally, or call its customer service centre. Be aware that while it's normally free to unlock your phone, you may be asked to pay a fee for prepaid phones if you service is still relatively new.
If you have a phone from a postpaid plan with Vodafone, Telstra or Optus, you'll generally have an unlocked phone, but it's best to double check with the telco before you go switching SIM cards.
If you bought your device at full price directly from the manufacturer, or from a retailer such as JB HiFi, great news: your phone is unlocked out-of-the-box, and free to take to your choice of provider and plan.
Which SIM-Only plan is best for me?
So you've compared SIM-only mobile phone plans in a variety of price brackets, and now you're ready to make a change. Before you switch, there's still a few questions you'll need to ask yourself to make sure you're choosing the best SIM-only plan for your needs.
Which phone network do I prefer? There are three phone networks in Australia – Telstra, Optus and Vodafone. Smaller service providers use one or more of these networks to deliver their services. If you're in a regional area, you might only have one or two choices of networks with coverage.
What inclusions do I need? There is little point paying for unlimited calls and texts if you're not going to make the most of them. Likewise, give serious thought to how much data you actually need as data inclusions is usually what brings the price up.
What is my budget? If you're bound by a budget like most of us, compare plans in a particular price segment, and search for the best value you can get for your money.
At the end of the day, a SIM-only plan is a great choice if you want the freedom to choose your phone, or you're after more variety in plan offerings – the choice of which plan, however, is completely up to you!
Canstar Blue's Customer Ratings
Featured SIM-Only Plans on this Page
| Telco | Mobile Plan | Included Data | Monthly Cost | Contract Term |
| --- | --- | --- | --- | --- |
| Catch Connect | $20 30 Day Plan | 15GB | $20 | No contract |
| Yomojo | Unlimited 10GB | 10GB | $25.90 | No contract |
| Amaysim | UNLIMITED 30GB | 30GB | $30 | No contract |
| Boost Mobile | $40 Prepaid | 30GB | $40 | No contract |
| Moose Mobile | Moose 23 SIM Only 12M | 18GB | $23 | 12 months |
| TeleChoice | Medium (12m) | 20GB | $25 | 12 months |
| Moose Mobile | Moose 29 SIM Only 12M | 35GB | $29 | 12 months |
| Southern Phone | Medium 12 Months | 18GB | $30 | 12 months |
| Woolworths Mobile | $30 Medium SIM Only | 20GB | $30 | 12 months |
| Southern Phone | Large 12 Months | 35GB | $40 | 12 months |
| Moose Mobile | Moose 21.80 SIM Only (Promo) | 18GB | $21.80 | No contract |
| TeleChoice | Super Saver $23 | 14GB | $24 | No contract |
| Belong Mobile | Regular 10GB SIM Only | 10GB | $25 | No contract |
| TeleChoice | Medium $29 | 20GB | $29 | No contract |
| Vodafone | $40 SIM Only Plus | 10GB | $40 | No contract |
| Belong Mobile | Large 40GB SIM Only | 40GB | $40 | No contract |
| Amaysim | UNLIMITED 1GB | 1GB | $10 | No contract |
| Southern Phone | X-Small 12 Months | 1GB | $9 | 12 months |
| Moose Mobile | Moose 14 SIM Only 12M | 5GB | $14 | 12 months |
| TeleChoice | Small (12M) | 4.5GB | $16 | 12 months |
| Vodafone | $40 SIM Only Plus Plan | 10GB at full speed + unlimited 1.5Mbps data | $40 | No contract |
| Vodafone | $50 SIM Only Plus Plan | 60GB at full speed + unlimited 1.5Mbps data | $50 | No contract |
| Telstra | $55 Small Plan | 40GB + unlimited 1.5Mbps data | $55 | No contract |
| Vodafone | $60 SIM Only Plus Plan | 100GB at full speed + unlimited 1.5Mbps data | $60 | No contract |
| Telstra | $65 Medium Plan | 80GB + unlimited 1.5Mbps data | $65 | No contract |
| Vodafone | $80 SIM Only Plus Plan | 150GB at full speed + unlimited 1.5Mbps data | $80 | No contract |
| Telstra | $85 Large Plan | 120GB + unlimited 1.5Mbps data | $85 | No contract |
| Telstra | $115 Extra Large Plan | 180GB + unlimited 1.5Mbps data | $115 | No contract |