Unlimited data phone plans are here. Yes, that's right! Australia's three network carriers – Vodafone, Telstra and Optus – now have their own phone plans claiming 'unlimited' mobile data. This type of deal has been common in the UK and US for a couple years now – and we've caught up. If you've seen them advertised, they all look pretty similar, so what are the differences, and what's the catch? See how they stack up below.
Unlimited Data Phone Plans from Vodafone, Telstra & Optus
All three offer some form of 'unlimited' data phone plan, but what are the catches? The biggest factor into all three carriers' plans is the fact that speeds are throttled to 1.5Mbps after a certain amount – or in the case of Optus, all the way through.
| | Vodafone | Telstra | Optus |
| --- | --- | --- | --- |
| Price per month? | $60-$100 | $69 | $60 |
| Full speed data? | 40GB-120GB | 40GB | 0GB |
| Available to everyone? | | | |
| Month to month contract? | | | |
| Available with a phone? | | | |
| Data-free music streaming? | | | |
| Data-free TV streaming? | | | |
| International credit? | | | |
Source: Respective retailer websites, June 2018.
Vodafone Unlimited Data Phone Plans
Vodafone has come to the game with arguably the most comprehensive array of unlimited data phone plans. There are three plans to choose from – $60, $80 or $100. With these plans you get 40GB, 70GB or a massive 120GB full-speed data. With full speed data you get access to the limits of the full Vodafone 4G network. After that, speeds are throttled to 1.5Mbps – Vodafone says this is enough for streaming and most other applications.
Internet credit is also available, up to 4,000 minutes to 'Zone 1' destinations.
Users can also get up to 20,000 Qantas Frequent Flyer points each month.
Vodafone's deal is the only one that comes with no lock-in contract. It is also the most flexible, allowing you to bundle the plan with a handset repayment, such as the iPhone X.
Telstra Unlimited Data Phone Plans
Telstra also came to the game on the same day as Vodafone with its own unlimited data offering. With Telstra there's only one plan available.
The sole plan costs $69 a month, for which you get 40GB full-speed data; after that it's slowed to 1.5Mbps.
Other extras include data-free subscriptions to AFL, NRL, Netball & A-League through their respective game-pass apps, accessed with full-speed data at all times.
With Telstra you get unbridled access to the 4GX network and its maximum speeds for 40GB's worth. The plan is SIM-only, meaning you will need to bring your own device. You'll also be locked in for 12 months, which seems like a fair compromise for a compelling plan.
In terms of flexibility, Telstra's is arguably less flexible than Vodafone's offering as it's on a 12-month contract and is SIM-only. However, the extra goodies such as sports streaming may more than make up for it.
Optus Unlimited Data Phone Plans
Optus was the first to drop an unlimited phone plan, called 'Unleashed'. However, after just a day it was withdrawn from availability, but a couple weeks later it was offered again.
Optus' plan is invitation-only to current select Optus customers. To sign up you would have received an email.
The plan technically does not exist anymore as it was offered from 5 March to 30 April 2018.
However, customers on the plan can continue to use it. It came on a 12-month SIM-only basis and came with unlimited data that was speed-rated to 1.5Mbps all the way through. Users were able to add up to five SIM cards, with the second SIM costing $50 a month, and subsequent SIMs costing $40 per month. This enabled families to bundle their plans all on the one easy bill.
As a dark horse, Optus' phone plan was the first to kick off the unlimited mobile data hype, but today it's probably barely worth a mention as only a select few Optus customers could sign up to it, and the plan is no longer active.
What provider has the best unlimited data phone plan?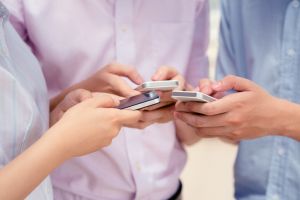 It's pretty much a two-horse race between Vodafone and Telstra, and it's pretty tight but with a couple of marked differences.
Vodafone arguably provides more flexibility of the two, with the plan able to be bundled with a handset repayment or as a SIM-only deal.
Vodafone's is a month-to-month option while Telstra's is over a 12-month contract and is SIM-only.
Vodafone includes big international credit allowances, while Telstra includes none.
However, where Telstra shines is for its extras. You'll get data-free subscriptions to a host of the most popular sports in Australia, as well as data-free music streaming through Apple Music, as well as Telstra Air – the network's Wi-Fi hotspots littered around cities.
Which carrier's phone plan is better is up to you and your needs. Do you value flexibility, or do you value a host of extra data-free goodies that can see your full-speed data go further? The decision is yours.