If you're a parent looking for a good phone plan for your child, then you've come to the right place. But we must first confess that there are very few plans actually tailored for children – after all, a phone plan is generally a phone plan regardless of your age. However, in this article we will review the child-friendly options worth considering and provide some tips on what kind of phone plan may be the best bet for your son or daughter.
Compare mobile phone plans
Should I Get My Child the Latest iPhone?
Your son or daughter may be begging you for the latest and greatest iPhone 8 or even iPhone X, which are both serious financial commitments. Even bundled in with a plan, you're looking at spending at least around $70 a month. Outright, the phones cost around $1,000 and $1,500 at a minimum respectively. If you're paying the bill, you ultimately have the final say.  Nevertheless, if you want them to have the newest iPhone bundled in with a plan, there are a few considerations to take in:
Be wary of 'Lease' plans; while they may offer financial incentives or data bonuses, you do have to return your phone in good working order at the end of your term. This is no easy feat for a teen, and a cracked screen or totally broken phone could cost hundreds!
The more you spend, the more bonuses you stand to receive but these costs start to add up; postpaid plans also mean excess data packs are automatically added.
You may be tempted to opt in for a 'family data sharing' deal, which pools data together for everyone in the family to use; this can simplify the bill paying process, but may mean one family member doesn't get their fair share while another gobbles up lots of data.
In any case, there are four key providers that offer plans with the latest iPhones bundled in – Telstra, Optus, Virgin Mobile and Vodafone. All have their unique selling points so it can pay to compare them all if after the latest and greatest.

Specific Phone Plans for Kids
Until recently, there were no phone plans from the mainstream Aussie carriers that could justifiably label themselves as 'for kids'. However, in late 2016, low-cost provider OVO Mobile launched a new prepaid offer that genuinely fits the bill.
Bringing $200 worth of call time, plus unlimited text messages and 1GB of data for just $9.95 per 30 days, the 'Mini' plan from OVO Mobile has many other low-cost prepaid plans beaten hands down.
But what makes it stand out as a phone plan for kids is that it comes with a free lifetime subscription to Family Zone – an online cyber safety service which gives parents control over their child's smartphone, allowing them to restrict access to inappropriate content, as well as set time controls to ensure they don't stay up all night chatting with friends.
OVO Mobile can fairly call this a phone plan for kids, but genuine plans for young people are in very short supply. Some mobile carriers, such as Boost Mobile, target teenagers with bonus data and other short term perks, but chances are you're looking for a plan that you, the parent, can control. Not only will you want to make sure your child has an appropriate plan for their age and usage habits, but you'll also be the one paying for it – so you'll want great value, too. Here are some top tips on what to look for from a child's phone plan.
Prepaid vs Postpaid for Kids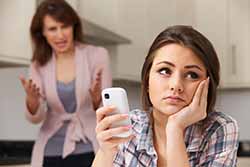 The first and one of the most important decisions to make in regards to your child's phone plan is whether you want to go prepaid or postpaid, with both bringing their fair share of pros and cons:
Prepaid Pros
The best thing about prepaid phone plans is that child can only spend the set amount of call, text and data inclusions that come with their plan.
There is no bill shock with prepaid; once your credit is up, that's it, unless you manually recharge.
This can be a great way to help kids understand budgeting. Another positive is that, if you're short on money one month, or your child has been naughty and you want to find a way to punish them, you can simply not recharge their plan. With postpaid plans, you would have to cancel the contract entirely, which is a bit of a hassle.
Prepaid Cons
The most significant drawback to prepaid plans is that, once you use all your inclusions, you can no longer use data, make any calls or send text message.
Lack of credit potentially takes away the safety net of being able to call mum or dad in an emergency.
Prepaid plans also tend to have shorter expiry periods, which could mean you find yourself having to recharge every week or so. And as a general rule, prepaid plans may lack the same value as postpaid plans where you often get more for your money with a lot more providers on offer.
Postpaid Pros
The best thing about postpaid phone plans is that you will always have a service to call on when it's needed.
Postpaid provides the extra security of being able call home in an emergency because your provider will simply charge you extra once you go over the plan's limitations.
Postpaid plans also take away the hassle of having to manually recharge your plan, which is the case with most prepaid plans, although some also allow users to auto-recharge. You are also likely to get better value with a postpaid plan as there are a lot more providers out there with more plans on offer.
Postpaid Cons
The biggest negative of postpaid plans is basically the biggest positive in reverse. Being able to exceed your plan's limits in emergencies is great, but this also means the feature is there to be abused.
Bill shock is a real thing, as extra credit is auto-recharged. The going rate is $10 per 1GB so if you go over your data cap, you may find you spent a lot more than you budgeted for!
The other negative is that you can't just take a break in your service when you want, unless you cancel the contract, even if it's just a month's contract. The nature of postpaid plans means you sacrifice this flexibility.
As you can see, there are lots of things to think about with both prepaid and postpaid plans for kids. But regardless of which type you decide to go with, here are some general tips on what features to look for.
Features to look for in children's phone plans
When it comes to picking the best features for your child's mobile plan, you'll need to consider what type of phone user they will be. Will they be a light or heavy data user? Kids generally love to text and use data, but having some modicum of calls is also hugely beneficial. Therefore consider the following as bare minimum requirements for a good phone plan for kids.
Unlimited Texts: No matter your child's age, unlimited texts are a really good idea because it means they will always be able to reach you in the event of an emergency. They will also enjoy being able to message their friends as much as they like, so it's win-win for everyone.
Data Limits & Costs: A phone plan with at least 1GB data will enable them to use social media, use Google Maps to get around and more. Due to the auto-recharging feature of postpaid plans, it may also pay to look at any plans with cheap excess data rates, and ones with an in-depth usage warning system – for example, SMS alerts at 50%/85%/100% of data usage.
Longer Expiry Periods: Cheap prepaid plans tend to come with very short expiry periods of 7-10 days, but you might want to consider a plan with a long expiry. This would reduce the risk of your child being left with no credit to call or text you, while also taking away the hassle of having to recharge regularly. This will not be an issue with postpaid plans which provide a constant service.
The type of features that best meet your child's phone use may also be related to their age, with older teenagers more likely to require a lot of data for video streaming and Facebook. So, let's look at some possible options for kids at various ages:
Phone Plans for Kids Aged 12 and Under
At this age, unlimited texts seem like a great idea so you can always stay in touch, but unlimited calls and lots of data may not be a huge priority – especially if you want to keep costs fairly low. Remember to keep an eye open for short expiry times with plans $10 and under.
Seeing as the social media cutoff age is 13 with most services, it may also pay to use the OVO plan with the 'Family Zone' internet filtering included.
The youngest kids with a mobile phone may even be able to get away with a long expiry PAYG plan that have cheap call, text & data rates – simply load the credit once a year and off you go. However, kids run the risk of using all their credit in the first month and having to recharge multiple times a year! Amaysim and ALDI Mobile offer cheap 'as you go' plans, while Jeenee Mobile and OVO Mobile offer cheap plans under $10. Amaysim also offers a similar deal, as does ALDI.

Phone Plans for Kids Aged 13 to 15
By the time your kids are into their teenage years, they will likely want more call time to chat with their friends and extra data to watch those funny videos you don't quite understand. They may even be heading out with their friends on weekends without parental supervision, and metro-living students may even be commuting to school by themselves.
Unlimited talk comes into the equation once you spend over $10 per month, but you'll still be looking at a modest amount of data until you spend closer to $20 or so.
Looking at plans with no lock-in contract, unlimited calls & texts and at least 2GB of data, the standout providers are Moose Mobile, Yomojo, Amaysim and Coles Mobile.
Coles Mobile & Amaysim SIM cards are available in-store so you can simply grab one the next time you do the groceries.
Moose is a postpaid provider, while Coles is prepaid. Yomojo and Amaysim have the benefit of being either prepaid or postpaid.

Phone Plans for Kids Aged 16 and Over
At this stage you might want to make your son or daughter pay for their own phone use, but if you're still happy to foot the bill then you will see some excellent value across the board. Your son or daughter are probably learning to drive, or even have their own license; they may have a part time job, earning their own income and may be out even more on weekends.
Kids in their late teens probably need more data – say, around 5GB – plus unlimited calls & texts.
Some providers to look out for in this regard are SpinTel, Moose Mobile, Kogan Mobile and Boost Mobile. SpinTel is the cheapest to offer 5GB, while Moose offers solid no-contract postpaid value with no set-up fees. Kogan Mobile is a prepaid provider on the Vodafone network and is one of the cheapest to offer 6GB data.
Boost Mobile may not be the cheapest but it does offer 1GB extra data on weekends – probably when data is needed most! – and is the only MVNO to make full use of the Telstra network.
The reassurance of the most expansive network in Australia may provide peace of mind for parents of rural kids, or those who like to head out camping with friends.
Boost is also prepaid, so there are no out-of-the-blue excess data charges, and SIM cards are available at many in-store locations across Australia. Across these four providers, there is likely something for every type of teenager!

Other Plans to Consider
You'll have noticed that, when it comes to postpaid plans for kids, it's often the smaller service providers offering the cheapest deals. But if your son or daughter is really into music, it could pay to go with one of the bigger carriers which offer discounted access to music streaming services, even on no contract plans.
Telstra's BYO plans all provide either a 6 or 12 month membership to Apple Music (depending on which value plan you choose), plus you can stream music data-free during this period. Optus and Virgin Mobile both offer data-free streaming from Spotify, Google Play Music and iHeartRadio.
If it's sports content or data-free video streaming your kids want, you'll likely have to go with a contract option from one of the big carriers. Optus provides data-free Netflix viewing and English Premier League soccer on its most expensive plans, or at an extra cost on others, while Telstra has AFL and NRL footy available on selected plans plus Foxtel Now packages on some of the more premium phone plans. However, these plans will usually set you back the big bucks!

What Phone Plan is Right for My Child?
Whatever type of phone plan you go with for your kid(s), the take home message is that there are some awesome deals around. In the prepaid space, it's hard to beat OVO Mobile's new plan for overall value, while the likes of Amaysim and Kogan Mobile are great for low-cost postpaid plans and Virgin Mobile's inclusion of data-free music streaming makes its plan a great alternative. Boost Mobile is also a viable alternative to Telstra, making use of the full Telstra network.
At the end of the day, you know your child best, and if you're paying the bill you get to decide where the money goes. It pays to look at the MVNOs offering cheap plans, and know that you don't need to spend an arm and a leg for your child to have a mobile phone plan that suits all their need. There are over 30 providers out there, many with plans under $20. There's a lot to choose from – you'll just have to do your homework!