If you've just come out of a lengthy phone contract or you're just looking for the next best deal, a SIM only plan may be a great way to save some money and get access to a plan that packs a punch. Optus provides many postpaid plans across both month-to-month and 12 month contracts. If you're sick of spending thousands on the latest iPhone plan, an Optus SIM only deal might be your best bet.
A SIM only plan means you bring your own phone to the party and the telco you go with provides a SIM card, so you can simply 'plug and play'. This makes it possible to use an older device or buy your phone outright, which may work out cheaper in the long term. You can also do this with a prepaid phone plan, but in this article we'll focus on postpaid plans. Read on to see what Optus has to offer and how it stacks up against other SIM only providers.
Optus SIM Only Postpaid Plans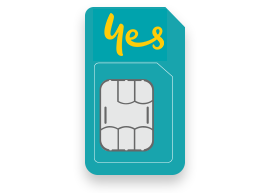 Optus has quite a few different postpaid SIM only plans for the taking, with the best deals usually found on 12 month plans, but the better flexibility comes with month-to-month plans.
There's a lot to say about Optus, so let's see what it offers below.
Optus 12 Month SIM Only Plans
$30 for 3GB
$40 for 10GB and up to 300 international minutes
$50 for 30GB and up to 400 international minutes
$60 for 50GB and up to 500 international minutes
All plans come with unlimited national calls & texts
All are billed monthly
If you're not a commitment-phobe and not afraid of sticking around for a while, then Optus rewards its customers with big data limits for a comparatively small price. This especially applies if you can budget $50 or more.
Other perks include data-free music and TV streaming on selected apps, Optus Sport and National Geographic and in some cases bonus data to make the commute more enjoyable.
Optus certainly provides strong incentive to shack up for 12 months, but you will need to consider what phone plans will look like in a year's time. What looks good today could be a dog's breakfast tomorrow. This is what you can get from Optus right now.
Optus Month-to-Month SIM Only Plans
$35 for 1.5GB and unlimited texts to selected countries
$50 for 6GB and up to 300 minutes to selected countries
$60 for 9GB and up to 500 minutes to selected countries
All come with unlimited national calls & texts
All are billed monthly
For those who perhaps favour flexibility over the most competitive prices, Optus' month-to-month SIM only plans may be a go. They're priced similarly to Optus' 12 month plans but may feature less data and less bonuses overall.
Data-free music streaming is included, but Optus Sport is an extra $15 a month
However, one huge bonus is that you tend to get international credit on nearly every plan. These plans are great for flexibility but may lack in the data department. Here are the current offerings:
How do Optus SIM Only plans compare to other providers?
Optus' distinct split between 12 month plans and month-to-month plans means the telco competes in a couple of sectors of the market. Optus also has to compete with a huge range of MVNOs (Mobile Virtual Network Operators) that can, and often do, provide more data for a lower price. However, Optus' bonus inclusions may make it streak ahead overall.
Optus 12 Month SIM Only Plans Compared
There are quite a few providers that give customers the opportunity to sign up for 12 months and reap the rewards. Optus, while certainly no slouch, tends to fall behind the 8 ball when it comes to standard 'bang for buck'. Other providers worth keeping an eye out for here are Virgin Mobile, Jeenee Mobile and TeleChoice. All tend to offer more data for a comparable price. However, Optus does reward customers if they spend over $50 and has some very competitive plans at the upper end of the spectrum. And what Optus may lack in data, it can more than make up for with data-free music streaming, TV streaming and more. These perks could stretch your data further. Latest offers below:
Optus Month-to-Month SIM Only Plans Compared
Flexibility comes at a price, and usually this price is a reduced amount of data or a higher phone plan price. However, this is where the MVNOs come out to play – you can get 10GB for as little as $30ish these days. Providers worth keeping an eye out for are SpinTel, Moose Mobile and Vaya. All come with 10GB data for less than $40, 5GB for less than $30, and even include international credit. Though once again Optus' data-free music streaming may be a factor, but you will have to decide if it's worth paying for.
Is an Optus SIM Only plan worth the money?
Optus has quite a few SIM only plans to satisfy most budgets and needs. However, the question is, can you find a better deal elsewhere? As seen above, that answer may be yes, but it's not so simple. Optus often includes tasty bonuses such as data-free music and TV streaming, as well as Optus Sport and National Geographic subscription. The data-free streaming is the most noteworthy, especially considering Optus often lacks in the data department compared to low-cost providers. Overall, Optus has a series of fairly competitive plans in the SIM only space, but if you're after the most data you can get for your money, several other providers are also worth a look.