Telstra, perhaps better known for its premium iPhone plans, also has a range of lower-cost SIM only deals. So what's in the range, you might ask? If you've got your own device ready, Telstra produces a range of both 12 month and month-to-month SIM only phone plans that come on a postpaid basis. Take a look at the range below and see how Telstra stacks up against other providers.
Telstra SIM Only Postpaid Plans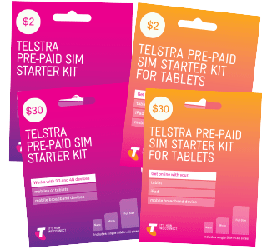 Telstra has quite a few SIM only plans up its sleeve, consisting of both 12 month and month-to-month plans. Generally speaking, the 12 month plans get more data and other perks, while you sacrifice these for flexibility on the month-to-month plans.
Telstra 12 Month SIM Only Plans
$39 – $500 value, 2GB data
$49 – 10GB data
$59 – 15GB data
$79 – 20GB data
$99 – 30GB data
Telstra has a total of five SIM only postpaid plans in this category, with all but the cheapest plan coming standard with unlimited calls & texts. Aside from the usual calls, texts & data, Telstra also has a range of tasty bonuses that may sweeten the deal:
Telstra Air data, Apple Music membership, data-free music streaming and even Foxtel entertainment packs come on many plans.
It should be noted that the $49 plan is 'online only' meaning you have to order online and use only the online support function for any issues that may arise – no visits instore or call centres to help you. While Telstra may startle some with those high prices, Australia's biggest telco includes some enticing bonuses that may explain the relatively high price. Here are the latest deals:
Telstra Month-to-Month SIM Only Plans
$49 – $500 value, 2GB data
$69 – 15GB data
$89 – 20GB data
$109 – 30GB data
If you value flexibility, Telstra's monthly options may be more up your alley. There are four plans in this segment, labelled 'Casual' plans. While seemingly similar to 12 month plans, prices are generally higher for the data you receive.
Monthly plans may lack the same bonuses as the 12 month ones, but often still receive Telstra Air data and data-free music streaming plus Apple Music membership.
Still, users may be willing to sacrifice some data or pay a bit more for flexibility. This then enables users to switch if they feel a better deal is on the horizon. This is how the latest offers line up:
How do Telstra SIM Only plans compare to other providers?
Telstra is no longer the 'big bad wolf' in the telco world, having transformed its mobile phone plans into competitive offerings, especially in the SIM only space. However, Telstra still faces stiff competition from smaller providers that can often offer more data for less.
Telstra 12 Month SIM Only Plans Compared
Telstra's plans look good, but first consider if you can find a better deal elsewhere. If you're not adamant on sticking with Australia's largest network, providers such as Jeenee Mobile may be what you're after. If you want to stick to the Telstra network, TeleChoice is a provider offering a fair amount of data for a relatively small price. Virgin Mobile also proves that big data and data-free music streaming are not mutually exclusive, offering both on many plans.
Telstra Month-to-Month SIM Only Plans Compared
Considering a more flexible monthly plan actually opens up your options even more, with many smaller providers waging war and continually offering lower prices and more data. If you want a deal with about 10GB data, you can realistically expect to spend as little as $30, with providers such as SpinTel, Vaya and Moose Mobile leading the charge. With Telstra you are often left paying close to double that price for an equivalent amount of data, so you will have to weigh up if that extra Telstra Air data and other perks are worth that amount. For some people, they will be. If not, see what latest deals are on offer:
Is a Telstra SIM Only deal worth the money?
Telstra's SIM only deals certainly look the part, with lots of data on offer and extra goodies like data-free music streaming, Foxtel packs and so on. However, the million-dollar question is, could you find a better offer elsewhere? That answer may be yes. As Telstra is Australia's largest network, it probably rightfully charges a premium, and it can't be cheap to operate this network and provide brick and mortar stores.
Smaller providers with lower overheads can and do offer more 'bang for buck' – more data and other perks for less money.
On a price basis alone, Telstra seems quite expensive especially in the competitive world of SIM only plans. However, this price might be well worth paying for, to be on Australia's largest network with a bunch of extra perks. As the saying goes, "people are either on Telstra, or they wish they were". There may be better deals around, but evidently many people are happy with Telstra.