Vodafone is one of the big three telcos in Australia and in the world of big iPhone plans it would be easy to assume that the big telcos have forgotten about prepaid mobile. However, Vodafone still offers quite a few prepaid plans and recharges, and many are quite competitive. Read on to find out what plans and recharges are on offer, plus how they stack up against the tough, tough prepaid competition.
Vodafone Prepaid Plans & Recharges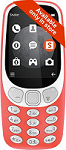 'Data Combo' recharges from $30 with unlimited calls & texts as standard
'Talk Combo' recharges from $10 with unlimited calls & texts plus international credit
'Prepaid 365 Plus' recharges from $10 with long expiries and cheap rates for calls, text and data
'MyMix' prepaid plan builder with prices starting at $8
Vodafone has more than 12 prepaid recharges available – it all depends on what you want out of your phone plan. Do you want lots of data, lots of international credit or maybe you want a low-fuss phone plan with cheap call rates when you need them? You can also easily manage your recharges using the Express Recharge tool on the Vodafone website. You may also be interested to know Vodafone is leading the way for new Nokia smartphones like the 3310, pictured. Decide which plan is best for you below. Hit a link to jump to your preferred Vodafone prepaid plan type.
Vodafone Data Combo Prepaid Recharges
$10 for 1GB (7 days)
$20 for 2GB (14 days)
$30 for 3GB (28 days)
$40 for 9GB (35 days)
$50 for 12GB (35 days)
$60 for 15GB (35 days)
If you want a plan with a little bit of everything and you're a regular phone user, these plans could be a viable option. While these data amounts may not look overly generous, you have to consider Vodafone's generous data bonuses offered from time to time.
5GB bonus data is often available for up to 10 recharges, which significantly boosts the data limits of the plans. Note that the $30 may miss out on the best deals.
The 35 day expiry period on the majority of these plans also means you can stretch your credit further. This makes it a viable solution for people who don't quite use all their data on traditional 28 or 30 day plans.
Vodafone Talk Combo Prepaid Recharges
Talk Combo plans also extend the generosity by offering international minutes. 90 minutes to 58 countries are available, as well as 1000 minutes to 25 other countries. A broad spectrum of countries is available, so be sure to check to see if your desired destination is on there.
Vodafone Prepaid 365 Plus Recharges
$10, $20, $30, $40, $50 recharges available with 365 day expiries
Rates are 2c/MB data, 20c/minute calls, 20c texts
If you're a low-key phone user or you just want something that lasts a while, a 365-day recharge may be a viable option. With Vodafone you have five recharge options – you can always add on more credit later – and cheap rates. 2c per megabyte is seriously cheap, when the industry standard seems to be about 5c a megabyte. Text prices are about average, while 20c for a minute of calling is quite cheap.
With these rates, $50 could potentially get you up to:
5GB data
250 minutes of calls
250 texts
Or a mixture of both
For the occasional phone user or for a spare phone, these recharge options a well worth a look into.
Vodafone MyMix Prepaid Plan Builder
Prices start at just $8
Unlimited calls & texts and 4GB data over 28 days costs $35
If none of the above prepaid options tickle your fancy, have you tried building your own? Vodafone's MyMix plan lets you do this and plans start from as little as $8. With MyMix, you can play around using the plan builder before purchasing, and can customise your plan as your needs change.
How do Vodafone prepaid plans compare to other providers?
Vodafone has a large suite of prepaid plans and recharges on offer, with some plans seemingly very minute in difference. The question remains, however, is can you find a better deal elsewhere? That answer may be yes; find out more below.
Vodafone Data Combo Prepaid Plans Compared
If you want a fair bit of data plus unlimited calls & texts and not many other gimmicks, these plans may be for you. However, with plans starting from $30 for 3GB, there are some cheaper deals to be found. 5GB can be found for about $30 these days, and while Vodafone does offer discounts and data bonuses from time to time, its stock standard plans may leave a little to be desired. Price leaders in this category include Kogan, OVO Mobile and Amaysim.
Vodafone Talk Combo Prepaid Plans Compared
If you want something with international credit included, it's certainly hard to go past Vodafone. With a wide variety of countries available through its Talk Combo prepaid plans, Vodafone remains one of the strongest contenders if you want to call overseas. Other leaders in this category include Lebara and LycaMobile, as well as ALDI Mobile. LycaMobile has unlimited call minutes available, but only to 12 selected countries, while Lebara offers 2500 minutes but only to four countries, and ALDI Mobile offers less minutes but to more countries. Vodafone strikes a good balance between destinations and the amount of credit you'll receive.
Vodafone 365 Plus Prepaid Plans Compared
In terms of 365 day plans, there aren't a lot of providers out there, but the big 3 in Optus, Telstra and Vodafone are accounted for. Other providers in this arena include ALDI Mobile and Amaysim. Vodafone stands out for having some of the cheapest data rates, while all are pretty tit-for-tat for texting and call costs. If you plan on using data, you'll have to watch for these charges as providers like Amaysim charge up to and over 15c per megabyte!
Vodafone MyMix Prepaid Recharge Compared
Vodafone is one of a very select few providers to enable customers to build their own phone plan. Yomojo – a telco using the Optus network – is the other one. Currently Vodafone is the leader here as equivalent plans work out to be cheaper, and prices with Yomojo quickly skyrocket when you add on more than 1GB data.
1000 texts, 1000 minutes and 1GB of data with Yomojo will cost over $50, while with Vodafone it will cost under $30.
It's worth having a look at the plan builder on each providers' website to see which one works out to be better for your own needs, and question whether you can find an equivalent plan with another provider for cheaper.
Is a Vodafone prepaid plan worth the money?
Vodafone has a solid variety of prepaid plans to suit a variety of needs and people. From regular users who rely on lots of data and data bonuses, to those who need to call overseas and for those who don't use their phone that often or just need a spare plan, Vodafone likely has you overed.
However the question remains – can you get a better deal elsewhere?
Vodafone provides hefty data bonuses and other deals, but in terms of flat out value, there may be other providers that can provide more for less.
Not only that, but in terms of the biggest telcos, Optus and Telstra are hot on its heels. Vodafone has an exciting range of plans in the prepaid world, and recharging is made very easy with the Express Recharge function, but by hunting around you may be able to find a better deal elsewhere.