Telstra, perhaps better known for its premium iPhone plans, also offers a range of lower-cost SIM-only deals. So what's in the range, you might ask? If you've got your own device ready, Telstra has a small but impressive range of SIM-only phone plans, all of which are offered on a postpaid basis.
Take a look at the options below to see how Telstra compares to other SIM-only providers.
Telstra SIM-only postpaid plans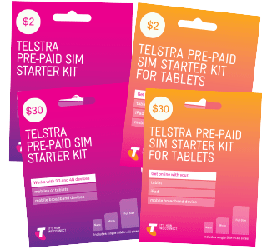 Telstra has recently revamped its postpaid plan range, and now offers all postpaid options on a month-to-month basis. However, as of March 2021, the telco has tweaked how and when you'll pay for your SIM-only plan if you're a new customer.
Telstra's postpaid plans are now offered on an 'Upfront' basis, meaning you'll pay in advance at the start of each month. Recurring monthly payments can be made via AutoPay, so you'll no longer have to pay a bill for your previous month's usage.
If you're bringing your own phone to Telstra, you can pick from the below four plans, with the freedom to switch plans once a month. All plans include unlimited talk and text to standard Australian numbers, unlimited standard international SMS and MMS, as well as data-free AFLW and Netball streaming.
All plans include generous monthly fast data inclusions – up to 180GB per month – and also feature unlimited speed-capped data as a back-up. This means that once your allotted monthly full-speed gigabytes have been used up, you'll receive unlimited data capped at 1.5Mbps for the remainder of your billing cycle. Once a new month begins, your plan resets, and it's back to full data speeds once more – with no excess data charges or bill shock.
You're also able to share your full-speed data between up to eligible 10 plans on a single Telstra account. If you're looking for more international features, then you can add on an international call pack for an extra $10 per month. Although these plans are still classed as postpaid, SIM-only prepaid options are also available.
The following table shows all published Telstra Upfront SIM-only plans from Canstar Blue's database, listed in order of advertised standard cost, lowest to highest. Use our comparison tool to see a wider range of plans from other providers. These are products with links to referral partners.
How do Telstra SIM-only plans compare to other providers?
Telstra is no longer the 'big bad wolf' in the telco world, having transformed its mobile phone plans into competitive offerings, especially in the SIM-only space. However, Telstra still faces stiff competition from smaller providers that can often offer more data for less.
Telstra's plans look good, but first consider if you can find a better deal elsewhere. If you're not adamant about sticking with Australia's largest network, providers such as Southern Phone or Moose Mobile may be what you're after. If you want to stick to the Telstra network, Woolworths Mobile or TeleChoice are providers offering a fair amount of data for a relatively smaller price.
If you want the freedom of a month-to-month plan, you may prefer prepaid and contract-free providers on the Telstra network such as Boost Mobile and Belong (which is owned by Telstra). Even big-name telcos such as Optus and Vodafone can offer some competitive pricing, particularly when compared to Telstra.
Is a Telstra SIM-only deal worth the money?
Telstra's SIM-only deals certainly look the part, with lots of data on offer. However, if you're looking for a cheap SIM-only option, you may want to compare with other providers: as Telstra is Australia's largest network, prices on its higher-end plans tend to reflect this premium status.
Smaller providers with lower overheads can and do offer more 'bang for buck' – more data and other perks for less money. On a price basis alone, Telstra seems quite expensive especially in the competitive world of SIM only plans. However, this price might be well worth paying for, to be on Australia's largest network with a bunch of extra perks.
As the saying goes, "People are either on Telstra, or they wish they were". There may be better deals around, but evidently many people are happy with Telstra.