Compare iPhone 13 Pro Max Plans
Apple iPhone 13 Pro Max device plans come with a range of price and data options. The table below shows the Apple iPhone 13 Pro Max mobile plans with a minimum 5GB of data on our database listed in order of standard monthly cost, from lowest price to highest, then by data allowance, from largest allowance to smallest. You can change the default settings on the table to show plans that provide a different data-minimum.
Provider
Value Rank
Data Allowance /billing period
Advertised Cost /billing period
Uh oh, your search produced no results!
Don't worry, that's probably because no results exist with your filter selections.
The initial results in the table above are sorted by Value Rank (High-Low) , then Advertised Cost /billing period (Low-High) , then Provider Name (Alphabetical) . Additional filters may have been applied, see top of table for details.
3 months of Apple TV+
Free express delivery around Australia
Get 3 months of Apple TV+ when you purchase an eligible Apple device. Apple TV+ is $12.99/mth thereafter. T&C apply.
Trade-in and save. Go to site, enter your old device to calculate your trade-in estimate.
Access Vodafone's expanded 5G network in Australia's top 10 cities and regions.
About our phone experts
---
Tara Donnelly: Utilities Editor
As Canstar Blue's Utilities Editor, Tara Donnelly covers the internet, mobile and energy sectors – topics she's spent a decade focused on, alongside consumer technology, within the comparison industry. Her utilities expertise has seen her appear in national media including 9 News, 7 News, Sunrise, the ABC and The Sydney Morning Herald. You can follow Tara on LinkedIn and Twitter.
Meet the Editorial Team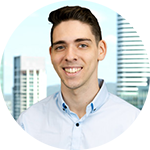 Josh Filosi: Data Insights Analyst
Josh Filosi is Canstar's Data Insights Analyst, and helps develop and deliver the methodology for Canstar Blue's Value Rankings and Awards for the telco industry. He holds a double-major in Economics and Behavioral Science, and enjoys interpreting complex data. Connect with Josh on LinkedIn.
Meet the Research Team