Neato Robotic Vacuums Review
A few years back, robot vacuums were a niche market, but now many apartment dwellers are getting on board with this viable house cleaning solution. The idea behind Neato Robotics is to create robots that can perform household chores as intelligently as humans. By spending less time doing chores, you can spend more time doing things you enjoy. But this doesn't come cheap, so how do Neato robot vacuums compare to the rest? Let's consider the specs and features to find out.
What makes Neato robots stand out?
Neato's robot vacuums are designed to automatically adjust to clean all floor surfaces, be it carpet, wood or tile. They're marketed on 'intelligently' mapping out rooms and guiding themselves around using sensors. You can also access the maps created via an app with its "Connected" series, that allows you to draw out areas that you don't want vacuumed such as power cords or under couches where the robots might get stuck. So, you won't even need to close doors to other rooms whereas some brands require you to place down physical strips to block out certain areas.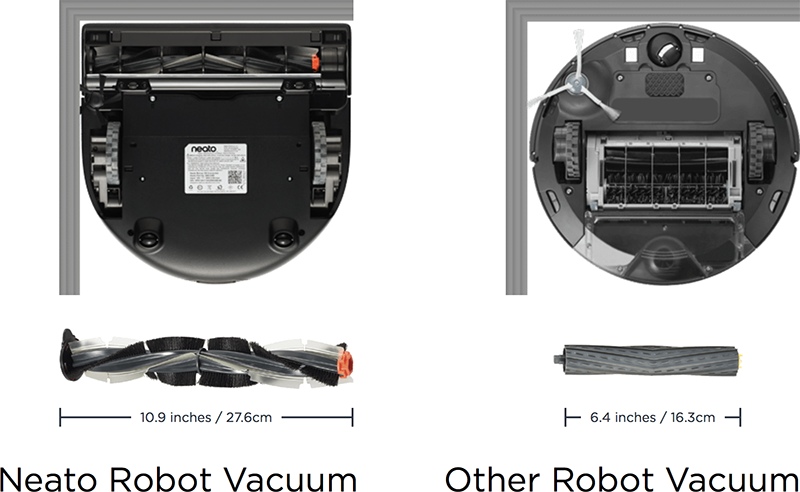 Design
D-shape With CornerClever
The Neato robots feature a D-Shape design with CornerClever technology. This is aimed to help pick up dirt in corners, under ledges, furniture and along walls, while using a wide brush that spans the front of the robot. To be precise, it cleans within 14mm of walls and corners, according to Neato.
With round robot vacuums, Neato claims they can only reach within 98mm of walls and are even further away when vacuuming corners. Plus, it states that round vacs have their brushes between the wheels, which decreases the size of the brush.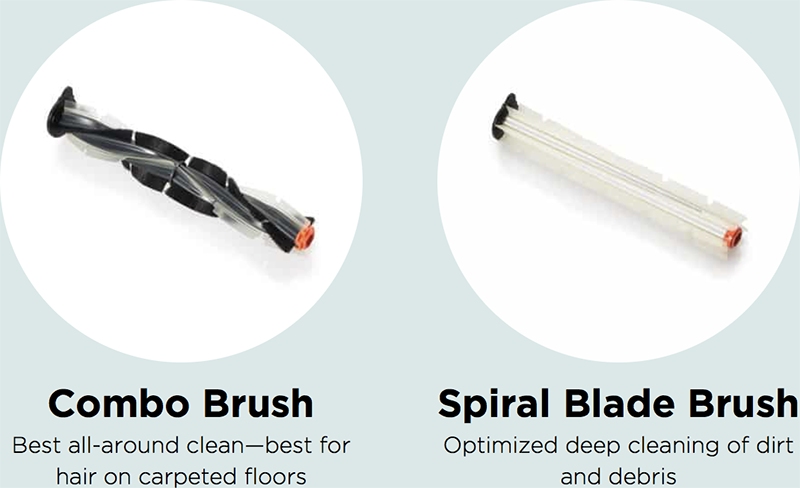 SpinFlow Power Clean
Neato's SpinFlow technology is designed to combine advanced cleaning brushes with suction power. The two brushes featured on Neato robovacs include:
Combo Brush: for an all-around clean, stated to pick up all types of debris including hair on carpets
Spiral Blade Brush: is a deep cleaning brush to use when you want a high-powered dirt and debris pickup
The Botvac Connected range also comes with dual cleaning modes:
Turbo mode: stated to provide a high powered clean with maximum pickup
Eco mode: stated to provide a longer but quieter energy saving clean
LaserSmart Mapping & Navigation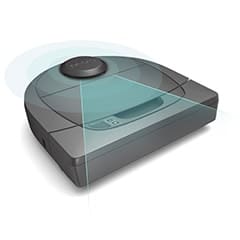 Neato robot vacuums are boasted for their laser floor plan mapping and navigation, offering a thorough and methodical clean in reduced time. The range features patented technology stated to scan and map rooms with 360° scanning. They're also said to sense and respond to furniture, stairs and other objects such as toys and carefully move around them, plus, continuously scan the room while cleaning to take note of any changes.
Similar to other brands, Neato robots automatically return to the charge base to power up and resume any unfinished tasks, moving from room to room. In addition, they can navigate in rooms with little to no light, according to Neato, while other robovac manufacturers typically say that light is necessary for their sensors to work effectively.
Maximum Hair Pickup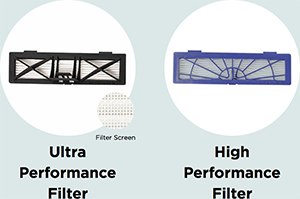 Neato's Super Suction and Brush system is stated to pick up hair from every type of floor surface, whether it's pet or human. The units are also fitted with a large dirt bin and an ultra-performance filter to help capture any particles that are as little as 0.3 microns in size. This might help if allergies and air quality are of concern.
The upgraded ultra-performance filter is claimed to be easy to remove with a new latch design and it includes a new filter screen to keep dirt where it belongs – in the dirt bin.
Wi-Fi Connectivity
Neato's "Botvac Connected" series features Wi-Fi connectivity, giving you control via your smartphone even when you're not at home. Available for iOS and Android, the Neato mobile app lets you start, stop, pause, schedule daily/weekly cleans and receive notifications. Plus, you can view a Coverage Map that shows you exactly where your Neato robot vacuum has cleaned and check the cleaning summary with information about the last 20 cleaning runs in your Neato robot vacuum history.

Smart Home
You can control the Neato "Botvac Connected" robot vacuums with smart home devices like Amazon Alexa and Google Home or use IFTTT or Neato Chatbot for Facebook. They also work with smart devices to make cleaning even more convenient, allowing you to control your Neato with your voice, chatbots, and wearable devices:
Apple Watch
Wear OS by Google Watch
Neato Chatbot on Messenger
What models are on offer?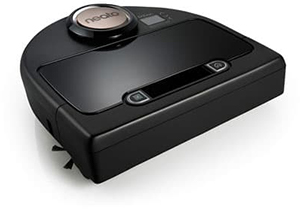 There are currently four models available via Appliances Online:
Neato DKSH48230 Botvac Connected Vacuum Cleaner: $1,599 (RRP)
Neato NEATO-48225 Botvac D5 Connected Robotic Vacuum: $1,499 (RRP)
Neato 48210 Botvac D85 Robotic Vacuum: $1,199 (RRP)
Neato NEATO-48220 Botvac D3 Connected Robotic Vacuum: $1,099 (RRP)
Neato's "Connected" units feature Wi-Fi connectivity.

Should I buy a Neato Robot Vacuum?
Neato Botvacs come with a number of advanced features such as Wi-Fi connectivity and 'intelligent' room mapping to make the most of the vacuuming task. They also have a D-shaped design to help get into corners and vacuum along walls. But these bad boys do come with premium price tags of over $1,000, which might have you questioning if you really need one or if you can survive without.
If you're looking for a tool to help keep the floors clean throughout the week, and have the budget for it, then perhaps the Neato range is one to keep in mind. Otherwise perhaps a simple vacuum would suffice because, while it might get your hands dirty, it won't burn a hole in your pocket.
Vacuum Cleaner Reviews & Ratings
About the author of this page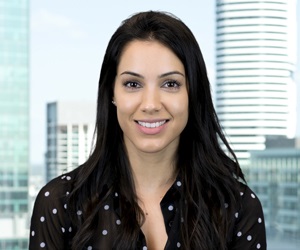 This report was written by Canstar Blue's Home & Lifestyle Content Lead, Megan Birot. She's an expert on household appliances, health & beauty products, as well as all things grocery and shopping. When she's not writing up our research-based ratings reports, Megan spends her time helping consumers make better purchase decisions, whether it's at the supermarket, other retailers, or online, highlighting the best deals and flagging anything you need to be aware of.