In a world of big iPhone plans that cost more than $100 a month, it's easy to assume that the days of prepaid phone plans are a thing of the past. But fear not, because prepaid recharges are still out there and Telstra has one of the widest varieties of prepaid phone plans around. Review Telstra's wide array of prepaid recharges below, and see how they stack up against the competition.
Telstra Prepaid Recharge Phone Plans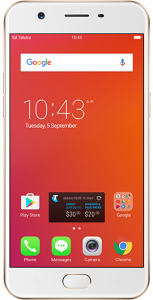 Prepaid Extra: Four value plans from $30
Day2Day: Ultimate flexibility from $1 a day.
Simplicity: Four different recharges from $20.
Long Life: Six long-life recharges from 60-days to 12 months from $20.
Prepaid Mobile Phones from $29.
Telstra has four different categories of prepaid phone plans. The first and foremost category is Prepaid Extra which may be the most popular, with some decent value up for grabs. We'll also go on to look at Telstra's prepaid handsets like the one pictured. Hit the links below to jump to your preferred category of prepaid recharges and learn more.
Telstra Prepaid Extra Recharges
$30 – 2.5GB data, unlimited calls & texts, $5 extra credit for premium services & international calls
$40 – 5GB data, unlimited calls & texts, $10 extra credit for premium services & international calls, unlimited international calls to ten destinations
$50 – 7.5GB data, unlimited calls & texts, $15 extra credit for premium services & international calls, unlimited international calls to ten destinations
$60 – 10GB data, unlimited calls & texts, $20 extra credit for premium services & international calls, unlimited international calls to ten destinations
28 day expiry periods with included data-free music streaming, Telstra Air data, live NRL, AFL and Netball game passes, and free cloud storage.
These prepaid plans are probably the meal ticket for those wanting a 'normal' plan with unlimited calls & texts with decent amounts of data thrown in. On all but the cheapest plan, customers stand to receive unlimited international calls to ten countries, which include:
China, India, UK, New Zealand, Hong Kong, Malaysia, Singapore, South Korea, USA and Canada
Customers can also 'bank' or rollover up to 50GB of unused data if they recharge before the expiry period. To use the data bank, customers must have an active recharge.
Telstra Day2Day Prepaid Plan
$1 a day for unlimited calls & texts, 100MB data, unlimited Telstra Air Data
Add extras for $1 each: unlimited calls to ten countries, and 100mb extra data blocks
Recharges available are: $5, $10, $20, $30 and $60
For ultimate flexibility, Telstra's daily plan may be suitable. By preloading your recharge plan with an amount specified above, you'll get 100MB data plus unlimited talk and text to use per day. This means that $5 lasts five days and so on.
If you select the international calling add-on, $1 will be subtracted from your credit per destination on the day you make the call. Talk for as long as you like, however.
This means that for $30 over 30 days you will receive unlimited calls and texts, plus up to 3GB data, which is about in-line with what you can expect from Telstra. The challenge with this is to use only 100MB data per day, which restricts access to streaming and so on.
Telstra Simplicity Prepaid Recharges
$20 for a 30 day expiry
$30 for a 60 day expiry
$50 for a 90 day expiry
$100 for a 180 day expiry
If you're a bit confused by all the different prepaid plans out there, Telstra has some 'simple' plans out there that offer nominal rates for texts, calls and data like the good old days of prepaid recharges.
Calls are 15c a minute (0c connection fee) & from 5c a minute for international numbers
12c for texts and from 20c per text for international numbers
10c per megabyte of data
Recharge credit rollover is also available if you recharge before the expiry date, encouraging users to stay on for the long term.
Telstra Long Life Prepaid Recharges
$20 – 60 day expiry
$30 – 6 month expiry
$40 – 6 month expiry with bonus 50 minutes talk
$50 – 6 month expiry with bonus 100 minutes talk
$70 – 12 month expiry with bonus 100 minutes talk
$100 – 12 month expiry with bonus 200 minutes talk
Unlimited Telstra Air data and 200GB cloud storage
If you have a spare phone or you're a super light phone user only needing very occasional use out of your plan, these long life recharges may be worth a look. Dearer plans even come with bonus talk time on top of your credit.
Not only that, but you don't necessarily have to eat into your credit using data with included Telstra Air data on board, with more than one million locations Australia wide and 19 million 'Fon Wi-Fi' hotspots worldwide.
These long expiry plans are good for anything from about two months up to a full year, and would suit a spare phone that sees light usage, a phone only used where the Telstra network is the only one available or for a light user looking to 'set and forget' their phone plan.
Telstra Prepaid Mobile Phones
Telstra gives customers the option to bundle their prepaid plan with a mobile phone, usually with an upfront cost. Some of the phones available are:
OPPO A57: From $249
iPhone 6: From $449
Samsung Galaxy J1: From $149
LG K4: From $139
A number of other Telstra-branded smartphones are also currently available. The cheapest available costs $29 and is called the 'Telstra Lite'. Usually these phones are not part of the plan, per se, but by purchasing one outright through Telstra you may get a discount unavailable at other stores. The caveat to this is that these phones may be locked to the Telstra network. This is how some prepaid plans look with an iPhone 6 32GB bundled in:
How do Telstra prepaid plans compare to other providers?
Telstra has ramped up efforts recently to better compete with a range of low-cost Mobile Virtual Network Operators that provide a lot of value included at a cheap price. See how Telstra stacks up below.
Telstra Prepaid Extra Plans Compared
For plans with 2GB data plus unlimited calls & texts bundled in, you can realistically expect to pay as little as $15 per month these days. Of course, there's always a catch – the cheapest plans usually lock you in to a 12 month plan, while monthly plans come at a slightly higher cost. Providers to look out for include Kogan Mobile, Yomojo, LycaMobile and Amaysim.
Telstra Day2Day Plan Compared
Telstra is one of very few providers to offer a 'day to day' plan, and its main competitor here is none other than Optus. Optus has a daily recharge option, which costs $2 and in return you receive 500MB data plus unlimited calls and texts. You also get data-free music streaming as part of this offer.
Telstra Long Life & Simplicity Plans Compared
As far as casual long-life plans go, Telstra is pretty hard to beat, but while the following plans may look similar on the surface, you'll have to dive deeper to find the real value. Some providers charge more per minute for calls and texts, as well as data per megabyte. Telstra at 10c/megabyte is middle-of-the-road and has fairly competitive rates for calls & texts. Among the cheapest long-life rates out there are from ALDI Mobile, Amaysim and Optus.
Should I recharge with Telstra's prepaid plans?
Telstra has a wide variety of prepaid plans to choose from – more than 15 in fact – that will suit a wide variety of needs and phones. Whether you're a regular phone user who requires regular calls, texts and mobile data to use, or if you're a light user or one looking for a low-maintenance plan, Telstra likely has you covered. However, the question is, can you find a better offer elsewhere? Telstra has ramped up its plans lately to better reflect the competitive prepaid market, but there may be some MVNOs that offer more data for less. The Telstra network is unrivalled in Australia, but for the vast majority of people, it's probably worth keeping your eyes peeled and regularly comparing plans.