Toshiba Air Conditioners Review
Buying the right air conditioner for your home isn't always an easy and breezy process. That's why we're always reviewing and rating different air conditioning systems from a number of brands, like Toshiba.
Claimed to be the first company to include inverter technology in air conditioning systems, Toshiba is one of the major brands responsible for ensuring year-round comfort with its range of appliances. The brand describes itself as a suitable pick for Australian households looking for an energy efficient unit, especially with the DC-Twin Rotary Inverter Compressor being a key feature in many of its models.
The compressor is said to minimise energy consumption when used for a long period, potentially helping to keep your bills low without sacrificing much-needed power. The different types of products on offer from the brand include single split systems, multi split systems, and inverter ducted systems. What's more, Toshiba offers a seven-year warranty on air conditioners installed for residential purposes.
Single split system
Stuck in the appliances aisle fighting over which air conditioner to get? Toshiba's Inverter Hi-Wall Split System series might just have a few outstanding features to persuade everyone.
Toshiba N3 Series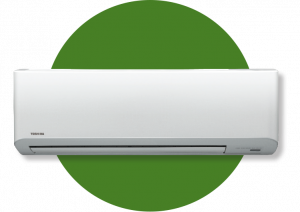 From quiet operation to 'optimum' airflow, Toshiba's N3 series is designed to ensure absolute comfort. Units from this range are also said to incorporate an apparently advanced filtration system to help you 'breathe cleaner air'. The Toshiba N3 series can be used throughout the year, offering between 2kW and 7kW of power.
Toshiba Inverter Hi-Wall Split System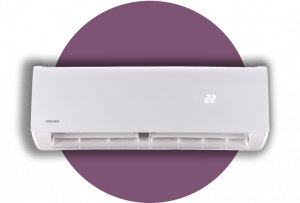 Alternatively, there's always Toshiba's Inverter Hi-Wall Split System series to consider. This provides between 8kW and 10kW of power and comes with a bunch of cool features. Some of these include follow-me sensors and a built-in controller. The products also have a self-cleaning function, which is said to be especially useful for reducing humidity. The brand claims humidity can cause mould to grow inside the appliance, ultimately affecting the cleanliness of the air you breathe in. All Toshiba models come with a seven-year warranty (for residential buildings).
Multi split system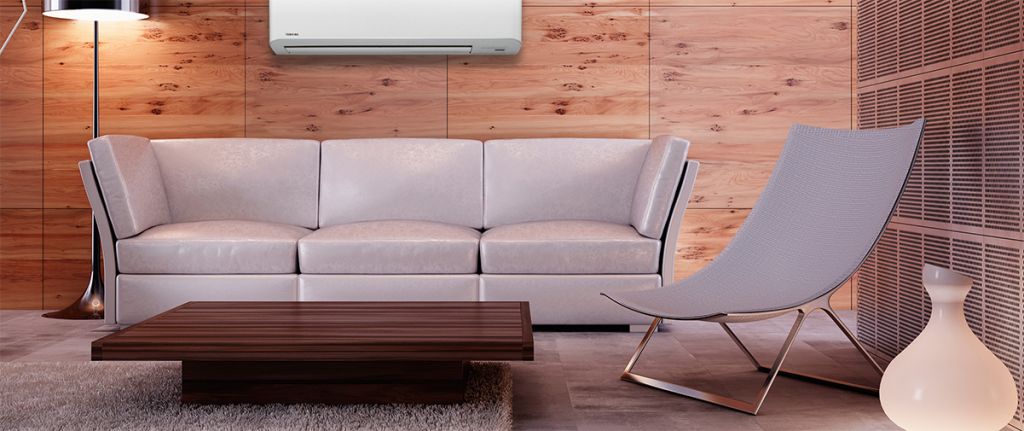 Shopping around for an energy efficient way to cool different rooms in the house? Toshiba's multi split systems are designed to ensure that a single outdoor unit can operate between two to five indoor units. Many of the models in this series contain the DC Twin-Rotary Compressor, which the brand claims can help minimise energy consumption when the appliance is used for a long period.
The different types of multi-split systems available include:
Inverter Hi-Wall
Inverter Ducted
Inverter Cassette
Inverter Floor Mounted Console
Multi-split outdoor units
Inverter Hi-Wall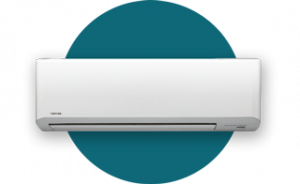 Toshiba's selection of inverter Hi-wall split systems are described as having 'extremely low noise levels', as well as a 'discreet and unobtrusive' build, designed to help the appliance fit seamlessly into the décor. The units are also stated to produce high energy efficiency and effective air purification. This range also has an auto diagnosis and self-diagnosis and self-cleaning function, which might be a convenient feature for people with busy schedules.
If you have a larger space, the Toshiba RAS-M24N3KV2-E has the highest cooling capacity which ranges between 2.4kW and 7.2kW. Its heating power is also just as strong, providing between 1.8kW and 8.6kW. Otherwise, households who need an indoor unit for a smaller room can always consider the Toshiba RAS-M07N3KV2-E. This has a maximum cooling power of 2.5kW and a heating capacity up to 4.8kW.
Inverter ducted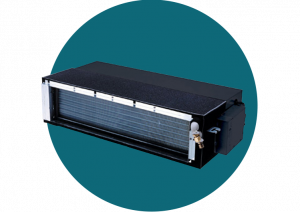 Toshiba claims it range of inverter ducted multi-split systems provide 'reliable and controllable comfort year-round. If you're hoping to maintain some peace and quiet in the home, the Toshiba RAS-M16G3DV-E appears to produce the least noise in the brand's range of multi-split system air conditioners. This unit is stated to operate between 25 dB(A) and 35dB(A). However, the noise level of Toshiba's other inverter ducted air conditioning systems don't stray much and typically range between 27 dB(A) and 35 dB(A).
Inverter Cassette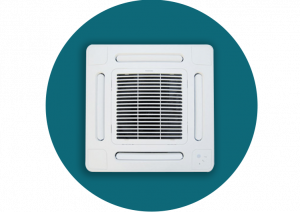 Does easy installation and maintenance sound like music to your ears? Toshiba has a few four-way cassette units with 'slimline dimensions' and a standard grid measuring 600mm x 600mm.
When it comes to build, all three units share the same dimensions and weight. There is also little separating the models in terms of noise levels. Most of the difference is in the cooling and heating capacities of each air conditioning system. If you're planning on buying an air conditioner for a small guestroom or bedroom, the Toshiba RAS-M10SMUV-E might be a suitable option as it produces up to 3.2kW of cooling power and 5.2kW of heating power.
The Toshiba RAS-M13SMUV-E and Toshiba RAS-M16SMUV-E can alternatively be used in the living room or other larger spaces.
Inverter Console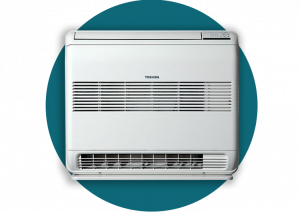 Short on space? Toshiba has a number of inverter consoles which can be installed on the floor or as a low-wall unit. The brand recommends this type of appliance should be placed in areas like under the window sill or in a low ceiling attic.
Inverter consoles like the Toshiba RAS-B10UFV-A, Toshiba RAs-B13UFV-E and Toshiba RAS-B18UFV-E have a bi-flow feature. This means that there are two outlets in the appliance to allow for 'complete personalised flow'. The models also come with a floor heating mode, which might be especially useful for keeping the home warm in winter. Other features include child lock and deodorising effect. All Toshiba models also come with a seven-year warranty (for residential buildings).
Multi-split outdoor units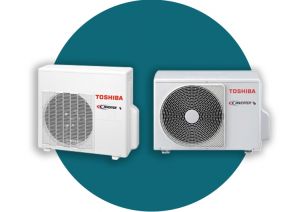 Toshiba has a number of multi-split inverter outdoor units. These apparently lightweight units contain the Toshiba DC hybrid inverter, which the brand claims improves performance and reliability. Compared to fixed-speed systems, the Toshiba Multi Splits are said to provide faster and more precise temperature management due to the DC compressors.
Whether you need an outdoor model to pair with a few indoor units, or you just want to manage the heating and cooling in a couple rooms, Toshiba offers a number of multi-split outdoor units to choose from.
Toshiba RAS-2M18S3AV-A can be used for two indoor units
Toshiba RAS-3M26S3AV-A can operate three indoor units
Toshiba RAS-4M27S3AV-A can be paired with four indoor units.
Toshiba RAS-5M34S3AV-A can manage five indoor units
Inverter ducted systems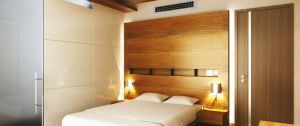 Looking for an air conditioner that discreetly tucks into the rest of your living space? Toshiba's range of inverter ducted air conditioners can be attached to the wall, creating a little less bulk to deal with. Plus, they are reverse cycling. So, you can use the appliance too cool or warm up your house all year-round.
When it comes to energy efficiency, there's little separating the different models. The main standout is the Toshiba RAV-SM1403DT-A, which has the highest efficiency rating of the bunch at 3.42 if using the cooling function. If the heating is on, it's still one of the most energy efficient in the range with a rating of 4.14.
Each Toshiba ducted air conditioning system uses R410A refrigerant. Some of the indoor units include the Toshiba RAV-SM1103DT-A, Toshiba RAV-SM1603DT-A and Toshiba RAV-SM2244DTP-E. Outdoor models are also available.
Does Toshiba have the best air conditioning system for me?
Does Toshiba have the best air conditioner to suit your home? From inverter ducted systems to single split systems and multi-split systems, there are plenty of cool options to choose from.
When shopping for a new air conditioner, sometimes good heating isn't always the first thing we think about. But many of Toshiba's air conditioning systems are reverse cycle and can be used all year-round. The brand also has a number inverter multi-split system consoles. These are stated to contain a floor heating function, which can apparently provide 'consistent and comfortable' heating at floor level.
For people who don't need an appliance to fill up too many spaces, the Toshiba RAS-M07N3KV2-E inverter Hi-wall unit and Toshiba RAS-M10SMUV-E inverter cassette are suitable options for anyone short on space. If you want a little bit more flexibility or control, the outdoor Toshiba RAS-2M18S3AV-A multi-split system unit can be used to manage indoor units in two different rooms.
Ducted air conditioning systems are similarly suitable for anyone who prefers to manage the temperature of either their entire home or just a number of individual rooms. Indoor ducted air con units are usually placed in a tight space, with ducts running through the ceiling and into air outlets in each room. This type of system requires vents to be installed on the ceiling or the wall to ensure proper circulation. Some include the Toshiba RAV-SM1403DT-A inverter ducted air conditioner, and the Toshiba RAS-M16G3DV-E multi-split ducted air conditioner.
To ensure you buy the best air conditioner for your needs, avoid settling with the first cool option you see. Visit the Canstar Blue ratings page to compare a wide range of air conditioners on factors including performance, reliability and value for money.
Air Conditioner Reviews & Ratings
About the author of this page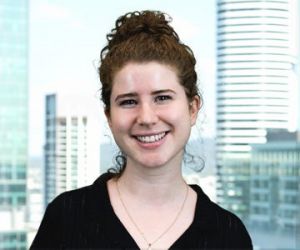 This report was written by Canstar Blue's Content Producer Luciana Lawe Davies. She writes about streaming, appliances and consumer products and services. Luciana enjoys bringing readers the best in what's on TV and at the shops, including the best deals and latest reviews.