Amazon Music is a streaming platform which boasts a library of more than 50 million songs and growing, as the Amazon group looks to venture further into the entertainment sphere. Available on iOS, Android and Windows, Amazon Music has given music lovers another way to tune into their favourite songs and artists, but in a world seemingly run by data limits, how much data are you using with Amazon Music? If you're worried about data usage when you're listening to music on the go, read on to find out if Amazon Music is shredding your data like a guitar solo.
How much data does Amazon Music use?
Amazon Music is estimated to use around 130MB of data per 20 minutes of music, while an hour-long listening session will cost you around 400MB. You can see the estimates for Amazon Music's data usage in the table below.
| Minutes | Average Mobile Data Used |
| --- | --- |
| 20 | 133MB |
| 40 | 266MB |
| 60 (1 Hour) | 400MB |
| 120 (2 Hours) | 800MB |
Estimates only.
While the table above gives you a rough idea of how much data your favourite tunes are using, there has been no official information from Amazon in regards to the actual figures, although most online estimates and guides state that Amazon offers music in multiple audio quality ranges – generally from 48kbps to 320kbps – which will impact the amount of data used. Of course, you can always change the audio quality via settings in the Amazon Music app.
Can you use Amazon Music offline?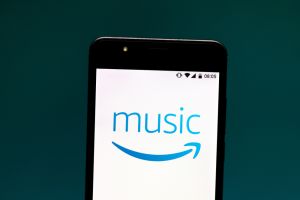 A benefit of Amazon Music is that it allows you to download your daily tunes via your home Wi-Fi for offline listening, provided you have the most recent version of Amazon Music. To download your music offline, simply hop onto the app, select the song, album or playlist you want to save offline and tap the three-dot menu button to access Options. From the provided options, select Add to My Music and then once again select the three-dot menu icon to download for data-free offline use. This comes in handy when you're out and about – but be warned that only downloaded tracks will play data-free, so make sure you've downloaded all the songs you want before you set out!
Do you get Amazon Music for free with Amazon Prime?
Amazon Music is a benefit included in your Prime membership at no extra cost and features more than two million songs from 2000+ playlists and stations. Amazon Music is ad-free with unlimited skips and rewinds with availability for offline playback, while it's big brother, Amazon Music Unlimited is $7.99 a month for Prime members and $9.99 a month without a Prime membership.
What's the difference between Amazon Music and Amazon Music Unlimited?
The difference between the two is the size of the music libraries. While they both offer offline listening, ad-free music and a number of other features to help you jam to your tunes the way you want, Amazon Music Unlimited offers more than 50 million songs, while Amazon Music has only two million.
What's the deal with Amazon Music and data usage?
With the continuous rise of Amazon, it's no surprise that many of us are turning to the service for their musical tastes. However, in comparison to other music streaming services like Spotify and Apple Music, Amazon Music does use a higher amount of data, which may hit a dud note with some users looking to stay within the limits of their data plan. However, with offline listening, and a bit of self-restraint (or an unlimited data phone plan), you can still enjoy Amazon Music without the sting of a hefty bill.

Photo credits: Nicole Lienemann/shutterstock.com, Rafapress/shutterstock.com