How is the Prepaid Mobile Plans Outstanding Value Award

determined?
The Prepaid Mobile Plans Outstanding Value Award assesses the cumulative performance of a provider's offering across a range of data inclusions over a six-month period; considering providers' best performing SIM-only prepaid plan within each data allowance profile over two prepaid periods. The below outlines the weighted average consideration across each data allowance and prepaid period profile.
← Mobile/tablet users, scroll sideways to view full table →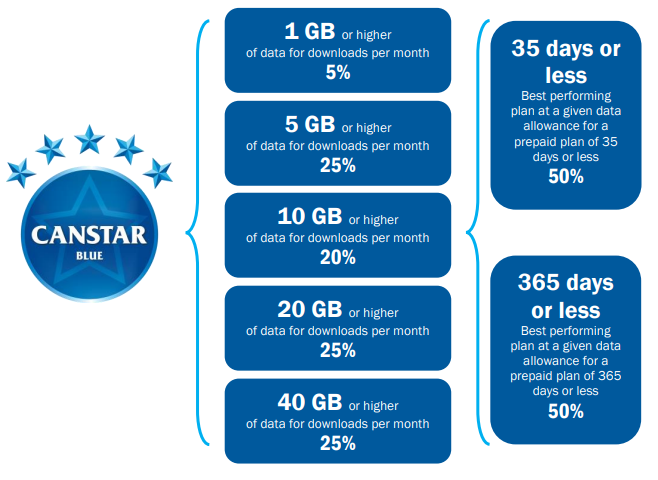 For each plan, Canstar Blue considers the value proposition compared to the market, by providing an estimated monthly cost and feature score based on Customer Service and Support, Inclusions, and Billing and Payments. Canstar Blue considers plan features most relevant to consumers in the calculation of Value Rank. However, not every feature is included in the Value Rank, nor every feature that is relevant to you.
The above is a brief overview of the elements considered in Canstar Blue's Prepaid Plan Outstanding Value Award. For further detail on how individual plans are assessed, please refer to the Mobile Value Rank Methodology document.