Qantas reaches new heights of customer satisfaction
When it comes to travelling on business, nothing is more frustrating than standing around at the gate waiting to board your flight so you can get home and see your family. Unfortunately, delays are an almost unavoidable trait of air travel, and most passengers will understand that sometimes there are hold-ups. However, there are plenty of other flying factors that are very much in the hands of an airline's employees, either on the ground or in the air – particularly customer service. A late departure time is one thing, but mix it with a terrible customer service experience and you have the perfect recipe for a flight from hell.
This is why Canstar Blue thinks it's important to measure and track customer satisfaction with Australia's biggest domestic airlines, especially when it comes to business travel, given the time and money spent by thousands of small businesses across the country every year. To do this, we surveyed more than 500 small business owners or key decision makers to get their feedback on the airline they usually fly with (or most recently travelled with, if they're not a regular flyer) and their opinions are reflected by the star ratings you see above.
In 2016, Qantas has been rated highest overall, replacing Virgin Australia at the top of the table from 2015. Qantas was the standout airline in terms of flight scheduling, club lounge services and loyalty program, while its subsidiary Jetstar was deemed to offer five-star value for money. Virgin got top marks for customer service and flight punctuality, but it was the Flying Kangaroo that came out on top for overall small business traveller satisfaction.
Frequent flyer programs
Our survey of small business owners and key decision makers found that almost three-quarters (73%) are part of a loyalty program with their preferred airline. Jetstar's program is linked to that from Qantas, which is in fierce competition with Virgin Australia's Velocity Frequent Flyer program. So let's take a look at how Qantas and Virgin members can earn extra points, apart from actually flying with their respective airlines.
 
Qantas

(Frequent Flyer)

Virgin Australia

(Velocity Frequent Flyer)

Finance
You can earn Qantas Points with a variety of everyday banking products, including credit cards, car loans and even your home loan.
You can earn Velocity Points with more than 40 credit or charge cards from all the major banks and financial institutions.
Lifestyle and entertainment
Shopping at the likes of David Jones, Country Road, Kogan and The Iconic will earn you Qantas Points.
Increase your points balance by becoming a member of Jetts Fitness, or by booking an adventure with experience company Red Balloon.
Car hire
Book a hire car with Avis or Budget to earn points. You can also grow your balance by staying at selected hotels.
Hire a car from Europcar, Hertz, or Thrifty to earn Velocity Points. You can also get points by having your own vehicle serviced at Midas.
Food and drink
You can earn Qantas points by dining out at more than 2,000 restaurants across Australia.
Eating out at a number of top restaurants will earn you Velocity Points, as will buying Virgin Wines.
Mobile phones
Signing up for the Qantas Red plan with Vodafone will also earn you points.
Customers of Virgin Mobile can top up their points balance simply by paying their bills.
More ways to earn points
Qantas website
Virgin Australia website
So are small business owners and key decisions makers actively doing their best to earn more points? We found that 72% have a credit card linked to their rewards program, while 85% go out of their way to collect points from other sources like those listed above. Overall, just over two-thirds (68%) believe their program offers good value, but a similar number (63%) would switch to another airline if they were confident of getting better value.
Pet hates of travelling for business
If you're travelling interstate on business, the last thing you need is a frustrating flight, either because it was delayed or because other passengers are generally annoying. We asked survey respondents to tell us about their greatest pet hates and found them to be as follows:
Flight delays: 20%
Lack of personal space (i.e. too little leg room): 16%
Sitting next to unpleasant passengers (i.e. smelly, noisy, overweight): 16%
People fidgeting / kicking your seat: 14%
Crying babies or misbehaving children: 11%
Turbulence: 7%
Waiting to get off the flight after landing: 6%
Poor customer service (ground or cabin crew): 4%
Lack of in-flight entertainment: 2%
Other: 2%
If the above list of pet hates resonates with you, we hope our customer ratings prove helpful.
About the author of this page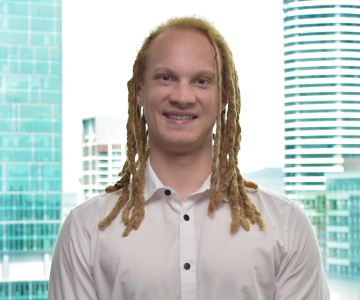 This report was written by Canstar Blue's Content Projects Lead, Dean Heckscher. He's our resident expert on all things automotive, health & fitness, streaming and more. Dean is also one of Canstar Blue's customer research report producers, helping to turn complicated subjects into easily-digestible information for our readers. He's passionate about helping consumers make better-informed purchase decisions on all manner of consumer goods and services.