Celebrity Slim Weight Loss Shakes Review & Guide
The word 'diet' isn't usually associated with flavour – and the results are quite frequently limited or temporary. This can leave you in a place of upset and frustration, not knowing how to manage your weight or where to go for help. Celebrity Slim has provided the weight loss market with a program that focuses on educating consumers about the weight loss process, while providing great-tasting products to support small or large weight journeys. But is shedding weight like a 'celebrity' the best bet for you? Check out what's on offer with our review.
What is Celebrity Slim?
Celebrity Slim aims to help you lose weight by limiting your carbohydrate intake, as well as lowering the amount of kilojoules you consume daily to boost your metabolism and burn more fat. It also encourages participants to ditch the habit of eating two or three large meals a day and instead start chowing down between five and six smaller meals instead.
The Celebrity Slim Program is designed in three stages:
Rapid Phase: kick-start your weight loss
Trim Phase: reach your weight loss goal
Maintain Phase: maintain your weight loss
With regular exercise, the Rapid Phase is designed to help you lose weight fast at the start of the program to get the ball rolling. This is followed by the Trim Phase, which is intended for longer-term sustainable weight loss. Finally, the Maintain Phase is recommended for people who have reached their goal or need a bit of assistance with improving their health or losing those last couple pesky kilos.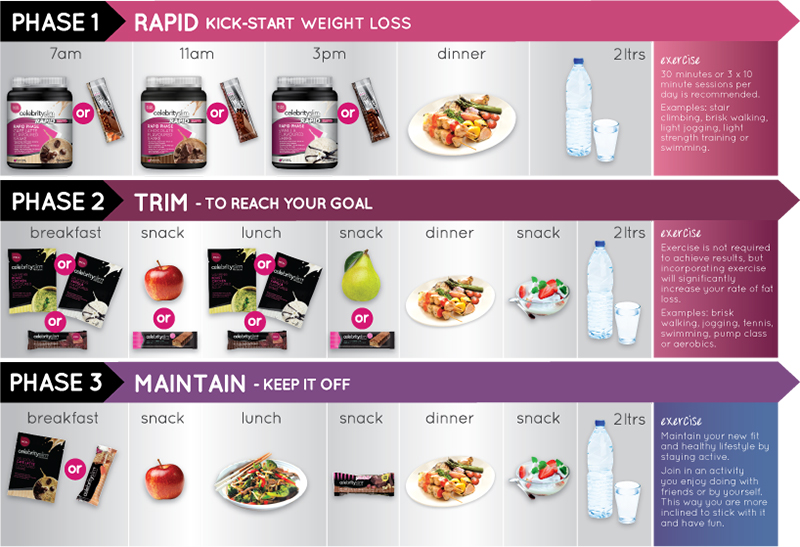 Celebrity Slim product range
Celebrity Slim offers a number of weight loss shakes to suit the various stages of the Celebrity Slim weight loss program, as well as a number of dietary requirements. The different ranges include:
Celebrity Slim Dairy & Gluten-Free shakes
Celebrity Slim Rapid Shakes
Celebrity Slim Rapid Low Sugar Shakes
Celebrity Slim Meal Replacement Shakes
Celebrity Slim Low-Carb Shakes
Celebrity Slim Dairy & Gluten-Free Shakes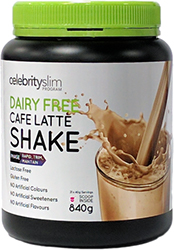 Celebrity Slim has introduced a range of lactose free and gluten-free shakes which can be mixed with soy milk, or a dairy-free milk alternative such as almond, rice or coconut milk. This meal replacement is also described as being vegetarian and vegan friendly, and apparently does not contain artificial colours, sweeteners and flavours.
The Celebrity Slim Dairy & Gluten Free Shakes can be used during all three phases of the Celebrity Slim Program, and is claimed to be nutritionally equivalent to the Rapid or Trim shakes. Each 840g tub gives you 21 servings, and comes in flavours such as cafe latte, chocolate and vanilla. If you need something on the go, you can get a pack of 21 sachets for $41.90. A bundle deal is also available for $119.97.
Celebrity Slim Rapid Shakes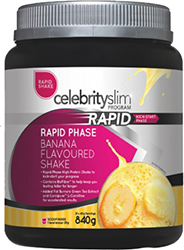 Compared to original Celebrity Slim products, Celebrity Slim Rapid shakes are made with skim milk and created to be consumed three times a day to feel full and maximise weight loss. This high protein shake is said to help boost your diet during the initial Rapid Phase with 'fat burners' like green tea extract and Carnipure L-Carnitine. The addition of the Carnipure L-Carnitine is also stated to help build muscle mass, boost energy levels and reduce hunger cravings.
Each tub contains 21 serves. Flavours include banana, cafe latte, chocolate and vanilla.
Celebrity Slim Rapid Low Sugar Shakes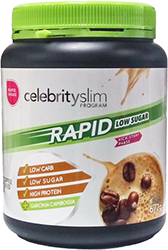 If you're looking to satisfy your sweet tooth cravings during the Celebrity Slim Rapid Phase, the Rapid Low Sugar Shakes range offers flavours such as iced coffee, chocolate and vanilla. These shakes are claimed to reduce the amount of carbohydrates from your diet and support weight loss by apparently forcing the body to focus on burning fat instead of glucose (sugar) for energy. This line of weight loss shakes is also described to be high in protein, as well as low in carbs and sugar.
Each tub is said to provide enough shakes for seven days, provided your taking three shakes per day during the Rapid Phase.
Celebrity Slim Meal Replacement Shakes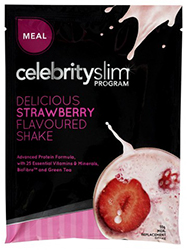 Each Celebrity Slim Replacement Shake is claimed to contain a nutritionally balanced combination of protein, carbohydrates, fats, vitamins, minerals and soluble fibre to apparently keep your energy up while you lose weight. You can choose to either get an assorted box of flavours, or just stick to your favourite with the individual flavoured packs. Options include cafe latte, chocolate, strawberry and vanilla.
Celebrity Slim 5 Day Assorted Shake Pack (10 sachets): $29.99
Celebrity Slim Shakes (12 sachets): $39
Celebrity Slim Assorted 7 Day Shake Pack (14 sachets): $42.99
Celebrity Slim 10 Day Variety Shake Pack (20 sachets): $49.99
Celebrity Slim Low-Carb Shakes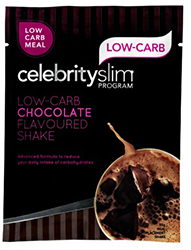 For anyone who feels like their dieting journey is at a standstill, the brand recommends the Celebrity Slim Low Carb range. These shakes are boasted to have almost 50% less carbohydrates than its other products, designed to force the body into using fat for energy by reducing your daily carbohydrate intake. Although it's suggested people start the Celebrity Slim program with its traditional products before attempting to lose weight with this low carb alternative.
Celebrity Slim Low Carb Assorted 5 Day Shake Pack (10 sachets): $29.99
Celebrity Slim Low Carb Chocolate Shakes (12 sachets): $39.99
Celebrity Slim Low Carb Assorted 7 Day Shake Pack (14 sachets): $42.99
Is Celebrity Slim worth the money?
While there are three stages of the Celebrity Slim Program, the plan is still fairly flexible and can be adapted to suit you. This is especially the case when it comes to the Rapid Phase and Trim Phase. The Rapid Phase is intended to be used for just the first two weeks, while the Trim Phase is designed for a longer-term use. Although the brand says you can just skip to the Trim Phase or extend the Rapid Phase for a little longer, or switch between the two stages every couple of weeks.
To make sure you're getting the best weight loss shakes for you, you might like to check our ratings and reviews to compare Celebrity Slim with other brands on the market.
About the author of this page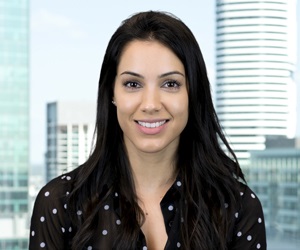 This report was written by Canstar Blue's Home & Lifestyle Content Lead, Megan Birot. She's an expert on household appliances, health & beauty products, as well as all things grocery and shopping. When she's not writing up our research-based ratings reports, Megan spends her time helping consumers make better purchase decisions, whether it's at the supermarket, other retailers, or online, highlighting the best deals and flagging anything you need to be aware of.