Review of Musashi Protein Supplements
Since being established in 1987, Musashi has become one of the most well-known sports nutrition brands available in Australia. It offers a full spectrum of sport nutrition products from amino acid blends to protein powders, as well as options for those who follow plant-based diets. Musashi is driven by innovation and aims to provide high quality ingredients throughout its range, and prides itself on supporting the performance needs of all kinds of athletes, from the everyday level to the elite. If you're interested in potentially swapping protein brands, or are looking to get into supplements for the first time, read on to find out what's available from Musashi.
What protein powders does Musashi offer?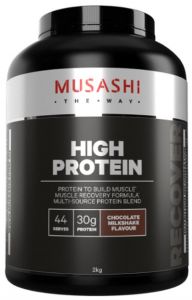 Splitting its range into Fuel, Bulk, Shred and Recover ranges, Musashi primarily offers Whey supplements, in addition to some plant-based options. Below is Musashi's range of protein powders:
Musashi Bulk Extreme Protein Powderboasts around 33g of protein per serve, and is designed for bulk mass gaining, which may be suitable for fast metabolisms and thin builds. Available in chocolate and vanilla flavours, the Musashi Bulk Extreme protein powder is only available in a 2kg tub.
Musashi Bulk Protein Powder provides 26g of protein and 24g of carbs per serve, ideal for those looking to put on weight as well as muscle. Available in multiple sizes – including 420g, 900g and 2kg tubs, but only comes in chocolate and vanilla flavours.
Musashi High Protein Powder features whey concentrate and whey isolate for muscle building and recovery, and includes 30g of protein per serve, with only 3g of fat. Available in a 375g, 900g and 2kg tub, like other Musashi protein powders, it is only available in chocolate and vanilla flavours.
Musashi 100% Whey Protein Powder contains a blend of whey concentrate and whey isolate to help promote muscle growth, with 24g of protein per serve. Also containing digestive enzymes, Musashi's 100% Whey comes in 330g, 900g and 2kg tubs, and is available in chocolate and vanilla flavours.
Musashi Plant Protein Powder is suitable for those looking for plant-based or more organic protein sources, with this protein also vegan-friendly. Available in a 320g and 900g tub, Musashi's Plant Protein Powder comes in vanilla and chocolate flavours, and comes packed with 22g of protein per serve.
Musashi Shred & Burn Protein Powder contains both whey protein concentrate and whey isolate for lean muscle building and recovery, along with carnitine and green tea extract to assist with fat loss. Available in a 340g, 900g and 2kg tub, the Shred & Burn powder comes in chocolate or vanilla flavours, with 22g of protein and 4g of carbs per serve.
Musashi Young Athlete Protein Powder is made to promote and support young muscle recovery and growth, and also includes vitamins and minerals to assist with general health. Containing 7g of protein per serve (and recommended to be used as part of a healthy and varied diet), the Young Athlete Protein Powder is only available in a 360g tub, and comes in Choc Malt or Vanilla Malt flavours.
Musashi Deluxe Protein Powder contains 20g of protein and 5g of carbs per serve, but is only available in a 900g tub. But if you have a sweet tooth, or simply want something different from the Musashi chocolate or vanilla options, the Musashi Deluxe Protein Powder is available in Choc Peanut Butter, Jam Donut and Tiramisu flavours, making it potentially the best flavour option for those new to protein powders.
What protein bars does Musashi offer?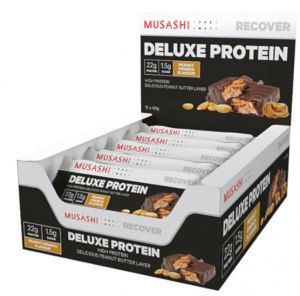 For a protein treat to grab on the go, Musashi offers several varieties of protein bars, with some ideal for pre-workout, post-workout, or when you simply need a protein boost that hits the spot.
Musashi Deluxe Protein Bar is a more traditional protein bar, with a chocolate coating to help sweet tooths get their protein fix. Available in a variety of flavours – including Peanut Crunch, Rocky Road, Chocolate Berry Mudcake, Caramel Cookie Crunch, Jam Donut and Triple Choc Caramel – each protein bar has around 20g of protein, along with 9g of carbs.
Musashi High Protein Bar comes in multiple flavours, such as Milk Chocolate, Rocky Road and Cookies & Cream, and features up to 45g of protein per 90g bar, making it a suitable option for those looking for a big protein hit. Musashi's High Protein Bars come in a box of 12.
Musashi Protein Wafer Bar is an ideal option for those who want a protein hit but find traditional protein bars a bit tough to sink your teeth into. Featuring four layers of wafer and whey concentrate filling, the Musashi Wafer bars contain 11g of protein per serve, but also contain 12g of fat as well. Available in a box of 12, you can choose from Chocolate, Vanilla or Berry flavours.
Musashi Shred & Burn Protein Bar contains up to 20g of protein and 6g of fat per serving, made with a blend of garcinia cambogia, green tea extract and carnitine to promote lean muscle growth and fat loss. Coming in boxes of 12, available flavours include Peanut Butter Caramel, Cookies & Cream, Choc Mint and Expresso Hazelnut.
Musashi Pre Workout Bar is designed for those looking for a little kick before a workout, with creatine, caffeine and guarana to help with energy levels. Including 16g of protein and 20g of carbs per serve, the Musashi Pre Workout bars are available in a box of 12, with flavours including Peanut Butter Choc and Double Choc.
What Ready to Drink Supplements does Musashi offer?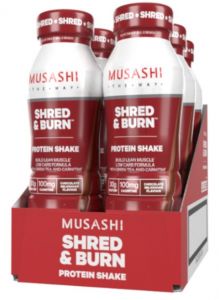 Offering a ready-to-drink protein supplement across each of its main protein categories, each of Musashi's drinks comes in boxes of six – with bottles 375ml – and may be an ideal fit for those who aren't keen on bars, or forgot to make their own protein shake before hitting the gym.
Musashi Muscle Recovery Shake includes glutamine and BCAAs to help promote muscle recovery after a tough workout, and includes 30g of protein and 14g of carbs for optimal recovery. The Recovery Shake comes in either chocolate or vanilla flavours.
Musashi Shred & Burn Shake features a low carbohydrate formula to help promote both lean muscle growth and fat loss, with 30g of protein in each serving. With green tea extract and 100mg of carnitine, the Shred & Burn Shake is only available in a Chocolate Milkshake flavour.
Musashi Bulk Protein Shake may be a good fit for those looking to put on both weight and muscle, with a high calorie formula delivering 30g of protein and 32g of carbs per serve. While only available in a Chocolate Milkshake flavour, the lack of flavours may be worth it if you're looking for a mass gainer.
Musashi Protein Coffee Shake may be the ideal middle ground for those looking for a protein hit with their morning coffee, featuring over 30g of protein and 110mg of caffeine per serve. Not surprisingly, it only comes in a Triple Espresso flavour.
Other Musashi Supplements & Products
In addition to the traditional protein supplements, Musashi also offer a variety of other supplements and powders, including pre-workouts, electrolytes, creatine and BCAAs, along with multiple capsules for those looking for something specific, such as night time aminos or carnitine. Musashi also outlines the ingredients and nutritional information of its products on its websites, allowing you to check the products before you buy. You can also check out guides, articles and training tips online to help with your fitness journey.
Musashi Shipping and Returns Policy
There are no refunds or exchanges offered for a change of mind if you're buying directly from the Musashi website. If a Musashi product has been damaged in transit, you will need to contact the Musashi Online Customer Care Team within 48 hours to organise a replacement.
All Musashi orders are dispatched within one business day after receiving a confirmed order and payment. If an order is received before 1pm EST, Musashi is committed to send out the order on the same day, with package tracking usually available for orders, although this will depend on the courier service.
Musashi delivers to PO Boxes and all postcodes within Australia, and offers a flat rate of $9.90 for all orders to Australian addresses, with a $15 flat fee for New Zealand addresses.
Musashi Membership
Musashi offers a free online membership which provides exclusive discounts and offers on Musashi products, and gives access to competitions and promotions.
Should I choose Musashi protein supplements?
Musashi is a well-known brand in the Australian supplement market, and is traditionally thought of as a higher-end brand with a focus on bulking and shredding products. While it may not offer much in the form of flavours for most supplements, it does offer enough in its range to get you started on your fitness journey, or to help you find that extra gear.
Of course, there's plenty to consider when it comes to choosing (and taking) a protein supplement, so it pays to not only research into what flavours are available, but the nutritional breakdown to ensure you're getting the best fit for your fitness goals. Looking into the serving quantity, and the size of the tub can also help you make a decision, as you don't want to be running out of protein every few days.
At the end of the day, Musashi is worth exploring for both first-time gym-goers and gym veterans, with products tackling recovery, muscle growth and fat loss to help you get your body in shape (although you'll still need to put in the hard yards to get the outcome you want). But considering Musashi products are also widely available at supermarkets, chemists and protein supplement stores, it won't be hard to find.
Photo Credit: Shutterstock, Musashi
About the author of this page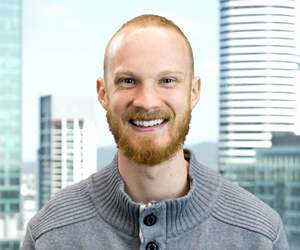 This report was written by Canstar Blue's Site Editor, Dean Heckscher. He's our resident expert on all things automotive, health & fitness, streaming and more. Dean is also one of Canstar Blue's customer research report producers, helping to turn complicated subjects into easily-digestible information for our readers. He's passionate about helping consumers make better-informed purchase decisions on all manner of consumer goods and services.