Review of Nature's Way Protein Supplements
Nature's Way is an Australian owned company that has been operating for over 75 years. Nature's Way aims to encourage Australians to live life "nature's way" by providing a wide range of health products with a commitment to quality. In its sport and fitness line, there are several protein powders on offer that are targeted towards supporting active lifestyles, and are often found in supermarkets, pharmacies and online. Check out Nature's Way's range of protein supplements in this Canstar Blue guide.
What protein powders does Nature's Way offer?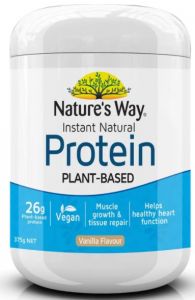 Nature's Way only offers powder supplements in its protein range, but includes a variety of powders to suit your fitness goals and dietary habits, with the majority of its range made from natural plant-based proteins. Below is the range of protein supplements available from Nature's Way:
Instant Natural Protein + SUPERGREENS: Aiming to help give you your protein fix as well as improve your general health with superfoods, Nature's Way SUPERGREENS protein powder includes 22g of plant-based protein per serve. Vegan friendly, it is only available in vanilla flavouring, and comes in a 300g container.
Natural Figure Shaping Protein: Aimed to help with muscle recovery and lean muscle growth, Nature's Way Figure Shaping protein contains 23g of protein per 30g serving. Available in a 400g container, Figure Shaping protein is only available in vanilla flavour.
Instant Natural Protein: The bulk of the Nature's Way protein range, available flavours include vanilla, chocolate and unflavoured, with all flavours coming in a 375g container. With 26g of protein per serve, this plant-based powder is suitable for vegan diets, and is also gluten and dairy free.
Instant Natural Protein + Collagen: To assist with muscle and tendon recovery, this protein also includes higher levels of Zinc to help with nail and skin health, in addition to 20g of protein per serve. It is only available in vanilla flavouring, and comes in a 300g container.
Does Nature's Way offer protein bars or snacks?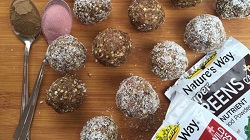 Nature's Way does not produce protein bars or snacks. It does, however, offer several recipes on its website suggesting how to make your own protein balls using their protein powders that you may like to check out.
Should I choose Nature's Way protein supplements?
Nature's Way seeks to empower people to live as healthily as they can with its product range, with its protein supplements primarily aiming to support active lifestyles and exercise regimes. While it may not have the range, flavours or protein types as other brands, if you're looking for a natural or plant-based protein, Nature's Way may be worth looking into.
With the supplement market often a hard one to muscle in on, it's worth exploring all of your options before deciding on your new gym partner, with multiple types of proteins – each with different focuses and nutritional benefits – aiming to help specific workouts or body types. To see what else is out there, head on over to our gym supplement ratings to see what brands are currently available in Australia, and what each have on offer.
Photo Credit: Shutterstock, Nature's Way
About the author of this page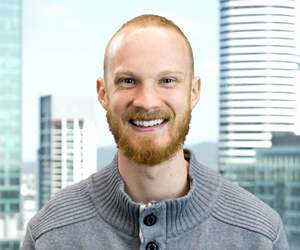 This report was written by Canstar Blue's Site Editor, Dean Heckscher. He's our resident expert on all things automotive, health & fitness, streaming and more. Dean is also one of Canstar Blue's customer research report producers, helping to turn complicated subjects into easily-digestible information for our readers. He's passionate about helping consumers make better-informed purchase decisions on all manner of consumer goods and services.