Review of NIVEA sunscreen
As a skincare brand, Nivea has made nourishing skin a priority in designing its sunscreen range. All Nivea sunscreen products are designed to be fast-absorbing and non-greasy on the skin. The current range of sunscreen products are all broad-spectrum, offering protection from both UVA and UVB radiation, and ranging from SPF 15 to SPF 50+. Nivea offers a number of different sunscreen products tailored to different skincare needs.
A number of Nivea sunscreen products contain vitamin E to sooth and repair damaged or dry skin. For everyday wear, the lightweight sunscreen products can be worn underneath makeup or on its own without that heavy sticky feeling. Spray-on sunscreen can be found in SPF 15, 30, and 50 ratings, while lotions are either SPF 30+ or 50+. The kids, beach and sports sunscreens are water resistant for long-lasting skin protection.
Read on to learn more about what the Nivea sunscreen product range offers in this Canstar Blue review.
Nivea Everyday Sunscreen
Protect & Moisture Moisturising Sunscreen Lotion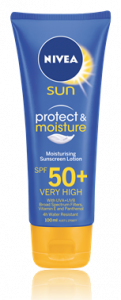 Nivea's core sunscreen lotion product combines high UV protection with moisturising properties to keep skin healthy and hydrated. The formula contains vitamin E and has up to 4 hours water resistance. This lotion comes in either SPF 30 (200mL bottle) or SPF 50+ (100mL tube, 200mL bottle, & 400mL bottle). The SPF 50+ formula also contains panthenol for extra hydration and skin protection.
Protect & Light Feel Everyday Sunscreen Lotion SPF 30
Designed to feel like an everyday body moisturiser, this sunscreen can be a good trade-off between sun protection and having to slather on a lot of sunscreen. The Protect & Light Feel formula can make everyday sun protection easy, although for prolonged or high UV index sun exposure you may be better off with a higher SPF sunscreen. This product comes in a handy 100mL tube that can be easily kept in a bag or drawer, or a larger 200mL bottle.
Protect & Moisture Caring Sunscreen Spray
Spray-on sunscreen can offer quick and convenient sun protection – just spray it on and rub it in. It can make it easier to reach places that can be harder to apply sunscreen on, such as the back. However, users should make sure they actually apply enough sunscreen to provide adequate protection when using a spray. The Nivea Protect & Moisure Caring Sunscreen Spray comes in either SPF 15 (with up to 2 hours water resistance) or SPF 30 (up to 4 hours water resistance). Both contain vitamin E to protect against the drying effects of the sun. This product comes in a 200mL pump spray.
Ultra Beach Sunscreen SPF 50+

Designed as a convenient spray, this formula is targeted towards combating the effectives of not just sun but also salt from a trip to the beach. The Nivea Ultra Beach sunscreens offer up to 4 hours water resistance and contain vitamin E to prevent the combination of sun, heat, and salty water from leaving your skin feeling dry and tight. This product comes in a 200mL pump spray or 175g quick-dry aerosol spray.
Sports Sunscreen
The Nivea Ultra Sport Cooling Sunscreen SPF 50+ is sweat resistant and up to 4 hours water resistant, designed to keep skin sun safe while you're most active – whether for work or play. The cooling properties makes application extra refreshing, giving you another reason to keep regularly reapplying your sunscreen. This product comes in a 200mL pump spray and 175g aerosol spray.
Face Sunscreen
Sunscreen can easily feel too heavy and greasy when worn on the more delicate skin of the face. Nivea produces a sunscreen designed specifically for faces, the Protect & Light Feel Daily Face Veil SPF 30. It can be worn under makeup, so you're not limited to wearing foundation with an SPF rating. It also has a higher SPF rating than most foundations with sunscreen properties, which are rarely rated higher than SPF 15. According to Nivea, the formula doesn't contain any 'solid particles' which allegedly means it absorbs faster into the skin. This product comes in a 200mL pump dispenser.
Nivea Kids Sunscreen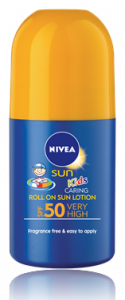 The Nivea sunscreen range includes three different products designed specifically for children's skin. All have 4 hours water resistance to keep kids sun-safe no matter what kind of mischief they're getting up to.
Kids Caring Sunscreen Spray SPF 50+ comes in a 200mL pump spray, and is slightly coloured so it's easier to make sure every bit of vulnerable young skin is covered.
Kids Swim & Play Sun Protection Lotion SPF 50+ comes in a 150mL tube, and contains panthenol to keep skin soft and moisturised.
Kids Caring SPF 50+ Roll-On Sunscreen Lotion comes in a 65mL roller dispenser. The primarily zinc oxide-based formula also contains panthenol to moisturise the skin. This sunscreen is free from fragrance, colourants, and parabens.
After-Sun Skin Care
There's no cure for sunburn, but if despite your best efforts you still end up with a burn or dry skin after going out in the sun, then Nivea has a moisturiser designed specifically for post-sun exposure. Soothing and hydrating skin is important to assist the body's natural healing process. The Nivea After Sun Moisturising Lotion contains aloe vera, vitamin E and avocado oil in a formula designed to be non-greasy. This product comes in a 200mL bottle.
About the author of this page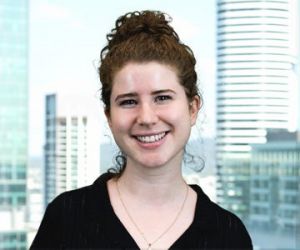 This report was written by Canstar Blue's Content Producer Luciana Lawe Davies. She writes about streaming, appliances and consumer products and services. Luciana enjoys bringing readers the best in what's on TV and at the shops, including the best deals and latest reviews.