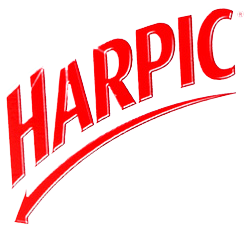 Review of Harpic cleaning products
A cleaning brand owned by Reckitt Benckiser, Harpic is recognised in almost 50 countries across the globe. It offers a full range of liquid toilet bowl cleaners, toilet bowl blocks and cistern blocks, as well as wipes. Canstar Blue runs you through the product line to help you decide if Harpic is the right cleaner for your home.
Harpic Toilet Cleaners
Harpic produces several toilet cleaners in the range. Some of its products are suitable for sceptic tanks, but it's recommended to read the packaging information before use and if you have a modern bio-septic tank, check with the manufacturer for products safe to use.
Harpic Liquids
For a deep toilet clean, Harpic offers the choice between Harpic White & Shine Liquid, Power Plus Liquid and Active Fresh Liquid.
Harpic White & Shine Liquid is a thick bleach toilet cleaning liquid that aims to grip the sides of the toilet bowl to kill germs. It is formulated with baking soda that aims to clean stains, disinfect and give a fresh clean scent. There are several fragrances in the line including original fresh, citrus and eucalyptus.
Harpic Power Plus Liquid toilet cleaner comes in two scents – lavender or citrus – and claims to give a better clean than bleach. Harpic Power Plus Liquid is stated to be its strongest toilet cleaner on lime scale compared to other Harpic products. It's designed to clean your toilet bowl below the waterline with a disinfectant formula that aims to cling to the bowl and help reduce unpleasant odours.
The final Harpic liquid option is Harpic Active Fresh Liquid. It's offered in a range of fragrances including citrus, marine, and lavender. It aims to disinfect and neutralise odours with a thick formula for maximum coverage. If you're looking for a product that may help to not just clean but leave your toilet smelling fresh, you may like to look into this range.
Standard sizes are a 450ml bottle for both Harpic White & Shine Liquid and Power Plus Liquid, and an option of 500ml and 700ml for Harpic Active Fresh Liquid.
Harpic Bleach
As another deep clean option for your toilet, Harpic offers Harpic Oxi Action Bleach Crystals, which is a foaming bleach powder. Harpic claims its crystals react with water to create thick powerful foaming action that aims to kill germs, dissolve stains and make it easy to scrub. Standard size is 750g and it comes in an Original Fresh scent.
Harpic Toilet Blocks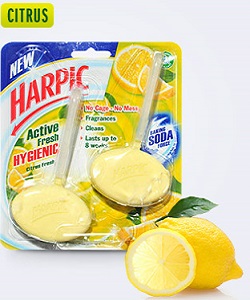 To maintain and freshen your toilet, there are four options of toilet blocks that Harpic provides:
Hapric Active Fresh Hygienic Toilet Block: marketed as a 'no cage, no mess' toilet block that comes in a citrus, lavender, rainforest or lime bleach fragrance. Harpic Active Fresh Hygienic Toilet block is cage free to help reduce germ build up. Its baking soda formula aims to maintain a fresh and hygienic toilet. Standard size is a twin pack of 10g per block.
Harpic Super Active Toilet Block: is a foaming toilet block that releases a cleaning detergent when you flush. It comes in two pleasant fragrances – lavender and marine – and aims to remove germs. Its refillable cages are an economical option to possibly consider if you are looking to not buy a new cage each time. Harpic Super Active Toilet Block claims to last for up to 5 weeks with a product lifespan based on 12 flushes a day. Standard size is 38g.
Harpic Active Blue Freshener Toilet Block: is an alternative refill for your Harpic Active Cage that turns your toilet water blue. It releases a blue toilet bowl cleaning detergent that aims to help wash away germs with a fresh marine fragrance. Standard size is a twin pack refill.
Harpic Hygienic plus Cageless Rim Block: a cageless rim block that has fragranced gel ends for a fresh scent and claims to have wider coverage, compared to Harpic Classic Rim Blocks. There are three fragrance options in the line including citrus, lavender and rainforest. Standard size is 43g.
Harpic In Cistern Cleaner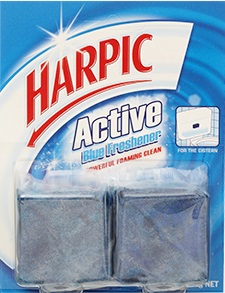 Harpic focused on providing a clean and fresh scent in the above range, but with its in-cistern cleaners, it aims to maintain and prevent dirt build-up. It has four options in the line:
Harpic Active Blue Freshener Cistern Block: claims to help maintain a clean and fresh toilet as well as prevent stains and build-up of dirt and grime. It claims to let you know when it needs replacing by fading and then dissolving when finished to give a touch free and hygienic cistern block option. Standard size is a twin pack.
Harpic Flushmatic Cistern System: aims to work within your cistern by releasing a measured dosage of foaming blue detergent when you flush to help clean and deodorise toilet. Harpic Flushmatic Cistern System also is designed to help prevent build-up of stains and fades to let you know when you should replace it. It is safe for septic tanks and claims to last for up to six weeks. Standard size is 125g.
Harpic Active Long Life Cistern Block: is a foaming blue detergent released through the cistern to clean and re-freshen your toilet. Harpic claims it to last for up to five months. Harpic Active Long Life Cistern Block is suitable for toilets with septic tanks.
Harpic Dual Action Blocks with Baking Soda: its blue and white blocks are designed to work together in your cistern. It contains a blue foaming detergent and baking soda that aims to clean and deodorise. Harpic Dual Action Blocks are suitable for septic tanks. Standard size is a dual pack.
Harpic Cleaning Wipes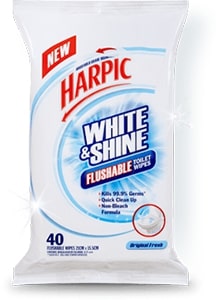 To help touch-up in both your toilet and bathroom in between cleans, Harpic offers its White & Shine Flushable Toilet Wipes to help kill germs on surfaces. Harpic claims it to be 99% biodegradable and designed to disintegrate when flushed. It aims to be gentle on skin by being formulated with a dermatologically tested non-bleach formula. Standard size is a 40 wipes pack and comes in an Original Fresh scent.
Should I use Harpic cleaning products?
Harpic has a big focus on fighting germs in its product line. It also aims to produce a variety of fragrances to suit any taste. If you are looking for diversity in scent for your toilet blocks, Harpic may have a product for you. Harpic does sit toward a high end price category and there may certainly be other factors that you may like to think about, such as environmental friendliness, before choosing your cleaning product. You may like to consider online reviews before heading in store to see if Harpic will help do the job for you. There are also ratings, including ours, that may help give an idea of how Harpic compares to other brands in the cleaning range.
About the author of this page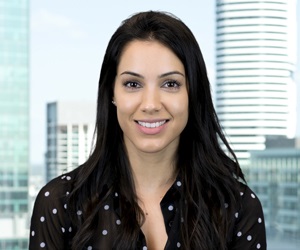 This report was written by Canstar Blue's Home & Lifestyle Content Lead, Megan Birot. She's an expert on household appliances, health & beauty products, as well as all things grocery and shopping. When she's not writing up our research-based ratings reports, Megan spends her time helping consumers make better purchase decisions, whether it's at the supermarket, other retailers, or online, highlighting the best deals and flagging anything you need to be aware of.