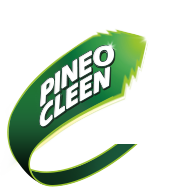 Review of Pine O Cleen cleaning products
A leading name for hygiene cleaners in Australia, Pine O Cleen started up in Melbourne in the 1930s. The brand now belongs to Reckitt Benckiser, a global manufacturer of household and healthcare products aiming to bring innovation and quality to consumers. Let's look into the range and see if Pine O Cleen has a product for you.
Pine O Cleen Multipurpose Cleaners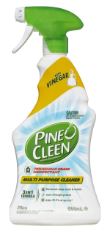 For everyday use or small touch up cleaning around the house, there are two multipurpose cleaner options in the Pine O Clean range. One features vinegar and the other baking soda in 500ml trigger bottles. Both are said to have a 3 in 1 formula, designed to remove soap scum, mould and cut through grease. Its baking soda variant is said to contain an odour eliminating fragrance to help leave disinfected areas smelling fresh.
Pine O Cleen Surface Wipes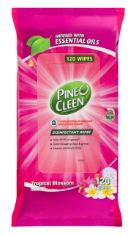 Disinfecting is a way to help maintain a clean environment in the kitchen, bathroom and also for tech such as keyboards and phones. Pine O Cleen Disinfecting Wipes come in different varieties including:
Tropical Blossom
Lemon Lime Burst
With Vinegar
With Baking Soda
Standard sizes are a 45, 90 or 120 pack of wipes.  Some retailers offer larger size value packs.
Pine O Cleen Disinfectant Gels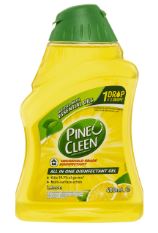 Pine O Cleen Disinfectant Gels are infused with essential oils. Similarly to other products within the range, these household grade disinfectants are stated to kill 99.9% of germs (E. Coli, S.aureus). They're designed for multi-surface action with a 3x concentrated formula (1 drop = 3 drops). Choose between Green Apple or Lemon. Both gels varieties come in 400ml bottles.
Pino O Cleen Disinfectant Liquid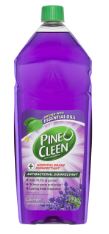 Pine O Cleen Disinfectant Liquid is claimed to have a hospital grade disinfecting formula and is offered in a variety of fragrances:
Eucalyptus
Lavender
Lemon Lime Burst
Pine
It is recommended for use on drains, toilet brushes, buckets, benches, toys and cutting boards. Standard size is a 500ml bottle.
Pine O Cleen Disinfectant Sprays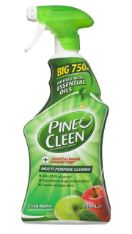 Pine O Cleen Multipurpose Spray is designed for kitchens, sinks, stoves, rubbish bins and spills. The fragrances available are:
Lemon Lime Burst
Crisp Apple
Fresh Eucalyptus
Standard size is a 750ml spray bottle.
Pine O Cleen Floor Cleaners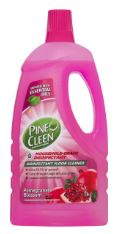 For high foot traffic areas in the home or just a spot clean, Pine O Cleen offers its Pine O Cleen Floor Cleaner. It comes in two fresh scents of:
Crisp Apple
Pomegranate Blossom
It is suitable for use in the kitchen, bathroom and living area. Standard size is a 1L bottle.
Should I use Pine O Cleen cleaning products?
With so many cleaning brands out there, it sometimes makes it difficult to know what will work best for you. Pine O Cleen has a focus on disinfecting and keeping the household hygienically clean. It has several products on the market – but most Pine O Cleen products are multipurpose and may be used all around the home, which is handy if you're trying to minimise clutter. Pine O Cleen doesn't seem to produce specific products for other cleaning duties such as laundry or carpet cleaning. Nevertheless, if you're looking for an all-round cleaning spray or wipes, Pine O Cleen may have a cleaning product for you. You may like to have a look at online reviews to see how other Aussies find using Pine O Cleen products, or ratings – such as ours – may also help give an insight into how other cleaning product brands compare.
About the author of this page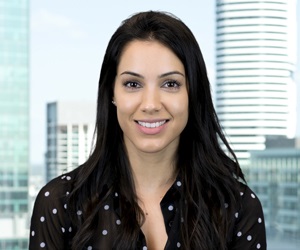 This report was written by Canstar Blue's Home & Lifestyle Content Lead, Megan Birot. She's an expert on household appliances, health & beauty products, as well as all things grocery and shopping. When she's not writing up our research-based ratings reports, Megan spends her time helping consumers make better purchase decisions, whether it's at the supermarket, other retailers, or online, highlighting the best deals and flagging anything you need to be aware of.