As Australia's largest telco, Telstra offers some of the most popular and feature-packed NBN plans in the market. Telstra was one of the first big service providers to be more upfront about realistic NBN speed expectations, and its NBN plans continue to offer consistently fast speeds, even during peak use periods.
With all NBN plans now available on a month-to-month basis with no lock-in contracts, Telstra has plenty to offer in the NBN space. Read on for details of plans, prices and inclusions.
Telstra NBN plans
Telstra NBN plans require a $99 connection fee for new customers, plus an upfront modem cost of $216 on month-to-month plans.
You can also add entertainment extras to your plan, such as Foxtel and Telstra TV. Unlimited data with Telstra TV is available from $99 per month, and Foxtel and unlimited data from $120 per month.
The following table shows all published Telstra NBN plans on Canstar Blue's database, listed in order of monthly cost, from the lowest to highest. Use our comparison tool below to see all plans available on Canstar Blue's database. This is a selection of products with links to a referral partner.
What does Telstra offer?
Telstra is a full-service provider, meaning it offers more than just broadband and NBN plans. Here's what you can expect with Telstra NBN: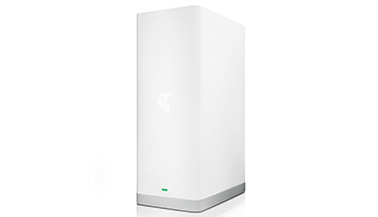 Unlimited Data: All NBN plans feature unlimited monthly gigabytes.
NBN Speeds: Standard Evening Speed (typical evening speed: 20Mbps), Standard Plus Evening Speed (typical evening speed: 44Mbps) and Premium Evening Speed (typical evening speed: 88Mbps) NBN plans are available.
Technology Types: Telstra offers NBN across Fibre to the Premises, Fibre to the Node, Fibre to the Building, Fibre to the Curb, Hybrid Fibre Coaxial, and fixed wireless connections.
Entertainment: Telstra TV is available for an additional $9 per month over 24 months. Foxtel is also available to add to your NBN plan, from $90 monthly (for both internet and your Foxtel package) on 12-month contracts.
Modems: Get a Telstra Smart Modem Gen 2 modem on all NBN plans, with 4G mobile network backup.
Home Phone: All Telstra NBN plans now come with included unlimited local, national, and Australian mobile calls.
Telstra NBN speeds: at a glance
Telstra has streamlined its NBN plans, offering just two base plans with optional add-ons. Customers can select from a 100GB of data at NBN 25 speeds for $70 per month, or upgrade to unlimited data on the NBN 50 tier for $90.
An NBN 100 (Premium Evening Speed) boost is available to add to your Unlimited plan for an additional $30 per month. Telstra lists Typical Evening Speeds for all four NBN tiers, which give customers an indication of the average plan speeds experienced by users between 7pm and 11pm.
Below are the typical evening speeds Telstra lists for the four NBN speed tiers on fixed line networks (FttP, FttN, FttB, FttC, and HFC).
| Speed Name | NBN Tier | Telstra's Typical Evening Speed |
| --- | --- | --- |
| Standard Evening Speed (NBN 25) | 25Mbps | 20Mbps |
| Standard Plus Evening Speed (NBN 50)  | 50Mbps | 44Mbps |
| Premium Evening Speed (NBN 100) | 100Mbps | 88Mbps |
 Speeds correct as of May 2020
Home Phone Calls with Telstra
All plans come with unlimited standard calls to local, national, and Australian mobile numbers. A small allowance of 500 calls to '13' numbers per month is included, while international calls are charged on a pay-as-you-go basis (with rates beginning at $0.01 per minute, plus a $0.55 call connection fee). You'll also get included MessageBank, Family Calls Benefit, and call ID.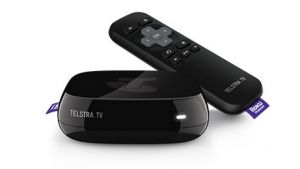 Telstra TV
If you'd like to add entertainment to your plan, Telstra TV is also available from an extra $9 per month. This package includes the Telstra TV set-top box, which allows you to stream the likes of Netflix, Stan, Foxtel Now, Amazon Prime Video, and Kayo, plus watch free-to-air television and buy and rent movies from Telstra TV Box Office.
Customers can add Telstra TV to their 24-month broadband plan for $9 monthly, or buy the box outright for $216. Telstra TV is only available to Telstra broadband customers.
Foxtel from Telstra
If you're interested in Foxtel, you can bundle the pay TV service in with your Telstra NBN plan. Foxtel from Telstra is available on a 12-month contract, and two add-on packages are available: Entertainment + Drama from $30 per month, and Entertainment + Sport from $39 monthly. Added to a $90 unlimited data NBN plan, and you'll pay $120 per month for Entertainment + Drama, and $129 for Entertainment + Sport.
Customers can also sign up for standalone NBN, and add selected Foxtel packs to their plan at a later date. Foxtel from Telstra means both your NBN plan and Foxtel subscription are charged via a single bill: you'll also get the latest compatible iQ box, your choice of add-on channel packs including Movie, Sport, Kids, Documentary, and Drama, and easy access to pay-per-view events and movie rentals from the Foxtel Store.
How does Telstra compare to other NBN providers?
Telstra has some pretty feature-packed plans, but you will need to pay a minimum of $90 each month to get unlimited data. However, the trade-off is that Telstra bundles in quite a lot for your money; aside from Foxtel Broadband, it's the only way to get both your Foxtel and NBN service on a single bill.
If you are looking for an alternative broadband plan with included entertainment, Fetch TV is available on NBN plans from Optus, iiNet, Internode and iPrimus. Similar to Telstra TV, Fetch offers streaming (Netflix, Stan, YouTube, etc.), free-to-air channels, and more.
Overall, Telstra does offer some of the most expensive NBN plans on the market, so it may not be the best choice for Aussies on a budget. If you're looking to shop around, other providers worth keeping an eye out for include:
Is Telstra NBN worth the money?
Telstra has recently streamlined its NBN plans in the wake of controversy surrounding speeds and pricing. With month-to-month and unlimited data plans now available, Telstra offers more flexibility and choice than before, in addition to a host of extras.
Telstra is more than just broadband – it's a whole 'entertainment' company in its partnership with Foxtel. Customers who like TV and sport may find merit in splurging for a Telstra Foxtel bundle (or simply Telstra TV), which few other providers can match in terms of all out entertainment value.
In a seriously competitive NBN market, Telstra proves time and time again it's not just about cheap broadband – it wants to take care of the whole house's entertainment and communications needs.