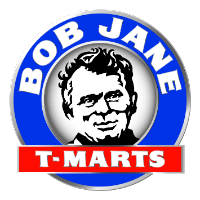 Review of Bob Jane car tyres in Australia
Bob Jane T-Marts has over 45 years of experience in the tyre and auto maintenance industry, with the company claiming to be Australia's largest independent tyre retailer. It offers a huge range of tyres and wheels from multiple different brands. However, Bob Jane also offers its own line of car tyres, and not only that but you can also get various car servicing done at its T-Marts as well, so let's see what Bob Jane has to offer in the tyre department.
Bob Jane Tyres
Bob Jane offers two passenger car tyre models:
All-Rounder
As you might have guessed from the name, the All-Rounder is the 'Jack of all trades' in the car tyre world. From cruising suburban streets to hitting the open road, the All-Rounders could probably take you there. While they likely won't be able to help you negotiate a muddy track with your LandCruiser, the All-Rounders are made with a hard rubber compound with infused silica. This lowers rolling resistance, which can aid in fuel economy and increase the mileage of the tyre. Sizes tend to be on the smaller side, starting at 13 inches, up to 16 inches with a variety of sidewall heights and tread widths. A 14-inch tyre will set you back about $80 with fitting and balancing, while a 16-inch tyre will cost around $100. The smallest tyre size is 165/70/13, and the largest is 225/60/16, which should encompass many smaller vehicles such as a Toyota Corolla.
Xenon Z7
With its futuristic-sounding name, the Xenon series is the more performance-oriented tyre of the two models Bob Jane has to offer. Also infused with silica, the Xenon is designed with a slightly softer rubber compound, which can aid in grip and cornering ability. Having a softer rubber compound also ensures there is more contact with the road surface, which can aid in wet weather handling. The Xenon series features slightly larger diameters, starting at 15 inches and going up to 18 inches. The smaller diameters start at around $110 per tyre, fitted and balanced. The larger sizes are around $150 to $200. The smallest tyre is 185/55/15, and the largest is 245/45/18. While the smaller end caters towards hatchbacks with a sporty-ish edge, the larger diameters cater towards SUVs and larger cars, as well as 'hot' hatches.
Bob Jane T-Marts: What's in store?
The Bob Jane brand is about more than just selling car tyres. It's a full-service tyre mart as well, with puncture repairs on offer, as well as fitting, balancing and wheel alignments. Its franchised range of tyre marts sell and fit batteries, and with each tyre purchase you get a variety of warranties and guarantees. When you purchase two or more new tyres with a wheel alignment, you'll be signed up to the 'Long Life Tyre Plan' for free. This ensures a full service for the life of the tyre, including tyre rotation, air pressure checks, wear checks and wheel alignments. This is for three months, but you'll also receive discounts to these services in the future.
Bob Jane also offers a Best Tyre Price guarantee, whereby it'll match the price of any tyre you find cheaper elsewhere, as well as pay you 10 per cent of the difference. The company's environmental responsibility is also prominent; its partnership with Tyrecycle guarantees to recycle all tyres bought from its stores, and at no cost to the customer.
Beyond its forward-thinking tyre recycling program, Bob Jane also dabbles in the science of inflating your tyres with a nitrogen blend. While nitrogen is a common inflation gas for racing cars and heavy-duty trucks, it's only recently that nitrogen has become popular in passenger cars. Nitrogen is claimed to reduce wear on tyres, increase performance and eliminate oxygen and water vapour build up around where your tyres contact your wheels, which can prevent corrosion of your rims.
Bob Jane also stocks a large range of aftermarket wheels, and there are always specials to be found. If you're tired of your boring old stock wheels, fitting a set of aftermarket wheels can transform the look of your car. They don't have to break the bank either, with various exciting sales and 'Buy 4, Pay for 3' deals that Bob Jane commonly offers.
For a one-stop shop for arguably the most important servicing component of your car (tyres), Bob Jane T-Marts represent a great option, and its array of locations across Australia make it convenient to access its stores if you're in a pinch. Plus, for tyres that won't break the bank, Bob Jane has a couple of models aimed squarely at the everyday motorist.