AquaMAX Hot Water Systems Review
Established in Melbourne in 1988, AquaMAX has grown from a small business into a market mainstay, and with good reason. The first Australian company to design a 5 star, 10 year warranty water heater, AquaMAX use stainless steel cylinders to stand out from the crowd, and save households money on their bills. AquaMAX also stays on the forefront of energy efficiency, with the majority of its products scoring a 5 star energy rating, with the company also involved with the GreenPlumbers environmental initiative. Offering both gas and electric systems, AquaMAX has a wide variety of products to suit all households, so be sure to check them out below to find the best fit for you.
AquaMAX Gas Storage Hot Water Systems

Gas hot water systems may not be as common as they once were, but with increasing utility prices around the country, gas is still a viable option for many. AquaMAX only offers a small range of gas models, but has enough to suit most households.
Offering 270L, 340L and 390L units, AquaMAX has gained a 5 star AGA rating on each model, giving consumers highly efficient products, which is always a bonus when it comes time to pay the bill. The big player in AquaMAX's 5 star rating is the use of stainless steel cylinders, which allow the system to store water at higher temperatures than standard water heaters, meaning that the hot water will be ready to go when you need it.
AquaMAX also offers a 10 year warranty on its cylinders
Realistically there isn't much difference between the 340L and 390L models, with costs, dimensions and specifications virtually the same. The only variables are a slightly different first hour output, as well as an installation option for the 390L unit, which controls temperature delivery to different parts of the house. While not completely necessary for the average household, it does allow an extra safety measure for those with young children, as well as ensuring that your energy bill is kept down through limiting heating wastage.
The smaller 270L model will suit households of one to two people, as well as smaller dwellings due to its reduced dimensions
All gas models require external installation, so be sure to contact a registered and qualified service to conduct the installation
AquaMAX Electric Storage Hot Water Systems
For many, an electric hot water system is the go-to option, as it's the easiest to purchase and install. But as hot water systems can make up to 30% of a household's electricity bill, you'll have to be careful as to which model you go with. Regardless of household size, AquaMAX has an electric unit for you, either in the Stainless Steel range or the Vitreous Enamel range.
Electric Stainless Steel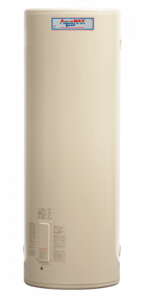 Ranging from 80L to 315L storage capacities, AquaMAX has an option for any household and family, with the Electric Stainless Steel range looking to be the product of choice for many. Upfront, the Stainless Steel range is more expensive, but is less susceptible to corrosion, meaning you'll save money on maintenance.
The Stainless Steel models also weigh up to 50% less than the Vitreous Enamel models, making them easy to move and install
However, Stainless Steel models will only be able to be installed in areas that use town water
The big selling point for the Stainless Steel range is its efficiency, with AquaMAX stating their range exceeds MEPS (Minimum Energy Performance Standard), set down by Government regulators, by up to 27%, meaning you'll get more bang for your buck. And with technology more likely to continue down the Stainless Steel path, there might be more savings down the line.
The Stainless Steel range does not contain anode, an electrode specially introduce to prevent corrosion, meaning your water will remain purer than if contained within enamel products
The Stainless Steel Range is also covered by a 10 year warranty
Electric Vitreous Enamel

AquaMAX's bread and butter, the Enamel models are made to suit rural and metro conditions, with sacrificial anodes and enamel built to last in all types of conditions. Ranging from tiny 50L models to massive 400L models, there is an Enamel model for any type of household.
Enamel cylinder units come with a 5 or 7 year warranty, depending on the model
Significantly cheaper than the Stainless Steel models, these might be your best bet if you don't mind a bit of upkeep and maintenance, or need a quick replacement
Enamel models also come in a range of dimensions, meaning that you may find the perfect fit for those awkward spaces
Is an AquaMAX hot water system worth the money?
At the end of the day, hot water is an essential, so you'll want something that will work every time you turn the tap, as well as something that doesn't break the bank. Lifestyle and location factors will play a big part in this decision, but thankfully AquaMAX has a wide variety of products to help you make the decision.
Australian-owned with warehouses all around the country, AquaMAX is readily available through most retail suppliers, with online assistance available if needed. In terms of price, AquaMAX is slightly cheaper than most competitors across the board, but in terms of product range there may be better options out there. Ultimately, it'll come down to your individual household, but regardless of consumption, AquaMAX is a solid contender for your hot water needs.