Fact Checked
Rheem pumps out best-rated hot water systems
You might think (understandably) that all hot water systems are basically the same – after all, they all do more or less the same thing, right? Well, they certainly all heat up your hot water so you can enjoy nice showers at the end of a long day – but how they go about doing it, plus how reliable and costly each system is can vary greatly. Finding the best water system for your home is no easy task. You first need to understand what different types of systems are available, get to grips with their ongoing running costs, and find a product that meets your needs and budget.
To help you find the best hot water system for your home, Canstar Blue has asked more than 750 Australian households for their feedback on the hot water system(s) they've purchased and used in the last five years. Brands were rated on effectiveness, ease of use, quietness while operating, reliability, value for money and overall satisfaction. Manufacturers that received the minimum survey sample size (30 responses) are compared in our report.
Rheem was crowned the new champion in our latest review, bumping out consecutive winner Solahart from the top spot. It received five stars in most categories, including overall satisfaction!
Best Hot Water Systems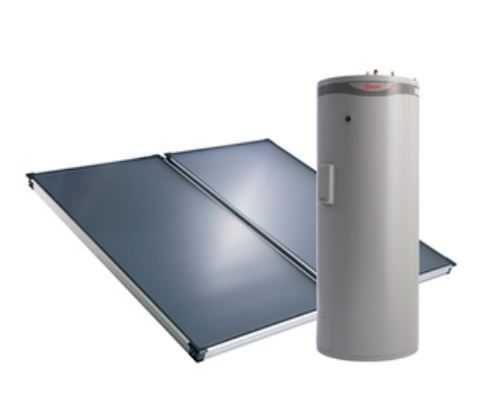 Here are the best brands of hot water systems in Australia, as rated by consumers in Canstar Blue's recent review:
Rheem
Dux
Vulcan
Thermann
Rinnai
AquaMAX
Solahart
Bosch
Chromagen (including Midea)
Rheem bubbled to the top as the only brand to achieve a five-star review for overall satisfaction, with most other entries landing on four stars overall. Bosch and Chromagen were two exceptions, each scoring three stars for overall satisfaction.
Former winner Solahart still achieved full marks for quietness, alongside Dux, Thermann, Rinnai, and Rheem. Dux, Thermann, Rinnai and Rheem earned the same result for reliability, with Thermann also snagging five stars for ease of use.
When it came to effectiveness, Vulcan was the only brand other than Rheem to score a five-star review. Vulcan additionally got bonus full marks for value for money, as did Dux, Rinnai and AquaMAX.
Now we know which brands are rated best, let's dive into detail about the types of hot water systems that are available in Australia, what they are likely to cost you upfront, and how much they're likely to add to your ongoing energy bills.
Types of hot water systems
The humble hot water system might seem like an unlikely culprit for large energy bills – but did you know that the cost of heating water can make up to around 30% of an average Australian household's total electricity bill? Your system may be costing you big time – depending on the type that you have – so we've compared electric, gas, solar and heat pump hot water systems to help you find the best and most cost-effective water heating solution for your home.
Hot water systems come in two fundamental designs – 'storage' and 'continuous flow' (also known as instantaneous):
Storage hot water systems heat and maintain warm water in a tank until it is ready to use. This provides instant hot water, but is limited by storage capacity.
Continuous hot water systems rapidly heat an unlimited amount of water when you need it. While it does take a few moments to heat up, an instantaneous system won't waste energy by keeping water warm when no one is using it.
You'll find these two types of systems available in electric, gas, solar and heat pump varieties – each with pros and cons to their energy source. The example pictures are courtesy of Rheem.
Electric Water Heaters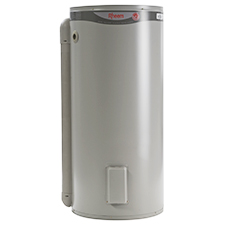 How electric water heaters work
Electric storage hot water systems heat water using an electric-powered element that sits at the base of the water tank. Continuous systems work similarly, but the element is instead coiled around the pipes to rapidly heat the water inside.
Advantages of using an electric water heater system
Electric hot water systems usually have relatively low upfront costs and can be a reliable way to keep your water warm. The majority of large electric storage hot water systems are connected to controlled load tariffs and do the majority of their heating at off-peak periods to help reduce your energy bills.
Disadvantages of using an electric water heater system
Electrical hot water systems are almost always the most expensive long-term hot water solution if used on a continuous day rate tariff. The electricity that powers them may also have high greenhouse gas emissions if the power does not come from renewable sources such as solar PV, wind, or from a hydro scheme.
Gas Water Heaters
How gas water heaters work
Storage gas water systems use a gas burner to continuously heat and maintain water in a tank at 60°C. Continuous flow systems also use a burner that ignites when water is needed.
Advantages of using a gas water heater system
Gas hot systems will produce few greenhouse gas emissions. Additionally, depending on your location, gas systems are usually considered to have lower usage rates compared to electricity, making them a more cost-effective option long term.
Disadvantages of using a gas water heater system
Gas hot water systems are only really viable if you're connected to mains gas, as using LPG bottles is more expensive, and creates the risk of running out of hot water. Gas hot water systems must be located outside, or have an exhaust vent if they are located inside.
Solar Water Heaters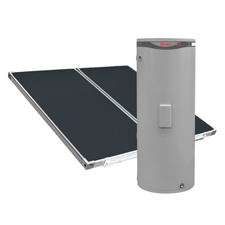 How solar water heaters work
Solar hot water systems are storage units that generate heat from the sun by using panels installed on the roof of the property. This heat is used to warm and maintain the water in your tank. When the solar method isn't able to generate enough heat, systems can be boosted to a temperature of 60°C by either electric or natural gas boosters. Solar water systems can be split-system or combined.
Advantages of using a solar water heater system
Solar hot water systems could reduce your hot water system's energy consumption significantly, although the potential savings are disputed and naturally subject to your circumstances, including where you live. Solar hot water systems are generally considered the most environmentally-friendly option. Accredited solar systems might also be eligible for STC rebates from the Federal Government through the Clean Energy Regulator, as well as other state-specific rebate schemes.
Disadvantages of using a solar water heater system
Solar hot water systems have the greatest upfront costs – anywhere from $2,000 to $7,000 after rebates, depending on the system size and excluding any installation costs. Some solar hot water systems may also be unreliable on overcast days, but most models will kick over to natural gas or electric backup heating if the water isn't hot enough.
Heat Pump Water Heaters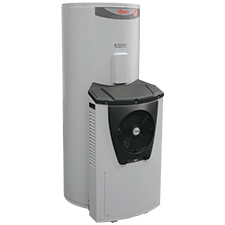 How heat pump water heaters work
Heat pumps include a fan that draws warm air into the system, which is transferred to the water storage tank. It's essentially a reverse fridge. Rather than pumping out hot air to keep your fridge cool, it pumps hot air into the unit to heat the water.
Advantages of using a heat pump water heater system
Heat pumps are one of the most energy-efficient hot water solutions. While they need electricity to run, they are said to be roughly three times more efficient than traditional electric water heaters.
Disadvantages of using a heat pump water heater system
Heat pumps are only really suitable in warm environments. While some heat pumps come with boosters, if the climate isn't suitable, there is little benefit in spending the extra money on a heat pump. They are also considered unreliable and servicing costs are generally expensive.
Which type of hot water system is most popular?
Our recent survey found that households that have purchased a new hot water system in the past five years spent an average of $1,312. Respondents reported buying the following types of hot water systems:
Electric: 44%
Gas: 37%
Solar: 11%
Heat Pump: 7%
Notably, the majority of survey respondents only purchased their new hot water system because their old one failed (67%). However, 17% said it was because they wanted to upgrade their hot water system, while a further 10% did so because they wanted to increase their water capacity.
Hot water system running costs
The following table – courtesy of the Victorian Government – provides an example of the estimated running costs of different types of hot water systems. As mentioned, natural gas-boosted solar storage hot water systems are the cheapest over time, with an annual cost of only $50 to $65 for a medium-sized household (three people). LPG gas and continuous flow electric systems prove to be the most expensive, costing more than $660 and $760 a year respectively. However, running your system on a controlled load tariff can reduce running costs significantly, as the table shows. The following calculations, based on a three-person household in Victoria (120L/day), should be treated as a general guide only:
Water Heater Type
Energy Star Rating
Annual Energy Cost
Annual GHG emissions (kg/yr)
Gas
Natural gas – storage
5.5
$350
775
4
$415
915
Natural gas – instant
7
$295
690
5.5
$340
785
LPG – storage
5.5
$560
910
4
$665
1075
LPG – instant
7
$465
795
5.5
$535
905
Electric
Peak tariff – storage
n/a
$925
3420
Peak tariff – instant
n/a
$780
2875
Off-peak tariff – storage
n/a
$700
3935
Solar
Natural gas boosted
High efficiency
$65
165
Standard
$85
215
LPG boosted
High efficiency
$95
185
Standard
$130
240
Electric boosted – peak tariff
High efficiency
$260
950
Standard
$365
1345
Electric boosted – off-peak tariff
High efficiency
$185
1040
Standard
$265
1475
Heat Pump
Peak tariff
High efficiency
$245
895
Standard
$385
1415
Off-peak tariff
High efficiency
$160
885
Standard
$250
1395
Annual costs based on Melbourne household with average daily hot water use. For gas instantaneous and gas boosted solar water heaters, running costs take electricity use into account. Electricity tariffs based on general usage rate of 31.9 c/kWh, and off-peak rate of 20.9 c/kWh. Natural gas tariffs based on typical declining block structure for house with gas heating, water heating and cooking. Natural gas tariffs used for gas storage and instantaneous water heaters: 2.49 c/MJ; 2.46 c/MJ. For solar-natural gas boost, tariff of 2.36 c/MJ has been used. LPG tariff based on bulk supply (210kg cylinder) in Melbourne area: $1 per litre or 4.0 c/MJ. Energy tariffs do not include the annual supply charge or cylinder rental fee.
Solar and heat pump water heaters efficiency levels are based on the following STC allocations in Zone 4 (southern Victoria): solar gas boosted – standard (29), high efficiency (33); electric boosted solar – standard (27), high efficiency (31); heat pump – standard (28), high efficiency (35).
How to save on hot water heating
Hot water is a necessity, meaning it's somewhat of an inevitable cost. That said, there are ways to minimise your hot water system's impact on your energy bills.
One of the easiest ways households with electric storage systems can save on hot water is with a controlled load tariff. Sometimes just referred to as a 'dedicated circuit' or 'two-rate' tariff, it's an arrangement where the hot water system is metered separately to the rest of the house and electricity is charged at a lower rate. Electricity is only supplied to the hot water system during off-peak usage hours – usually from 11pm to 7am depending on the electricity network. During these hours, the hot water system will heat the water and store it for use later on.
Most hot water systems are installed with a dedicated meter, meaning energy retailers will often put you on a controlled load tariff by default. If, for whatever reason, you don't have a controlled load tariff, you stand to save big by making the switch.
Hot Water System Brands
Rheem Hot Water Systems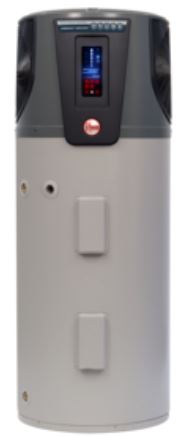 Rheem produces all kinds of water heaters, including electric, gas continuous flow, heat pump and solar, as well as gas storage systems. The brand has steel systems for extra durability, compact systems for those tight on space, plus extra-large models, and plenty more.
If you live in an area that doesn't always attract much sun, Rheem has a couple of heat pumps that use heat from surrounding air, rather than direct sunlight, to warm water as well as reduce energy consumption. These include the Rheem MPi-325 Series II Heat Pump and the Rheem Ambiheat HDc270 Heat Pump. They're said to feature a wrap-around heating technology that makes them suitable for cooler climates. You can grab a quote by visiting the Rheem website.
Rheem was rated five stars for reliability, effectiveness, quietness, ease of use and overall satisfaction. It also received a respectable four stars for value for money.
Dux Hot Water Systems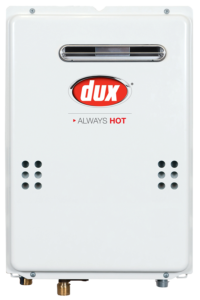 Dux has a huge range of hot water systems, including heat pump, continuous flow, electric solar, gas water heaters, as well as electric and gas storage systems. Dux's storage systems come in a wide variety of sizes, usually between 25L and 400L. But if a continuous flow system is more your style, you might be interested to know that Dux systems have a 6.7-star energy-efficiency rating – higher than most similar models on the market. You can head to the website to book, apply for rebates and register your new water heater.
Dux earned five-star reviews for reliability, quietness while operating and value for money. It got four stars everywhere else, including overall satisfaction.
Vulcan Hot Water Systems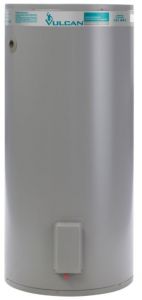 Vulcan promises high-quality and performance from its hot water systems, but at 'very affordable' prices. According to the brand, its hot water systems are built with high-quality materials and contain tough and adaptable features such as storage cylinders made from high-strength steel that can supposedly withstand a variety of water and heating cycle pressures. Vulcan sells both gas and electric hot water systems with a variety of model sizes available. You can obtain a quote via the Vulcan website.
Vulcan impressed with five-star reviews for effectiveness and value for money. It also scored four stars for reliability, overall satisfaction and the remaining research factors.
Thermann Hot Water Systems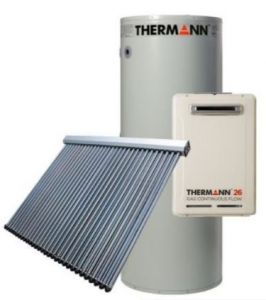 Thermann offers several hot water systems, including continuous flow, heat pump, solar as well as storage hot water systems. Prices start from around $450 for a 25L electric storage hot water system and reach up to nearly $8,130 for a gas-boosted solar hot water system with a 400L capacity. Most Thermann hot water systems come with a seven or 12-year warranty period.
Thermann received full marks for reliability, quietness while operating and ease of use, plus four stars for effectiveness, value for money and overall satisfaction.
Rinnai Hot Water Systems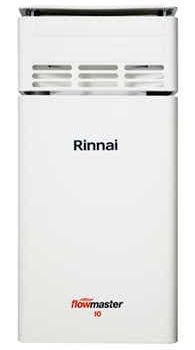 Rinnai offers several continuous flow hot water systems and solar hot water systems, plus hot water storage systems. For those looking for an electronic gas flow hot water system, the Infinity range contains several units with an equivalent energy efficiency rating of between six to seven stars, depending on the model. The Instantaneous line also offers the Flowmaster 10, a compact unit that doesn't require a power point and is typically ideal for people with only a small demand for hot water.
Rinnai cleaned up with five-star reviews for reliability, quietness and value for money, before ending on four stars for effectiveness, ease of use and overall satisfaction.
AquaMAX Hot Water Systems

AquaMAX produces gas storage and electric storage hot water systems. The company also has a 'premium' range of stainless-steel water gas storage systems that are supposedly lighter, more energy-efficient and easier to maintain than some other steel systems. This can be useful if you're looking to save money on maintenance costs since you won't need to replace the anodes or get them checked out. However, this type of unit isn't recommended for hard water or bore water.
As an alternative, you can check out AquaMAX's Electric Vitreous Enamel (VE) water heaters. These units contain vitreous enamel lining for protection, apparently making them compatible with most water quality types, such as hard water found in regional areas.
AquaMAX moved up several spots since last year, after earning five stars for value for money and four stars for overall satisfaction, reliability, effectiveness, ease of use and quietness while operating.
Solahart Hot Water Systems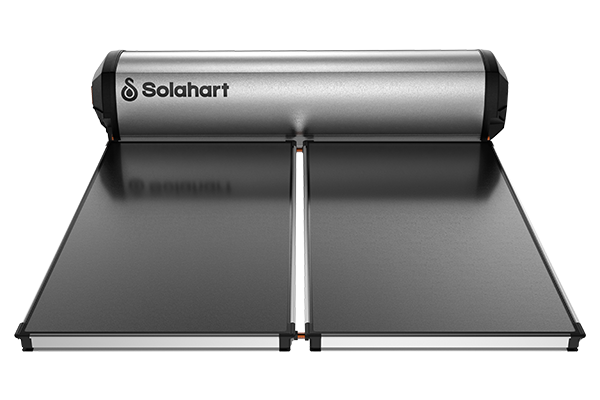 As you would guess from the name, Solahart is a provider of hot water systems that use the heat of the sun as their energy source, which is arguably better for your home, bank balance, and the planet. 'Going solar' can also help you save big on energy use, and even increase the value of your home.
Solahart's main range is its rooftop solar hot water systems, which capture heat from the sun. There's also a line of split system solar hot water heaters, which require the solar collector panel to be attached to the roof while the tank remains on the ground. If you don't think solar power is the best option for your home, there are alternatively heat pump water heaters to choose from. For pricing, Solahart invites enquiries via its website and also offers free on-site solar assessments.
Solahart achieved five stars for quietness while operating and four stars for the majority of research areas, including reliability and overall satisfaction. It got three stars for effectiveness.
Bosch Hot Water Systems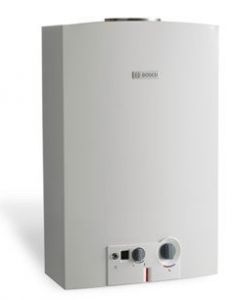 Bosch holds a modest range of hot water systems, all of which have a continuous flow technology structure and don't require a power point to use. Each type of water system is available in 10L, 13L and 16L capacities. Different models additionally come with a few customisable features, such as user controls to adjust temperature and flow. Uniquely, Bosch alternatively offers the Internal Compact model which is designed to be installed inside the home. Unlike larger capacity hot water systems, this particular unit is said to be suitable for households with limited space.
Bosch scored four stars for value for money and three stars everywhere else, such as for reliability and overall satisfaction.
Chromagen (including Midea) Hot Water Systems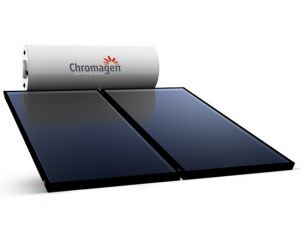 Chromagen offers several solar, gas and heat pump water systems to choose from. The brand places a heavy emphasis on creating efficient water heaters, even claiming its solar power range to be among some of the most environmentally-friendly ranges on the market.
Its heat pump line-up is similarly claimed to use a renewable energy water heating technology that can supposedly help consume up to 65% less energy than some conventional water heaters. A few standout features in this series include the auto-disinfection function, which periodically heats the water at an extreme temperature to stop the growth of bacteria and salmonella. There's also Vacation mode, which conserves energy when not in use and automatically reactivates upon your return.
Chromagen was rated four stars for reliability and three stars for effectiveness, quietness, ease of use, value for money and overall satisfaction.
What's the best type of hot water system?
If you're connected to mains gas and your home receives at least moderate amounts of sunlight, then the most ideal system for you could be a solar storage hot water system with gas boosters. If your home doesn't get much sunlight, the next best thing in terms of running costs would likely be a continuous flow gas system.
However, there is no 'one size fits all' solution when it comes to cutting your energy bills. It could be said that you should avoid electric hot water systems if at all possible, particularly continuous flow models as they have high emissions and are often considered to be the most expensive option. But the cheapest hot water system for you will come down to personal circumstances.
Keep in mind, however, that buying a hot water system is often a trade-off between initial upfront costs and long-term energy savings. If you want the most efficient system from the point of view of lowering utility bills, you'll probably have to fork out more in the first instance. Whether or not that investment pays off long-term will depend entirely on your circumstances, such as how much water you use and how much you pay for power.
About the author of this page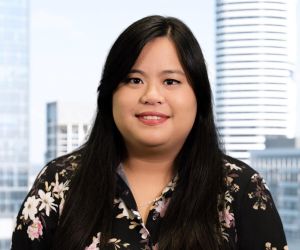 This report was written by Canstar Blue's home & lifestyle journalist, Tahnee-Jae Lopez-Vito. She's an expert on household appliances, grooming products and all things grocery and shopping. In addition to translating our expert research into consumer-friendly ratings reports, Tahnee spends her time helping consumers make better-informed purchase decisions on all manner of consumer goods and services, while highlighting the best deals and anything you need to be aware of.