Breville: The Boss of the blender world
How we made delicious smoothies and soups before blenders remains a bit of a mystery. While dinosaurs likely just pulverised fruit with their sheer strength, unfortunately humans were equipped with relatively puny features. Luckily we had the brains to invent a blender.
Breville is one such company that has become pretty much synonymous with kitchen appliances, and blenders are no exception. Overall, their name and reputation has placed them as one of the most popular brands, and many people enjoy their products worldwide. Their blenders generally fetch a premium as they pack in a lot of technology. Let's see how they really stack up.
What are Breville's blender models?
Breville offer a comprehensive range of blenders; one is sure to tickle your fancy. Compare models and prices in the table below:
| Model | Price (RRP) |
| --- | --- |
| The Boss | $699.95 |
| The Juice and Blend | $549.95 |
| Kinetix Pro | $299.95 |
| Kinetix Control | $259.95 |
| Kinetix Smooth | $199.95 |
| Power Blender | $99.95 |
| Kinetix Light and Mighty | $69.95 |
(Source: Breville)

High-End
These are Breville's flagship models, and command a premium price. See how they really stack up as we break them down below.
The Boss
This is the executive chairman of the blender world. He delegates. He fires and chops up fruit and veggies like they were his lowly interns. Breville describes The Boss as an "easy to use, high velocity superblender". Indeed, The Boss is Breville's crowning blender achievement, and it packs a wallop when it comes to the features list. Let's see what's gone into The Boss below:
2200 watts to blow those veggies away
2 litre jug capacity
Backlit LCD display with 'one-touch' functions to make blending easy
12 speeds with variable manual controls
7 year warranty

The 2200 watt motor is simply class leading, with competitors offering 1700w or less! Granted, this is a high performance machine, and the cost reflects that. Making puree out of veggies is like second nature to this blending beast. Plus, its 2L jug capacity means that there is definitely strong potential for family soup nights. Overall the Boss is a strong contender for the next Strongman series – it's a powerful blender that'll knock your socks off.
The Juice and Blend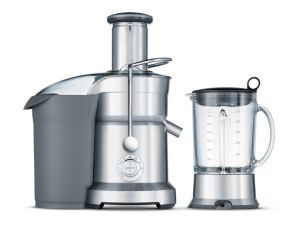 Let's face it, some fruits weren't meant to be blended; they'll benefit much more from a good juicing. Luckily, Breville have realised this and have created the Juice and Blend. It's a combo machine, so you get the best of both worlds, and you'll no longer have to put up with orange peel in your smoothie. Its impressive key features are:
It uses one base and delivers both juicing and blending. Juicing is achieved through Breville's extra wide feed chute and micromesh filter. As Breville says, "Two heads are better than one".
It features a 1500w motor
Backlit display with fruit speed guide graphics
5L jug capacity. The juice jug has a 1.2L capacity, and a 3L pulp container
Easy-clean design with removable blades
Five speed settings each for juicing and blending, with a litany of pre-programmed functions to ensure you achieve the best squeeze.
The Juice and Blend is an innovative and thoughtful approach to all fruity concoctions. It's a heavy duty animal that'll be sure to see you through some tough assignments without worrying about unpleasant bits in your drink. At close to $550, it's a high-end model, but its innovativeness is impressive.
Mid-Range Models
If anything over $500 for a blender makes your eyes water a bit, we don't blame you. Luckily Breville hasn't left you totally out to dry with these mid-range offerings that might be a bit more palatable.
| Model | Specs | Features |
| --- | --- | --- |
| Kinetix Pro | 2000w motor, 2L jug capacity, Kinetix blades with ice crushing | Curved bowl & blades means you get more out of your smoothie. A good no-gimmick blender with a powerful motor |
| Kinetix Control | 1200w motor, 1.5L jug capacity, pre-programmed smoothie function, 7 speeds, ice crusher | A no fuss mid-range blender perfect for smoothies, cocktails and crushing ice |
| Kinetix Smooth | 1000w motor, 1.5L jug, pre-programmed smoothie function, four speeds + pulse | A mid-range blender with a price tag under $200, surgical-grade blades makes easy work of fruit and vegies |
(Source: Breville)
Our pick of the bunch would be the Kinetix Pro. With a hugely powerful motor, 2L jug and a no fuss 'professional' approach to blending, this one is sure to make light work of the fruit you chuck at it. The next two models are cheaper, but feature distinctly less powerful motors. However, Breville has invested the time into making sure all of their blenders are adequate for their duties; you can't really put a foot wrong.
Budget Range Models
We get it, not everyone has over $200 to spend on a blender – we understand. So, if Breville is tickling your fancy, then consider these models at under $100.
| Model | Specs | Features |
| --- | --- | --- |
| Power Blender | 900w motor, 1.5L jug, 5 speeds plus pulse, ice crushing blades | Powerful motor for the price, sizeable 1.5L jug 5 speeds plus pulse to make light work of fruit, ice and vegies |
| Kinetix Light and Mighty | 850w motor, 1.5L jug, one-touch smoothies, lightweight jug, curved bowl, ice crusher | Curved bowl lets you get more out of your smoothie, mid-range motor makes smoothies easily |
(Source: Breville)
It's a pretty tight race between these two blenders. With only 50w between them, they might seem similar, but power isn't everything. You might enjoy the smaller footprint of the Light and Mighty more, or you might see the benefit of the curved bowl. Either way, these two feature impressive specs for the price.
Are Breville blenders worth the money?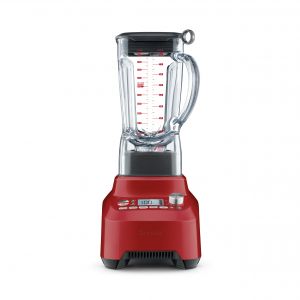 There's no denying that Breville is a high-end appliance brand. As such, their top blenders fetch a huge premium. They are the luxury car of the blender world. At over $500, Breville's top two blenders might be out of reach for many, but they pack a lot in. They feature powerful motors, lots of pre-programming and an array of speeds to liquefy most anything you chuck at it.
Breville's mid-range blenders also pack a punch for their price. At this price range they are often 'no frills' but have impressive motors and levels of speed to make blending easy. In the budget range, you can still buy a great blender for under $100. You won't find a sluggish motor in any of Breville's lineup. The smaller footprint and light weight of Breville's blenders sub-$100 are attractive features to many. We suspect that no matter what your budget, you could find a Breville blender to suit your tastes and budget.
Overall, Breville is a premium appliance brand, and this carries over into its blenders. If you can justify the price, then we suspect any of the Breville blenders will make a sound accessory to your countertop.
About the author of this page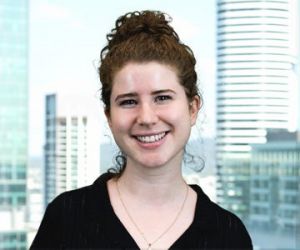 This report was written by Canstar Blue's Content Producer Luciana Lawe Davies. She writes about streaming, appliances and consumer products and services. Luciana enjoys bringing readers the best in what's on TV and at the shops, including the best deals and latest reviews.
What do customers think about Breville Blenders?
In 2019, Australian customers gave Breville 4 out of 5 stars for overall customer satisfaction for blenders.