Fact Checked
Ninja spins to the top of our blender ratings
While the days of acai bowls and gourmet smoothies may have settled, our schedules are as busy as ever, making blenders a necessary staple of many kitchens. From protein shakes and veggie juices, to purees and sauces, this small appliance is a versatile tool for any occasion, and with many price points on offer, you won't have to spend a fortune. Even the more basic blenders available in department stores boast outstanding power figures and usability, making chopping through fruit and vegetables in the morning a breeze. Whether you're about to finally give in and join the bandwagon or looking to upgrade an old model, you've come to the right place!
This year, Canstar Blue surveyed more than 570 consumers for their feedback on the blender(s) they've bought and used in the last two years. Brands were rated on performance, ease of use, ease of cleaning, additional functions, value for money and overall satisfaction. Those that met the minimum survey sample size of 30 responses are featured in our results.
Ninja was rated best for blenders after achieving a stellar five-star streak across the board and taking the top spot for overall customer satisfaction.
Best Blenders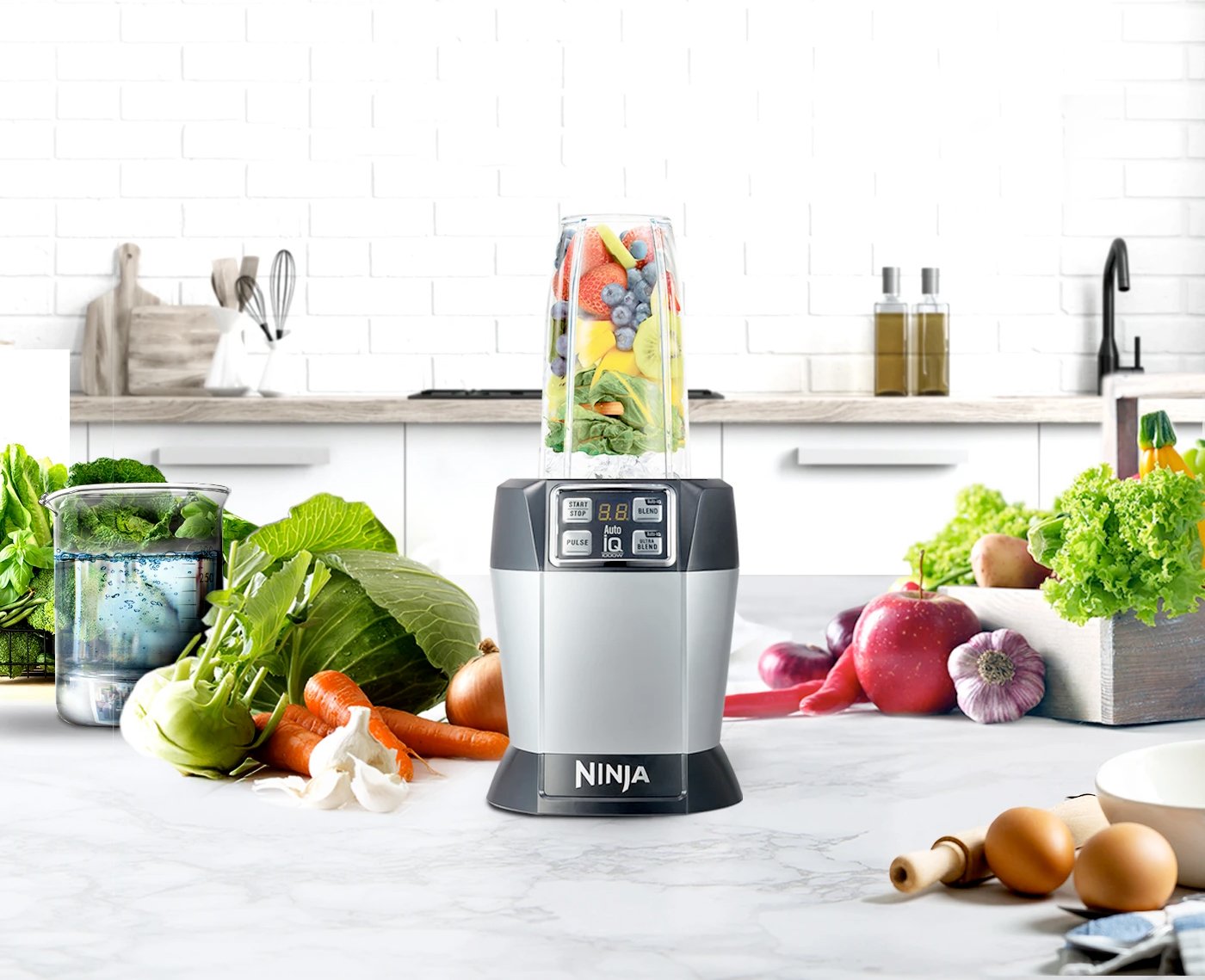 Here are the best blenders in Australia, as rated by consumers in Canstar Blue's latest review:
Ninja
NutriBullet
Breville
Sunbeam
Kambrook
Kmart
Ninja topped our blender ratings after rating best for overall satisfaction with five stars, ahead of NutriBullet and Breville on four stars. Sunbeam, Kambrook, and Kmart followed behind on three stars overall.
It's worth mentioning that NutriBullet still impressed in terms of value for money and ease of use, achieving full marks, as did Breville when it came to ease of cleaning.
To help you decide which brand will be best for your blending needs, below is an overview of the brands featured in our latest review.
Top Blenders
Nutri Ninja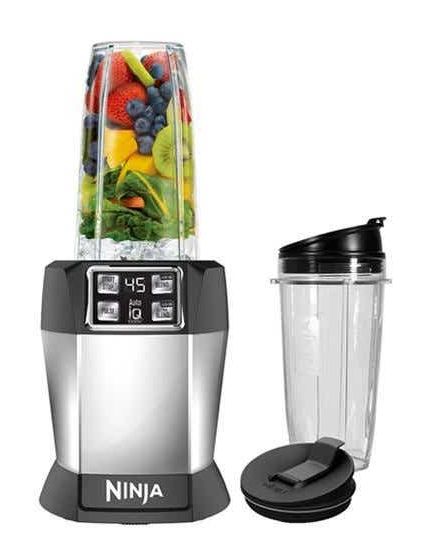 Ninja's range of popular blenders was originally available through select 'sales channels' only, but high demand eventually brought the brand's line-up into appliance stores across Australia. Prices start from just under $130 for the Ninja Pro Blender ($129.99 RRP*), which features a 900W motor and a one-touch use design so that you can drink straight from the cup once you remove the blades.
Some Ninja blenders also boast the brand's Auto-IQ smart programs that let you whip up everything from smoothies, frozen drinks, and alcoholic mixers to soups and sauces. One standout model is the Ninja Foodi Blender Cold & Hot ($399 RRP*), which comes with a heated clean function alongside 12 automatic and manual settings.
Ninja maintained a 'smoothie' five-star review across the board, including for performance, ease of use, additional functions, ease of cleaning, value for money and overall satisfaction
NutriBullet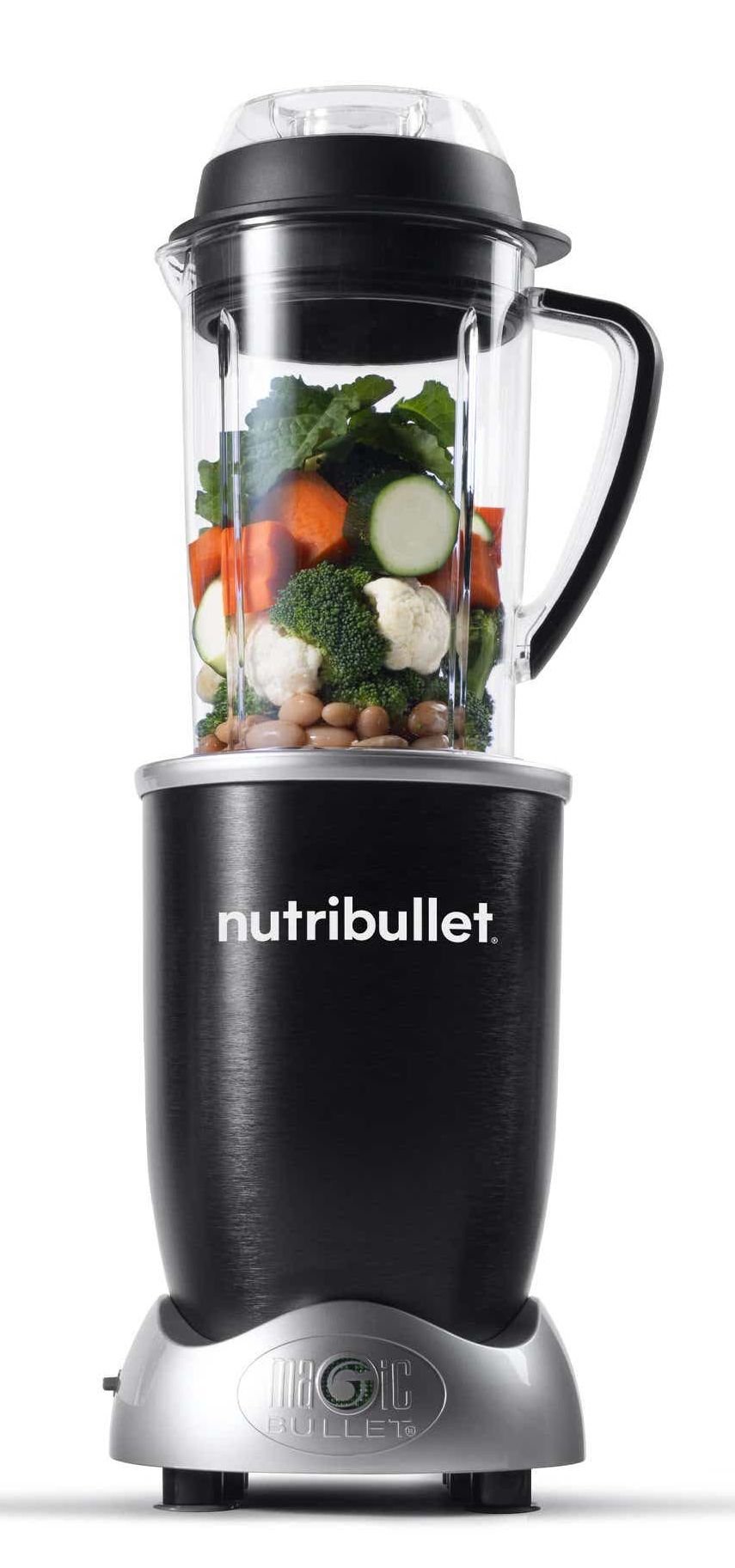 A brand credited for igniting the nutrient blending craze, NutriBullet made its name in TV infomercials. The most budget-friendly option is the brand's iconic Magic Bullet model − the Magic Bullet To Go ($49.95 RRP*). Similar to other products in the range, this personal blender is designed to chop, mix and blend a variety of drinks and dishes. On the other end of the price spectrum is the NutriBullet RX ($299 RRP*), which provides a 1700W motor, hands-free functionality and a seven-minute heating cycle for making hot soups and sauces.
If you need to whip up multiple servings, NutriBullet also has a couple of full-size blenders such as the NutriBullet Blender Combo ($249.99 RRP*). It comes with a 1200W motor base, multiple speeds, a pulse function and an extract program to break down whole fruits, vegetables and ice.
NutriBullet impressed on value for money and ease of use, earning five stars. It achieved four stars everywhere else, including for overall satisfaction
Breville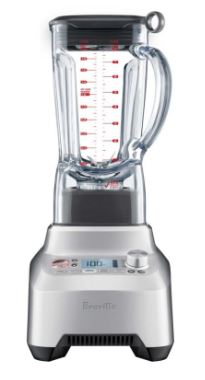 Breville is generally seen as a premium option when it comes to blenders, with prices starting from the $150 mark and several models exceeding $700. One of the more wallet-friendly blenders is the Kinetix Twist ($189.95 RRP*). Unlike many other blenders on the market, this model features a citrus cone lid for juicing, in addition to central blades that are said to pull ingredients down towards the blades and supposedly aerate the bottom of the jug to provide a creamier consistency.
If you prefer to use one-touch appliances, Breville's the Fresh & Furious ($299 RRP*) comes with nine pre-programmed buttons, such as for chopping, crushing ice, pureeing and making green smoothies. This also has a 1.5L jug, five speed settings, and a maximum 1300W motor power.
Breville was rated five stars for ease of cleaning and four stars in the majority of other categories, such as ease of use and overall satisfaction. The only exception was value for money, where it got three stars.
Sunbeam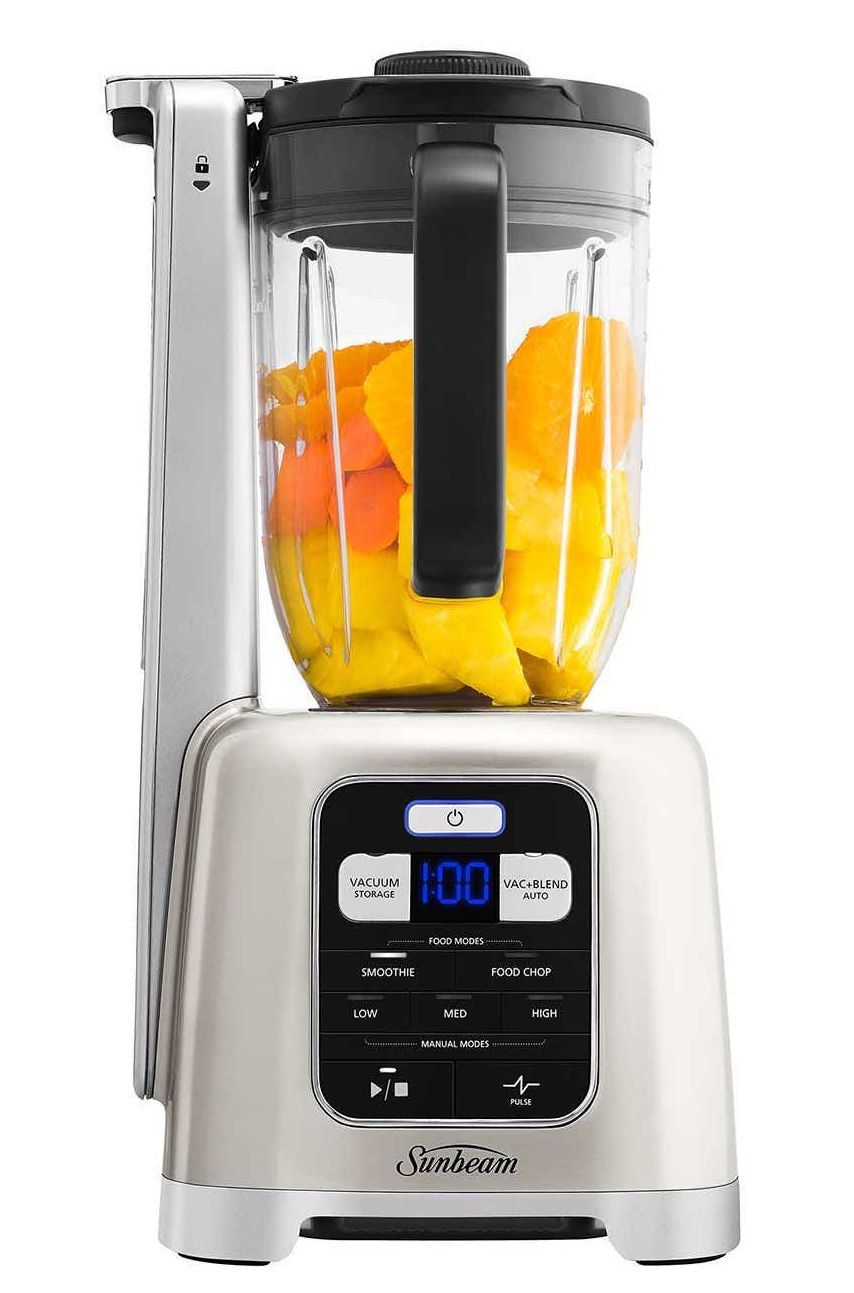 Sunbeam produces a large range of blenders for all types of blending applications, with prices ranging from around $50 to $500. Fuelling the 'grab-n-go' blender craze, Sunbeam sells the portable FitBlend Rechargeable Blender ($49.95 RRP*) which blends ingredients into a bottle for quick and easy transportation. Other traditional blenders are available, offering various capabilities such as soup making, ice crushing and more.
For hardcore blenders, Sunbeam's most powerful blender is the High Performance Power Blender ($499 RRP*). It's said to contain six-point sharpened stainless steel blades designed to spin at over 400km/h as well as a 1500W motor and 1.9L dishwasher-safe jug. It also comes with eight speed settings, three pre-programmed settings and a pulse function.
Sunbeam achieved four stars for value for money and ease of use, plus three stars for ease of cleaning, performance, additional functions and overall satisfaction.
Kambrook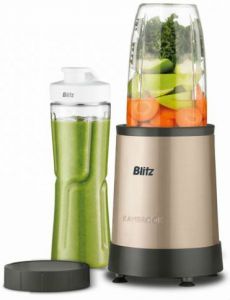 Kambrook is one of the leading kitchen appliances in Australia and offers personal blenders − both under the $100 mark. The first model is the Blitz Power Blender, which comes with an 800W motor, a 'Blitz2Go' bottle, and 700ml BPA-free cup. There's also the Blitz2Go Personal Blender, which includes a 300W motor and stainless-steel blades capable of breaking down ice. It's also said to fit in most car cup holders.
Kambrook received four stars for additional functions, before rating three stars for value for money, ease of use and cleaning, performance and overall satisfaction.
Kmart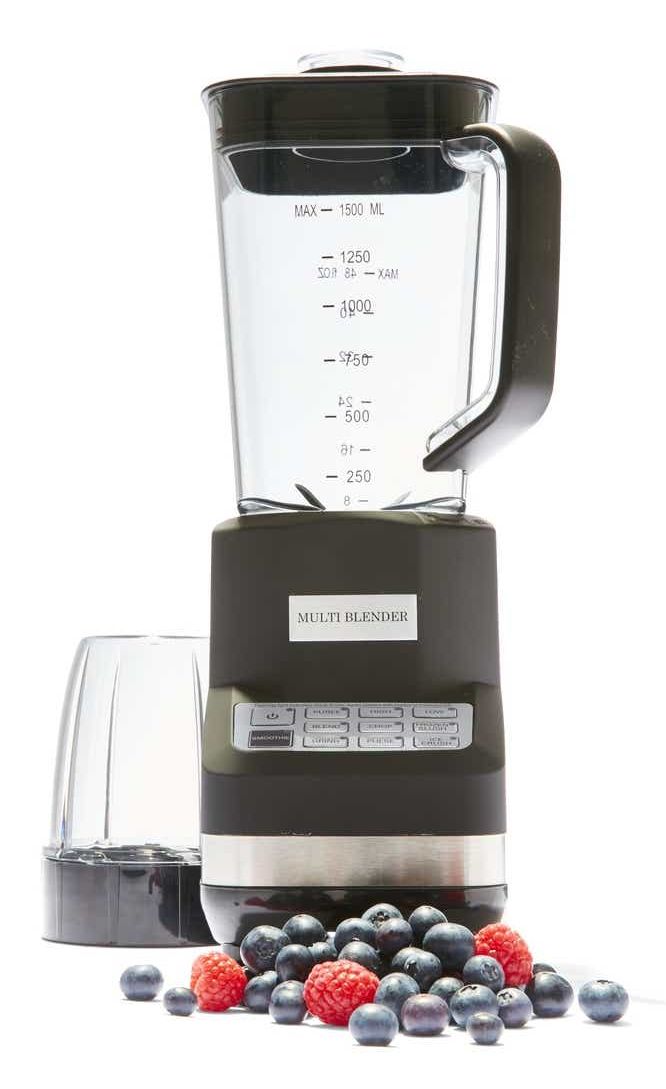 If you're a 'Kmart mum' (or dad), you would have seen Kmart's series of food blenders. Known to be the purveyor of 'cheap and cheerful' homewares, the Kmart brand produces a range of appliances, including toasters, kettles, and yes – blenders. All of Kmart's blenders can be found for under $50, with portable blenders coming in at under $20.
While you might not get all the whizz bang features like with other brands, such as hot and cold functionality, you can still get motors offering at least 300W and up to 1000W worth of power. The most expensive option is the Kmart Nutritional Pro Blender ($59 RRP*). It's the most powerful, producing 1000W of power, and provides a 710ml capacity plus a 530ml cup. This Kmart blender additionally features an ice crush function and pulse mode.
Kmart rounded up the results on four stars for value for money and three stars everywhere else, including for overall satisfaction.
Other blender brands
The brands featured in this year's ratings aren't the only options worth adding to your cart. Here are several more popular brands to think about.
Kenwood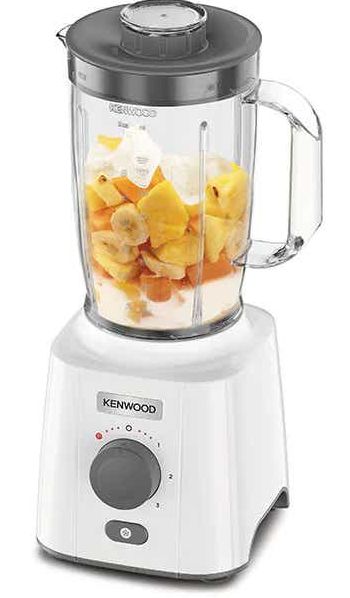 Kenwood has become a serious go-to brand for kitchen appliances, selling a range of stand mixers, kettles, toasters and more. It also has a small range of countertop blenders, all of which are available for under the $100 mark.  The Kenwood Blend-X Fresh ($69 RRP*) is the most affordable but still features a generous 1.5L jug in addition to a 650W motor, three speed settings, and pulse function. It's also capable of crushing ice and includes dishwasher-safe parts.
Philips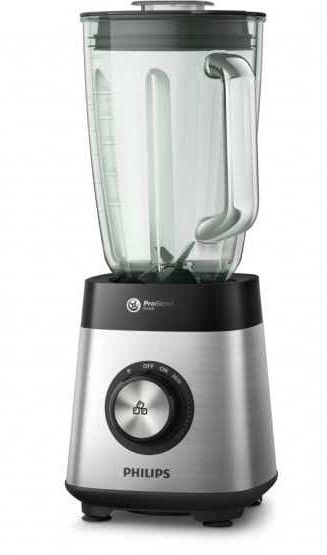 Philips only has a couple of options available at the time of writing, including the Philips Series 5000 Blender Core (HR3573/92). It retails for $199 RRP* and includes a 1000W motor, six-star blades and ProBlend Crush technology that's claimed to break down ingredients twice as fast as the brand's previous models. The Philips blender additionally offers a family-sized 2L jar, manual speed controls, detachable blades and dishwasher-safe parts.
Braun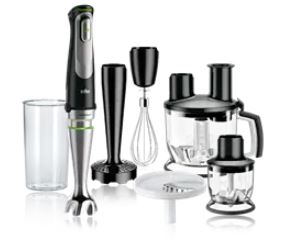 Braun deals exclusively in stick blenders and has several products to choose from, typically retailing between $70 to $300. One of the brand's top-of-the-range models is the MultiQuick 9 Hand Blender (MQ 9187XLI). It retails for $269 and features Active PowerDrive Technology to provide up to supposedly 60% faster performance compared to some of the brand's previous blenders. It also uses ActiveBlade Technology to move the blades up and down to help break down the ingredients.
Buying a Blender: Things to Consider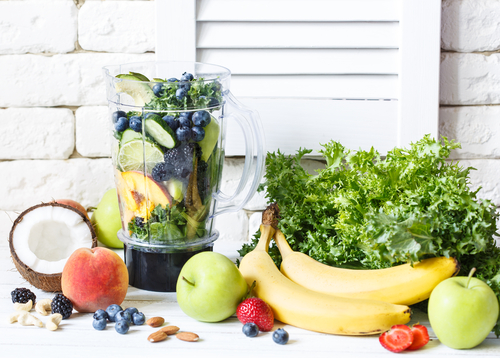 Some people scoff at the thought of a blender and will try to get all their nutritional needs through their three square meals a day. However, for those with a tight schedule, or who don't feel like stomaching a cup full of kale, a blender is clearly a very useful grab and go option. They can also make food preparation much easier.
Blender types
Before jumping into a purchase, it's important to think about what you'll be using a blender for. There are three main types of blenders, with almost half of survey respondents (48%) purchasing a full-sized option:
Full-sized blender (48%): bulky yet powerful to use for a range of tasks.
Bullet blender (31%): compact and versatile, typically allowing you to drink straight from the blender cup.
Hand-held/stick blender (18%): has a simple and compact design that is generally easy to clean.
Price
Our survey revealed shoppers keep the same blender for about five years before buying a new model, with consumers spending an average of $129 on a new model. This may explain why value for money was seen as the most important factor of overall satisfaction. Price was also listed as the number one reason consumers chose to buy a certain model (41%), followed by features (29%), brand (19%) and capacity (9%).
In any case, no matter how much you fork out, it's going to be a waste of money if you don't actually use your new blender! That may be the case for the respondents who admitted they don't use their countertop appliance as much as they originally thought (20%). A similar number of people even said they bought their blender as an impulse purchase (17%).
So, before spending $100+ on a blender, consider if you actually need or really want one. If you're just buying a blender to fit in with the trend, you've probably bought a $100 paperweight. But if you can see yourself making smoothies, soups and juices, then it should be a worthwhile investment!
Easy to use and easy to clean
Putting price aside, Aussie shoppers want a blender that's simple to handle and can get the job done without a hitch. One in four consumers (25%) we surveyed also make sure to purchase a model with dishwasher-safe parts. Below are the key factors that influence customers' overall satisfaction:
Value for money: 24%
Ease of use: 23%
Ease of cleaning: 20%
Ease of performance: 20%
Additional functions: 13%
Whatever your decision is, we hope our ratings have provided a useful tool to help you decide which brand you should go with.
About the author of this page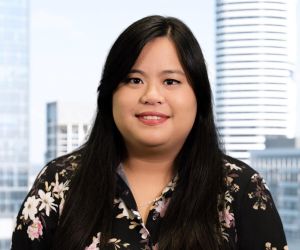 This report was written by Canstar Blue's home & lifestyle journalist, Tahnee-Jae Lopez-Vito. She's an expert on household appliances, grooming products and all things grocery and shopping. In addition to translating our expert research into consumer-friendly ratings reports, Tahnee spends her time helping consumers make better-informed purchase decisions on all manner of consumer goods and services, while highlighting the best deals and anything you need to be aware of.
Picture credits: Lidante / Shutterstock.com. 
*Prices are taken from respective retailers, correct as of July 2021.