Sunbeam cuts the competition to piece in blenders review
It seems everyone's chopping, blending and smoothie-ing. Whatever happened to vegging? Oh yeah, blenders can do that, too. In a world of increasing waistlines where everyone's trying to shed their kilos, blenders have become a mainstay on kitchen benches throughout Australia. Blenders are good for preparing protein shakes, smoothies, veggie juices, and even purees and sauces. Even the average blenders you can pick up from department store shelves these days boast outstanding power figures and usability, making chopping through fruit and vegetables at 6am an easy – if not quiet – task. If you're desperate to join the blending craze – or just looking to upgrade an old model – you'll want to know which blenders are really up to the chop. Well, wonder no more!
When you think of blenders, big names like NutriBullet and Nutri Ninja will inevitably spring to mind – and with good reason – but if there is one overriding message to take from this review, it's that thinking outside the box can reap rewards, with various other brands equally up to the challenge of demolishing your favourite foods in a heartbeat. In fact, in 2017 one of these other brands has really come to the fore, scoring five-star reviews for overall customer satisfaction, as well as most other research categories. We're talking, of course, about Sunbeam.
Nutri Ninja and NutriBullet have dominated our customer ratings for blenders since 2014, but it is now Sunbeam's time to shine. However, it was not the only brand to rate highly in one or two specific areas:
ALDI & Kenwood – Five stars on value for money
Nutri Ninja – Five stars for other functions
Nutribullet – Five stars for performance and ease of use
While Sunbeam did take out top spot, it's evident that customers still think favourably of Nutri Ninja and Nutribullet. So what are people doing and making with their blenders, and how could one fit into your busy schedule? Our research may be able to shed some light on the issue.
Blenders – more than just an expensive paper weight
Some consumers scoff at the thought of a blender and will try to get all their nutritional needs through their three square meals a day. However, for those with a tight schedule, or who don't feel like stomaching a cup full of kale, a blender is clearly a very useful 'grab n go' option. They also make food preparation much easier.
Asked what their blender is mainly used for, 44% of survey respondents said smoothies.
17% said their blender is predominantly used to make soups, with a further 11% saying juices and 8% milkshakes.
Aside from convenient meal preparation, many Australians said that blenders are also good for their health.
58% of survey respondents bought their blender as part of a healthier lifestyle change, while 59% said it has helped them achieve their health goals
Owning a blender can also help to expand the palette, with nearly half (46%) of users reporting that they have tried new foods thanks to their new blending habits. If kale and coconut water sounded gross before, just pop those into a blender with some fruit and you have a superfood smoothie! However, what can you expect to pay for this new, healthy blending lifestyle?
How much do blenders cost?
Our survey of Australian consumers found the average amount spent on new blenders is $135. Interestingly, those aged 40-49 spent the most at just under $151. Sunbeam owners spent less than the average ($117), meaning you don't necessarily need to dive deeply into your pockets to buy a good blender.
In any case, no matter how little you spend, it's going to be a big waste of money if you don't actually use your new blender! While many buy blenders with the goal of a healthier diet or a positive change in their lives, a great proportion of them end up going unused. 43% of survey respondents said they don't use their blender as much as they thought they would, with 21% admitting it was an impulse purchase. So before spending $100+ on a blender, consider if you actually need or really want one. If you're just buying a blender to fit in with the trend, you've probably bought a $100 paperweight. But if you can see yourself making smoothies, soups and juices, it should be a worthwhile investment!
What should I look for in a blender?
Blenders are about more than just a cheap price or a gimmicky feature. Aussie shoppers want performance above all else. Below are the key drivers of customer satisfaction when we get our blenders home and on the kitchen bench:
Performance (i.e. speed & quality): 22%
Value for money: 21%
Ease of use (i.e. ease to understand & operate): 20%
Consistency of blending result: 18%
Ease of cleaning: 11%
Other functions (e.g. ice crushing, chopping, heating): 8%
It's evident that customers have high expectations with blenders, perhaps because of all those infomercials promising the earth! The only area in which Sunbeam did not score five stars was other functions, but if you're just making a juice, protein shake or smoothie like the majority of people, do you really need those bells and whistles?
To help you decide which brand will be best for your blending needs, here is an overview of the eight in this year's review.
Sunbeam Blenders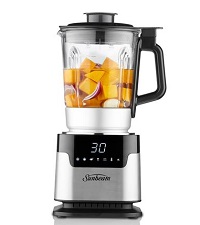 Sunbeam produces a large range of blenders for all types of blending applications, with prices ranging from about $50 to about $300. Fuelling the 'grab n go' blender craze, Sunbeam's forte seems to be its 'drink bottle blenders', which blend your food into a bottle for quick and easy transportation. Other more traditional blenders are also available and the range is big enough that you can specialise in certain areas – soup making, ice crushing, maximum power and so on. The most expensive 'Soup and Smoothie' blender (pictured) boasts a 1500w motor with a 1.75L blending capacity and auto-clean function. Drink bottle blenders come with two 600ml bottles and a 300w motor – enough to chop through blueberries and other delicious smoothie foods. Sunbeam was a stellar performer in our 2017 review, with five stars for overall satisfaction and most other research categories.