DeLonghi Coffee Machines Review
Espresso coffee machines are becoming ever more popular in Australian homes. It's a well-known fact that Aussies are some of the biggest coffee lovers (and coffee snobs!) in the world, so it's no surprise that many of us enjoy making our own coffee from home. But in order to make café-quality coffee in your own kitchen, you need to have a high-quality espresso machine, and some of the best quality machines on the market are arguably made by DeLonghi.
The Italian company manufactures several premium espresso machines, and says it aims to provide the ultimate coffee experience in your home. DeLonghi's motto is 'Better Everyday' – a slogan that seems to have been taken to heart based on the quality and capability of its appliances. DeLonghi consistently ranks highly in Canstar Blue's satisfaction ratings for coffee machines, especially in the criteria of design and reliability among others. So read on for a summary of all DeLonghi's current products.
The DeLonghi range
PrimaDonna Elite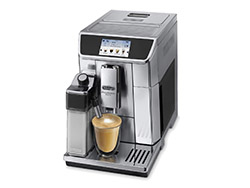 The most expensive and most accomplished of all DeLonghi's products, the PrimaDonna Elite is the machine which can do it all. The Elite comes with either a 4.3" colour touchscreen interface or a 3.5" TFT button interface, from which you can choose just about any beverage recipe you desire. The software allows you to customise and save your favourite recipes, and with space for 6 different personal profiles your drinks list will always be easy to find.
In addition to making quality coffee, the PrimaDonna Elite is capable of making hot chocolate using a separate chocolate carafe, and can adjust it to your desired thickness. You can also use the Coffee Link app to send your favourite recipes and custom settings to your machine at home.
RRP: $3,599 (4.3" screen), $3,199 (3.5" screen)

PrimaDonna Exclusive
A more compact design than the Elite model, the Exclusive coffee machine can nevertheless create a full range of delicious caffeinate beverages. With simple, one-touch buttons for cappuccino, steamed milk and hot chocolate amongst others, as well as a scalable control dial, the PrimaDonna Exclusive is a model of convenience for the early morning rush. It also packs the full capability of its larger brother, including a separate hot chocolate dispenser and multiple profiles for different users.
RRP: $3,499

PrimaDonna XS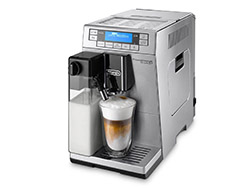 The XS, as its name suggests, is designed to be a compact and space-saving variant of the PrimaDonna range. The XS doesn't compromise on quality, with the same bean-to-cup approach, separate steamed milk dispenser and multiple beverages available at the touch of a button. The XS brings a user-friendly LCD display with a programmable memory function allowing you to store your favourite custom coffee; It also includes an auto clean function to make maintenance hassle-free.
RRP: $2,349

Eletta
The Eletta cappuccino machine is made especially for lovers of milk-based coffees. Producing cappuccinos, lattes, flat whites and more with aplomb, the Eletta model comes with user-friendly  physical buttons and a multi-language LCD display, as well as your choice of silver or black trim.
RRP: $1,949
Autentica
The Autentica coffee machine provides a user-friendly experience that lets you choose between a variety of coffee and milk options at the press of a button. With cappuccino, doppio and long coffee buttons available, as well as a separate milk menu to customise your be  verage to your heart's content, there's little the Autentica cannot do.
RRP: $1,599
Dinamica
A product line which includes several variants, the Dinamica models provide a sleek LCD display with intuitive touch button controls. Like all DeLonghi machines, it can produce a wide variety of coffee beverages, along with customisable milk and espresso settings for a truly individual morning coffee.
The Dinamica is available in three levels of trim, with the least expensive forgoing a milk frothing accessory.
RRP: $1,699 (350.75.S model), $1,499 (350.55.B model), $1,199 (350.15.B model)

Compact
The compact models are DeLonghi's entry-level espresso coffee machines, but don't dismiss them:  both machines allow you to make just about any coffee beverage you could want, including customisation of your coffee and milk additions. The less expensive model forgoes a milk frothing accessory.
RRP: $1,499 (23.460.S model), $1,099 (23.210.W model)
With a huge range of models to choose from, all seemingly capable of producing top quality coffee in the comfort of your home, it's no wonder DeLonghi is one of the highest-rated brands in Australia. For more on DeLonghi and the other coffee machine brands we rated, check out our star ratings.
About the author of this page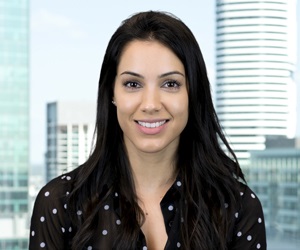 This report was written by Canstar Blue's Home & Lifestyle Content Lead, Megan Birot. She's an expert on household appliances, health & beauty products, as well as all things grocery and shopping. When she's not writing up our research-based ratings reports, Megan spends her time helping consumers make better purchase decisions, whether it's at the supermarket, other retailers, or online, highlighting the best deals and flagging anything you need to be aware of.
What do customers think about DeLonghi Coffee Machines?
In 2019, Australian customers gave DeLonghi 4 out of 5 stars for Overall Customer Satisfaction for Coffee Machines.
Delonghi Coffee Machines
Canstar Blue
Award:
Overall Satisfaction