Fact Checked
Aussies love De'Longhi a 'latte' in coffee machines review
There are typically two options when it comes to quality coffee – splash out around $5 at your local café every day, or invest in a coffee machine for your home so that you can enjoy a cup as often as you like (and on the cheap). If the second option sounds appetising to you, then you've come to the right place because our coffee machines review compares coffee machine brands on customer satisfaction. So, you can find out what other Aussies think about the compared brands before you go ahead with a purchase. Think of it as like asking hundreds of your closest mates what coffee machine they think is best!
To hit the ground running, we surveyed more than 300 consumers (and coffee lovers) for their feedback on the manual and automatic coffee machine(s) they purchased and used in the last three years (excluding pod coffee machines, stovetop espresso makers and coffee plungers). Respondents scored brands on taste quality, reliability, ease of use and cleaning, design, value for money and overall satisfaction. Manufacturers that received at least 30 responses are compared in the ratings above.
Our latest coffee machines review revealed De'Longhi to be the 'crema' of the crop, delivering a smooth finish after consumers rated it best with five stars for each category – including overall satisfaction!
Best Coffee Machines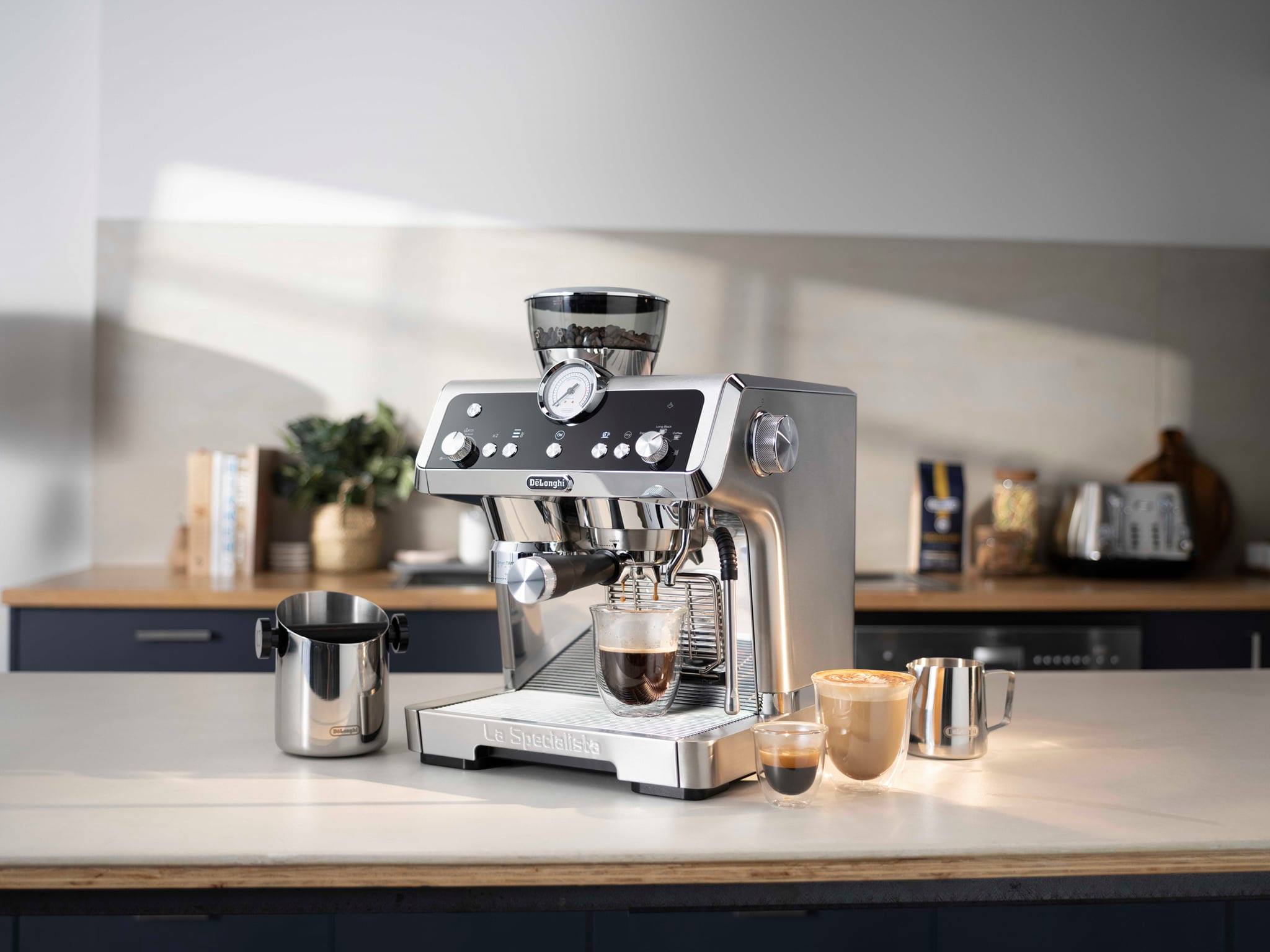 Here are the best brands of coffee machines in Australia, as rated by consumers in Canstar Blue's review:
De'Longhi
Sunbeam
Breville
De'Longhi topped our coffee machines ratings with a five-star review for overall satisfaction, while Sunbeam slightly dipped on four stars overall. Breville eventually tidied up the results on three stars for overall satisfaction. Let's review what each of the brands featured in this year's review has to offer. Please note this report incorporates automatic and manual coffee machines that use coffee grounds and beans.
Top Coffee Machines
De'Longhi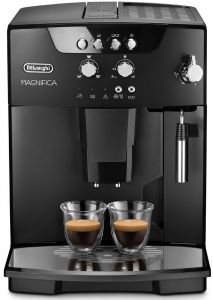 Italian kitchen appliances designer De'Longhi has one of the biggest ranges of coffee machines on the market, covering manual espresso machines, fully automatic coffee machines, capsule machines and filter coffee makers.
The manual espresso coffee machine range offers a number of different colours and styles, from sleek modern designs to retro throwbacks. You can find a couple of bundles through the brand's website for a limited time only and get an extra 1kg pack of De'Longhi's signature blend coffee beans, stainless-steel knock box and a stainless-steel frothing jug.
Its fully automatic coffee machine range also includes machines that create special beverages, including your own new recipes, plus brew multiple cups of coffee at a time. You can also check out models like the Dinamica Automatic Coffee Machine ($1,499 RRP*), which has a built-in grinder that you can adjust to suit your taste. Talk about a fresh, hot cup of coffee! However, De'Longhi automatic coffee machines are a bit of an investment and can set you back between $749 and $4,499.
De'Longhi's coffee machine range includes:
De'Longhi Dedica Metallics Manual Espresso Machine: $299 RRP*
De'Longhi Magnifica S Smart Automatic Coffee Machine: $899 RRP*
De'Longhi PrimaDonna Elite Automatic Coffee Machine: $1,999 RRP*
De'Longhi whipped up five-star reviews across the board, including for taste quality, ease of use, ease of cleaning and maintenance, design, value for money and overall satisfaction.
Sunbeam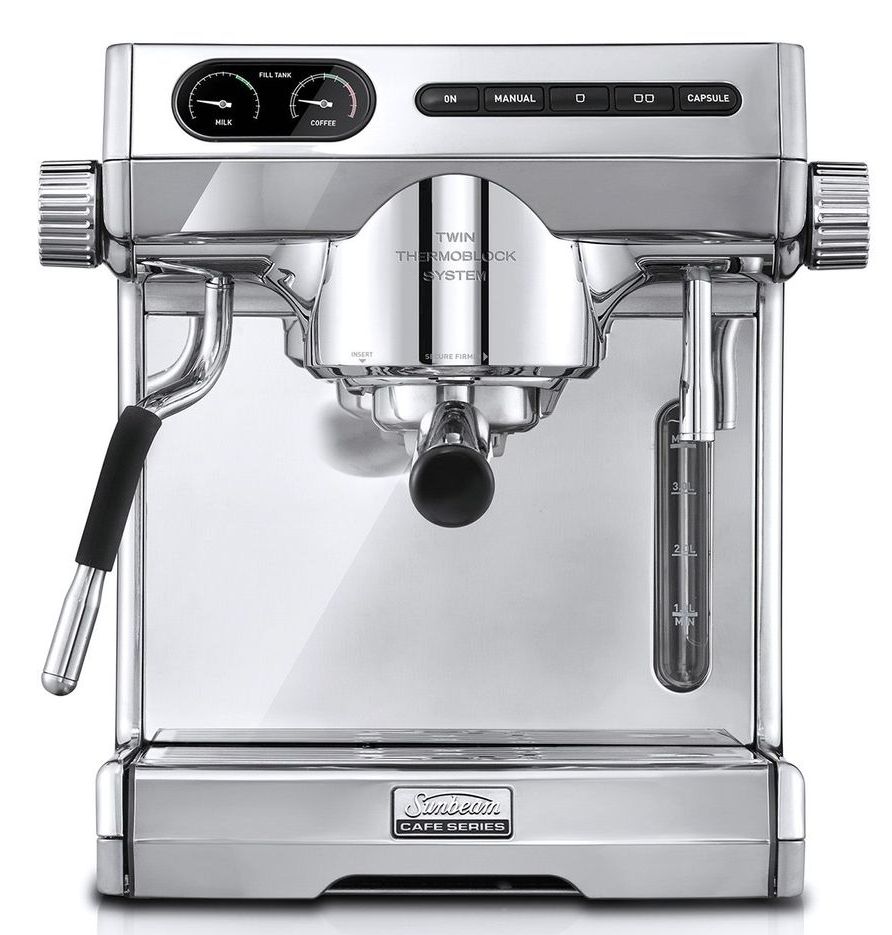 Sunbeam is another leading appliance brand serving up a range of manual and automatic coffee machines, although most are of the manual variety. Until recently, the brand has typically steered clear of the capsule coffee trend but now offers an espresso machine with a pod coffee function. While considered a manual model, the Café Series Espresso Machine + Capsule ($999 RRP*) gives households the best of both worlds, allowing you to opt for the convenient coffee pod on busy days and enjoy the delicious art of brewing fresh coffee beans on the weekends. It also features twin Thermoblock heating technology, twin pump and twin gauge technology for a quick heat-up time and temperature stability.
The Sunbeam range covers most budgets, starting with the Piccolo Espresso single-cup espresso and steam wand appliance at $139 RRP*. Prices reach up to $1,199 RRP* for the Torino Espresso Machine & Grinder.
Coffee machines currently available from Sunbeam include:
Sunbeam Café Espresso II: $159 RRP*
Sunbeam Café Barista Coffee Machine: $329 RRP*
Sunbeam Barista Max Espresso Machine: $749 RRP*
Sunbeam poured in with four stars in all areas, including taste quality, ease of use and cleaning, reliability, value for money, overall satisfaction and everywhere else.
Breville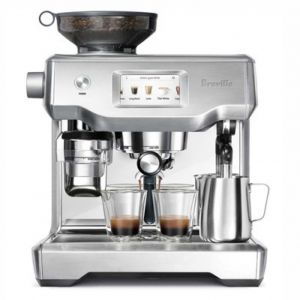 Breville produces both manual and capsule coffee machines, plus a drip coffee appliance. The manual machine range starts with the Café Venezia Coffee Machine ($269 RRP*) and comes with a dial control with two settings, which either draws out espresso or turns on the steam wand, and a 15-bar pump. It also has three stainless-steel filters, each made for either a single shot, double shot or an ESE pod.
There's also the Breville Barista Express Espresso Machine ($999 RRP*), which is claimed to brew a cup of coffee from 'bean to espresso' within a minute! Aside from the built-in grinder, the unit also lets you pick between 18 grind settings and whether you want a single or double shot of espresso. You can additionally check the pressure gauge to make sure you're using the right grind setting. It's similar to the Oracle Touch ($3,999 RRP*), the most expensive coffee machine in the range. However, the unit is fully automatic and features a touchscreen display and an auto steam wand. It can also automatically grind, dose and tamp the coffee for you.
Breville coffee machines currently available include:
Breville The Bambino Plus Espresso: $649 RRP*
Breville The Barista Pro: $1,299 RRP*
Breville The Oracle Touch Coffee Machine: $3,999 RRP*
Breville brewed up four stars for design and three stars everywhere else, such as reliability, taste quality, value for money and overall satisfaction.
Other Coffee Machine Brands
Just because a brand is featured in our ratings doesn't mean there isn't a more suitable option out there for you. Here are several more brands to check out before making a purchase decision.
Beko
Bezzera
Bugatti
Gaggia
Jura
La Marzocco
Smeg
Sunbeam
Buying a coffee machine
Things to consider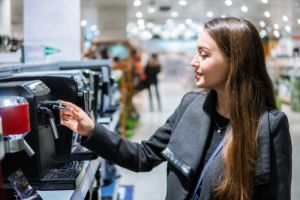 As well as rating the coffee machines they have purchased in the last three years, respondents to our survey also helped to paint a picture of what to look for when buying a machine in the first place. Sure, we all want great-tasting coffee, but what other factors help determine overall customer satisfaction? Below are the key drivers of customer satisfaction identified from our research:
Reliability: 27%
Taste quality: 26%
Value for money: 22%
Ease of use: 16%
Design: 8%
Ease of cleaning and maintenance: 2%
Here's a breakdown of some of these factors.
Reliability
Reliability was at the top of the list for customer satisfaction factors for coffee machines, which isn't surprising because you can own the most sophisticated coffee machine in the world, but unless it works perfectly every time then you're going to question its real value. Imagine the frustration of not being able to make that first coffee of the morning! We've all been there.
Coffee taste
Naturally, coffee taste/quality is the second most important factor in shaping customer satisfaction with coffee machines and it makes sense! What's worse? A coffee machine that's prone to breaking down, or a bad cup of coffee? With a good cup of coffee on the go, you might be able to overlook some things not going to plan. But if the coffee isn't up to the standards you expect, it might affect the rest of your morning. But if the taste isn't up to your standards, you can always try something new! Check out our guide on the types of coffee to get you going.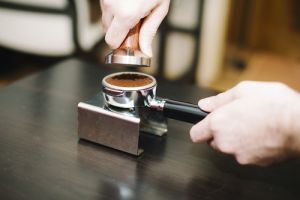 Value for money
When it comes to buying a coffee machine, you certainly have some cheap options out there, but 'cheap' doesn't always mean the 'best' value. For your purchase to represent good value for money, it will likely need to deliver on coffee taste and reliability, so doing your research and comparing products on features and prices will be helpful. Value for money is very subjective, but our customer ratings offer a helpful guide as to where you will find it.
Ease of use
No espresso coffee machine should be overly difficult to use, but our ratings suggest that some are easier to operate than others – and that's to be expected. Keep this in mind when picking the best machine for your home. The most sophisticated coffee machines may deliver the best coffee, but unless you can operate the machine properly, you won't get to enjoy it. Nearly a tenth (9%) of survey respondents said they don't use their coffee machine as much as they thought they would, with ease of use potentially playing a part.
Design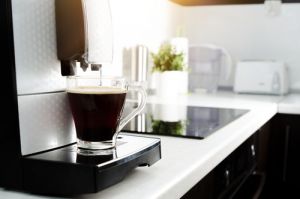 After all the functional factors mentioned above, you'll also want a coffee machine that is easy on the eye – and impresses your guests when they pop around for drinks. Some espresso machines more closely resemble alien spacecraft than traditional coffee makers, but perhaps that's the look you're going for? Whatever your (design) tastes, you might be better advised to concentrate on the above points rather than the appearance of your coffee machine.
Ease of cleaning & maintenance
You might be surprised to learn that coffee machines – even espresso machines – will require a fair bit of love and care in order to keep them working effectively. Just ask the 58% of respondents who regularly clean their machine. While pod coffee machines generally need regular descaling, manual and automatic coffee machines require a wipe down and various attachments to be chucked in the dishwasher (or hand-washed). Plus, no one wants to wake up to stale milk in the morning!
What types of espresso coffee machines are there?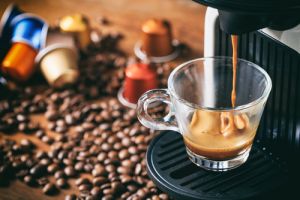 There are three main types of coffee machines you can buy, including:
Manual machine: become a barista in your own home with a manual coffee machine that gives you full autonomy over the results of your coffee. This type of coffee machine lets you control the coarseness of your grounds as well as the frothiness of your milk.
Capsule/pod machine: is typically easy to use with no tamping required, plus you can add a full range of exquisite flavours to your taste palette. It's also ideal if you're limited on bench space.
Automatic espresso machine: takes all the guesswork out of your morning coffee. For those who aren't able to function without their coffee in the early hours of the day, perhaps this one's for you!
You'll find these domestic coffee machines above in all shapes and sizes to help suit whatever your expectations or expertise are.
Is there a difference between coffee makers and espresso coffee machines?
There's plenty of confusion and debate around whether an espresso coffee machine is the same as a coffee machine ─ and the answer is, no… technically. A coffee machine generally refers to all types of gadgets, such as drip coffee makers, stovetop espresso and pour-over coffee makers, coffee plungers and French Press as well as espresso coffee machines. Although you can pretty much expect any manual coffee machine to be an espresso coffee machine.
Unlike coffee makers, espresso coffee machines use pressure to channel water through the coffee. On the other hand, coffee makers simply use gravity to draw water through the filter and into the coffee. This can take a few minutes, while coffee machines can brew a beverage within a few seconds. Even the heat-up time of a coffee machine is often shorter than it takes to make a French Press or drip coffee! Espresso coffee machines also require a finer ground, whereas you'll usually need to use a more coarse ground for filter coffee.
How much do coffee machines cost?
Typically, espresso coffee machines can cost anywhere between $80 and $6,000. As a general guide, expect the following figures for each type:
| Coffee Machine Type | Price Range |
| --- | --- |
| Manual machine | $160 – $6,750 |
| Capsule/pod machine | $100 – $1,200 |
| Automatic espresso machine | $100 – $6,500 |
General Guide Only
On average, respondents to our survey spent $648 on their new coffee machine ─ that's around double compared to what shoppers forked out last year ($322)! Automatic coffee machines typically offer more budget-friendly options, while manual coffee machines usually stick to the higher price range. Although many high-end automatic coffee machines come with manual features, while cheaper models simply provide single-touch buttons.
Apart from considering the key drivers of customer satisfaction, types of machines and price, our 2021 survey also revealed the following insights:
Which coffee machine should I buy?
Picking the best coffee machine for your home is clearly a challenge, but it largely boils down to how you would like to make your coffee. Do you prefer something that's easy to use and quick to make? Then a fully automatic coffee machine might be the way to go. There are also semi-automatic coffee machines, typically costing more than the fully automatic alternative, that provide some manual functions. Otherwise, you can experiment and customise to your heart's desire with a manual coffee machine.
Also, consider how much you spend on takeaway coffee because the cost can quickly add up! This could be a good guide as to how much it's worth spending on your home coffee maker. Our survey found that one in three consumers (38%) are spending less on takeaway coffee since purchasing their own appliance and nearly a quarter (28%) even prefer the taste of their homemade brew over takeaway coffee from a café.
When all is said and done, coffee machines can be a great addition to your kitchen, provided that you get adequate value from them. For many consumers, they probably fall into the category of an impulse purchase, so give it some thought before diving in.
About the author of this page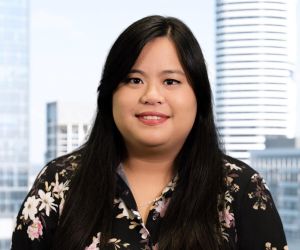 This report was written by Canstar Blue's home & lifestyle journalist, Tahnee-Jae Lopez-Vito. She's an expert on household appliances, grooming products and all things grocery and shopping. In addition to translating our expert research into consumer-friendly ratings reports, Tahnee spends her time helping consumers make better-informed purchase decisions on all manner of consumer goods and services, while highlighting the best deals and anything you need to be aware of.
Picture credits: Melica/shutterstock.com, Igor Kardasov/shutterstock.com, rawf8/shutterstock.com, Maybeline72 / Shutterstock.com.
*Prices are taken from retailer websites and Appliances Online, correct as of August 2021.