Nespresso Coffee Machines Review
Nespresso is one of the most iconic coffee brands in the world, with its signature marketing campaigns reinforcing its status as the first ever producer of capsule-based espresso coffee. Having introduced the world's first home espresso machines back in the late 90s, Nespresso's range has expanded significantly since – it now offers a tempting range of machines which encompass both luxury and affordability. Here's the lowdown.
The Nespresso range
Nespresso's range of coffee machines comprises more than 10 different models, starting with the basic U range and concluding with the highly capable Lattissima Pro. All models offer multiple coffee cup sizes, heat-up in less than 30 seconds and an automatic shutoff mode to conserve power. Check out the full range below:
U range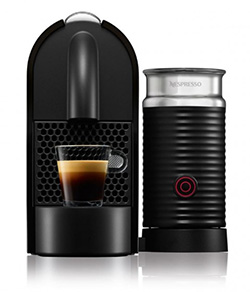 The most basic and "most automated" machine in the Nespresso catalogue, the U Solo is the perfect inexpensive addition to your kitchen. Capable of producing three different coffee cup volumes at 19 bar pressure, the Solo can be also fitted with a separate milk dispenser to create milk-based coffees. The U Milk machine includes a built-in milk-frothing machine to provide you with cappuccinos, lattes and flat whites right from the get-go.
RRP: $199 (U Solo)
Inissia range
The Inissia range is the next step up from the U range, providing a more compact footprint along with two programmable cup sizes and the usual quick heating and automatic shutoff. Like the U Solo, the Inissia can be combined with the separately sold Aeroccino milk frothing system.
RRP: $249
Pixie Clips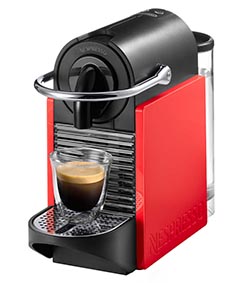 The Pixie Clips machine is for Nespresso customers who love to express themselves. You can clip one of many different coloured panels onto the sides of your machine in order to spice up your kitchen with a splash of colour and texture. Beyond its colourful appearance, the Pixie brings a similarly small footprint as the Inissia along with a full range of milk and water-based coffees.
RRP: $349
Prodigio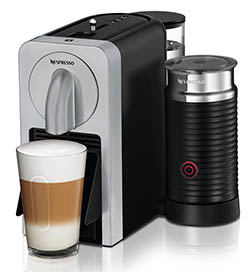 The Prodigio represents Nespresso's most forward-thinking new model. The first Nespresso coffee machine with inbuilt Bluetooth connectivity, the Prodigio allows you to connect your phone to it via the Nespresso app; you can monitor your remaining coffee capsules, schedule coffee brewing and check if maintenance or repairs are necessary – all with a few taps of a finger. The combination of these software features with a clever rotating water tank and automatic pod ejection makes the Prodigio one of the smartest coffee machines you can buy.
RRP: $399
CitiZ
The CitiZ brings a more minimalist and stylish design than its Prodigio sibling, along with a built-in Aeroccino milk frothing system to create all kinds of coffee recipes.
RRP: $399
Lattissima Touch/Pro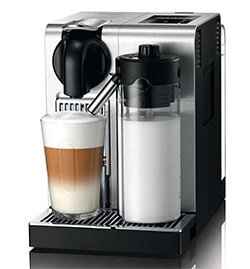 Among the most premium models Nespresso offers, the Lattissima Touch and Lattissima Pro deliver another level of sophisticated design and usability. Six capacitive buttons allow you to select a coffee at the push of a button, whilst the dial on the inbuilt milk dispenser lets you customise your favourite drinks; the Pro model adds digital touchscreen controls, an extra programmable button and a hot water dispenser, as well as a premium metal finish. Complementing these features are descaling and cleaning notifications, as well as an easy clean button.
RRP $649 (Lattissima Touch), $899 (Lattissima Pro)
Kitchenaid
A special partnership with the KitchenAid brand, the 'Nespresso by KitchenAid' machine takes the form of an iconic silhouette that harks back to the kitchen appliances of yesteryear. The premium metal housing and capsule release level combine with modern features such as the six programmable buttons and large 1.3L water tank.
RRP $599
Creatista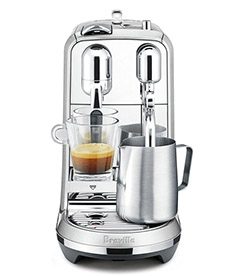 Boasting café-style quality coffee, the Nespresso Creatista comes with advanced features such as a built-in steam wand, three milk temperature settings, auto frothing and eight different coffee size selections. When combined with a top-mounted touchscreen interface, it's hard to find a better home espresso machine on the market.
RRP: $699 (Creatista), $799 (Creatista Plus)
What's all the fuss about?
Nespresso's reputation is founded as much on its coffee as it is the machines it produces, but the latter still represents one of the most comprehensive product ranges on the market. In our customer satisfaction ratings, Nespresso consistently ranks highly for the criteria of design, reliability and ease of use, amongst others, and with products that cater to so many Australians such performances with likely continue. For more on how Nespresso and other coffee machine brands performed, check out our star ratings.
What do customers think about Nespresso Coffee Machines?
In 2019, Australian customers gave Nespresso 4 out of 5 stars for Overall Customer Satisfaction for Coffee Machines.
Nespresso Coffee Machines
Canstar Blue
Award:
Overall Satisfaction