Review of Omega ovens
They say if you can't handle the heat, get out of the kitchen, but Omega produces some hot ovens. Omega is likely a well-known name in most local households, being established in Australia for more than 30 years now. If you haven't considered the brand until now, you might be surprised to know it offers a "complete kitchen solution", manufacturing not just ovens but rangehoods, stovetops and the like. However, Omega's bread and butter seem to be its ovens – the engine of the kitchen. So let's see what Omega has to offer, and whether the kitchen appliance brand "without peer" is worth a look into.
Omega has five ovens on offer, all with electric functionality. So let's see what you get in more detail with this Canstar Blue review.
Omega Pyrolytic Ovens
If you're a bit of a pyromaniac, then Omega's pyrolytic oven (Model: OO6AX) may excite you. Long story short, pyrolytic ovens self-clean by simply burning away all residues at such a high temperature, and turn it into ash to easily sweep out of the bottom. Somewhat like Fawkes the phoenix in Harry Potter who reduces to ash, pyrolytic ovens are easily cleaned, making them a favourite among modern households. Omega's pyrolytic oven features:
Dual knob control with eight cooking functions and integrated grill
500°C pyrolytic self-cleaning
Quadruple glazed glass door
60cm unit with a 65L capacity
European parts and a two year warranty
RRP of around $1,400 but can be found cheaper
Omega Built-In Ovens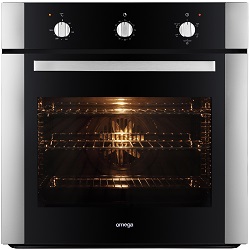 If your oven needs eschew the trends and you just want a standard built-in oven, Omega has you covered. Omega (OO656X) is designed with a piano black and stainless steel finish and would look right at home in a modern kitchen. Featuring a deadly-simple design principle with three controls, an easy pull handle and a simple cavernous design, Omega has basic oven needs covered here. It features five cooking functions and its racking options total nine variations so you can get your oven just how you like it.
With a RRP of around $800, this oven is commonly found under this price, and represents a good 'bang for buck' option
Has a 65L capacity and is a 60cm unit
Two year warranty, made with Italian parts
Omega Wall Ovens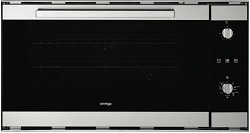 Through Appliances Online, Omega features two wall ovens, which are a convenient way to save space and separate the cooktop from the oven unit itself. The two Omega models in question are the OO686X and the larger OO986X. Both feature the standard theme of a piano black and stainless steel finish. The 686 features twin dial controls with a digital timer. For safety it features triple-glazed glass doors, which make them cooler to touch for curious little fingers. This in turn could offer more efficient cooking with a better insulated oven space. For easy cleaning, both units feature black enamel, and for easy cooking both feature multiple cooking modes.
Interestingly, the 986 model is similar in height and depth, but features a massive width – nearly 900mm. This would make it ideal for large pan-oriented dishes such as pizzas and boasts an integrated grill. It features double-glazed doors and nine racking positions.
The 686 is a 60cm unit and boasts a 65L capacity
The 986 is slightly shorter yet boasts an 84L capacity
Both use Italian parts and a two year warranty
The 686 costs around RRP $900, while the 986 is around $1,100, but both can be found cheaper
Omega Double Ovens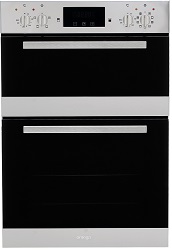 Double ovens are increasing in popularity and afford more versatility in the kitchen. In Omega's case, the OO885XR could fit in nicely in your kitchen. It features the larger chamber on the bottom, and the smaller one on top. All controls are handled from the top, so probably don't place it too high on your wall if you're a fun-sized human. Each chamber features two control knobs, while the larger chamber boasts nine cooking functions and a digital timer.
The smaller chamber is generally reserved for simple warming and light grilling. With that said, total unit size isn't that much bigger than a normal size oven, and those used to the traditional models may find it irksome that the main compartment size is compromised to accommodate the smaller upper chamber. Traditionalists may not even find use for the smaller chamber, but that's a debate for double ovens in general and isn't a reflection on Omega.
Total unit dimensions are D 561mm, H 886mm, W 594mm
The larger chamber is 58L while the smaller is 33L
Larger chamber door is triple glazed, while the smaller is double-glazed
Italian parts and a two year warranty
RRP of around $2000 but can be found cheaper
Is an Omega oven worth the money?
Omega makes a variety of ovens with an electric focus, and with many of them under $1,000 they are well worth a look into. While you won't find high-tech features, advanced cooking functions or other fancy bells and whistles, what you will get in an Omega oven is simple yet effective cooking. Its ovens are generally backed by a two-year warranty, and feature Italian or at least European parts. Omega's cheapest ovens are generally the traditional built-in ovens, and can be found for under $800. Its most expensive are perhaps unsurprisingly its pyrolytic and double ovens at around $2,000.
While pyrolytic ovens can be a good idea to save time, be prepared to pay a price for that convenience. Similarly, double ovens from Omega are generally more expensive, and while some people may find the two-compartment feature attractive, others may not get much use out of the smaller compartment. Omega is a good 'bang for buck' oven manufacturer, but don't expect fancy tech, a wide variety of colours and designs or interesting features.
What do customers think about Omega Ovens?
In 2017, Australian customers gave Omega 3 out of 5 stars for Overall Customer Satisfaction for ovens.