Bosch increases the heat in ovens review
Shopping for a new oven isn't something you do every weekend, but the fact that you've ended up on this page suggests it's that time of the decade again! As one of the biggest and most important things you'll buy for your kitchen, it pays to do your research and make an informed decision. While the oven basics won't have changed much since your last purchase, you may find many more techy features and functions on ovens these days, so make sure you consider exactly what you need and want before you reach for your credit card.
Our 2018 oven review and ratings might be the perfect tool to help you decide which oven you should consider for your next purchase. Each year, we survey hundreds of Australian households to find out which ovens are keeping families happy. This year, seven leading brands have been compared on their cooking performance and reliability, functionality, design and ease of cleaning. So, which brands are cooking up a treat and which are feeling the heat from their customers?
For the third year in a row, Bosch has been rated highest in our 2018 ovens review, achieving five-star reviews across all research categories. The seven compared brands were rated in the following order:
1st Bosch
2nd Smeg
3rd Miele
4th Fisher & Paykel
5th Electrolux
6th Westinghouse
7th Chef
The only other five-star ratings in our 2018 review were achieved by Miele for functionality and design. It was four stars overall for Smeg, Miele, Fisher & Paykel, Electrolux and Westinghouse, while Chef only received three stars.
It's probably fair to say that the top three brands mentioned above – Bosch, Smeg and Miele – are some of the most premium (and therefore expensive) available. So what does that tell you? Well, perhaps that investing in a quality oven will prove a sound financial move now and in the long run. If you've ever been frustrated by a temperamental oven, or just left disappointed by its performance, then it may be time to upgrade.
Almost one in four Aussie households (23%) wish they had spent more on a better oven, with one in five (21%) stating they're often disappointed with their oven's cooking performance, our latest survey found. If you're one of them, make sure you give serious consideration to which oven you buy next. Ovens are not the easiest of appliances to replace – especially after being installed – and you won't want to be left with buyer's remorse.
To help you decide which oven will be the best fit for your home, here is an overview of what the seven brands in this year's review have to offer. We'll also look at some of the best brands not included in our 2018 ratings.
Best-Rated Ovens
Bosch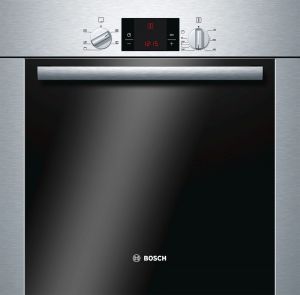 Bosch is a well-renowned name in the home appliance world, and the German manufacturing giant is synonymous with quality and technology. Bosch offers the Australian consumer a wide range of over 20 ovens, both electric and gas. Bosch puts technology at the forefront of its design ethos, with soft-open and close doors, a multitude of cooking programs and displays, as well as auto-pilot functions such as 'PerfectBake' and 'PerfectRoast'.
Bosch ovens generally come in at the premium end of the spectrum, with most above the $2,000 mark, but some can be found for a bit less. The Bosch 60cm Serie 6 Electric Built-in Oven (HBA13B253A) has a retail price tag of $1,149 and is equipped with self-cleaning technology, a stainless steel design as well as a cooling fan to cool down the oven and prevent components from overheating.
Bosch was rated five stars in every category in 2018.
Bosch's oven range includes:
Bosch VBD578FS0 90cm Serie 6 Pyrolytic Built-In Oven: $4,799 (RRP)

Bosch HBG672BS1A 60cm Serie 8 Pyrolytic Built-In Oven: $2,199 (RRP)

Bosch HBG633BS1A 60cm Serie 8 Electric Built-In Oven: $1,779 (RRP)

Bosch HBA5570S0A 60cm Serie 6 Electric Built-In Oven: $1,549 (RRP)

Bosch HBF133BS0A 60cm Serie 2 Electric Built-In Oven: $999 (RRP)