Kelvinator Air Conditioners Review
Named after the 'Kelvin' temperature scale, it's only fitting for Kelvinator to be one of the experts behind keeping your food fresh and home cool. The Swedish manufacturing giant as been producing a large range of household appliances for more than a century, including a range of both reverse cycle and cool-only split-system air conditioners and window air conditioners.
Kelvinator Split-System Air Conditioners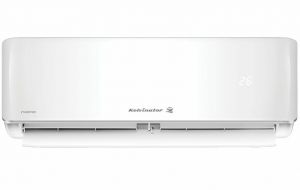 Kelvinator has several reverse cycle split-system air conditioners to choose from, with most of the split-system range capable of both cooling and heating year-round. Compared to other brands on the market, the brand is pretty budget-friendly. Prices usually start from $859 for a 2.5kW split-system inverter air conditioner, and reach up to $2,749 for a 9kW reverse cycle model. Cooling-only units tend to be on the cheaper and smaller side, usually available in 2.5kW for less than $900 (or a bit over $1,000 for the single 3.kW model).
Some common features include:
Wi-Fi connectivity
HEPA and ion filters
Multiple fan speeds
Energy efficiency ratings vary between 2.5 stars and 5 stars, depending on the model.
A few Kelvinator split-system air conditioners include:
Kelvinator 2.5kW Reverse Cycle Split System Inverter Air Conditioner (KSV25HWH): $899*
Kelvinator 7.1kW Cooling Only Split System Air Conditioner (KSV71CRH): $1,599*
Kelvinator 9kW Split System Air Conditioner (KSD90HWJ): $2,749*
Kelvinator Window-Wall Air Conditioners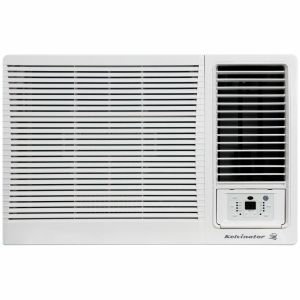 Kelvinator offers the same year-round heating and cooling comfort in its window-wall air conditioner series. These reverse cycle window air conditioners are available in 2.2kW, 2.7kW, 3.9kW, 5.2kW and 6kW capacities.
The cheapest air conditioner is the Kelvinator 1.6kW Cooling Only Window Box Air Conditioner (KWH15CME), retailing for $629.* Alternatively, the most expensive model is the more powerful Kelvinator 6kW Window-Wall Reverse Cycle Air Conditioner (KWH60HRF), which comes at $1,379.*
Some features you might expect:
Dust filter
Sleep mode
Automatic modes (including Auto Swing and Auto Restart)
Easy installation
Most Kelvinator window air conditioners have a 2-star energy efficiency rating. This isn't a major surprise considering window air conditioners are generally seen as less energy efficient among many brands, especially compared to other types of units such as split-system air conditioners.
Three window-wall air conditioners you can expect from Kelvinator include:
Kelvinator 2.2kW Window Box Reverse Cycle Air Conditioner: $719*
Kelvinator 3.9kW Window Box Reverse Cycle Air Conditioner (KWH39HRE): $959*
Kelvinator 5.3kW Cooling Only Window Box Air Conditioner: $1,209*
Is a Kelvinator air conditioner worth the investment?
Kelvinator offers a budget-friendly way to cool, and in some cases heat, your home with its range of split-system and window air conditioners. The brand isn't exclusively an air conditioner manufacturer, which might explain the smaller variety of models to choose from. But with that said, Kelvinator's products usually perform well in Canstar Blue's customer satisfaction ratings, so the brand is evidently doing something right.
Kelvinator air conditioners are, on the whole, a little cheaper than some popular 'premium' brands on the market. But the trade-off with this is that you might miss out on the perks of an energy efficient air conditioner, including potentially lower power bills, and certain bells and whistles like smart home system connectivity.
Air Conditioner Reviews & Ratings
*Prices taken from Appliances Online, correct as of September 2020.
About the author of this page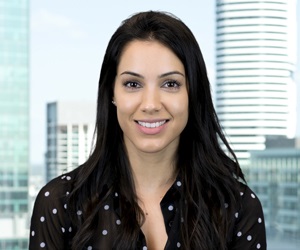 This report was written by Canstar Blue's Home & Lifestyle Content Lead, Megan Birot. She's an expert on household appliances, health & beauty products, as well as all things grocery and shopping. When she's not writing up our research-based ratings reports, Megan spends her time helping consumers make better purchase decisions, whether it's at the supermarket, other retailers, or online, highlighting the best deals and flagging anything you need to be aware of.
What do customers think about Kelvinator Air Conditioners?
In 2019, Australian customers gave Kelvinator 4 out of 5 stars for overall customer satisfaction for air conditioners.
Kelvinator Air Conditioners
Canstar Blue
Award:
Overall Satisfaction