Electricity can be an enigma wrapped inside a riddle – it's truly a tale as old as time – but before you go diving into the world of usage and supply rates and energy discounts, you need to know which power supplier you're dealing with in the first place. The good news is, this information is generally readily available, and here at Canstar Blue, we're here to help you find it.
Compare Electricity Plans
How to find your electricity supplier
Here are three simple ways to work out which electricity supplier is powering your property:
Check your last energy bill
Talk to the last person to take care of the bill
Call your electricity distribution network
1. Check your last energy bill
We get it. From your misso's mum's birthday to why you went to the kitchen just then, it can be hard to remember the 'important' things in life. The good thing is that, if you've simply forgotten who your electricity supplier is, it shouldn't be too hard for you to find out. Check your emails or that drawer you keep loose papers in (we know you have one) for a recent bill. Right on the top you'll be able to see which provider you're with. In the case below, it's AGL. Congrats, you're an AGL customer.

2. Talk to the last person to take care of the bill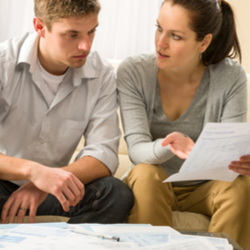 If the responsibility of paying the electricity bill has just been passed onto you like a dusty family heirloom, you'll need to pipe up and ask the last person to take care of it to fill you in on what you need to know. Ask for more than just the name of the energy provider, you'll also need to get the bill transferred into your name – which means updating bank details and inputting your email address.
And in a situation where you've just moved into a new house and are unsure about your energy situation as a whole, it's worth getting in touch with your landlord, or real estate agent, who can clue you in on what you need to do.
3. Call your electricity distribution network
If you've found yourself in a real pickle where you can't find an old bill and have no contact with previous bill-payers, there are still things you can do to find out which provider is registered to your address. What you might not realise is that you're actually supplied electricity through a location-based network, not whichever retailer you choose. That's just a logo on the bill.
By picking up the phone and giving your relevant electricity network a ring, you'll be able to find info as to what energy supplier is sending bills to your address. Below are the general enquiries numbers of the networks within competitive energy markets in Australia, and information to help you figure out what number you should call based on your location.
Distribution Network
Location
Contact number
Queensland
Energex
Brisbane, Gold Coast, Sunshine Coast & surrounds
13 12 53
Ergon Energy
Country and regional QLD
13 74 66
New South Wales
Endeavour Energy
Southern/western metropolitan Sydney and surrounds
13 37 18
Essential Energy
Country & regional NSW, southern regional QLD
13 23 91
Ausgrid
Inner, northern & eastern metropolitan Sydney and surrounds
13 13 65
South Australia
SA Power Networks
All of South Australia
13 12 61
Australian Capital Territory
EvoEnergy
Most of the ACT
13 23 86
Essential energy
A small portion of the ACT, plus Queanbeyan area
13 23 91
Victoria
Citipower
Melbourne City and inner suburbs
13 22 06
Jemena
Northern and south-western suburbs
1300 131 871
Powercor Australia
Western suburbs and western Victoria
1300 301 101
Ausnet Services
Outer northern and eastern suburbs and eastern Victoria
1300 360 795
United Energy
Southern suburbs and Mornington Peninsula
1300 131 689
Tasmania
TasNetworks
All of Tasmania
1300 137 008
Current as of April 2019.
If you live in Western Australia or the Northern Territory, where the local electricity markets are non-competitive, the need to make contact with your energy supplier is reduced slightly because power prices are regulated, you don't have a choice of retailer, and you won't need to worry so much about paying more than you'll need to. However, it's still important to get in touch to make sure the account is in your name, your billing details are accurate, and you may even be able to benefit from a different electricity tariff that better suits your energy consumption habits.
Why should I care about who my supplier is?
Unlike us at Canstar Blue, you're probably not living and breathing electricity – and we don't expect you to be. A brand name might not mean much to you, but how much you have to pay when your electricity bill rolls around might. If you're not sure what energy supplier you're with, there's a good chance you're not on a competitive plan and could be paying much more than you need to. If you're interested in finding out if you could be saving on your power bill, follow the link below and see how your provider/plan stacks up against others in your area.

Image credits: Jacker1991/shutterstock.com, CandyBox Images/shutterstock.com