Roborock Robot Vacuum Cleaners Review
Move over, iRobot. There's a new robot vac in town ─ and it can mop. Roborock is one of the latest brands sweeping up fans with its range of robot vacuums and offers several robotic home cleaners at fairly affordable prices. Typically retailing between $799 and $1,199, models currently available from the brand include:
Roborock S6 MaxV
Roborock S5 Max
Roborock S6 Pure
Roborock H6 (cordless stick vacuum)
To help you decide whether a Roborock vac is worth your bread, we've dished the dirt on the features, functions and prices the brand offers. Here's our review.
Roborock robot vacuums
Here's an overview of key specs for each Roborock robot vacuum.
| Features | Roborock S6 MaxV | Roborock S5 Max | Roborock S6 Pure |
| --- | --- | --- | --- |
| Price (RRP) | $1,199* | $999* | $799* |
| Runtime (vacuum) | 180 minutes | 150 minutes | 150 minutes |
| Dustbin capacity | 460ml | 460ml | 460ml |
| Runtime (mop) | Up to 150 minutes | Up to 150 minutes | Up to 75 minutes |
| Water tank capacity | 297ml | 290ml | 180ml |
| Suitable area size | Approx. 250m2 | Approx. 200m2 | Approx. 200m2 |
Source: Roborock (general guide only)
Roborock's robot vacuums share many of the same features including:
Voice control: uses voice command to start and stop cleaning
ReactiveAI: uses AI technology to recognise and avoid common household hazards, such as shoes, pedestals and pet waste
Map saving: saves a map scan of the home
App control: uses the Xiaomi smart home app to access functions, such as scheduling, manual control and various cleaning modes
Real-time robot location: to keep track of where your robot vacuum is in the house
Selective room cleaning: chooses specific rooms to clean and creates specific schedules to suit your needs
Auto-recharge: makes the robot vac automatically return to the charging dock once it's finished cleaning
Roborock S6 MaxV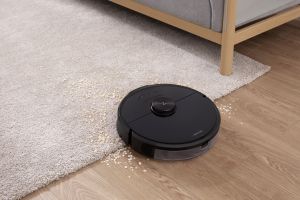 Roborock's S6 MaxV is a triple threat you'd want to consider adding to your cart. The brand's flagship robot vac doubles as a vacuum and mop, plus delivers up to a whopping three hours' worth of cleaning time with a single charge. What makes Roborock's flagship robot cleaner stand out is the addition of twin cameras and infrared imaging, stated to help make cleaning easier. It can also use night vision and ReactiveAI to navigate through the home without bumping into everything. Here's a rundown of the basic specs:
180-minute vacuum runtime
150-minute mop runtime
2500Pa maximum suction power
Ideal for cleaning spaces of up to 240m2
The runtime on this robot vacuum cleaner takes the cake when compared to some other products on the market, with the DEEBOT OZMO T8 AIVI ($1,299 RRP*) from Ecovacs being one of the few to provide a 180-minute runtime, as well as both vacuum and mopping functionality. Other two-in-one robot cleaners such as the Eufy Hybrid RoboVac L70 ($1,299 RRP*) have a little less stamina, giving a maximum of two hours cleaning time. The extra minutes on the Roborock S6 MaxV could be especially handy for larger homes, although the standard 150-minute runtime on many robot vacs is probably more than enough for most households.
If you have privacy concerns about voice assistants and AI technology, Roborock states that images shot by the ReactiveAI feature are immediately deleted once objects are detected for extra peace of mind.
Price: $1,199 RRP*
Roborock S5 Max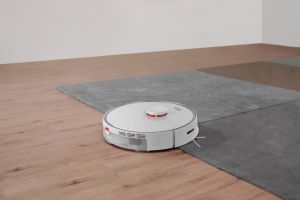 If you're a sucker for Roborock's robot vacuums, then the Roborock S5 Max might hit the sweet spot. It's currently available for $999 and claimed to be ideal for areas measuring approximately 200m2. This robot vacuum additionally comes with a 460ml washable dustbin, 290ml water tank capacity and 150 minutes' worth of vacuum and mopping time.
Other features to expect include:
Auto-recharge
Selective room cleaning
Washable HEPA filter
Adaptive route planning.
Price: $999 RRP*
Roborock S6 Pure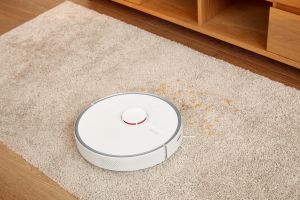 The Roborock S6 Pure proves you don't need to spend big to enjoy a full range of features. This vacuum and mop robot cleaner is the cheapest in the range, retailing for just under $800. It shares a number of specs with Roborock's pricier models, namely the Roborock S5 Max. Some include a 460ml washable dustbin capacity, 150-minute vacuum runtime and 2000Pa suction power. This robot vacuum is similarly suitable for spaces measuring approximately 200m2. You can expect the same when it comes to features, including:
Voice control
Map saving
Selective room cleaning
Real-time robot location feature.
However, the water tank capacity is noticeably smaller at 180ml, compared to other models in the range. Meanwhile, the Roborock S5 Max can hold 290ml, while the Roborock S6 MaxV is capable of carrying up to 297ml of water for mopping. But aside from the tank capacity, shorter mopping runtime and a $200 difference, there isn't much separating this budget model from the other two models in terms of technical specs.
Price: $799 RRP*
Is it worth getting a Roborock robot vacuum?
If you're setting cash aside for a robot cleaner, Roborock is definitely worth considering. It's currently one of the few brands in the market to offer robot vacuums with mop functionality, plus the standard runtime of 150 minutes on some models is comparatively generous. For example, the Miele Scout RX2 Home Vision Robotic Vacuum Cleaner (10673890) offers two hours' worth of cleaning time and retails for $1,699 RRP*. You can get a similar runtime from a Roborock model for a fraction of the cost! The brand also offers a cordless stick vacuum − the Roborock H6 − for households who prefer to stay hands-on.
It's also handy to know that most features mentioned are consistent across the range, with slight differences in suction power and maximum coverage area. So, you get what you pay for, but without getting short-changed on features. It's a yes from us!
About the author of this page
This report was written by Canstar Blue's home & lifestyle journalist, Tahnee-Jae Lopez-Vito. She's an expert on household appliances, grooming products and all things grocery and shopping. In addition to translating our expert research into consumer-friendly ratings reports, Tahnee spends her time helping consumers make better-informed purchase decisions on all manner of consumer goods and services, while highlighting the best deals and anything you need to be aware of.
Robot Vacuum Cleaners Buying Guide
*Prices sourced from Roborock, correct as of February 2021.
Pictures: Supplied.