Sharp Microwave Ovens Review
There's nothing more convenient that grabbing a ready-made meal out of the fridge and throwing it into the microwave for a few minutes. Sure, it's probably not going to be the most wholesome meal you've ever prepared, but at the end of a long, hard day, it will do the job. Well, if you have a decent microwave oven that is. Sharp is a brand of microwaves that has enjoyed great success in Canstar Blue's customer satisfaction ratings, so let's review what it offers and determine whether you'll be getting a convenient price, as well as convenient food.
What microwave ovens does Sharp offer?
As a premiere provider of microwave ovens, Sharp has an extensive range to suit your microwave needs. It has a total of 19 microwave ovens on offer, which can be separated into three different categories:
Compact microwave ovens
Midsize microwave ovens
Large microwave ovens
We will have an in-depth look at each of these categories, discussing the common prices and features of Sharp's models, to help determine if they could be of value to you.
Compact microwave ovens
Compact microwave ovens are the best choice for someone looking to save space in their kitchen. They are smaller than the average microwave, and Sharp's compact models are known for convenience and simplicity. There are four of them in total, which range in price from $139 to $220.
The cheapest: R20A0W 750W microwave oven
The R20 (pictured) is the cheapest microwave from Sharp in this article, costing a relatively meagre $139, which is not much at all for a kitchen appliance you'll likely be using a lot. This compact microwave is 442mm by 255mm with a 255mm turntable inside, meaning it is a fantastic addition to any small space in your kitchen. In addition to being small and cheap, it comes with a number of useful features. Mainly, it has eight pre-programmed auto-menus and express defrost, so there is no need to stress over frozen meat. It also has 2-sequence cooking, which lets you cook with multiple microwave powers simultaneously.

The most expensive: R231ZS microwave oven
The most expensive compact microwave costs $219, which is still extremely cheap. It is slightly larger than the R20, coming in at 460 by 275 while also being more powerful at 800W. This microwave is still a fantastic addition to your home despite the increased price.
It has similar special features to the R20, but also has a few more that justify its price. In addition to the 2-sequence cooking and Australian developed menus, it also comes with 13 auto-menus instead of eight, giving you more options and flexibility in your cooking. The more/less cooking feature allows you to adjust the cooking time based on your own preferences.
Midsize microwave ovens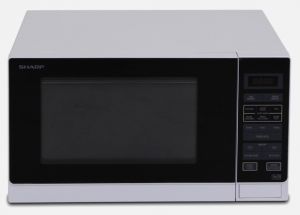 Mid-size microwave ovens are the most common type of microwave, and they are perfect for everyday use. Ideal for singles, couples and families alike, midsize microwave ovens are Sharp's most n
umerous microwave, with 14 in total. These midsize microwaves range in price from $210 to $770, and since there are so many of them, we will just have a look at some of the cheapest and most expensive to compare the differences.
The cheapest: R30A0W microwave oven
This 900W, 514×308 midsize microwave is a wonderful addition to any kitchen, allowing you to easily make your favourite meals at the press of a button. At $209 it represents superb value for money, and you can see why when you look at the features it comes with:
Eight pre-programmed auto menus
Express defrost
Sequence cooking
Australian developed menus
Child lock feature
Other notable cheap microwaves in this category are the R30A0S and the R330YW, which have extremely similar features. The only notable difference is the weight-defrost ability, which determines the correct power level based on the weight of the frozen meat. Other than that, the cheaper models are all pretty much the same.
Mid-price: R80A0S midsize microwave oven
This mid-price microwave costs $389, and is actually slightly smaller at 513x306mm. In terms of features, there are some new ones that justify the price rise:
Convection: dry heat is evenly circulated around the oven cavity to cook food the same all over, leaving it brown and crisp
Double grill: provides more flexible cooking options for you with 3 different grilling modes
Combo cook: combines microwave power with grill heat or convection to reduce cooking times and improve results
12 auto menus that are Australian developed
Those are some impressive features, but only you can decide if they can justify the price tag.
The most expensive: R890NS midsize microwave oven
The R89 from Sharp is a lot more expensive, setting you back $770 in total. However, when you see the features that it has, you'll understand why it is so much costlier. It has all of the standard ones, like:
Double grill
Convection
Combo cook
Australian developed menus
Weight defrost
But what sets it apart the most is the whopping number of auto menus it has. The R89 has 23 pre-programmed menus in total, including five easy defrost menus, six multi-cook menus and six convenience/pizza menus. This microwave gives you a huge range of options, more than any model listed so far.
Large microwave ovens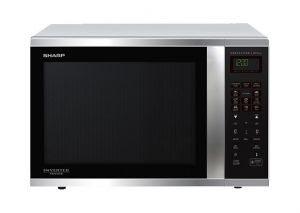 Sharp only has one large microwave oven available. These larger size models are the perfect size for families as it allows for much more internal space, and Sharp's model – the R995DST – costs $1,200 at most.
The R995 (pictured) is 550×537 in size, and comes with a 1000W power output. In terms of extra features, this microwave oven has an excellent range in addition to its large capacity. Such as:
Convection
Sensor technology: calculates and determines the reheat and cook time for you
Inverter technology: a continuous flow of true power levels throughout the cooking procedure will eliminate uneven cooking and the development of hotspots.
A total of 21 Auto menus, giving you a huge range of flexibility
---
Read more: How much energy does a microwave use?
---
Are Sharp Microwave ovens worth the money?
So now that we've had a look at Sharp's most prominent microwave models, we'll help you determine if they are worth spending your hard earned money on.
When it comes to price, Sharp's compact microwaves are right at the lower end of the scale. This is not a bad thing by any means, as they have a decent number of extra features and innovative technologies that allow them to perform better than what you'd expect from a budget appliance. With auto-cooking menus and 2-sequence cooking, Sharp's budget compact ovens represent excellent value for money, particularly if you're short on money or space. So yes, Sharp compact microwave ovens are definitely worth it.
The most numerous of Sharp's microwave ovens are midsize models, and there is definite value to be seen here. At the lowest price of $210, they are no more expensive than most compact microwaves yet have a larger capacity and higher operating power. Right away they are worth purchasing over Sharp's compact ovens if you require one, even though they don't really offer much more in terms of features.
If you want a microwave that has loads of extra features, the R89 model might be more to your taste. This model and other more expensive ones like it have 23 auto-cook options, as well as convection and combo cook modes. At $700+ these microwaves are above average for price, but they are absolutely worth buying.
Finally, Sharp's only large model is a little on the pricey side, as it will set you back $1,200. This is up there with the most expensive on the market in Australia, so it might be out of the question if you're short on cash. However, if you have a large family or live in a house with lots of people, then there is definite value to be seen in Sharp's large options.
It is extremely powerful with a power output of 1000W, and its large capacity will let you cook huge amounts of food quickly. It also has an excellent range of features, most notably the inverter technology and 21 auto-cook menus. The only real downside is Sharp's lack of range, so you might want to check other providers of large microwave ovens.
Microwave Oven Reviews & Ratings
About the author of this page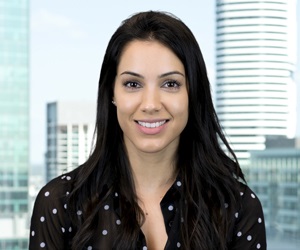 This report was written by Canstar Blue's Home & Lifestyle Content Lead, Megan Birot. She's an expert on household appliances, health & beauty products, as well as all things grocery and shopping. When she's not writing up our research-based ratings reports, Megan spends her time helping consumers make better purchase decisions, whether it's at the supermarket, other retailers, or online, highlighting the best deals and flagging anything you need to be aware of.
What do customers think about Sharp Microwaves?
In 2019, Australian customers gave Sharp 4 out of 5 stars for overall customer satisfaction for microwaves.