Fact Checked
Panasonic zaps the competition in microwave ratings
Microwaves are essential for a modern-day kitchen, and they've certainly come a long way. We almost can't live without them – whether it's re-heating leftovers, popping some corn, or even warming up a heat pack, the trusty microwave oven can almost do it all. It's not just about heating food anymore, but cooking in style as well!
Microwaves are convenient for busy lifestyles, with programs to take the guesswork out of the cooking equation, and usually don't take up much space, making them ideal for even the smallest of houses and apartments. Your microwave oven is likely the unsung hero of your kitchen – and you'd only realise how much it does if it suddenly stopped working! From the cheap and cheerful models that you can pick up for less than $100, to the high-tech designs that cost more than $1,000, there are plenty of choices to suit a variety of budgets.
However, not all microwave ovens are created equal – hence the disparity in prices! So, are the more expensive models and brands worth paying extra for, or will you get all the food zapping satisfaction you need from a cheaper microwave? That's what our annual customer ratings aim to find out, reviewing brands on factors such as even heat distribution, value for money and ease of use to try to determine which microwave ovens offer the best overall bang for your food-zapping buck.
This year we surveyed more than 800 Australian adults to find out 'what's cooking' in the microwave market. A total of seven brands were featured in this year's results, but only one received a five-star rating for overall satisfaction – Panasonic. In fact, Panasonic cleaned up in most research categories, replacing LG as last year's winner.
Best Microwave Ovens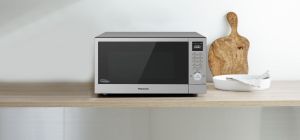 These are the best microwave brands in Australia, as rated by consumers in Canstar Blue's recent review:
Panasonic
Sharp
Samsung
LG
Kmart
Breville
Morphy Richards
Panasonic was the only brand to be served five stars for overall satisfaction, with most achieving four stars, while Breville and Morphy Richards were rated three stars overall. While Panasonic took out the majority of five-star results, Sharp and Kmart also enjoyed a noteworthy win as both brands rated ahead of Panasonic on value for money, with Sharp also scoring another five stars for ease of cleaning.
Now let's find out what each brand offers to Aussie consumers to see how these ratings came about.
Best Microwave Brands
Compare top-rated microwave brands featured in our ratings on specs, functions, prices and more.
Panasonic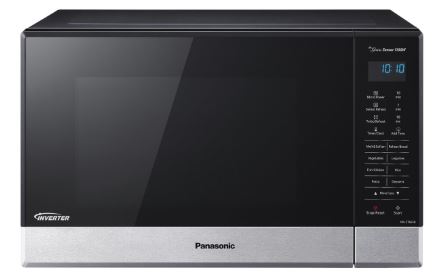 For cooking and heating in style, Panasonic offers an ideal kitchen mate in the Panasonic Inverter Microwave Oven (NN-SD38HS), priced at $259. It provides a 23L capacity and 1000W of heating power. It also features an auto-reheat function for a boost of extra power, as well as a 'Quick 30' function that microwaves for 30 seconds with a touch of one button. Its inverter cooking technology, with graduated power sequences, is claimed to deliver more evenly cooked food and preserve texture and flavour, as well as preventing food spill-over.
Meanwhile, if you're looking for a versatile cook in the kitchen, the Panasonic Microwave oven (NN-CS894S) has a number of features including Turbo Steam, Steam PLUS, Grill, Crispy Grill, Micro Power, defrost and convection. The 32L steam combination oven with two-level convection cooking and inverter technologies will cost you $1,279, meaning it may not be the chef of choice for those looking to stick to a budget.
Panasonic's microwave oven range includes:
Panasonic 20L Silver Microwave (NN-ST25JM): $169 RRP*
Panasonic 44L Microwave Oven (NN-ST776S): $409 RRP*
Panasonic 34L Inverter Stainless Steel 3-in-1 Combi Microwave with Genius Sensor (NN-CD87KS): $769 RRP*
Panasonic 27L New Turbo Steam and Crispy Grill Technology, and Simultaneous 4-in-1 Cooking – NN-DS596B: $859 RRP*
Panasonic 32L Convection Microwave Oven (NN-CD997S): $1,349 RRP*
Panasonic impressed with five-star ratings in most categories, including overall satisfaction and ease of use, while earning four stars on value for money.

Sharp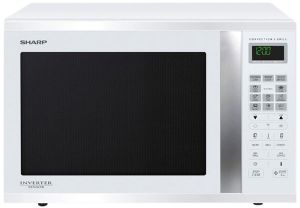 A former winning brand in our annual microwave oven review, Sharp divides its microwaves into three categories – compact, midsize and large – with most being in the midsize range. The majority of Sharp microwave ovens tend to be priced between $150 and $350, with only a couple of models reaching the $1,000 mark. A standout compact microwave is the R231ZS model, which provides 800W of power and seems ideal for small kitchens. It comes with a price tag of $179, and boasts 13 Auto Menus for a variety of Aussie tastes and a Sequence Cooking function, which allows for users to pre-program a number of cooking stages and times so that you can set and forget about your meal until it's done.
Several Sharp microwaves also boast the same features, along with a child lock and Express Defrost function, which is claimed to easily defrost 500g of meat through the pre-programmed Auto Menu. Sharp's top of the line microwaves, which come with a price tag over the $1,000, are classified as large and provide 1000W of heating power. These models use Inverter and Sensor technology for controlled cooking and have 21 Auto Menus to choose from. Sharp's Sensor technology is claimed to calculate and determine the reheat and cook time for you by monitoring the amount of moisture rising from the food.
Sharp's microwave oven range includes:
Sharp 750W Compact Microwave Oven (R210DW): $159 RRP*
Sharp 1200W Smart Inverter Microwave (R395EBS): $349 RRP*
Sharp 1100W Smart Convection Microwave (R890EST): $449 RRP*
Sharp 1000W Convection Microwave (R995DST): $1,249 RRP*
Sharp achieved four stars for overall satisfaction as well as most other categories, while scoring five stars on value for money and ease of cleaning.

Samsung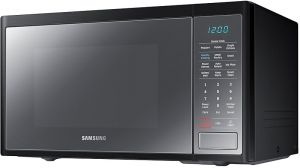 Samsung's microwaves range in price from approximately $150 to $650 and there's an evident focus on appearance. If you're after a stylish design, then Samsung's 32L Mirror Finish Microwave with Ceramic Enamel Interior (MS32J5133BM) might hit the mark for you. Retailing for $229, it offers 1000W of power output and 16 pre-set cook modes. You can even keep your food warm for up to 90 minutes, and features auto-soften and melt functions – ideal for chocolate and butter. It also has a ceramic enamel inside, which is claimed to be scratch resistant and resilient against discolouration.
For around a $200 budget, Samsung offers several microwaves with smart moisture sensors that are claimed to detect the humidity level of food and suggest a suitable cooking time and power. With its ceramic enamel inside, Samsung also boasts a limited odour transfer where only a minimal amount of moisture is absorbed to transfer less smell.
Samsung's range of microwave ovens includes:
Samsung 23L Microwave (ME83M-B3): $169 RRP*
Samsung 21L Convection Microwave (CE73J-B): $179 RRP*
Samsung 40L SmartSensor Microwave (ME6144ST): $229 RRP*
Samsung 32L Microwave (MS32J5133BG): $249 RRP*
Samsung 28L Microwave (ME6204ST1): $199 RRP*
Samsung achieved four stars in most research categories, including overall satisfaction, even heat distribution and cooking functions, but scored three stars on value for money.

LG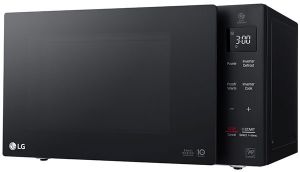 Making 'life good' with a number of feature-packed microwave ovens, LG has most price points covered with its extensive range. Starting out at the low end of the pricing spectrum, the LG 23L NeoChef Smart Inverter Microwave Oven (MS2336DB) provides 1000W of heating power for $227. It's boasted for its 'Neo Chef' technology, which is claimed to offer precise temperature control for defrosting food, and avoiding overcooked and unthawed areas. It also features an anti-bacterial coating for easy maintenance. Along with this, expect a sleek minimalist design with tempered glass on the front to help create a stylish look.
For larger capacity microwaves, several LG NeoChef microwave ovens offer 1200W of power and boast interior anti-bacterial coating, as well as more even heating and defrosting functionality with LG's Smart Inverter technology. It's claimed to have a stable turntable and provide faster cooking compared to the LG 1000W conventional microwave oven – up to 33% faster in fact. These microwaves also feature an LED lamp that is said to be three times brighter and more energy-efficient than other LG microwaves.
LG's microwave oven range includes:
LG NeoChef 23L Smart Inverter Microwave Oven (MS2336DB): $227 RRP*
LG NeoChef 25L Smart Inverter Microwave Oven (MS2596OS): $299 RRP*
LG NeoChef 42L Smart Inverter Microwave Oven (MS42660BS): $383 RRP*
LG NeoChef 56L Smart Inverter Microwave Oven (MS5696OMBS): $539 RRP*
LG NeoChef 39L Smart Inverter Convection Oven (MJ3966ABS): $719 RRP*
LG was rated four stars in the majority of categories, including overall satisfaction, even heat distribution and cooking functions. It received three stars on value for money and ease of use.

Kmart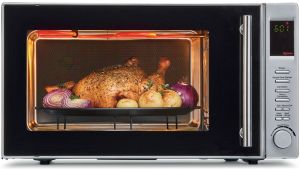 Kmart offers a modest range of microwaves starting from its cheap and cheerful $29 model, and maxing out at just under $130. One of the budget-friendly options – the Kmart 20L Microwave – has a decent number of features given the low price. These include six automatic cooking menus, 10 power levels, plus a defrost function. It offers 700W of power and has a child lock for safety. If you're looking for basic functionality, the Kmart 9 Litre Oven is the least expensive in the range and provides a 30-minute timer and adjustable temperature settings that reach up to 230℃.
For extra heating capacity, Kmart's 34L Microwave retails for $99. It has similar standard features as the model above, including 10 power levels and a child safety lock. But in addition, you'll find extra functions with eight auto cooking menus and an LED display. Expect an output wattage of 2200W, input of 1400W (or 1250W for the grill), plus a frequency of 50Hz.
Kmart's microwave oven range includes:
Kmart 20L Microwave: $48 RRP*
Kmart 28L Microwave: $59 RRP*
Kmart 45L Microwave Oven: $99 RRP*
Kmart 34L Microwave: $99 RRP*
Kmart 30L Convection Microwave Oven $129 RRP*
Kmart was another brand to score four stars on overall satisfaction and most other variables. It received five stars on value for money, but received three stars for appearance & design.

Breville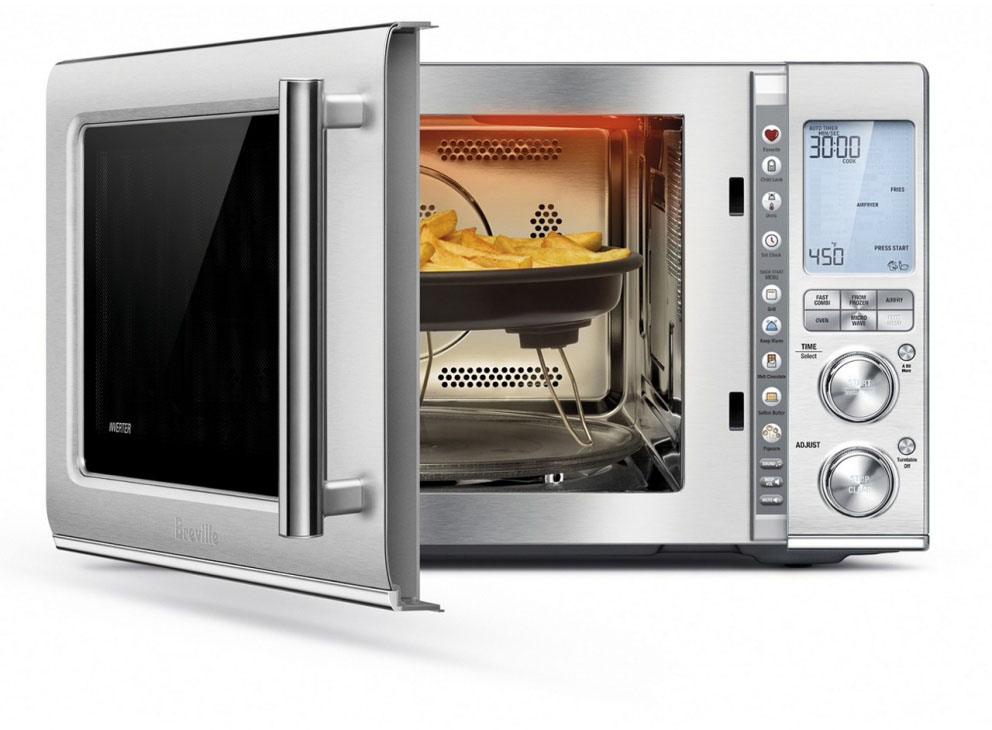 Breville offers four microwaves at the time of writing, ranging in price from $199.95 to $499.95. At the lower end of the pricing spectrum comes Breville's Compact Wave Soft Close model, a 25L microwave that's described to be "big on convenience" by "precisely" reheating, defrosting and cooking food using shortcuts and a food menu. It's also said to have a soft close door, ideal for those late-night snacks. The Breville microwave provides 900W of power and offers a variety of settings such as Beverage, Popcorn, Food Menu, Child Lock and Power Level Adjustment.
Breville's most expensive model, the Combi Wave 3 in 1 ($749 RRP*) is a multifunctional appliance that can be used as a microwave as well as an air fryer, convection and convection oven. It has a 32L capacity and boasts an 'Element iQ system' claimed to direct power to create the ideal cooking environment. This Breville microwave is also stated to operate 50% quieter and, similar to the cheapest option, comes with a soft close door that is 80% quieter than some Breville microwave ovens.
Breville's microwave oven range includes:
Breville the Easy As (BMO125SIL): $189 RRP*
Breville the Big Easy (BMO234WHT): $219 RRP*
Breville the Inverter Flatbed (LMO530BLK2JAN1): $299 RRP*
Breville the Smooth Wave (BMO840BSS2JAN1): $449 RRP*
Breville the Quick Touch Crisp (

BMO700BSS

): $509 RRP*
Breville scored three stars on overall satisfaction and value for money. It got four stars in the remaining categories, including cooking functions, ease of use and appearance & design.

Morphy Richards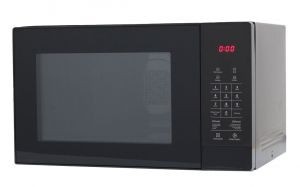 Despite only entering the Australian market in 2000 when it became part of the Glen Dimplex Group, Morphy Richards had made waves in the world of appliances decades prior. In fact, it's stated to have introduced the first electric iron to the UK, and the first automatic toaster in 1949!
When it comes to microwaves, Morphy Richards has a few options, but most are large 34L units. For a powerful model from the brand, the Morphy Richards 34L Inverter Microwave provides 1200W power and contains a turntable with a 31.5cm diameter. It's available in either white or black, usually for $209, and includes features such as digital touch controls, inverter cooking menus and a child safety lock.
The Morphy Richards 34L Microwave Oven (Grill & Convection) offers slightly less power with 1000W, although it does include a convection oven with 2100W of power, and a grill with 1100W power. This model also includes 10 auto programs and features like smart defrost and express cooking. If you're a fan of this model but prefer to have just microwave functionality, the Morphy Richards 34L Microwave is alternatively available.
Morphy Richards has a microwave range which includes:
Morphy Richards 20L Microwave Oven (MRMWO20WTE): $129 RRP*
Morphy Richards 34L Inverter Microwave (MRINV34WTE): $249 RRP*
Morphy Richards 34L Inverter Microwave (MRINV34BLK): $279 RRP*
Morphy Richards 34L Microwave with Grill and Convection Oven (MRMWO34GC): $329 RRP*
Morphy Richards maintained a three-star streak across all categories, including value for money and overall satisfaction.

What's the best microwave to buy?
Things to consider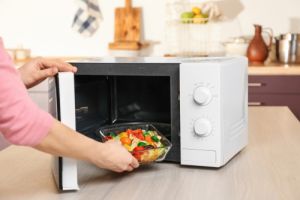 There's a lot that might go through your mind when it comes to buying a new microwave, as it's typically an appliance you buy and use for years without really thinking much of it. When asked to pick the most important factor in their purchase decision, respondents to our survey reported:
Price: 44%
Ease of use: 16%
Size & appearance: 15%
Brand name: 11%
Energy-efficiency: 6%
Special features: 6%
Here are some of the other key findings from our survey:
Price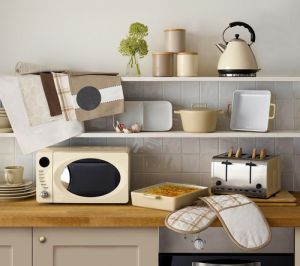 Naturally, your budget will determine which microwave oven you will ultimately go with. Are you looking for a quick fix in the kitchen, or a microwave to do much of the cooking legwork? The good news is you'll find perfectly capable microwave ovens at many different price points. If you want to spend less than $100, that'll be no problem. Likewise, if you want to invest in a high-tech cooking buddy, you also have plenty of options.
The consumers we surveyed spent an average of around $187 on microwaves. Even with this moderate spending, price was the biggest factor that goes into choosing a new microwave, the survey found.
It certainly pays to do your research before jumping into a purchase – and that's clearly what more Aussies are doing, with the number of those wishing they spent more money on a better microwave dropping to only 8% since last year's survey.
Size and appearance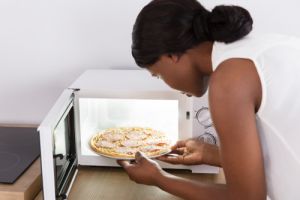 Be sure to consider the size and capacity of your next microwave, you may be surprised to learn they're not all the same size. That in-built compartment in your kitchen will likely be large enough for most models, but as microwave ovens continue to evolve and take on even more functions, make sure you have a tape measure on hand to avoid disappointment. Microwave capacity is measured in litres, so consider the capacity of your existing or old model and keep this in mind when picking a new one.
Once you've decided on size, there are plenty of stylish varieties to choose from. It's not all just about heating and cooking food after all – you might also want one that looks good, too! Almost one in five survey respondents (19%) said they bought their microwave to complement other appliances and their kitchen aesthetic.
Ease of use and cleaning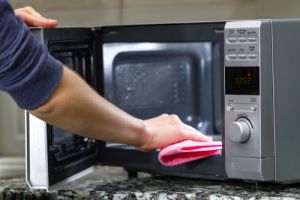 There's no point in owning a microwave that you can't use properly. All those fancy functions are great, but if you have no plans to use them, you could probably save yourself a few bucks with a basic model.
More than half of consumers (53%) said they generally just use regular microwave settings, rather than the pre-set functions or other features. So, it's worth thinking about what programs you will realistically need in a microwave instead of spending big bucks on attractive, but ultimately useless, features.
Plus, while last year's survey revealed that almost half of adults (45%) said they use their microwave more than they use their oven or cooktop, the latest review showed only 28% prefer the microwave. But that doesn't mean the appliance isn't worth purchasing, as 63% of respondents use their microwave on a daily basis.
When it comes to maintenance, it may be worth considering buying a microwave with removable parts that are dishwasher-friendly (or can at least be soaked in water and detergent). The fact our research showed 61% of survey respondents clean their microwave regularly proves just how important it is to find a microwave that's easy to clean.
Cooking functions to look for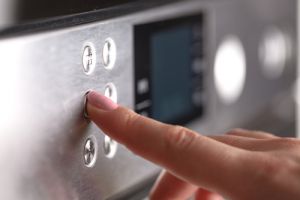 If you want your microwave oven to do more than just 'heat up' your food, then menu functions that remove the guesswork and enhance the quality of the overall cooking process are a must. Ever yelled to your mum or partner 'how long should I cook it for'? With these functions, you can bet the microwave knows better than you do how long to cook something for. Look for any pre-programmed settings to heat up various dishes and meats, as well as snacks and soups. Other convenient functions often include defrosting and food-specific heating features, helping to save dinner time when you've forgotten to take the chicken out of the fridge.
What is a convection microwave oven?
Convection microwave ovens work more like regular ovens than microwaves in that hot air is circulated around to heat the food up. Regular microwaves vibrate food molecules to create friction, with this friction then creating heat from the inside. This is also why some foods can explode in the microwave. So, think of convection microwaves like mini ovens. The major advantage of convection microwaves is that they can actually brown foods just like an oven, instead of just heating it up. But be prepared to pay extra for a convection microwave. There are no $50 models here!
How powerful should a microwave be?
The sweet spot for most microwaves seems to be 800W. Any less than that and you run the risk of having an inadequate machine for anything but the lightest of heating tasks. More powerful microwaves will simply cook and reheat your food that bit more quickly, but do not necessarily deliver a better end result. If you've experienced splattered food all over your microwave, it could be that your microwave is a bit too powerful!
The final word on microwave ovens
It's evident that you'll be able to find a new microwave with all sorts of fancy features – if that's what you want in a new kitchen mate. But these functions are only worth paying for if you're actually going to use them – otherwise they're just a waste of money. Have a good think about what you currently do with your microwave – and what you'd like to do – before getting carried away with the product specs.
But also consider how much you use your microwave. It's easy to underestimate how much you actually rely on it – especially when it comes to those busy evenings after a hard day's work – so investing in a quality appliance that should last for a few years could be a smart move. Our reviews over the years have seen a consistent theme, with premium brands usually dominating customer satisfaction. That's something to keep in mind, but be sure to compare a range of brands and models before making a final decision on what's best for your needs and budget.

About the author of this page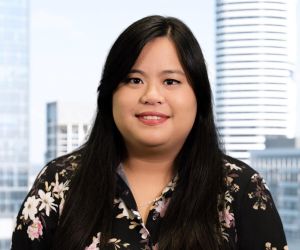 This report was written by Canstar Blue's home & lifestyle journalist, Tahnee-Jae Lopez-Vito. She's an expert on household appliances, grooming products and all things grocery and shopping. In addition to translating our expert research into consumer-friendly ratings reports, Tahnee spends her time helping consumers make better-informed purchase decisions on all manner of consumer goods and services, while highlighting the best deals and anything you need to be aware of.
*Prices are taken from respective retailers and Appliances Online, correct as of February 2021.
Picture credits: Gaf_Lila/shutterstock.com, Africa Studio/shutterstock.com, Andrey_Popov/shutterstock.com, goffkein.pro/shutterstock.com, AndreyCherkasov/shutterstock.com, goodluz/shutterstock.com