Target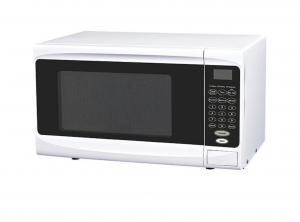 Target offers two types of microwaves, both priced under the $100 mark. The Target Stainless Steel 25L Microwave (TMOSS25) comes in at $89 and provides a standard 900W of power. It has five power levels with six pre-set menus. Several other features include a stainless steel front, child lock system, complete reminder/timer function, defrost and auto defrost functions and a kitchen timer.
For a compact sized microwave, the Target 20L Essentials Microwave (TESMO11O) will cost you $59 and provides 700W of power with 10 power levels. It boasts a multi-stage cooking system, child lock, cooking complete reminder, as well as a weight defrost and jet-defrost functions. Although Target microwaves provide a budget-friendly option, the brand achieved just three stars overall and in most other research categories – the exception being value for money.
What to look for in a new microwave
Price
Naturally your budget will determine which microwave oven you will ultimately go with. Are you looking for a quick fix in the kitchen, or a microwave to do much of the cooking legwork? The good news is you'll find perfectly capable microwave ovens at many different price points. If you want to spend less than $100, that'll be no problem. Likewise, if you want to invest in a high-tech cooking buddy, you also have plenty of options.
The Australian consumers we surveyed spent an average of about $209 on their microwaves. Even with this moderate spending, those surveyed said that price was the biggest factor that goes into choosing a new microwave. When asked to pick the most important factor in their purchase decision, respondents reported:
It certainly pays to do your research before jumping into a purchase. Our survey found that almost half of adults (49%) use their microwave more than they use their oven, while 23% of respondents wish they had spent more on a better microwave.
Cooking functions
If you want your microwave to do more than just 'heat up' your food, then menu functions that remove the guesswork and enhance the quality of the overall cooking process are a must. Ever yelled to your mum or partner 'how long should I cook x for'? With these functions, you can bet the microwave knows better than you how long to cook something for. Look for pre-programmed settings to heat up various dishes and meats, as well as snacks and soups. Other convenient functions often include defrosting and food-specific heating features.
Ease of use and cleaning
There's no point owning a microwave that you can't use properly. All those fancy functions are great, but if you have no plans to use them, you could probably save yourself a few bucks with a far cheaper model. When it comes to cleaning, all moving parts of the microwave should be removable so you can easily soak and wash them. This becomes especially apparent after a food explosion! Baked beans, we are looking at you!
Microwave power
800 watts seems to be the minimum sweet spot for most microwaves. Any less than that and you run the risk of having an inadequate machine for anything but the lightest of heating tasks. More powerful microwaves will simply cook and reheat your food more quickly, but do not necessarily deliver a better result. If you've experienced splattered food all over your microwave cavity, it could be that your microwave is too powerful. 900 watts seems to be a good balance between power level, a good finished result, and cost effectiveness. Any more powerful and you'll be talking about more money.
Size and capacity
Be sure to consider the size and capacity of your next microwave. You may be surprised to learn they're not all the same size – that in-built compartment in your kitchen will likely be large enough for most models, but as microwave ovens continue to evolve and take on even more functions, make sure you have a tape measure on hand to avoid disappointment. Microwave capacity is measured in litres, so consider the capacity of your existing or old model and keep this in mind when picking a new one.
What is a convection microwave oven?
Convection microwave ovens work more like regular ovens than microwaves in that hot air is circulated around to heat the food up. Regular microwaves vibrate food molecules to create friction. This friction then creates heat from the inside. This is quite similar to rubbing your hands together in cold weather to warm them up. This is part of the reason why some foods put in the microwave can explode. So, think of convection microwaves like mini ovens – they operate similarly yet save on space. The major advantage of convection microwaves is that they can actually brown foods just like an oven, instead of just heating it up. However, be prepared to pay extra for a convection microwave. There are no $50 models here!
The final word on microwave ovens
It's evident that you'll be able to find a new microwave with all sorts of fancy features – if that's what you want in a new kitchen mate. But these functions are only worth paying for if you're actually going to use them – otherwise they're just a waste of money. Have a good think about what you currently do with your microwave – and what you'd like to do – before getting carried away with the product specs.
But also consider how much you use your microwave. It's easy to underestimate how much you actually rely on it – especially when it comes to those busy evenings after a hard day's work – so investing in a quality appliance that should last for a few years could be a smart move. Our ratings over the years have seen a consistent theme, with premiums brands usually dominating customer satisfaction. That's something to keep in mind, but be sure to compare a range of brands and models before making a final decision on what's best for your needs and budget.