Microwave buying guide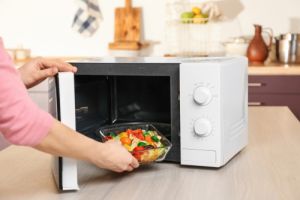 Did you know Aussies keep a microwave for an average of six years before replacing it? A microwave is somewhat of a long-term investment and as such, there are a lot of factors to consider when buying one, such as performance, value for money and ease of cleaning. Fortunately, most respondents to our survey seem to have made the right choice, with just 12% of those surveyed wishing they'd purchased a better microwave.
Finding the right microwave for your kitchen is imperative to make sure you get the most out of your purchase. This is why we have put together a guide to compare prices, sizes, ease of use and cleaning, power, and cooking functions you should be keeping an eye out for.
What's in our buying guide?
What are the different types of microwaves?
Microwaves come in all shapes and sizes, but you'll commonly find these styles in your search for a trusty kitchen appliance.
Different types of microwaves include:
Conventional benchtop
Combination microwave oven
Inverter microwave
Convection microwave oven
What's a conventional benchtop microwave?
Benchtop microwaves can be placed on the kitchen counter with the rest of your appliances (i.e. kettles, toasters, etc.) and contain more basic automated functionality. The biggest difference between these types of models compared to regular built-in and convection microwaves is that benchtop units are largely designed to reheat or defrost food, rather than cook. The main advantages of benchtop microwaves are their budget-friendly price, plus their convenient auto programs.
What's a combination microwave oven?
Combination microwave ovens must be installed into the kitchen cabinetry, much like a regular oven, and placed in a well-ventilated area. These contain some of the same features you would expect in ovens and convection microwaves, such as grill functionality and inverter technology. Some built-in microwaves even use a fan and heating element. Combination microwave ovens tend to be more flexible and powerful than regular microwaves and come with a wider variety of pre-set menu settings.
What's an inverter microwave?
Unlike traditional microwaves, which use a magnetic coil to operate, inverter microwaves contain an inverter that keeps the level of power constant in order to ensure even cooking. They can also maintain the same cooking power at lower temperatures, whereas other microwaves need to switch on and off (this can lead to cold spots and burnt edges).
What's a convection microwave oven?
Convection microwave ovens work more like regular ovens than microwaves in that hot air is circulated around to heat the food up. Regular microwaves vibrate food molecules to create friction, with this friction then creating heat from the inside. This is also why some foods can explode in the microwave. So, think of convection microwaves like mini ovens. The major advantage of convection microwaves is that they can actually brown foods just like an oven. This type of microwave can also cook meals from their raw state, rather than simply reheat or defrost. But be prepared to pay extra for a convection microwave.
Microwave prices
According to our survey, Australians spend an average of $196 on a new microwave. Naturally, your budget will determine which microwave oven you will ultimately go home with. Are you looking for a quick fix in the kitchen? Or do you want the microwave to do a chunk of the cooking legwork? The good news is you'll find perfectly capable microwave ovens at many different price points. If you want to spend less than $100, that'll be no problem. Likewise, if you want to invest in a high-tech cooking buddy, you also have plenty of options. Countertop microwaves are generally the cheapest type but come with basic functionality, while built-in or over-the-range microwaves will be more expensive, but well worth the investment (they may even improve the value of your home) if you've got the space and budget.
Smart tip
Think about how often you're going to use your microwave in the kitchen, and match a model that meets your needs, rather than letting price dictate your choice. That's because price alone isn't the sole determiner of value. Be sure to compare the price of a microwave against its advertised cooking functions, features, and design.

Microwave sizes & designs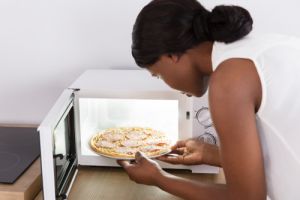 Be sure to consider the size and capacity of your next microwave as you may be surprised to learn they're not all the same size. That in-built compartment in your kitchen will likely be large enough for most models, but as microwave ovens continue to evolve and take on even more functions they can jump rapidly in size. Have a tape measure on hand to avoid disappointment, just like the 6% of survey respondents who wished they bought a different-sized model. Microwave capacities are measured in litres, and can range from 17L to over 30L (more for integrated models). If you're shopping for a microwave to accommodate family meals, you'll need something with a capacity of 20L minimum.
Once you've decided on the size, there are plenty of stylish varieties to choose from, including plain white models, stainless steel microwaves, models with a sleek black finish for modern households, retro-style microwaves, or modular microwaves with round edges! It's not all just about heating and cooking food after all – you might also want one that looks good, too! Almost one in five survey respondents (16%) said they bought their microwave to complement other appliances and their kitchen aesthetic.
Must-have cooking functions
If you want your microwave oven to do more than heat your food, then menu functions that automatically adjust the settings to cater to specific types of food, such as fish, vegetables and pizza might be worth adding to your checklist. Ever yelled to your mum or partner "how long should I cook it for?" With these functions, you can bet the microwave knows better than you do how long to cook something for. Look for any pre-programmed settings to heat up various dishes and meats, as well as snacks and soups. Other convenient functions often include defrosting and food-specific heating features, helping to save dinner time when you've forgotten to take the chicken out of the fridge.
Features to look out for include:
Keypad to select precise cooking times
Pre-set cooking keys for common heating times from 30 seconds to 10 minutes
Removable plate or rack for easy cleaning
Food settings for specific meals
A defrost setting
A child lock
Accessories that help you get the most out of your microwave such as microwave-safe cookware, egg poachers, and steamers
How powerful should a microwave be?
The sweet spot for most microwaves seems to be 800W-1000W. Any less than that and you run the risk of having an inadequate machine for anything but the lightest of heating tasks. More powerful microwaves will simply cook and reheat your food quicker but do not necessarily deliver a better result. If you've experienced splattered food all over your microwave, it could be that your microwave is a bit too powerful!
---
Read more: How much energy does a microwave use?
---
Ease of use & cleaning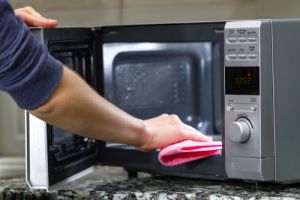 There's no point in owning a microwave you can't use properly. All those fancy functions are great, but if you have no plans to use them, you could probably save yourself a few bucks with a basic model. A fifth of consumers surveyed (23%), for example, admitted they didn't know how to use all the functions on their model. Despite this, 22% of consumers admit to using their microwave more than their oven or cooktop. Interestingly, our survey also found more people use their microwave daily (58%).
When it comes to maintenance, make sure to buy a microwave with removable parts (i.e rotating tray) that are dishwasher-friendly (or can at least be soaked in hot water and detergent). The fact that our research shows 54% of survey respondents clean their microwave regularly proves just how important it is to find a microwave that's easy to clean. If you're in the market for a model with fewer crevices to clean up, consider buying a flatbed microwave which is much easier to clean.
Microwave cleaning tips: 
Place a (non-metal) wet sponge or wet paper towel in your microwave and run it for one minute. The steam will help lift any food stuck to the sides and rotating plate.
For hardened stains, make a paste of baking soda and let sit on the food scraps. Wipe clean with a damp sponge.
Fill a bowl with water and vinegar and let the microwave run for one minute. The steam will loosen any scraps, while the vinegar will help eliminate any lingering odours.
If you just want to give your microwave a general freshen up, place a cut lemon inside and let run for a minute. You can then wipe it down with a damp sponge and enjoy the fresh lemony scent!
---
Read more: Your guide on how to clean a microwave
---
Microwave accessories
The right accessories can lift your cooking game from simply reheating meals to suddenly creating masterpieces in your microwave. While not every model will come with accessories, there are plenty to choose from which you can buy separately if you plan on using your microwave for cooking, including:
Rice cooker: these nifty containers will have your rice perfectly fluffy in minutes. All you need to do is add the rice and water, lock the lid and have your fork ready.
Splatter cover: instead of wasting lengths of plastic wrap, or balancing an unsteady plate, pop a splatter cover on your meals and keep your microwave squeaky clean.
Grill: some microwaves will let you place a grill accessory inside, allowing you to expand your repertoire to crispy bacon, seared vegetables, and griddle pancakes!
Popcorn maker: with nothing but the popcorn maker and some kernels, you can have yourself fresh (and healthier) microwave popcorn.
Egg poacher: a microwave egg poacher takes all the guesswork out of fancy breakfast eggs. Serve yourself up some eggs benedict any day of the week.
What can't go in a microwave?
Messing around with microwaves is no joke, and it's really important that you don't put the wrong materials inside, or you risk ending up with a giant bang and a broken kitchen appliance. The best way to check if something is microwave safe is to look for instructions on the bottom of the container or vessel. In general, glass, plastic and ceramic are microwave-safe, as are paper towels, linen napkins, and waxed paper.
Materials you should NEVER put in the microwave include:
Any metal or stainless steel: this includes cutlery, cookware, cans, and travel mugs
Styrofoam
Aluminium foil
Single-use plastic containers: this includes yoghurt, butter, sour cream, and ice cream containers
What's the best microwave to buy?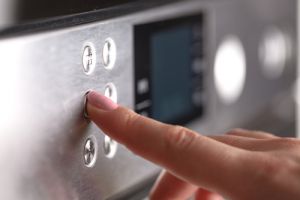 Our most recent consumer review suggests Breville may be the best pick, with customers satisfied with the brand on most fronts including for performance, value for money, ease of use, features & functionality, design and overall satisfaction. Sharp and LG were also particularly impressive when it came to cooking performance, ease of use and features & functionality, while Westinghouse proved an easy clean.
If you want all the bells and whistles in your new kitchen mate, there are plenty of models with sensor technology and a wide range of pre-set menu options. But let's be honest, these functions are only worth paying for if you're going to use them – otherwise they're just a waste of money. Have a good think about what you currently do with your microwave – and what you'd like to do – before getting carried away with the product specs.
Also, consider how much you use your microwave. It's easy to underestimate how much you rely on it – especially when it comes to those busy evenings after a hard day's work – so investing in a quality appliance that should last for a few years could be a smart move. Our reviews over the years have seen a consistent theme, with premium brands usually dominating customer satisfaction. That's something to keep in mind, but be sure to compare a range of brands and models before making a final decision on what's best for your needs and budget.
Meet our appliance experts
---
Megan Birot: Home & Lifestyle Editor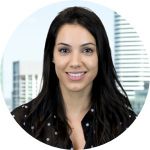 Megan is Canstar Blue's Home & Lifestyle Editor, leading the team that focuses on consumer products and services, ranging from supermarkets and groceries to home and personal appliances and retail stores. She interprets Canstar Blue's bespoke research on the thousands of brands that we compare, rate and review, to help shoppers make better purchasing decisions.
Samantha Howse: Consumer Research Specialist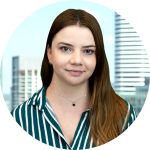 Samantha Howse is Canstar Blue's Consumer Research Specialist, coordinating the consumer research program behind our customer satisfaction awards across Canstar and Canstar Blue in Australia and New Zealand. Sam has earned a Bachelor of Business (Marketing) from Griffith University and, with seven years in market research and 2 years in marketing, she is experienced in survey design, implementation and analysis, coupled with an understanding of marketing principles and best practice.
*Prices are taken from respective retailers, correct as of December 2022. 
Picture credits: Gaf_Lila/Shutterstock.com, Africa Studio/Shutterstock.com, Andrey_Popov/Shutterstock.com, goffkein.pro/Shutterstock.com, AndreyCherkasov/Shutterstock.com, goodluz/Shutterstock.com.