Brighten your day with Sunbeam blenders
With a lot of newcomers on the block, it can be difficult for traditional blender brands to have their voices heard. The industry is rife with competition as more and more Australians want to get their hands on the latest fad blender to make their morning smoothie. Sunbeam has always been in the picture, and their blender catalogue is comprehensive. Their range has strong variations in price and power to suit a plethora of budgets and household needs. Find out the best one for you, as we compare what's on offer.
What blenders does Sunbeam offer?
Before we delve into each one, here is a quick rundown of what's on offer from Sunbeam:
| Sunbeam Model | Price (RRP) |
| --- | --- |
| Soup and Smoothie | $299 |
| Café Series | $269 |
| MultiBlender Touch Blend | $149 |
| MultiBlender Control Blend | $119 |
| MultiBlender Power | $99.95 |
| MultiBlender Sip n Soup | $79 |
| MultiBlender Ice Crusher | $69.95 |
| MultiBlender Smooth | $64.95 |
| Blender On the Go | $49.95 |
| GoBlend | $49.95 |
Source: Sunbeam
Blenders under $300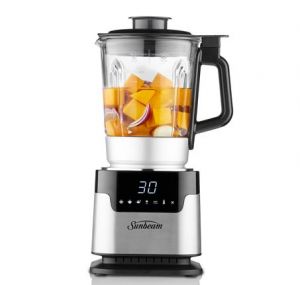 In this part of town, you're in serious blending territory. Sunbeam offers the Soup and Smoothie, and the popular Café Series. What's the difference you may ask? The Soup and Smoothie not only has the ability to liquefy, but it also has the ability to melt your enemies… or should we say, fruit and veggies. Sunbeam claims that you can turn your whole veggies into a delicious hot soup in less than 30 minutes. Relax, you don't have to stand there for half an hour; the three programmed settings will take care of it for you to make either:
Chunky Soup
Smooth Soup
Sauce
This is done with its hefty 1500w motor, and is delivered in a 1.4L heat-resistant jug. It also features an LCD control panel with a self-cleaning function. For an easy meal on those cold and lonely winter nights, the Soup and Smoothie could be for you. The Café Series is also another serious bit of kit. As the name suggests, it's a heavy duty blender. Watch the video below for a quick rundown:

The ever-popular Café Series is designed to withstand almost everything you can chuck at it, or in it. It features a whopping 2000w motor, which will make short work of even the most stubborn veggies. Take your anger out on those carrots and watch them perish without a fuss. It also features a 2L jug as well as manual and pre-programmed functions to make meals easily and a 5-speed pulse function. This could – as the name implies – hold up well, even in a café.
Blenders under $200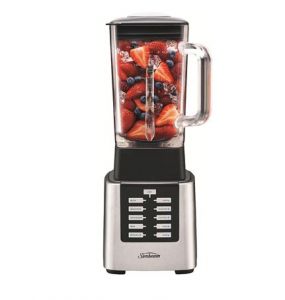 If nearly $300 is a bit of a tough pill to swallow, then something under $200 may be more your style. This bracket offers great value for money, and you still don't have to be worried about your blender not being able to hack the carrots. In this price range there are two models, both the same name, but they differ slightly.
The Multiblender Touch Blend features an 850w motor, housed in die-cast metal, which provides the strength necessary for some tough blending missions. With it comes a 1.6L glass jug, which is impressive and could hold all your smoothie dreams. It comes with seven pre-programmed functions to nail the perfect milkshake, thickshake or cocktail every time. As the name suggests, the Touch Blend offers touch functions to make blending easy.
For $30 less – the Control Blend – you basically get the same blender with an 800w motor, and three speeds plus a pulse function. This is a good alternative for those who feel like they need to be in control of their blender.
Blenders under $100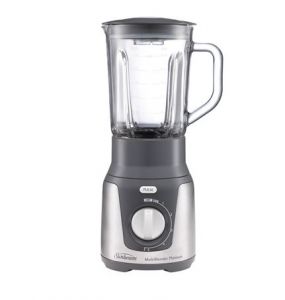 Towards the mid-end of the range lie a couple of great underdogs when it comes to the blending battlefield. At a hair under $100, the Power offers a great alternative to the Control Blend as mentioned earlier. It contains a 950w motor that's sure to grind through some ice for your smoothie, to let you grind out your workout quicker. It features five speeds, plus the pulse function and a 1.5L glass jug. That's enough of a protein shake for you and your partner… or maybe just you!
Next in line stands the sergeant of the $100 category – the Sip n Soup. He's a bit hot under the collar, but he does so out of love. Like the Power, as previously mentioned, the Sip n Soup features a 950w motor, which can melt criminals – pesky pistachios – faster. Along with this also come a 1.5L jug, and five speeds plus the pulse function.
Blenders under $70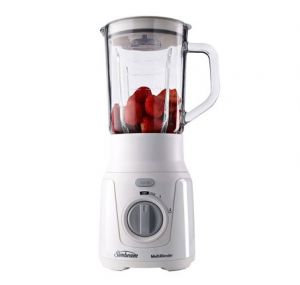 Venturing into the budget end of the forest can be a dangerous activity; there lies some blending bullies in your path. If you can't beat them, join them to be on your way to blending notoriety. At a touch under $70, the Ice Crusher is the enforcer in the gang. What he lacks in brains, he makes up for with his 950w motor, 1.5L glass jug and five speeds plus Pulse. This will make mincemeat of any pipsqueaks that rub him the wrong way; he's got a particular penchant for ice cubes – they fried his third cousin's motor after all.
If the Ice Crusher was the bad cop, then the Smooth is the good cop. After a rough night, Smooth will greet you with a delectable smoothie to help you get over your hangover and deliver some nutrients back into your body. Packing heat with a 650w motor, a 1.5L glass jug and two speeds, Smooth will make light work of some fruit to jazz up your morning. At a touch under $65, Smooth could be a great sidekick.
Blenders less than $50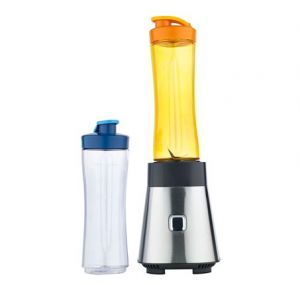 If you're looking for a cheap blender for an easy smoothie before work or the gym, then look no further than Sunbeam. Who needs a personal trainer when you have the Blender on the Go by your side? He could help you stay active with his 300w motor, and two 600mL BPA-free bottles. The bottles are dishwasher safe too! Great for smoothie making on a hot-summer's day, you can save your sweat for the gym; this little guy will make light work of smoothie-friendly fruits like strawberries.
Not to be confused with its equally-priced brother, the GoBlend is more like your gym buddy than your personal trainer. They're there for a spot, but won't set your abs on fire. The specs are identical to the Blender on the Go, but the GoBlend weighs 200 grams less – for whatever reason, it remains a mystery. Maybe he lost some water weight shredding for Stereosonic? Overall, these two are sure to be great pairings with an active lifestyle where you only need an occasional, easy smoothie made.
Are Sunbeam blenders worth the money?
Sunbeam offers a comprehensive range of blenders that are likely to suit a range of budgets, and preferences. The most important thing to decide is your own household needs, especially if you are merely updating your existing blender. If you have a large family and want to blend a range of stubborn veggies, then the more high-powered variants may be incredibly useful. Alternatively, if you're a single or couple only looking for a smoothie on the go, then there likely isn't much use for something that costs nearly $300. It's all about being able to justify the cost in lieu of your own needs.
A cheaper variant could get the job done. It really could come down to 'good enough is good enough'. Under $50 for a blender is great value, and while it might not puree those veggies, it likely would be sufficient for the odd fruit smoothie or two. Really, it's up to you as to what blender is right for you – Sunbeam is an appliance giant that might have what you need.
About the author of this page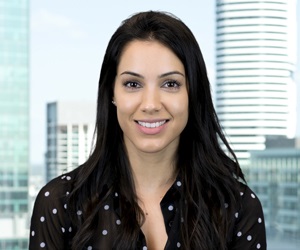 This report was written by Canstar Blue's Home & Lifestyle Content Lead, Megan Birot. She's an expert on household appliances, health & beauty products, as well as all things grocery and shopping. When she's not writing up our research-based ratings reports, Megan spends her time helping consumers make better purchase decisions, whether it's at the supermarket, other retailers, or online, highlighting the best deals and flagging anything you need to be aware of.
What do customers think about Sunbeam Blenders?
In 2019, Australian customers gave Sunbeam 4 out of 5 stars for overall customer satisfaction for blenders.