Review of Tefal Clothes Irons
Founded in 1956, Tefal has become a leader in small appliances, producing all kind of products from frying pans to clothes irons. It is currently present in more than 120 countries, aiming to maintain its innovative presence and revolutionise the Aussie home. With this in mind, let's see how its clothes irons stand up to its mission.
Tefal Clothes Irons
Tefal divides its clothes irons into three categories – Essential, Efficient and Advanced. Some key features across most of its models include the vertical function, allowing you to iron your clothes directly on a hanger, as well as anti-drip technology that aims to help prevent water dripping onto fabric, plus an integrated anti-scale iron setting to help stop the build-up of lime scale.
Maintenance wise, it is recommended that Tafel's anti-calc valve should be cleaned once a month using a damp soft cloth to wipe the iron and dry off with a clean cloth. Some irons also have an auto-clean function available for more convenience. Read on for other features available in the range.
Tefal Essential Range
The first category is Tefal's Essential range that incorporates two of Tefal's cheapest clothes irons, one which is a limited edition model.
Tefal Ultragliss Steam Iron FV4890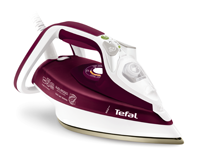 The 2400W Ultragliss Steam Iron provides 130g/minute turbo steam pressure, as well as 0–40g/minute variable steam. It claims to have an anti-calcification filter for easy maintenance, anti-drip technology to help protect clothing from drip stains, as well as an Eco function to use less power.
The Tefal Ultragliss Steam Iron is designed with a 300ml water tank and an Autoclean soleplate. Tefal states that its soleplate ensures easy glide and 360° glide protection. If you're in a hurry and need to touch up a few creases in your clothes, this model is also designed with a vertical steam for no-contact delicate garments and touch ups with a 2m cord length. It is made in France and comes in a Garnet Red colour.

Tefal Easygliss Paris FV3931 – Limited Edition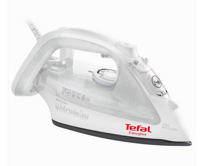 For something a little fancier for your clothes ironing experience, the Tefal Easygliss limited edition model comes in a Parisian skyline design, made in France. It has a transparent water tank and a white finish with a glitter effect. It's equipped with all the features of the above model as well as a precision tip, the anti-scale setting and anti-drip technology. With a Durilium Soleplate, Tefal claims its Easygliss Paris model ensures "superior glidability". Its soleplate is also claimed to be scratch resistant with hardwearing properties.
The Easygliss Paris FV3931 is designed with raised lines running across the soleplate to ensure the clothes iron slides efficiently across fabrics, provides optimal heat distribution as well as steam diffusions. It has a maximum power of 2400W with 150g/minute shot of steam to help remove creases. It also allows vertical steam, designed with a comfort handle for use. Several safety features include auto-shut-off and an extra stable heel.

Tefal Efficient Range
The efficient range is Tefal's largest range that incorporates a variety of colour combinations across the models.
Tefal Ultraglide Steam Iron FV4042
The Tefal Ultraglide Steam Iron provides 2400W of power with up to 40g/minute of variable steam and 150g/minute shot of steam. It has an integrated anti-scale setting and premium Durilium Technology Soleplate to help the iron glide easily over fabrics. It features anti-drip technology, vertical steam and auto-off as a safety feature.
Tafel's Easycord system in the FV4042 model is designed to help keep the cord out of the way while you iron your clothes. It also claims to have a convenient steam trigger with an automatic steam regulation and precision tip on the soleplate for hard to reach areas like buttons and pockets. It comes in a purple finish.

Tefal Aquaspeed Steam Iron FV5335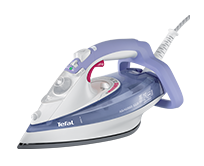 Another model in this range is the Aquaspeed Steam Iron FV5335. Similar to previous model, it has the integrated anti-scale setting and Ultraglide Soleplate for smooth gliding over fabrics. Tefal's FV5335 model is designed with a large 300ml water tank and a front fill for extra safety.
Tefal states this model is one of its easiest clothes irons to use, with a concentrated shot of steam at the tip, an automatic steam function that adjusts the ideal amount of steam necessary for each type of fabric, as well as a new steam 'Power Zone' function that's produces a faster shot of steam via the trigger control. This model comes in a Jacinthe colour.

Tefal Advanced Range
This last range is supposably Tefal's most innovative, with a variety of additional features to help in the clothes ironing process.
Tefal Ultimate Steam Power Iron FV9604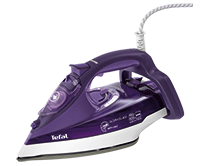 Tefal's Ultimate Steam Power Iron is claimed to be designed for long-lasting steam performance with Tefal's Anti-calc collector. It has an anti-scale setting as well as the anti-drip system with vertical steam for delicate fabrics. Tefal's FV9604 model also features a variable steam setting of up to 50g/minute, claiming to help humidify and soften fabrics, and a powerful shot of steam of up to 200g/minute to help remove extra stubborn creases.
Tefal claims its Auto-clean soleplate ensures easy glideability and steam distribution with a Gliss/Glide Protect feature. You're also able to use an automatic steam function that automatically adjusts according to the selected fabric you're ironing. Its maximum heating power is 2400W with a 350ml water tank capacity and comes in a Violine colour. For safety, Tefal's Ultimate Steam Power iron has a three way auto off security mode.

Tefal Freemove Cordless Steam Iron FV9965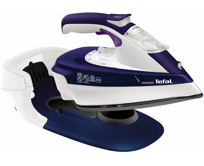 For something with "no strings attached", the Tefal Freemove Cordless Iron gives you the freedom of movement while still providing a heating power of 2400W. It has an ergonomic design with a horizontal base and a shock-absorbing suspension dome that aims to provide a pleasant ironing experience as you slide the iron back in place in one motion.
The Tefal Freemove Iron features a Steam-on-Demand trigger with up to 170g/minute shots of steam. It also has a precision tip, Ultragliss Durilium soleplate technology to glide smoothly over fabrics, and a double anti-drip system to ensure no drip stains on your clothes.
Although this is a cordless iron, its recharge station has a 1.8m cord and still needs to be nearby during ironing. Tefal claims it only takes four seconds to recharge the iron, which can be done while you adjust your clothes for ironing the next section. Its control panel will let you know when it needs recharging. Tefal's Freemove Cordless iron is equipped with a 250ml water tank and comes in a purple colour.

Should I go home with a Tefal clothes iron?
Ironing your clothes shouldn't be a tedious task, especially when there are a variety of effective clothes irons out there. Tefal is one of the more premium brands in Australia, with prices starting at around $120 and maxing out at about $180.
If you're looking to make ironing less of a chore, Tafel's range may be worth the investment. From the Essential to the Advanced category, Tefal certainly packs in a number of features with the aim to make life easier, including trying to reduce any sticky residue that develops on soleplates over time.
There are a number of other considerations to think about, including durability, weight and the heating speed of an iron, to ensure it will meet your ironing needs. Almost all Tefal clothes irons have at least a 2400W heating power for fast heat-up, so the brand will be tough to beat. Nevertheless it's worth comparing a range of different brands and products before diving into an expensive decision.
Clothes Irons Reviews & Ratings
About the author of this page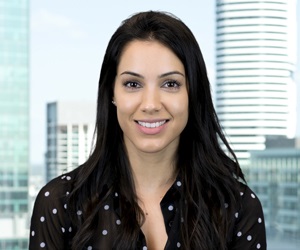 This report was written by Canstar Blue's Home & Lifestyle Content Lead, Megan Birot. She's an expert on household appliances, health & beauty products, as well as all things grocery and shopping. When she's not writing up our research-based ratings reports, Megan spends her time helping consumers make better purchase decisions, whether it's at the supermarket, other retailers, or online, highlighting the best deals and flagging anything you need to be aware of.
What do customers think about Tefal clothes Irons?
In 2019, Australian customers gave Tefal 5 out of 5 stars for overall customer satisfaction for clothes irons.