Kmart Homemaker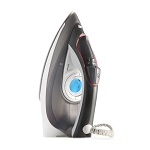 Kmart Homemaker clothes irons are all priced under $40, but there are only a small number of models to choose from. On average clothes irons start at around $40 so this range sits towards the budget side of things without any extensive features. Nevertheless, Kmart Homemaker has several design elements, including an LCD display, which helps to keep these irons competitive for the price.
Standard features also include an auto-shut off and self-cleaning system as well as an anti-drip ceramic soleplate. Several models also provide up to 2400W of heating power but others just 1200W. If you are really strapped for cash, Kmart Homemaker has an iron for $7.50, with a one-year warranty. However, it seems consumers are not overly impressed, rating Kmart three stars across all research categories this year.
Target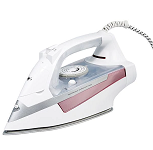 Target has two clothes irons in its product line, both priced under $30. The Target Steam Iron (TESIR50) is just $12 and provides a competitive 2000W of heating power. It features a steam boost, self-cleaning and anti-drip functions, along with variable temperature control and vertical steam. These are just the standard features you'd expect from an iron, but if that's all you need or want, you're in luck.
The second Target Iron (TARIR17) will cost you a little bit extra ($29) and is claimed to provide pro-steam power with an auto shut off system for safety. Additionally it boasts an anti-calc system and features an Easyglide soleplate. It's another simple model without features, but aims to keep the price down. That said, consumers only rated Target three stars on value for money and all other research categories.
Front Load Washing Machine Reviews
What to look for in a new clothes iron
Effectiveness
The main function you'd expect an iron to provide is remove creases out of clothes. If it doesn't have enough heating power, you may be stuck ironing the same shirt for over 10 minutes. The effectiveness of an iron also depends on the soleplate material. Although you may find that a non-stick soleplate is easier to maintain and clean compared to a stainless steel soleplate, it's important to not scratch it as this will decrease its effectiveness. Polished stainless steel, however, may also scratch and stain over time, making the iron drag.
Another element of the soleplate is the anti-drip properties. These types of system helps to reduce water marks while still provide the powerful shots of steams necessary to remove wrinkles. The button groove between the iron body and the soleplate is also important to help with the glideability around buttons and is a fairly standard design element across all brands.
Durability
Durability will depend on the material build of the clothes iron construction, as well as the soleplate. Most irons use plastic for the construction and non-stick soleplates. A non-stick soleplate is certainly a must for easier cleaning on starch build-up. However, any regular clean soleplate should glide just as easily. Higher priced models provide further technology to increase scratch resistance. A self-cleaning system aims to help remove mineral deposits from vents and maintain the longevity of the iron.
Functionality
There are several key features to look out for including an auto-shut off system that cuts off power if the iron is left unattended or tipped over. You may also find this feature to be a useful energy saving tool. If you tend to iron large batches, then an iron with a large water tank is necessary so that you don't have to refill the iron too regularly.
Other features that you may find useful include a power-on light so that you know when the soleplate is hot and a thermostat as it allows for precision control on a variety of fabrics. Additionally a transparent reservoir helps to see how much water is remaining while a removable water tank design, allows you to refill without spilling. You may also like to consider an iron with a wraparound cord storage that clips in securely for convenience. There are also cordless irons that allow you to iron in any direction with ease but the downfall is that some struggle to maintain consistent heat before needing to recharge.
Weight and design
Lightweight designs allow an iron to move easily but may require more pressure when ironing. On the other hand a heavier iron uses less downward pressure but may not be as easily movable. Many brands boast light clothes iron with an average iron coming in between 1 – 2kg. Opting for a lightweight model may be a consideration if you have younger children helping out with the clothes ironing chore. You may also like to look at the design of the handle and see whether the handle is the right fit for your hand as well as if the controls are easy to see.
Price
Ultimately it will be the budget that determines your final decision on which iron to go with. What influences the cost of an iron is a high wattage power that allows for a fast heat up time and maintains the temperature, as well as the material build and extra features. The Australian consumers that we surveyed spend an average of about $75 on their clothes irons. Typically clothes irons start from $40 and you can find a number of perfectly efficient clothes irons at different price points. Whether you want a standard iron for occasional use or you would like to invest in a high-tech iron to reduce the time you spend ironing, there is plenty of options in the market.
The final word on clothes irons
There is certainly a lot to consider with the number of clothes irons on offer at a variety of price points. It would be wise to take in account the features that are most important to you while also keeping in mind the effectiveness of the iron to get your shirts crisp and wrinkle free in an instant.
Several key design features to look out for include weight, depending whether you prefer a lightweight or heavier build for less pressure, a long cord length for easy movability and a durable soleplate surface. On average, most clothes irons are built with a non-stick ceramic soleplate but if you prefer to invest in a more expensive iron with additional soleplate technology there are a number of models on offer. The steam production features including both variable steam and adjustable levels are also important as this allows softening the fabric and getting the job done.