Fact Checked
Sunbeam steams ahead in clothes iron review
When it comes to the list of chores that people generally don't want to do, doing the ironing is right up there. While not the most physically exhausting of chores, it can be time consuming, particularly if you have to iron other people's clothes as well! Add in an iron that doesn't work properly and it can quickly leave you feeling a little hot under the collar. Finding a good clothes iron can be equally frustrating. While all brands promise to take care of any creases and wrinkles you have, picking the best clothes iron that suits your ironing workload as well as preferences and budget, is not easy. But when you do, you'll be able to 'let off some steam'.
To help you find the best fit, we've again surveyed nearly 600 Australian consumers for their feedback on the clothes irons or garment steamer they've purchased and used in the last three years. Brands which received the minimum survey sample size of 30 responses are featured in this report.
Sunbeam flattened the competition in our latest ratings, receiving the only five-star review for overall satisfaction. It similarly earned full marks in most of the other categories!
Best Clothes Irons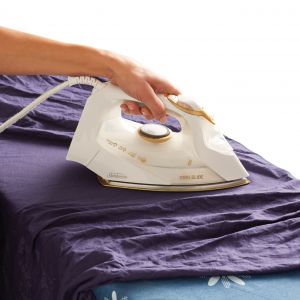 Here are the best clothes iron brands in Australia, as rated by consumers in Canstar Blue's latest review:
Sunbeam
Philips
Kmart
Tefal
Kambrook
Braun
Sunbeam achieved the only five-star rating for overall customer satisfaction, replacing Tefal as the new best-rated pick for clothes irons. It also got full marks for effectiveness, ease of use, features, weight & size, design and durability.
Kmart had the upper hand when it came to value for money, rating best for that category. Both Philips and Tefal similarly got full marks for effectiveness and features, with Tefal also scoring five stars for durability. Philips achieved the same for ease of use.
Clothes Iron Brands
Sunbeam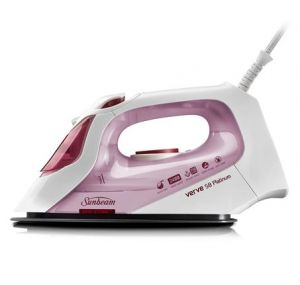 Sunbeam is a staple in the small appliances market, and offers one of the more affordable clothes iron ranges. You can usually find something for $40 to $140 at all major electronics and homeware stores.
Sunbeam's ProSteam range includes the Glide, Auto Off, Power, Swift and Travel models. Each of these comes with either a 12 or 24-month warranty. The Glide model weighs in at only 1.37kg thanks to its aluminium soleplate – apparently making it easy to manoeuvre, while the other ProSteam models feature ceramic or EasyGlide plates. Sunbeam also has a travel clothes iron for those who need to look good on the go, weighing in at under 1kg.
The Verve alternatively uses Sunbeam's patented dual-steam chambers to improve the steam pressure for an apparently smoother iron. Expect features such as a drip stop, fine mist spray and cord storage on all Verve models. The more expensive MaxGlide and Extreme Steam irons turn it up a notch up with a Resilium soleplate, plus safety auto-off and cord storage clips for easier use.
Sunbeam's clothes iron range features:
Sunbeam ProSteam Travel: $39.95 RRP*
Sunbeam ProSteam Power Iron: $79.95 RRP*
Sunbeam Verve 66 Stainless Iron: $89.95*
Sunbeam Sprint Iron: $119 RRP*
Sunbeam Verve Extreme Steam Iron: $139 RRP*
Sunbeam was rated best for overall satisfaction and most of the other categories. The only exception was value for money where it got four stars.

Philips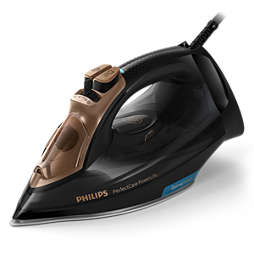 Dutch electronics company Philips offers a number of stylish clothes irons for Aussie shoppers to choose from, at a variety of price points. Starting from just under $50 is the EasySpeed range, which includes features such as a non-stick plate and 2.5m cord.
If you're after something with a bit more steam, then you might want to check out Philips' PowerLife range. These models feature a safety auto-off function, a larger water tank capacity and extra stability in the heel rest. This line offers 2400W of power to iron out tough creases.
Philips' top-of-the-line clothes iron is the Azur Elite Steam Iron with 'OptimalTEMP' technology. This 2400W model is claimed to help prevent the risk of burning fabrics like jeans or silk, and can supposedly save up to 20% energy with specific steam modes.
Philips' clothes iron and garment steamer line-up includes:
Philips EasySpeed Plus Steam Iron: $49.95 RRP*
Philips PowerLife Steam Iron: $84.95 RRP*
Philips Steam&Go Plus Handheld Garment Steamer: $129 RRP*
Philips Perfect Care Steam Iron: $159 RRP*
Philips Azur Elite Steam Iron with OptimalTEMP Technology: $199 RRP*
Philips was rated five stars for effectiveness, ease of use and features. It landed on four stars everywhere else, including for overall satisfaction.

Kmart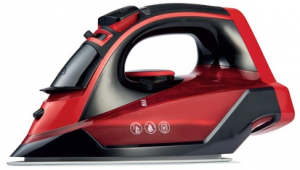 Kmart offers a number of budget-friendly irons and garment steamers for less than $50, with the cheapest model setting you back just $7.50!
Kmart's cheapest clothes iron includes a non-stick soleplate with a self-cleaning function, plus 2000W of power behind it. One step up comes the $15 steam iron, which has an automatic shut-off function for safety and slightly more power at 2200W.
The more expensive 2400W Cordless Steam Iron includes additional features such as an anti-drip function and continuous steam. It also has a short recharge time of 10 seconds.
Kmart's clothes iron line-up features:
Kmart 2000W Steam Iron: $7.50 RRP*
Kmart Steam Iron: $15 RRP*
Kmart Hand Held Steam Cleaner: $25 RRP*
Kmart Digital Steam Iron: $35 RRP*
Kmart 2400W Cordless Steam Iron: $45 RRP*
Kmart achieved the only five-star rating for value for money, before ending on four stars for effectiveness, ease of use and overall satisfaction. It got three stars everywhere else.

Tefal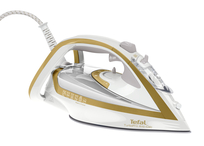 A well-known household appliance brand, Tefal offers a wide variety of clothes irons, including cordless models and models suitable for dry-cleaning businesses. Tefal's irons are available for purchase at homeware and electronics stores, as well as online.
Tefal's introductory model – the Comfort Glide – comes with a Durilium soleplate for easy cleaning, along with a vertical steam function and anti-drip design for supposedly easier use. There's also the UltraGliss range, which includes features such as an auto shut-off function and a comfort handle for those long ironing sessions in front of the TV.
Tefal's cordless model – the Freemove – contains a charging base, and an easy-fill water system and integrated anti-drip system to ensure you're not left with a mess. The Freemove is said to operate for up to 20 seconds off the base, and charges in just four seconds, making it a handy option for those prone to getting caught up in the cord.
Some clothes irons from Tefal's range include:
Tefal Maestro Steam Iron: $89 RRP*
Tefal Ultraglide Steam Iron: $99 RRP*
Tefal UltraGliss Steam Iron: $129 RRP*
Tefal Smart Protect Steam Iron: $129 RRP*
Tefal Anti-Calc Steam Iron: $199 RRP*
Tefal received five-star reviews for effectiveness, durability and features. It ended on four stars for overall satisfaction and most of the remaining areas. It got three stars for weight & size.

Kambrook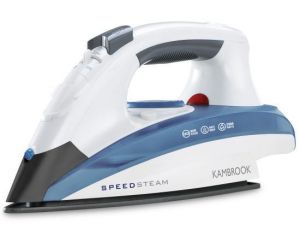 One of the most affordable ranges available, Kambrook's clothes irons are usually available for less than $60, depending on your local retailer of choice. The range begins with the SpeedSteam Iron, which includes a 2000W output, as well as a non-stick soleplate and an anti-drip system. It also comes with a 220ml water tank.
Other models include the Steamline Detach Steam Iron, which bumps up the power to 2200W. It includes a 180ml water tank, a FabriGlide soleplate and self-cleaning functions. Other features include variable temperature and steam controls, plus a safety auto-off function.
Kambrook's clothes iron range includes:
Kambrook Speedsteam Iron: $39.95 RRP*
Kambrook Steamline Detach System Iron: $59.95 RRP*
Kambrook Swiftstream Garment Steamer: $59.95 RRP*
Kambrook scored four stars for ease of use and weight & size, before ultimately ending on three stars for overall satisfaction and the remaining categories.

Braun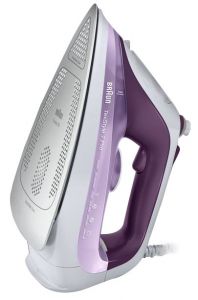 Primarily known for its beauty and personal hygiene range, German manufacturer Braun has a number of steam irons available, usually priced between just under $150 and up to $600 depending on which model you decide to take home. Braun's range is primarily split between the TexStyle 7 and TexStyle 3, each with different style options.
If you're after something serious, Braun additionally offers the TexStyle 9 model, which includes a curved 'FreeGlide' soleplate, allowing for easy ironing around pockets, buttons, and other bumps. In addition to the scratch-resistant plate, the TexStyle 9 also includes the auto-off and anti-drip functions, with multiple steaming options to suit a variety of fabric types.
Some models to expect from Braun include:
Braun TexStyle 3 Steam Iron: $99 RRP*
Braun TexStyle 7 Pro: $139 RRP*
Braun TexStyle 9: $179 RRP*
Braun achieved a four-star rating for features, plus three stars everywhere else, including overall satisfaction.

Other Brands
Aside from the brands that received the minimum sample size to be included in our ratings, there are plenty of other options worth checking out:
ALDI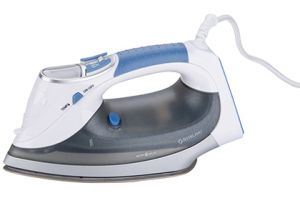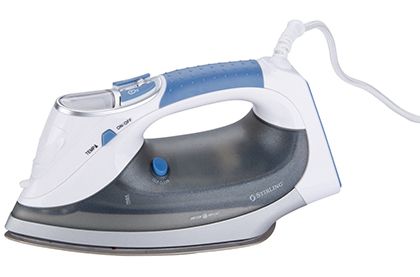 The German supermarket has previously sold two models from its ALDI Stirling line, including the LCD Steam Iron and the Steam Station Iron, for shoppers to pick up in seasonal Special Buys. The LCD model is a slightly modern take on the traditional iron, featuring a double ceramic coated soleplate, LCD electronic display and steam and temperature controls, making ironing feel a bit more hi-tech.
The Steam Station is a bit larger than the LCD, boasting a removable 1.7L water tank. It also has an adjustable steam rate and cord storage, and offers 2400W of power to help make light work of those tough wrinkles.

Russell Hobbs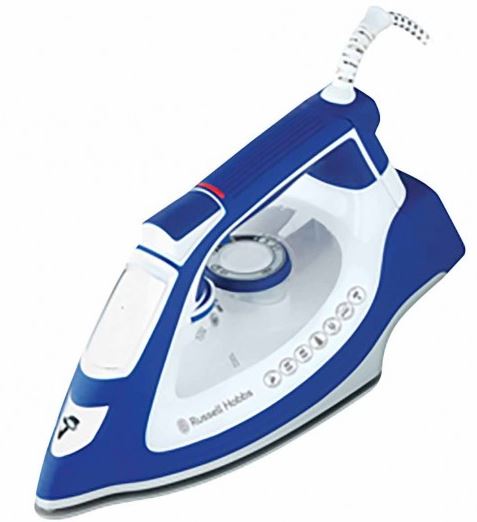 Russell Hobbs provides a number of models, including the Easy Store, Rapid and Impact lines, all of which are available from local electronics and homeware retailers. The Rapid is Russell Hobbs' introductory model, and includes features such as a non-stick ceramic soleplate and a 3m cord, plus self-cleaning functions.
There's also the Russell Hobbs Impact Steam Iron, which comes with a protective over-mould for supposedly longer lasting performance. It also offers variable steaming options for tougher fabrics. Plus, the brand claims it's durable enough to survive a 1.2m drop, so it might be worth checking out if you have a house full of butter fingers.

Target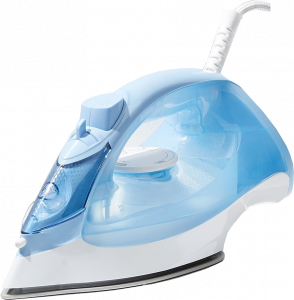 Target currently offers just one clothes iron, the 2000W Ceramic Steam Iron. Available for $20, it comes with a 200ml water tank and features such as anti-drip, anti-calc and automatic shut-off. This model additionally has a ceramic soleplate, and offers dry and continuous adjustable steam.
Although Target's appliance range may change throughout the year, so keep an eye out for more models.

Big W Brilliant Basics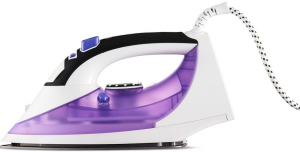 Similar to Target, Big W just has its Brilliant Basics Steam Iron up for grabs. For $12, you'll get features like a soft touch handle, temperature control dial and a non-stick soleplate. The Big W clothes iron is said to pack 2000W of power, which means it should be able to handle plenty of wrinkled clothes and fabrics. Additionally, it comes with a water spray function, self-clean function, and a steam boost function.

What to consider when buying a new clothes iron
When it comes to buying a clothes iron, there are a few factors you might like to consider before jumping into a purchase. These include:
Effectiveness
Durability
Functionality
Weight & Design
Price
But before we unpack these factors in detail, here's what our survey revealed:
Effectiveness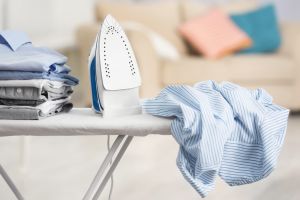 Ultimately, you'll want your clothes iron to remove creases from clothes, but if it doesn't have enough heating power, you may be stuck ironing the same shirt for 10 minutes. The effectiveness of an iron also depends on the soleplate material.
Soleplate
Although you may find that a non-stick soleplate is easier to maintain and clean compared with a stainless-steel soleplate, it's important to not scratch it as this will decrease its effectiveness. Polished stainless-steel, however, may also scratch and stain over time, making the iron drag.
Anti-drip function
Another element of the soleplate are the anti-drip properties. These types of systems can help to reduce water marks while still providing the powerful shots of steam necessary to remove wrinkles. The button groove between the iron body and the soleplate is also important to help with the 'glide ability' around buttons and is a fairly standard design element across all brands.
Durability
Durability will depend on the material build of the clothes iron construction, as well as the soleplate. Most irons use plastic for the construction and non-stick soleplates. A non-stick soleplate is certainly a must for easier cleaning on starch build-up. But any regularly cleaned soleplate should glide just as easily.
Higher-priced models provide further technology to increase scratch resistance. A self-cleaning system aims to help remove mineral deposits from vents and maintain the longevity of the iron.
Functionality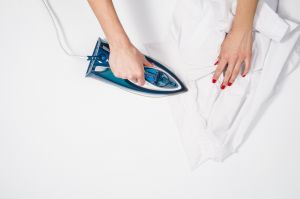 There are several key features you might want to look out for:
Auto shut-off
Water tank size
Power-on light
Transparent reservoir
Cord storage or cordless design
Auto shut-off
One common function is an auto shut-off system, which cuts off power if the iron is left unattended or tipped over. You may also find this feature to be a useful energy-saving tool.
Water tank size
If you tend to iron large batches, then an iron with a large water tank is necessary so that you don't have to refill the iron too regularly. Other features that you may find useful include a power-on light so that you know when the soleplate is hot, plus a thermostat to get a better idea of how hot the iron is when applying it to different types of fabrics.
Transparent reservoir
A transparent water reservoir lets you check how much water is leftover. Some clothes irons also come with a removable water tank to minimise the risk of spilling water when you refill.
Cord storage or cordless design
You may also like to consider an iron with a wraparound cord storage that clips in securely for convenience. There are also cordless irons that allow you to iron in any direction with ease but the downfall is that some struggle to maintain consistent heat before needing to recharge.
Weight & design
Lightweight designs allow an iron to move easily, but may require more pressure when ironing. On the other hand, a heavier iron uses less downward pressure but may not be as easily movable. Many brands boast light clothes irons, with an average iron coming in between 1–3kg. Opting for a lightweight model may be a consideration if you have younger children helping out with the clothes ironing chore.
You may also like to look at the design of the handle and see whether it is the right fit for you, as well as if the controls are easy to see.
Price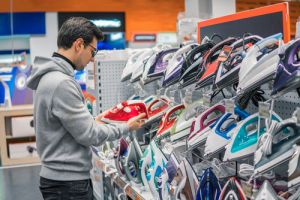 Ultimately, it will be your budget that goes a long way to determining your final decision on which iron to go with. In fact, our survey found that price was the main factor that influenced which model most of our respondents ended up buying (39%).
Clothes irons generally cost between $65 and $599. Our survey revealed that Australians spend an average of $91 on a new clothes iron, a slight increase from last year ($63). The cost of a clothes iron largely depends on the wattage power, which allows for a fast heat-up time and maintains the temperature. The material build and added features are also big factors.
Which clothes iron should I use?
You would be forgiven for not giving much thought to which brand and model of clothes iron you pick up at the store, but you may be left working a lot harder on your shirts if you get the wrong one. With plenty of features such as temperature controls, water tank capacity and self-cleaning functions all available on select models, there's certainly plenty to consider.
With one in 10 survey respondents (10%) stating to often be frustrated with the performance of their iron, having the right iron can not only save you time, but also avoid getting your knickers in a twist. With that in mind, we hope you find our clothes iron ratings helpful.
About the author of this page
This report was written by Canstar Blue's home & lifestyle journalist, Tahnee-Jae Lopez-Vito. She's an expert on household appliances, grooming products and all things grocery and shopping. In addition to translating our expert research into consumer-friendly ratings reports, Tahnee spends her time helping consumers make better-informed purchase decisions on all manner of consumer goods and services, while highlighting the best deals and anything you need to be aware of.
Compare Front Load Washing Machines
Picture credits: Africa Studio/Shutterstock.com, Wstockstudio/Shutterstock.com, Igor Kardasov/Shutterstock.com.