The end of financial year 2017 is almost upon us, getting closer and closer every day. The weeks around end of financial year – which falls on June 30 – are a time for businesses to meet some last minute financial targets, and for Aussie consumers to cash in on some absolute bargains.
Some of the best deals will be available to those on the lookout for new major household appliances. So based on our customer satisfaction reviews over the last 12 months, Canstar Blue has complied a guide to some of the best-rated brands and potential biggest bargains available this EOFY 2017. We'll look at:
So without further ado, let's dive into the detail and see what great deals you could get this end of financial year. Click on the brand names below to be transferred to Appliances Online for further details.
Clothes dryers
Simpson topped our customer review of dryers, with Fisher & Paykel rated five stars on value for money. While Simpson is generally thought of as one of the cheapest appliance brands, Fisher & Paykel could be considered more high-end – so this is a good mix to get us started. What do these two brands offer this EOFY sales time? Let's find out: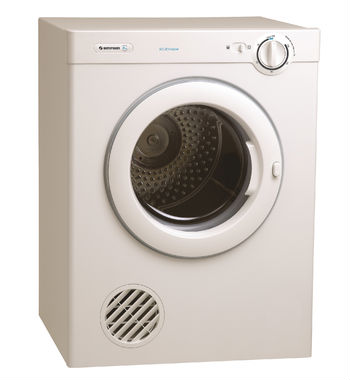 Simpson 4kg Condenser Dryer – $329 – check latest price at Appliances Online
This is one of the cheapest clothes dryers you're likely to find in Australia, but it should still get the job done just like any other would. As it has a small capacity of only 4 kilograms, this dryer is probably best suited to small households, or those who don't expect to use their dryer much. This could also make it a good option for people living in apartments, as it's a stackable model which means it can placed on top of a washing machine or on a bench.
Most of the features this dryer possesses are based around convenience as well. It has easy to use rotary controls which give you exact control over the time and temperature, and it also comes with front and rear venting, to help get rid of the moisture and steam build up more easily. It also has a lint filter to eliminate allergens and bacteria as well as a child safety lock to keep out curious hands.
It does admittedly have a poor energy efficiency rating of just 1.5 out of 6 stars, but this is to be expected from models as cheap as this, as you're paying for savings up front rather than over time. It might not be very flash or aesthetically pleasing, but this Simpson clothes dryer seems to represent an absolute steal at less than $400.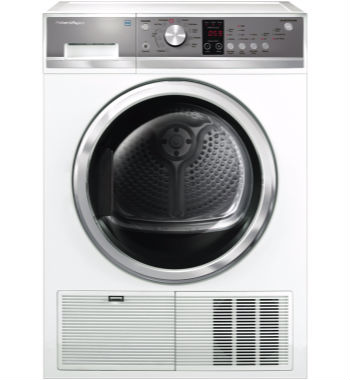 Fisher & Paykel 8kg Condenser Dryer – $849 – check latest price at Appliances Online
With an average consumer score of 4.8 after almost 30 reviews on Appliances Online, this Fisher & Paykel dryer certainly has a solid reputation amongst users. It may only have a 2 star energy rating, but there is plenty to like about it. Specifically, it has a large 8 kilogram capacity, which should be ideal for families or those who need to regularly dry lots of clothes. It also comes with 11 different cycles, including one for delicate items.
At more than $800, it seems fairly pricey for a clothes dryer, but as the video below tells you, it comes with some hand features. It also looks quite nice!
Front load washing machines
Miele was the star brand in our latest review of front loader washing machines, while Bosch also impressed in the key areas of performance, quietness and value for money. What do these two brands have to offer this EOFY sales time?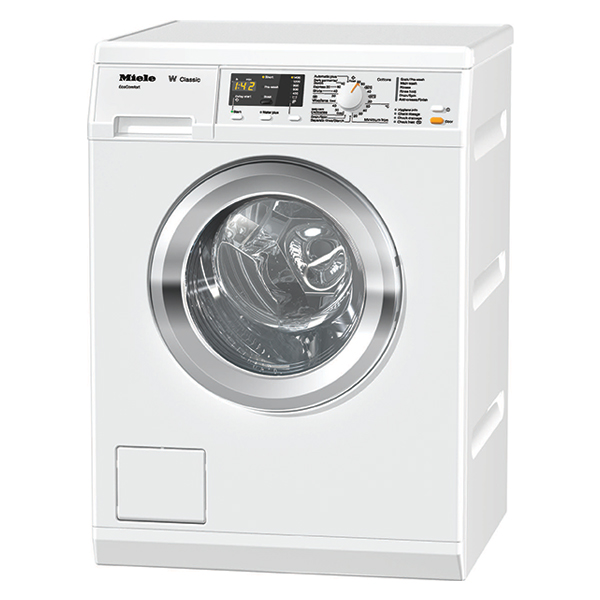 Miele Classic Front Load Washer – $1,700 – check latest price at Appliances Online
Near the upper end of the price scale for washing machines, Miele's classic model is an extremely powerful and reliable machine. It's fairly basic in terms of extra features, only really having a variety of different washing programs for wool, shirts, cottons, polycottons and more. However, there are some key advantages besides this.
Its patented Miele honeycomb drum ensures the gentlest of care is given to your garments inside the machine, resulting in perfectly smooth cleaning results, Miele says. It also has an extremely precise flow meter to control the amount of water that is used – down to the millimetre. This is one of the main contributors to its superb 4 star energy efficiency rating.
At $1,700, there are definitely cheaper models available. But what you get from Miele is the promise of quality results and performance over time. Only you can decide if that's a price worth paying.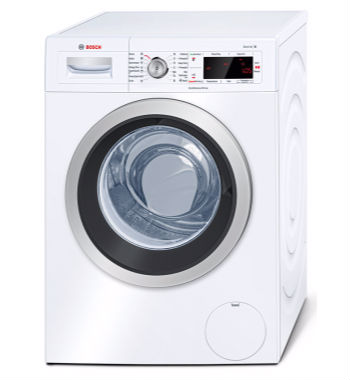 Bosch 8kg Front Load Washer – $1,066 – check latest price at Appliances Online
This Bosch washing machine is one of the highest rated on Appliances Online, with an average consumer score of 4.8 stars after more than 150 reviews! A 5 star energy rating combined with the EcoSilence feature means that it runs efficiently and quietly, as well as powerfully with 1400 rotations per minute.
It comes complete with a number of interesting features such as anti-vibration (for greater stability and quietness), delayed start, auto load sensing and 10 automatic programs. With all of this in mind, as well as its 8kg capacity, this Bosch washer looks a good bet for a large family.
It's a fairly expensive model, but like with Miele, you are likely paying for quality, reliability, and overall solid performance for a number of years.
Top loader washing machines
Fisher & Paykel and Samsung have been the standout brands in our review of top loader washing machines in recent years. The two brands have both topped the ratings and consistently rate highly on factors such as performance, ease of use, and value for money. In terms of deals this EOFY, this is what they have on offer.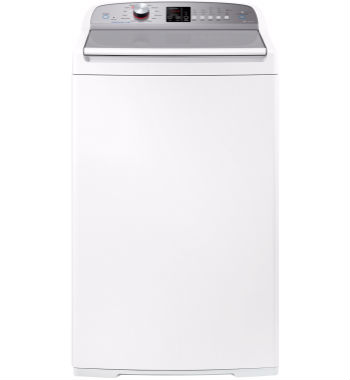 Fisher & Paykel 8.5kg FabricSmart – $870 – check latest price at Appliances Online
Fisher & Paykel's huge 8.5kg top load washer comes highly recommended on Appliances Online with a 4.7 score after 33 reviews. It's not overly energy efficient with its 3.5 stars, but that's enough to save you a fair bit on your water bill over time. As well as having an above average load capacity, it also has a decent power output of 1100 RPM.
A good reason to consider this Fisher & Paykel model is the huge range of features it has. Without even taking into account the 12 different programs it has, there are a total of 24 features to make your laundry life just a little easier, such as auto water level, eco-active wash, a stainless steel bowl, lid lock, delayed start, and much more. It might cost slightly more than what you'd normally expect to pay, but for such an advanced model the price seems a bit of a bargain.
Samsung 8kg Top Load Washer – $619 – check latest price at Appliances Online
Despite having a lowly energy efficiency star rating of just 2.5 stars, those who have already bought this Samsung washer don't seem to mind as it has a 4.7 consumer score after more than 130 reviews. So what is it about this washing machine that people seem to love?
The digital motor of this model adjusts the wash speed and noise accordingly, and the SmartCheck troubleshooting system means you can use your smartphone to scan for minor issues. The mist shower feature and storm pulsator clean the machine thoroughly after every use, and it comes with a wide variety of wash options.
Overall, you could definitely do a lot worse than this cheap Samsung top loader. Get further details with the video below.
Dishwashers
Miele and Bosch consistently rank among the top brands in our annual star ratings for dishwashers, scoring well in the areas of performance, internal layout and design in particular. They may be two of the most expensive brands, but you're likely going to find good value for money. Is there a great deal to be had this EOFY sales time?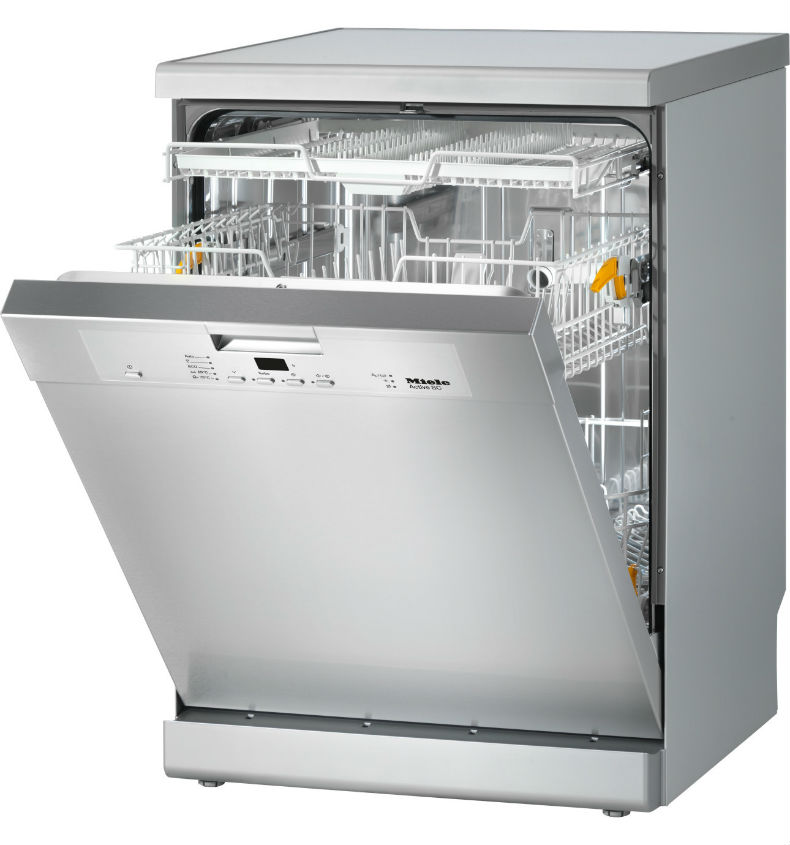 Miele G4203 Active Dishwasher – $1,300 – check latest price at Appliances Online
At about $1,400, this built-in dishwasher from Miele is designed with efficiency, convenience and appearance in mind. In terms of convenience, it does a lot to make your dishwashing life just a little easier. It comes with a delayed start feature with which you can program the machine to start up to 24 hours ahead of time, and a countdown indicator tells you how long it has to go. Delayed start is a good solution for households on a time of use electricity tariff as you'll save plenty of money by running your appliances during off-peak hours.
What it really excels at, however, is interior design. The cutlery tray, baskets and shelves can all be removed and rearranged to your will, making loading and unloading much easier. It is also very good at holding larger items such as pots and pans, which a lot of dishwasher can't do.
The long-term savings you could make with this dishwasher will help to offset the initial purchase price somewhat but it's still a big investment.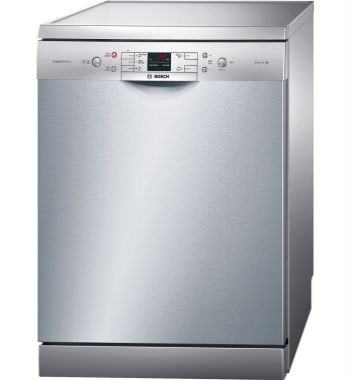 Bosch MS50M28AU Serie 6 Freestanding – $959 – check latest price at Appliances Online
With an elegant aesthetic design and a 5 star energy efficiency rating, this Bosch dishwasher is proving very popular in customer reviews. It is said to be incredibly quiet when operating thanks to its low decibel level of 44, meaning you can have it running in the same room without providing a distraction. It has a large interior capacity that can hold up to 14 place settings (suitable for 4 or so people), and it has a variety of cool features, mainly:
5 wash programs
An eco-mode to save even more energy
Anti-flood protection and a child lock
Auto-load sensing
Delayed start
An advanced filtration system
A pots and pans cycle for heavy dishes
Heatex-changer for hygienic drying
It can do more than this, but we'd be here all day if we were to describe everything. The bottom line is Bosch knows dishwashers, and you could do a lot worse than this model.
Refrigerators
Moving onto refrigerators and we'll review the two leading brands from our latest customer ratings, LG and Hisense. There are likely plenty of bargains to choose from, and we've picked out two of them.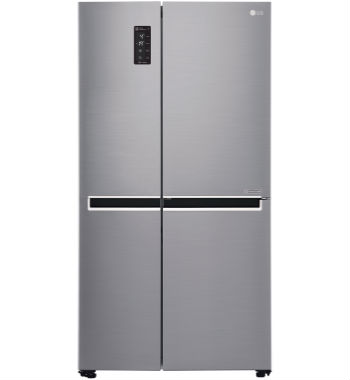 LG 687L Side by Side Fridge – $1,565 – check latest price at Appliances Online
Most Australian consumers are happy to pay around about $1,100 for a new fridge, our research shows, so the price of this LG fridge seems extremely good when you consider what it can do. This large 687 litre unit is said to be suitable for households or apartments with four or more people in them.
It is a side by side model, with the freezer on the left and fridge component on the right. This is designed to be as ergonomical and convenient as possible, while also being energy efficient with a 3 star rating. There are two sliding drawers in the interior, plus a large moist balance crisper which keeps vegetables fresh for longer.
To keep out those unwanted odours, there is a 'pure n fresh' deodorizer, which prevents the growth of bacteria and mould inside the fridge. This maintains the integrity of the seals as well as the interior temperature.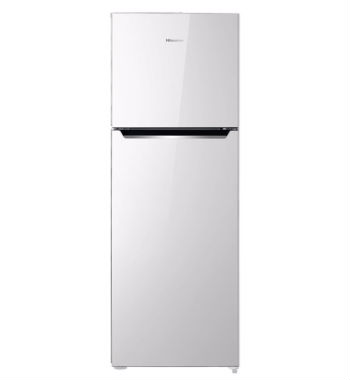 Hisense HR6TFF350 350L Top Mount – $598 – check latest price at Appliances Online
Hisense offers fridges that are both cheap and expensive, so it has options for you at both ends of the price spectrum. This top mounted fridge in particular costs about $600 – roughly half of the average price that Aussies pay for their new fridges, but this hasn't stopped it from attracting some solid reviews.
So why do people like this fridge so much? Besides from its cheap price, the best thing about it seems to be the internal layout, which Hisense is well known for. Is the internal layout so good that you won't notice the rather small capacity of 350 litres?
Another selling point for this fridge is the easy access hinge, which allows you to open the fridge in either direction to better suit your kitchen's layout. A few other features worth noting are a bright LED interior light and a twist ice maker in the freezer compartment. Add all of this information to a decent 3 star energy rating, and it seems you've got a real bargain on your hands.
Air conditioners
If you're looking to snap up a cheap air conditioner, then you might want to consider looking into Fujitsu and Panasonic. As well as being world leaders in air conditioning, they also tend to be two of the best performing brands in our annual customer review. What do they have on offer this EOFY?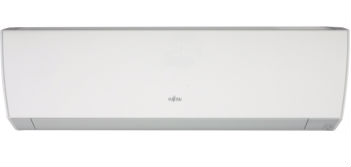 Fujitsu reverse cycle split system air con – $1,100 – check latest price at Appliances Online
This $1,100 Fujitsu air conditioner is the perfect size for living rooms and bed rooms. If you want to keep your homes cool but also want to save on your power bills, then perhaps you should look at this model, since it a solid 4 star energy rating and 3.5 KW of power. It also has an amazing 42 decibel indoor sound level, so you can barely even hear it running.
The LCD remote lets you choose from a decent range of special modes to suit whatever conditions you're in, including a timer mode that allows you to set your air con to start heating or cooling half an hour before you get home, and the timed sleep setting slowly adjusts the temperature at night to help you comfortably fall asleep. This night saver mode also saves a fair bit of energy. Finally, this model comes with air filters that deodorise your air to help with pollens and allergies.
Like most of Fujitsu's air conditioners, this model is of a high standard and at this price it seems to represent solid value for money.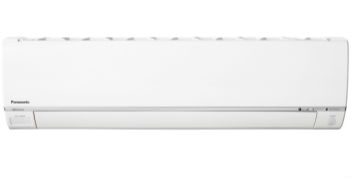 Panasonic reverse cycle inverter air con – $2,115 – check latest price at Appliances Online
As you can see in the below video courtesy of Appliances Online, this Panasonic reverse cycle air conditioner is powerful, quiet, energy efficient, easy to use, and thanks to its hugely reduced price, is also fairly cheap.
This concludes our guide to some bargains you can expect to find this end of financial year sale for 2017. But remember, just because there are some good deals, doesn't mean you have to take them. Consider our shopping tips below.
End of financial year shopping tips
As with every major sale time, there is always the possibility that you could end up spending way too much on products you don't actually need or want. To make the most of the end of financial year sales, prepare a list of things to buy and a potential budget at least a few weeks in advance. You can then do some research on various retailers to find out who exactly is offering the best discounts closer to the date.
Some other useful tips are as follows:
Consider if you actually need the product: An easy pitfall to fall into during the end of financial year sales is impulse shopping. Do you really need that 4K TV when your current one already gives excellent picture quality? As the majority of appliances will be reduced to an extent, you'll need to think long and hard about what you need and what you don't need.
What is the initial recommended retail price (RRP): Almost everything will be under its RRP during the end of financial year sales, but you should make sure you research prices properly to get an idea of just how good that bargain really is.
Do your research to find it cheaper! Price matching is a great way to save money on new appliances. If you spot a good price online, consider asking about it in store.
Good luck!