The weeks around the end of financial year – which falls on June 30 – are a time for businesses to meet some last minute financial targets and for Aussie consumers to cash in on some absolute bargains.
Some of the best deals will be available to those on the lookout for new major household appliances. So based on our customer satisfaction research over the last 12 months, Canstar Blue has compiled this guide to some of the best-rated brands and potential biggest bargains available this EOFY 2020. We'll look at:
So without further ado, let's dive into the detail and see what great deals you can get this end of financial year sales time. We have endeavoured to keep the following prices up to date, but be sure to follow the prompts to be transferred to Appliances Online for further details.
Clothes Dryers
Simpson topped our customer satisfaction ratings of dryers, after receiving five-star reviews for performance, value for money, design and overall satisfaction. Bosch, Electrolux, LG, Haier and Fisher & Paykel were also rated. Simpson is generally thought of as one of the cheapest appliance brands, so it makes sense to start there, however huge discounts are also available from other brands, with models selling for less than $600 this EOFY. Let's dive in: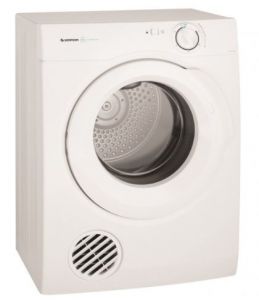 Simpson 4.5kg Vented Dryer – $469
This Simpson dryer (SDV457HQWA) is one of the cheapest clothes dryers you're likely to find in Australia, but it should still get the job done just like any other would. As it has a small capacity of only 4.5 kilograms, this dryer is probably best suited to smaller households, or those who don't expect to use their dryer much. This could also make it a good option for people living in apartments as it's wall mountable, meaning it can be placed above a washing machine.
Most of the features this dryer possesses are based around convenience. It has easy to use rotary controls which give you exact control over the time and temperature, and also comes with front and rear venting, to help get rid of the moisture and steam build up more easily. It also has a lint filter to eliminate allergens and bacteria as well as a child safety lock to keep out curious hands.
It does admittedly have a poor energy efficiency rating of just 1.5 out of 6 stars, but this is to be expected from models as cheap as this, as you're paying for savings up front rather than over time. It might not be very flash or aesthetically pleasing, but this Simpson clothes dryer seems to represent an absolute steal at less than $500. Be sure to compare prices from different retailers to find the best deal.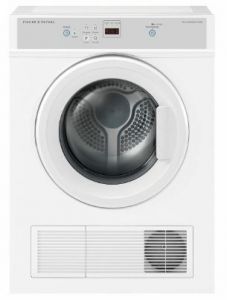 Fisher & Paykel 4.5kg Vented Dryer – $569
Designed to match its QuickSmart top load washers, the Fisher & Paykel (DE4560M2) dryer– with a wall mounting kit included if required – can be hung on the wall. It might only have a two-star energy rating, but there is still plenty to like about it. It has additional drying capacity, totalling 4.5 kilograms, which should be suitable for households of one or two people. It also comes with four dry cycles, including one for delicate items and one for every day.
The auto-sensing feature is claimed to detect moisture levels and automatically shut off to prevent under or over drying. This is stated to help reduce energy consumption, and despite the two-star energy rating, you can expect to pay only around $57 annually (based on 28.7 c/kWh) on your electricity bill for this appliance.
The dryer door opens to a full 180°, making it convenient to access and load your clothes. Additionally, you'll find a keylock so the curious fingers don't fiddle with the settings– and easy access lint filter with a lint filter indicator. At less than $600, it does pack a few handy features and it also looks quite neat!
Front Load Washing Machines
Miele was the star brand in our latest review of front load washing machines, while Bosch also impressed consumers with five stars in key areas such as a quietness and value for money. So, what do these two big brands have to offer this EOFY sales time?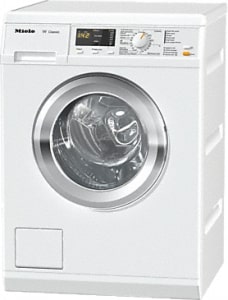 Miele Classic 7kg Front Load Washer – $1,299
Near the upper end of the price scale for washing machines, Miele's classic model (WDB030) is an extremely powerful and seemingly reliable machine. It appears fairly basic in terms of its extra features, with washing programs covering wool, shirts and cottons. It does have an Express 20 program if you're on the go, or only have a small load to do. Furthermore, its CapDosing system is stated to provide 'perfect' results by allowing you to select from six specific detergents that are automatically dispensed during the wash cycle. There are some other key advantages besides this.
Its patented Miele honeycomb drum ensures the gentlest of care is given to your garments inside the machine, resulting in perfectly smooth cleaning results, Miele says. It also has an extremely precise flow meter to control the amount of water that is used – down to the very millimetre. This is one of the main contributors to its superb four-star energy efficiency rating.
At $1,299, there are definitely cheaper models available. But what you get from Miele is the promise of quality results and performance over time. But only you can decide if that's a price worth paying.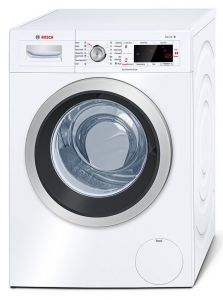 Bosch 8kg Front Load Washer – $1,240
This Bosch washing machine (WAW28460AU) is one of the best-rated models on Appliances Online, with an average consumer score of 4.8 stars after more than 1,200 reviews! A four-star energy rating combined with the EcoSilence feature means that it runs efficiently and quietly, as well as powerfully with 1,400 rotations per minute.
It comes complete with a number of interesting features, including anti-vibration (for greater stability and quietness), delayed start, auto load sensing and 10 automatic programs. With all this in mind, as well as its 8kg capacity, this Bosch washer looks a good bet for a large family.
It's a fairly expensive model, but like with Miele, you are likely paying for quality, reliability, and overall solid performance for a number of years. The brand also has the Bosch (Serie 4) 7.5kg Front Load Washing Machine on sale for $759, which is an absolute steal!
Top Loader Washing Machines
Fisher & Paykel was the standout brand in our latest review of top loader washing machines, rated alongside Samsung, Simpson and LG. In terms of deals this EOFY, this is what some of the brands have on offer:
Fisher & Paykel 7.5kg WashSmart Top Load Washer – $879
Fisher & Paykel's 7.5kg top loader (WA7560E1) comes highly recommended on Appliances Online with a 4.6 score after 105 reviews. It's fairly energy efficient with a four-star rating, enough to save you a fair bit on your bills over time. This model has an average load capacity, but still has a decent power output of 1100 RPM as well.
If you have a family with plenty of washing to do each week, this Fisher & Paykel model might be one to keep in mind. Without even taking into account the six different programs, there are also nifty features to make your laundry life just a little easier, such as auto water level, eco-active wash, a stainless steel bowl, lid lock, delayed start, and much more. The price tag is also very attractive for such an advanced model.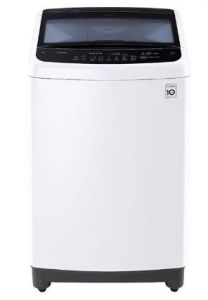 LG 7.5kg Top Load Washer With Smart Inverter Control – $899
Consuming 413kWh of energy a year (365 uses), this LG top loader (WTG7520) does have a low energy efficiency rating of three stars, with a similar water efficiency rating. This model has a tempered glass lid to allow you to see what's going on with your washing and comes equipped with inverter technology which controls the speed and direction of the motor to give you a better washing experience all around.
The LG 7.5kg Top Load Washing Machine is boasted for its 'Six-way Motion Direct Drive' technology – stepping, tumbling, scrubbing, filtration, rolling and swing – all apparently based on hand-washing. The 'Smart Diagnosis' system means you can use your smartphone for easy troubleshooting via the LG App. It's equipped with 10 wash programs including a quick wash, heavy duty, cold wash and delicate. Other features include a time delay for convenience, pause button to add missed items and a child lock for safety. Overall, you could definitely do a lot worse than this cheap LG top loader.
Dishwashers
Miele consistently ranks at the top of our annual ratings for dishwashers, always scoring well in the areas of performance, internal layout, quietness and design in particular. Fisher & Paykel and Bosch are also top-rated brands. So, are there good deals on dishwashers to be had this EOFY sales time?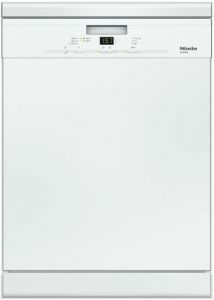 Miele 60cm BRWS Brilliant White Dishwasher – $1,499
At about $1,499, this freestanding dishwasher from Miele (G4930BRWS) is designed with efficiency, convenience and appearance all in mind. In terms of convenience, it does a lot to make your dishwashing life just a little easier. It comes with a delayed start feature with which you can program the machine to start up to 24 hours ahead of time, and a countdown indicator tells you how long it has to go. Delayed start is a good solution for households on a time of use electricity tariff as you'll save plenty of money by running your appliances during off-peak hours.
What it really excels at, however, is interior design. It's equipped with a cutlery basket for maximum convenience, stated to fit in any position over the front spikes in the lower basket. Other wash programs include Automatic, Intensive 75°C wash and ECO mode. The long-term savings you could make will help to offset the initial purchase price somewhat but it's still a big investment.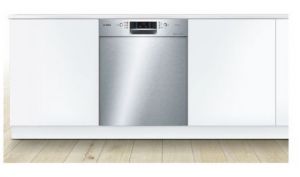 Bosch Serie 4 Under Bench Dishwasher – $889
With an elegant aesthetic design and four-star energy and water efficiency rating, this Bosch under bench dishwasher is proving popular in customer reviews on Appliances Online. It's designed for quiet operation and performance, thanks to its EcoSilence Drive and SpeedPerfect wash options. It has a large interior capacity that can hold up to 14 place settings (suitable for four or so people) and it has a variety of cool features, mainly:
Six wash programs
An eco-mode to save even more energy
Anti-flood protection and a child lock
Auto-load sensing and half load option
Delayed start
A 70°C wash program
Heat exchanger for hygienic drying
It can do more than this, but we'd be here all day if we were to describe everything. The bottom line is Bosch knows dishwashers and you can do a lot worse than this model that has a recommended retail price of $1,299.
Refrigerators
Moving on to refrigerators and we'll review Kelvinator and Hisense. There are likely plenty of bargains to choose from and we've picked out two of them.
Kelvinator 231L Top Mount Fridge KTB2302WA – $537
Most Australian consumers are happy to spend just over $1,100 on a new fridge, our research has shown, so the price of this Kelvinator fridge (KTB2302WA) seems good value, even for its smaller 231L capacity – ideal for individuals, couples and smaller families alike. This model features Multi-Flow Air Delivery to circulate cool air evenly inside and small air vents to ensure that your fridge stays uniformly cold on each and every level. This top mount fridge with freezer at the top, may come cheap upfront, but could end up costing you more to run, as it has only a two-star rating for energy efficiency.
There is a separate temperature control for the fridge and the freezer, plus a full-width humidity controlled crisper which keeps vegetables fresh for longer. Its 'Spillsafe' glass shelves, easy to clean liner and fewer nooks are aimed to make it an easy appliance to clean.

Hisense (HR6TFF350) 350L Top Mount Fridge – $735
Hisense offers fridges that are both cheap and expensive, so it has options for you at both ends of the price spectrum. This top mounted fridge costs roughly half of the average price that Aussies would pay for a new fridge, but this hasn't stopped it from attracting some solid reviews.
So, why do people like this fridge so much? Besides from its cheap price, the best thing about it seems to be the internal layout, which Hisense is well known for. Is the internal layout so good that you won't notice the rather small capacity of 350 litres?
Another selling point for this fridge is the easy access hinge, which allows you to open the fridge in either direction to better suit your kitchen's layout. A few other features worth noting are a bright LED interior light and a twist ice maker in the freezer compartment. Add all of this information to a decent three star energy rating, and it seems you've got a real bargain on your hands.
Air Conditioners
If you're looking to snap up a cheap air conditioner, then you might want to consider looking into Panasonic and Fujitsu. Both brands are world leaders for all things air conditioning, so what do they have on offer this EOFY?

Panasonic Reverse Cycle Inverter Air Conditioner – $1,120
The Panasonic 2.5kW reverse cycle air conditioner (CSCU-Z25TKR) from Panasonic's AERO Series is claimed to be powerful, quiet, energy efficient, easy to use, and thanks to its hugely reduced price, is also fairly cheap. It's boasted for its Aerowings system that features twin motorised blades to deliver precise control of air flow direction – providing both slower cooling and fast cooling. It can  automatically increase fan speed depending on the temperature difference between rooms.
To boost its energy efficiency, it's designed with a system called Econavi, which features two sensors– a human activity sensor and sunlight sensor– monitoring human location and movement as well as sunlight intensity. Other design features include a 24-hour dual on/off real setting timer, air purifier and mild dry cooling function as well as an odour removing function.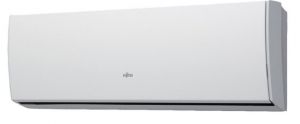 Fujitsu Reverse Cycle Split System Air Conditioner – $1,190
This intelligent 3.5kW Fujitsu air conditioner (ASTG12KUCA) is the perfect size for living rooms and bedrooms and has a 3.5-star energy efficiency rating for both heating and cooling, which is not shabby considering the price. This model boasts a human sensor control feature, which minimises energy usage by measuring human movement in the room.
The LCD remote lets you choose from a decent range of modes to suit whatever conditions you're in, including a timer mode that allows you to set your air con to start heating or cooling half an hour before you get home, and the timed sleep setting slowly adjusts the temperature at night to help you comfortably fall asleep. The night saver mode could also help you save a fair bit of energy. Finally, this model comes with an apple-catechin filter which absorbs hazardous dust, mould and micro-organisms in the air. Like most of Fujitsu's air conditioners, this model is of a high standard and at this price it seems to represent solid value for money.
End of financial year shopping tips
As with every major sale time, there is always the possibility that you could end up spending way too much on products you don't actually need or want. To make the most of the end of financial year sales, prepare a list of things to buy and a potential budget at least a couple of weeks in advance. You can then do some research on various retailers to find out who exactly is offering the best discounts closer to the date.
Some other useful tips are as follows:
Consider if you actually need the product: An easy pitfall to fall into during the end of financial year sales time is impulse shopping. Do you really need that 4K TV when your current one already gives you excellent picture quality? As the majority of appliances will be reduced to an extent, you'll need to think long and hard about what you need and what you don't need.
What is the initial recommended retail price (RRP): Almost everything will be under its RRP during the end of financial year sales, but you should make sure you research prices properly to get an idea of just how good that bargain really is.
Do your research to find it cheaper! Price matching is a great way to save money on new appliances. If you spot a good price online, consider asking about it in store.
Good luck!