Samsung is launching a new line of 4K and 8K televisions in 2021, featuring its first ever 'Neo QLED' range, a mobile-optimised screen, multi-view functions, and more Lifestyle TVs.
Besides allowing us to stream movies, music and videos, browse the internet, and view photos, what else could we expect from our TVs in 2021?
Well, a lot more according to Samsung. First thing's first, the electronics giant is bringing new eco-packaging to all its products this year, which will allow for its TV boxes to be turned into small-scale pieces of furniture. Samsung is also introducing its first solar-powered remote control to reduce disposable battery waste.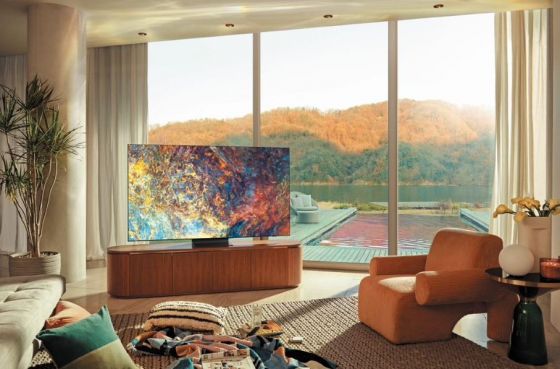 Also debuting in 2021, Samsung's Neo QLED range is the next-gen display technology. It uses Quantum Mini LED (a smaller type of light-emitting diode) to reduce backlighting and screen burn-in. So in layman's terms, this means more life-like imagery with better blacks and contrasts.
Head of Audio Visual at Samsung Australia, Hass Mahdi, said: "We know Australians are buying bigger TVs and that picture quality is the number one consideration for many customers when upgrading, Neo QLED will offer incredible contrast, colour and brightness to deliver an unparalleled viewing experience," he said.
The Quantum Mini LED is 1/40 of the thickness of a standard Samsung LED and features a Micro Layer that allows for more precise light control in a smaller package. The new 2021 Samsung TV range caters to every budget, ranging from entry-level Crystal UHD TVs and going up to flagship Neo QLED 4K and 8K TVs.
More ways to watch content
Samsung is also introducing more screen-sharing options to its TVs, with features like Tap View and Multi View. This allows viewers to connect multiple external devices and apps to the display, to watch up to four sources of content simultaneously on one screen.
TVs that complement your lifestyle
In 2021, Samsung is also re-imagining the role of TVs in the home and has created new ways to experience content. It has expanded its flagship Lifestyle TV range to cater to the ever-changing habits and all home entertainment demands of Australians. The line-up includes:
The Sero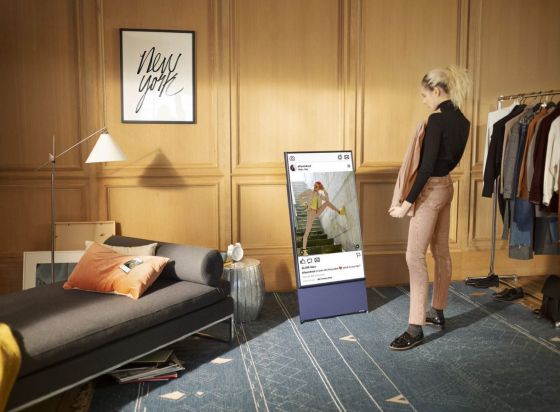 If you're always glued to your smartphone (aren't we all?), The Sero could be your next best pal. It features a mobile-optimised screen that rotates depending on your content. The screen rotates vertically or horizontally so that you can watch your favourite movies, videos and check your Insta feed any way you like. The Sero (QA43LS05TAWXXY) is compatible with Android and iOS smartphones and retails for $2,329 RRP*.
The Serif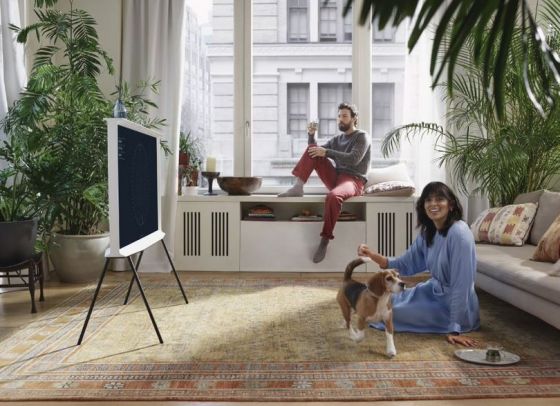 The Serif (designed by the Bouroullec brothers) features a 360° design which means you can place it virtually anywhere in your home and allows you to play music from your smartphone through the TV's speakers. This model is also powered by QLED technology and comes with Ambient Mode.
Models available include:
The Serif (QA43LS01TAWXXY) 43-inch: $1,499 RRP*
The Serif (QA55LS01TAWXXY) 55-inch: $2,099 RRP*
The Terrace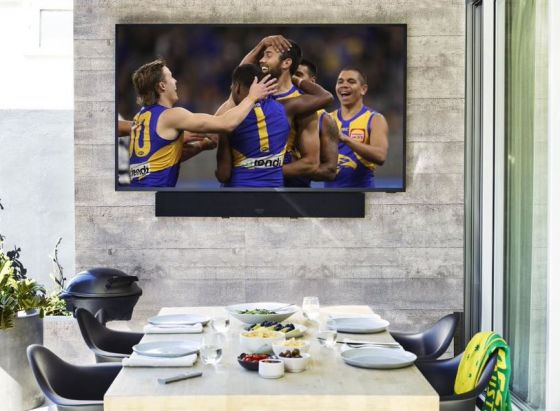 For those who enjoy movies under the stars on the big screen, there's also The Terrace. This QLED weather-resistant TV is designed for outdoor entertainment. It comes with Anti Glare technology so that you can watch your favourite sports without distractions, and Direct Full Array for the same image quality day and night. This is stated to deliver three to four times the brightness of a TU8000 Samsung TV. 
Models available include:
The Terrace (QA55LST7TAWXXY) 55-inch: $5,999 RRP*
The Terrace (QA65LST7TAWXXY) 65-inch: $7,999 RRP*
The Terrace (QA75LST7TAWXXY) 75-inch: $10,999 RRP*
The Frame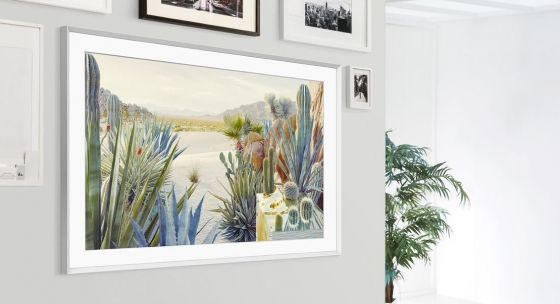 Samsung has added a new The Frame model to its range of Lifestyle TVs. It features a slimmer profile and new bezel options (in white and brick red) and more artworks have been added to The Art Store, which now has over 1,400 pieces from world-renowned galleries.
Models available include:
The Frame (QA32LS03TBWXXY) 32-inch: $919 RRP*
The Frame (QA43LS03AAWXXY) 43-inch: $1,629 RRP*
The Frame (QA50LS03AAWXXY) 50-inch: $1,979 RRP*
The Frame (QA55LS03AAWXXY) 55-inch: $2,329 RRP*
The Frame (QA65LS03AAWXXY) 65-inch: $2,899 RRP*
The Frame (QA75LS03AAWXXY) 75-inch: $4,079 RRP*
Samsung's 2021 TV range will be available in Australia from Friday 5 March, via various retailers.

*Prices sourced from retailer, correct as of March 2021.
Picture credits: Samsung Australia.