2011 – Hardware Stores Ratings
Posted by Canstar Blue November 15th 2011
You are viewing the archived 2011 ratings for hardware stores. Go to the current hardware store ratings
Show Important Notes^*
Hide Important Notes^*
* Overall satisfaction is an individual rating and not a combined total of all ratings. Brands with equal overall satisfaction ratings are listed in alphabetical order.
Canstar Blue research finalised in 2011, published in 2011.
Aussies suffer 'renovator's regret' over home projects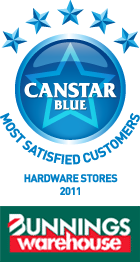 While many Australians claim they're handy at home, nearly one in five Australians admitted in our latest survey that they regret their renovation attempts at home.
But the headache may be worth it for a cheaper price – as only 12% said they spent more money on attempted renovations than they would have if they had hired professional help.
Australians may think they're ready to tackle trickier jobs, but one of our previous surveys showed that even basic hands-on tasks like assembling flat pack furniture can prove difficult for the average Aussie.
But despite any frustrations that customers might have, the Australian DIY market is still expected to grow more than 22.5% in the next five years, according to business research firm IBIS World.
There are plenty of hardware brands across Australia ready to meet this demand – chief among them is the recipient of our most satisfied customers award for hardware stores: Bunnings.
The well-known hardware store/warehouse chain was rated alongside Home Hardware, Thrifty Link and Mitre 10.
Not to be overshadowed by other brands, Thrifty Link was a knockout victor for service and advice. However, Bunnings stood out more than any other brand with five star wins for overall satisfaction, value, range of brands and range of products.Despite the clout of these big brands though, 42% of Aussies said they would prefer to support locally owned hardware stores over chains. This devotion was more pronounced in South Australia, with 52% of respondents favouring local brands over the larger franchises.
Canstar Blue commissions Colmar Brunton to survey 2,500 Australian consumers across a range of categories every few months to measure and track customer satisfaction. The outcomes reported are the results from hardware store customers within the survey group – in this case, 2,089 people. To qualify, the customer must have made a purchase from a hardware store in the last 12 months. Brands must receive at least 30 responses to be included.
Results are comparative and it should be noted that brands that received three stars have still achieved a satisfaction measure of at least six out of 10.
Overall satisfaction
Bunnings knows the tools of their trade well – and received five stars for overall customer satisfaction. However, any Aussies who fancy a challenge at home could also venture to one of our four star winners: Mitre 10, Home Hardware or Thrifty Link.
Value for money
Bunnings customers are more satisfied with their store's value for money than any other brand – an important consideration given that renovations can quickly become expensive. Home Hardware and Thrifty Link came next with four stars each while Mitre 10 received three.
Service and advice
It's important to get the best advice available when you plan to break out a nail guns and chainsaws. Thrifty Link was ahead of the pack with a five star victory for their service and advice. Both Home Hardware and Mitre 10 also fared well with four stars each, while Bunnings received three for this criteria.
Range of brands
Bunnings is ahead once more for their range of brands – winning five stars for brand range. Home Hardware and Mitre 10 both received four stars, while Thrifty Link received three.
Range of products
The right tools and materials can mean the success of some projects – or spell the failure of others. Head down to Bunnings for a five star range of products – while Home Hardware and Mitre 10 received four stars each, and Thrifty Link received three stars.