Haymes Paint still brushes up best in paint ratings
Anyone who has ever spent hours painting their home knows the feeling of satisfaction that comes when you finally get to put down that brush and take off your overalls. Sure, you could pay someone else to decorate your home for you, but where's the fun in that? A spot of DIY on the weekend is just the ticket, provided of course that you're not let down by your tools.
On paying a visit to the hardware store, you'll probably be surprised at the sheer array of paints available. Wading through the decision-making process can prove quite daunting, but luckily, we've canvassed the opinions of more than 1,000 Australians who have been in this exact position, to help you along the way. We asked them about the paint they most recently used, to get their feedback on a range of crucial factors, such as its quality, durability, and how easy it is to use. The idea is to give you as much information as possible about the paint brands on offer, so you know which are worth getting stuck into for your next big DIY job.
The results are in and Australian icon Haymes Paint has again taken the top spot for the third year in a row, achieving five stars for overall customer satisfaction. Top marks were also awarded for durability, value for money, quality of finish and range.
Best House Paint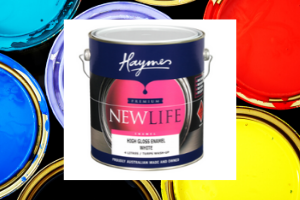 Here are the best brands for house paint in Australia, as rated by consumers in Canstar Blue's latest review:
Haymes Paint
Wattyl
Dulux
British Paints
Taubmans
Haymes Paint topped our house paint ratings for the third year in a row, after scoring five-star reviews for quality of finish, durability, range variety, value for money and overall satisfaction.
Notably, runner-up Wattyl managed to beat our rating's winner on ease of application and also received full marks for durability, along with Dulux. Both brands were rated four stars for overall customer satisfaction, alongside British Paints. Taubmans rounded out the results with a moderate three-star rating for overall satisfaction.
Paint Brands Compared
Haymes Paint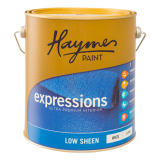 Established way back in 1935, Haymes has been brushing up Australians on their paint game for more than 80 years. It offers a range of products from interior to exterior paints, plus an artisan collection. The Haymes website has a colour library, so you can match the perfect colour to the type of mood you want to project in your home. Haymes paint is not available in the big hardware chains, instead selling through some independent retailers.
Haymes Paint was rated best for quality of finish, durability, range variety, value for money and overall satisfaction.
Wattyl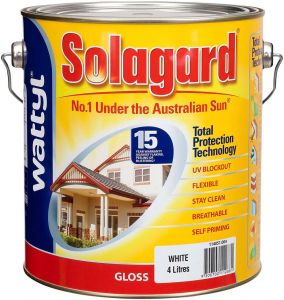 Wattyl claims to be an Aussie icon since 1915, operating both here and over in New Zealand. If you're interested in following the latest colour trends, you will need to check out the Wattyl website. Its trend insights report is certainly an eye-opener and may offer some inspiration for your next job. The website also provides a virtual planner where you can upload images of your own home and explore the colour options. Perhaps its most famous range is the 'Solagard' range, suited for harsh Aussie climates.
Wattyl got five stars for ease of application and durability, and four stars in the remaining categories, including overall satisfaction.
Dulux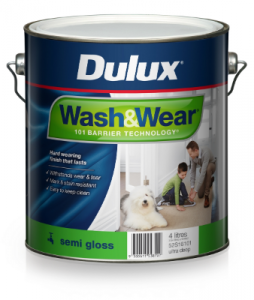 Dulux is world famous and provides a vast range of interior and exterior products, plus lots of helpful online tools and services to help you get the paint job done with maximum efficiency. One of the most impressive things about Dulux is its 'paint calculator', which helps take the guess work out of trying to decide how much paint you need. You can also call on the advice of Dulux's design team to help pick the right colours for your project. Dulux is a brand available pretty much everywhere paint is sold, making it a fairly convenient purchase.
Dulux got five stars for range variety and four stars in the majority of categories, except value for money, where it landed on three stars.
British Paints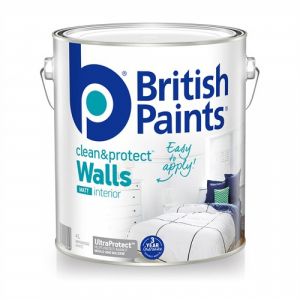 British Paints has been operating in Australia for more than 80 years and is currently sold exclusively at Bunnings. However, before you head in-store, be sure to check out the useful tools on the British Paints website, including its 'Colouriser' feature that allows you to visualise what certain colours could look like in various rooms. It also offers inspiration on different colour schemes, plus you can give them a call for further advice and recommendations.
British Paints received four stars for overall satisfaction this year, and three stars everywhere else.
Taubmans

The Taubmans website is a fantastic resource for planning out your next big paint job. Its 'paint planner' literally walks you through the whole process, providing a plan of when to start moving furniture, plus how long the job should take, as well as recommending types of paint and where you can buy them. You will also find helpful tips on how to pick the right colour for your room, as well as a paint calculator and DIY videos.
Taubmans rounded out the results with four stars for quality of finish, range variety and ease of application. It finished on three stars overall.
Other Paint Brands
You might also like to consider other brands that have previously featured in our ratings, including:
Berger
Berger's motto is 'keep on keeping on', which is an apt motto for painting your house. Berger offers an 'inspiration' corner on its website, plus in-depth DIY videos. Berger offers three ranges of paint labelled 'Berger', 'Berger Jet Dry' and 'Colorbond' – the latter of which matches your paint to Colorbond's colours for roofs, fences or gutters.
Solver
Solver Paints has over a century of painting experience under its belt. These days, face-to-face service is the main selling point for Solver, which still operates its own physical stores across Australia. However, Solver also delivers a range of online tools to help you plan your paint job, including its Colour Designer, which allows you to browse through more than 1,300 colour options.
What to look for in house paint
So, what is it that consumers look for when they buy house paint? Our research identified the following main drivers of customer satisfaction once the job is done:
Quality of finish: 41%
Durability: 25%
Value for money: 20%
Range/variety: 10%
Ease of application: 5%
Quality of finish is first and foremost when it comes to paint, followed by durability. It's interesting to see 'value for money' being the third driver, which might suggest Aussies don't mind paying a good price for paint, as long as they get quality results. On average, consumers spent $231 on their most recent purchase of paint. Most brands give you the opportunity to 'try before you buy' with small samples, which is a great way of finding the right products for your needs before you purchase it.
Painting your home can be hard work, but it can also be enjoyable, with the quality of paint you use likely playing a key role. Enjoy your next DIY adventure!
About the author of this page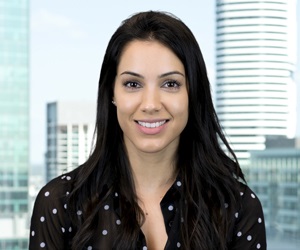 This report was written by Canstar Blue's Home & Lifestyle Content Lead, Megan Birot. She's an expert on household appliances, health & beauty products, as well as all things grocery and shopping. When she's not writing up our research-based ratings reports, Megan spends her time helping consumers make better purchase decisions, whether it's at the supermarket, other retailers, or online, highlighting the best deals and flagging anything you need to be aware of.
Picture credits: unguryanu/shutterstock.com