ALDI Logix outshines the rest in dishwasher detergent ratings
Relaxing as the dishwasher takes care of stubborn stains can be a simple pleasure for many households, until you realise that your dishwasher – or the detergent – isn't doing the job. While not an area that many of us can claim that we've given much thought to, which dishwasher detergent you use for your dishes and cutlery can be a bigger decision than you think, especially if you still find food caked on your plates after a washing cycle.
But which brand can you trust to give you that sparkling finish time and time again? You could try every product in the supermarket cleaning aisles and decide for yourself, or you could take some guidance from our latest customer ratings. Each year, we ask more than 1,000 Australian adults to give us their views on the dishwasher detergent they most recently bought and used, with brands compared on factors including their effectiveness, how good the final results are, value for money, and overall satisfaction. Keep these results in mind the next time you hit the supermarket and you'll be well-placed to make a better-informed purchase decision.
In this year's review, ALDI Logix took out the top spot. Considering 71% of survey respondents have used more than one type of detergent to find one that works best, it could pay to look into all of your options when you're next at the supermarket. Or maybe you'll want to try another supermarket instead!
Best-Rated Dishwasher Detergents
Canstar Blue's 2019 review of dishwasher detergents saw eight brands compared, rated in the following order for overall customer satisfaction:
1st ALDI Logix
2nd Earth Choice
3rd Fairy
4th Shine
5th Finish
6th Coles Ultra
7th Morning Fresh
8th Coles
Earth Choice, Fairy, Shine, Finish, Coles Ultra and Morning Fresh all rated four stars for overall satisfaction, with Coles the only brand to be rated three stars overall. While ALDI Logix took out the top spot in multiple categories, there were a number of brands that also scored top ratings in specific areas, meaning there's plenty of competition for shoppers looking for the perfect clean.
With 55% of survey respondents sticking to the same brand, and 42% tending to just choose the cheapest detergent or whichever one is on special at the supermarket, maybe it's time to try something different, especially if you're not entirely satisfied with the products you currently use? Read on for a guide to the eight brands in our latest review, with a summary of what they have to offer.
Dishwasher Detergents
ALDI Logix
ALDI has become an increasingly popular option for many shoppers, with the supermarket chain offering a comprehensive range of home cleaning products, including dishwasher detergents.
Coming in 30, 40 and 60 tablet packets, 'Logix' is available in Complete and Platinum varieties, with both featuring a dissolvable wrapper, a phosphate-free formula, and a lemon fragrance. The Platinum 18-in-1 action is additionally said to deliver active enzymes and use oxygen to breakdown tough stains and ensure you're left with shiny dishes, ready for your next dinner party.
Rated five stars for its final result, effectiveness, ease of use and the only five-star review for both value for money and overall satisfaction, ALDI Logix was also rated four stars for environmental friendliness and scent.
Earth Choice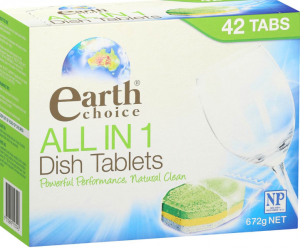 Owned by Nature's Organics, Earth Choice has graced Aussie supermarket shelves for many years, offering consumers an environmentally-friendly alternative for their household chores. For the dishwasher, Earth Choice boasts a number of options, including tablets and powders. If you're after a tablet, Earth Choice offers two varieties, the All-In-1 tablet, or the newly patented Stream Tab – both of which are available in 42 tablet packages, along with smaller packs available at your local supermarket.
The All-In-1 42 tablet pack will set you back around $16 at the major supermarkets, while the new Stream Tab will typically cost you a bit more. But with the extra price, Earth Choice claims to provide a plant and mineral based formula for your dishes, with a dissolvable wrapper for more convenient use. If you prefer powders over tablets, Earth Choice offers Lemon Fresh Dishwasher Powder, available in a 1kg recyclable bottle. Grey water and septic safe, Earth Choice's powder is stated to be made from plant-based products, and can usually be picked up for under $10.
The only brand to score five stars for environmental friendliness, Earth Choice was also rated five stars for scent, with four stars in all remaining categories, including effectiveness, final result and overall satisfaction.
Fairy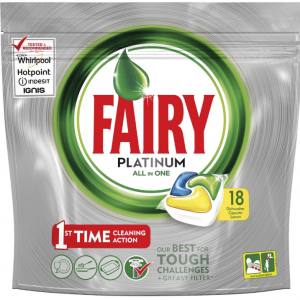 Originating in England back in the 1950s, Fairy has long been a titan of the detergent industry, being sold worldwide in a variety of types and scents. In Australia, Fairy detergent is available in both a liquid and tablet form, with the latter type available for purchase from 18 capsule packs up to 67 capsule packages. Retailing for between $10 and $30 depending on which supermarket you visit, Fairy offers various tablet varieties, including Lemon scented, Platinum tablets and All-In-One tablets.
Fairy's detergent also includes glass and silver protection, along with built-in salt and rinse aid to ensure that dried-on grease doesn't stick around, with the lemon scent also stated to leave your dishes and your dishwasher smelling fresh.
Rated five stars for its final result, effectiveness, ease of use and scent, Fairy scored four stars for environmental friendliness and overall satisfaction, along with three stars for value for money.
Shine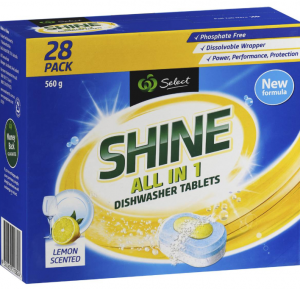 Costing under $5 for a 28-tablet pack, Woolworths Select, now operating as Shine, may be a handy option for those on a tight budget, as well as those loyal to the Woolies brand. The All-In-1 tablet contains a self-dissolving wrapper, as well as built-in salt and rinse aid for a deeper clean.
With active enzymes and active oxygen technology to help break down all that tough food residue, Shine detergent is also stated to prevent limescale, helping to keep your dishwasher working effectively.
Despite a three-star rating for scent, Shine scored four stars for all remaining categories, including environmental friendliness, value for money, final result and overall satisfaction.
Finish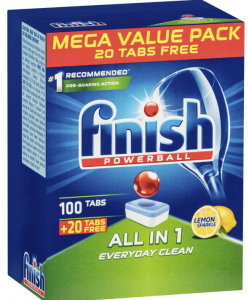 Established back in 1953, Finish has long been a go-to name for many families, with the brand available in supermarkets all over the world. In the detergent range, Finish has a wide range of tablets, in addition to powder for all your cleaning needs. The 'Quantum' series is Finish's top of the line tablet range, offering an advanced powder with bleach to take on those tough stains. Available in Regular, Lemon Scented, and with Baking Soda for an extra deep clean, the Quantum detergent generally retails for $10 for a 16-tablet pack.
If you're after a cheaper tablet option, Finish also has the Max-in-One tablet (known as the Powerball), with a 27-tablet pack available for $17, and a 94-tablet pack retailing for around $35, depending on your local supermarket of choice. The Powerball range is arguably Finish's flagship product, available in Fresh Scent and Ultra-degreaser with Lemon Scent. Finish also offers Gelpacs and powders for those not keen on the tablets.
Finish was rated five stars for final result, effectiveness and ease of use, with four stars for scent, environmental friendliness and overall satisfaction, with three stars on value for money.
Coles Ultra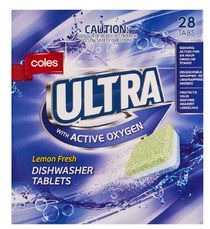 Available in powder and tablet forms, Coles Ultra costs more than Coles-branded detergent, with a 1kg bottle typically setting you back around $4, while a 30-pack tablet box will cost $5. Coles Ultra powder features a Lemon scent, along with a dual enzyme formula to tackle tough stains while protecting glass and delicates.
The tablets – available in both 6-in-1 and 'Active Oxygen' varieties – contain a phosphate free formula, with dissolvable wrappers for easier use. In addition, Coles Ultra also offers protection against limescale, stated to help save on maintenance costs in the long run.
Rated four stars in most categories, including ease of use, effectiveness and overall satisfaction, Coles Ultra was also rated three stars for scent.
Morning Fresh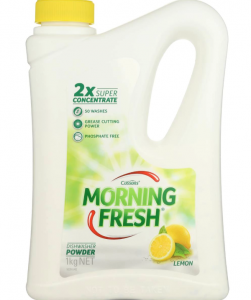 Operating in Australia for over 30 years, Morning Fresh offers shoppers both gel and powder detergents for their dishwashers, with both products featuring a glass-friendly formula that targets food scraps and grease.
Morning Fresh's powder comes in a 1kg bottle, which will reportedly take care of up to 50 washes per pack. The powder is also biodegradable and dermatologically tested, apparently making it ideal for those with sensitive skin. The Gel comes in a 450ml packet, which will able to get you through up to 18 washes per pack, but also includes a built-in rinse aid to ensure no residue is left behind at the end of the wash.
Earning four stars for its final results, effectiveness, environmental friendliness and ease of use, Morning Fresh was rated three stars for value for money, but secured joint top spot for scent.
Coles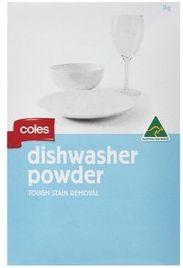 One of the cheapest detergents available, Coles Dishwasher Powder will usually cost $2 for a 1kg packet, potentially making it a worthwhile purchase for customers on a tight budget.
While it may not offer a lot when it comes to range, Coles still has you covered for most home cleaning categories, which should still do the job reasonably well.
Rounding out the results, Coles was rated three stars for all categories, including value for money, final result and overall satisfaction.
Which dishwasher detergent should I buy?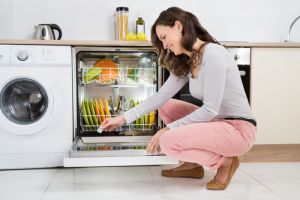 While they all claim to do the same thing when placed in the dishwasher, which detergent you use can potentially be the difference between getting out the good plates, or using plastic ones. As a result, it's best to look into all of the options available at your local supermarket, as which one you end up scanning through the checkout will come down to personal preferences, whether it's based on cleaning ability, environmental impact or even your budget.
Regardless if you're a veteran when it comes to cleaning up after dinner time, or it's your first time living out of home and you're only just figuring out the dishwasher, if you're detergent isn't doing the job, it might be best to start afresh.
About the author of this page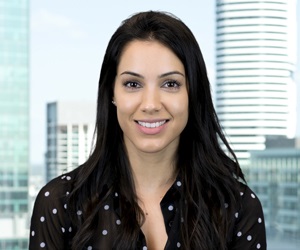 This report was written by Canstar Blue's Home & Lifestyle Content Lead, Megan Birot. She's an expert on household appliances, health & beauty products, as well as all things grocery and shopping. When she's not writing up our research-based ratings reports, Megan spends her time helping consumers make better purchase decisions, whether it's at the supermarket, other retailers, or online, highlighting the best deals and flagging anything you need to be aware of.
Photo Credit: Andrey_Popov/shutterstock.com