Fact Checked
ALDI Logix serves up a clean win in dishwasher detergents ratings for 2nd year
Sitting back as the dishwasher takes care of stubborn stains can be a simple pleasure for many households until you realise that your dishwasher – or the detergent – isn't doing the job. The last thing we want to be doing is using up more water, detergent and elbow grease to scratch off a piece of food that has hardened to the plate.
This year, we've asked more than 1,500 Aussies for their thoughts on the dishwasher detergent(s) they've purchased and used in the last six months. Brands were rated on their effectiveness, final result (cleanliness of dishes), scent, range variety, ease of use, environmental friendliness, value for money and overall satisfaction. Brands that met the minimum required survey sample size of 30 responses are featured in our results.
Supermarket ALDI sparkled with its Logix range for the second year in a row, dishing out five-star reviews in several research categories ─ including overall satisfaction.
Best Dishwasher Detergents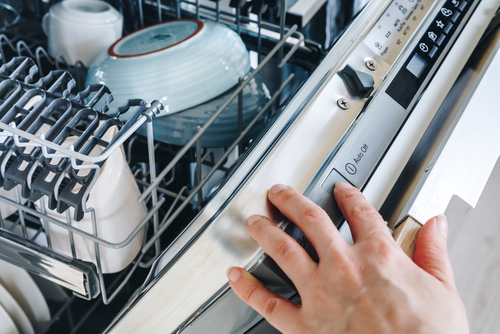 Here are the best dishwasher detergents in Australia, as rated by consumers in Canstar Blue's annual review:
ALDI Logix
Fairy
Finish
Morning Fresh
Earth Choice
Shine
Coles Ultra
ALDI's Logix became a repeat winner in our latest consumer survey, landing its second win as best-rated dishwasher detergent with five-star reviews for final result, ease of use, value for money, and overall satisfaction.
Fairy and Finish also impressed shoppers in terms of final result, each achieving full marks. Fairy additionally got five stars for effectiveness, as did Morning Fresh for scent and variety. Earth Choice still remains the top brand for environmental friendliness, rating best with the sole five-star review.
Top Dishwasher Detergents
ALDI Logix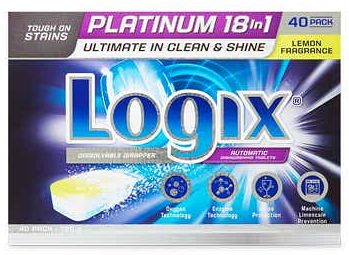 ALDI has become an increasingly popular option for many shoppers, with the supermarket chain offering a comprehensive range of home cleaning products like stain remover, fabric softener and dishwasher detergents.
Coming in 30, 40 and 60-tablet packets, Logix is available in Complete and Platinum varieties, with both featuring a dissolvable wrapper, a phosphate-free formula, and a lemon fragrance. The Platinum 18-in-1 action is additionally said to deliver active enzymes and use oxygen to break down tough stains and ensure you're left with shiny dishes, ready for your next dinner party.
ALDI stayed on top with five-star reviews for final result, ease of use, value for money, and overall satisfaction. It got four stars for effectiveness, scent, and environmental friendliness, plus three stars for variety.
Fairy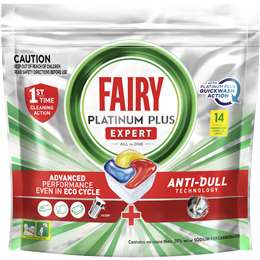 Originating in England back in the 1950s, Fairy has long been a titan of the detergent industry, being sold worldwide in a variety of types and scents. In Australia, Fairy detergent is available in both a liquid and tablet form, with the latter type available for purchase in packs of 14 and in larger 64-capsule packs. Retailing for between $5 and $37 depending on which supermarket you visit, Fairy offers various tablet varieties, including lemon-scented, platinum tablets and all-in-one tablets.
Fairy rated best with five stars for effectiveness, before scoring another set of full marks for final result. It received four stars in most other areas, including environmental friendliness, scent, variety, ease of use, and overall satisfaction. It got three stars for value for money.
Finish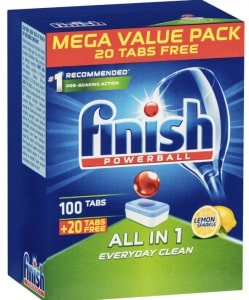 Established back in 1953, Finish has long been a go-to name for many families. Its detergent range, lists a wide range of tablets, in addition to powder for all your cleaning needs. The Quantum Ultimate series is Finish's top-of-the-line tablet range, promising advanced powder with bleach to take on those tough stains. Finish also offers its Powerball line-up with wrapper-free dishwasher tablets in each pack. Finish's dishwasher cleaners also come in gel, liquid, rinse aid and powder varieties. Any of these can cost $7 to $36, depending on what you get, and are typically available in the lemon scent.
Finish scored five stars for final result and four stars for effectiveness, variety, scent, ease of use, variety and overall satisfaction. It scored three stars for environmental friendliness and value for money.
Morning Fresh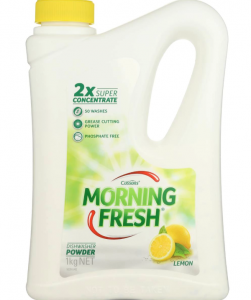 Operating in Australia for more than 30 years, Morning Fresh offers shoppers dishwashing detergents in gel, powder and rinse aid varieties. Its powders are described as super concentrated to help remove stubborn stains, while its gel range is said to contain rinse aid to quickly cut through grease.
Morning Fresh gel and rinse aid generally come in 450ml bottles (or 18 washes for gel products), and there's also a 1kg box of Morning Fresh powder (equivalent to 50 washes). The powder is said to come in biodegradable packaging and features a rinse aid to avoid leaving residue. Morning Fresh products usually cost $5 to $36 at the supermarket.
Consumers rated Morning Fresh best for variety and scent, with the brand earning five-star reviews for both categories. It landed four stars for final result, effectiveness, environmental friendliness, and overall satisfaction, before ending on three stars for ease of use and value for money.
Earth Choice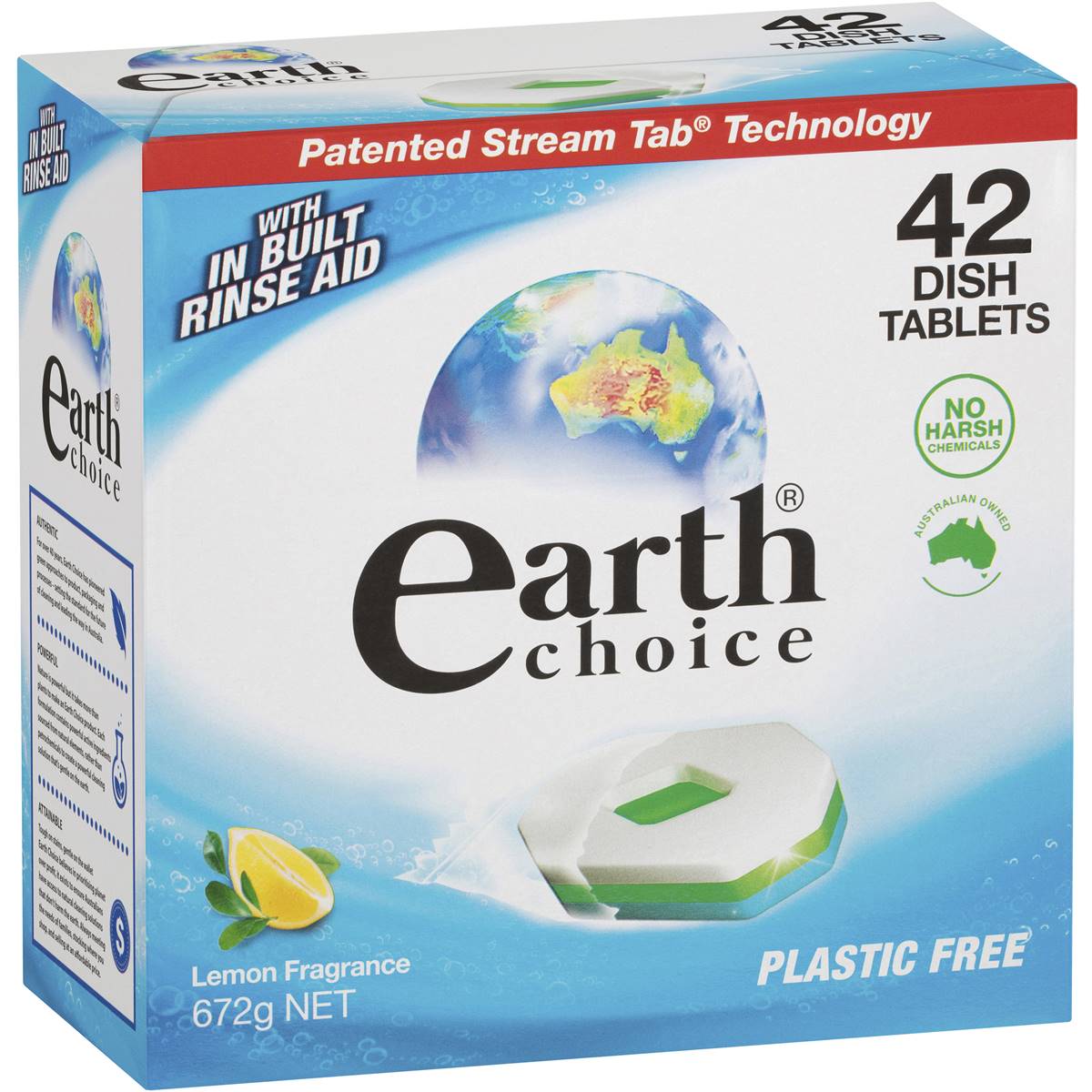 Owned by Nature's Organics, Earth Choice has graced Aussie supermarket shelves for many years, offering consumers an environmentally-friendly alternative for their household chores. For the dishwasher, Earth Choice boasts a number of liquids and tablets. If you're after a tablet, Earth Choice offers a 42-pack of plastic-free dish tablets with in-built rinse aid. There are also plenty of dishwashing liquid options to choose from, available in scents including Green Tea & Lime, Red Apple and Lemon Burst. These are generally sold in 500ml or 900ml bottles.
Earth Choice products are claimed to be greywater and septic-safe, and made from plant-based products.
Earth Choice finished number one in terms of environmental friendliness, achieving a five-star review. It scored four stars for final result, variety, scent and overall satisfaction, and three stars for ease of use, effectiveness and value for money.
Shine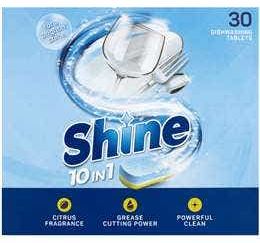 Costing under $5 for a 30-tablet pack, Woolworths Select, now operating as Shine, may be a handy option for those on a tight budget, as well as those loyal to the Woolies brand. The 10-in-1 tablets contain a self-dissolving wrapper and built-in rinse aid. They're stated to provide a streak-free shine, prevent limescale and are safe to use on glass. The supermarket brand additionally has the Shine Pro 18-in-1 dishwashing pods, which can be used to pre-soak dishes and remove odours.
Shine received four stars for value for money and overall satisfaction, before scoring three stars everywhere else including final result, effectiveness, variety, scent, environmental friendliness and ease of use.
Coles Ultra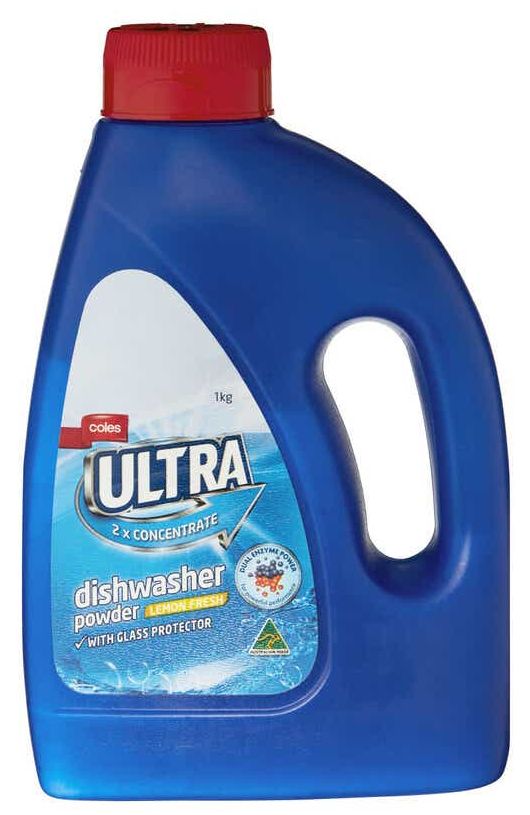 Coles is another budget-friendly alternative to check out, offering a mixed bag of dishwashing liquids, powders, tablets and gels. For dishwasher tablets, the Coles Ultra Advanced Dishwasher Tablets are said to minimise limescale build-up as well as neutralise odours and leave a streak-free shine. Otherwise, you can grab a 1kg box of its dishwasher powder or a smaller 250ml bottle of rinse aid or liquid dishwasher cleaner. Prices for dishwashing products from Coles' private label start from $1.50 and go up to $6.
Coles Ultra maintained three stars across the board – namely for final result, effectiveness, ease of use, variety, scent, environmental friendliness, value for money and overall satisfaction.
Which dishwasher detergent should I buy?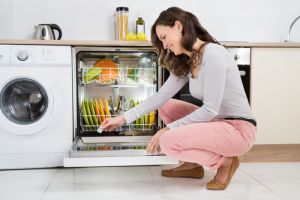 If you're feeling a little lost in your search for the best dishwasher detergent, it's worth thinking about what you need. One in five consumers we surveyed (20%) typically opt for whichever is cheapest, while a similar portion of people buy the largest packet available (23%). Alternatively, a third (33%) simply opt for the same brand because they've found one that works well.
When it comes to unpacking our cleaning habits, our survey revealed one in three Aussies (33%) regularly use a dishwasher cleaner, with 42% making sure to rinse their dishes before placing them inside. Some prefer to use tablets instead of powder detergents for convenience (35%). A small number of respondents even admit to chucking in items that are not dishwasher safe (7%), while 34% of consumers surveyed always use the same settings regardless of what they're cleaning.
But of course, it's always good to look at a variety of options available at your local supermarket. What you ultimately end up choosing will come down to personal preferences, whether it's based on effectiveness, environmental impact or your budget. Keep these results in mind for the next time you hit the supermarket and you'll be well-placed to make a better-informed purchase decision.
About the author of this page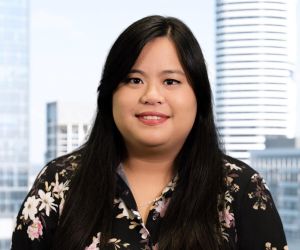 This report was written by Canstar Blue's home & lifestyle journalist, Tahnee-Jae Lopez-Vito. She's an expert on household appliances, grooming products and all things grocery and shopping. In addition to translating our expert research into consumer-friendly ratings reports, Tahnee spends her time helping consumers make better-informed purchase decisions on all manner of consumer goods and services, while highlighting the best deals and anything you need to be aware of.
Photo Credit: Ekaterina Kondratova / Shutterstock.com, Andrey_Popov/shutterstock.com