Purr-fect result for Purina in first cat food ratings
Feeding the cat seems easy – just buy some kibble and pour it in a bowl every morning. But how do you know which cat food is the right one? Every brand claims to offer the best and tastiest pet nutrition, yet the price points vary incredibly. Surely they can't all be absolutely amazing; otherwise humans would be eating it.
Are you paying too much? Are you providing the best nutrition to your precious kitty? Does your cat actually like the food or are they just eating it to spare your feelings? These are the questions you should ask yourself rather than just giving up and picking out the packet with the happiest looking cat on it. Cats can't speak to tell you what they need, so it requires more effort on your part – and ideally personalised advice from your vet.
To give you a helping paw, Canstar Blue has surveyed hundreds of Aussie pet owners and asked them, as well as their four-legged friends, to rate the cat food they have most recently purchased. Five big brands received the minimum sample size to be included in our inaugural cat food review, but just one took out the top spot – Purina. Scoring five stars for value for money, variety and overall satisfaction, it also rated four stars on pet enjoyment and packaging.
Best-Rated Cat Food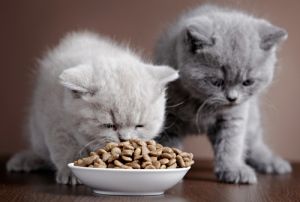 Canstar Blue's cat food review saw five major brands compared and rated in the following order for overall satisfaction:
1st Purina
2nd Hill's Pet Nutrition
3rd Royal Canin
4th Whiskas
5th Dine
Hill's Pet Nutrition and Royal Canin got four stars for overall satisfaction, while Whiskas and Dine were left on three stars apiece. Other results of note include Hill's Pet Nutrition being the only brand to get five stars for pet enjoyment. Both Royal Canin and Dine got top marks on packaging, while Whiskas got a five-star review on value for money, alongside this year's winner.
Read on for an overview of some of the major pet food brands available in Australia, before going into further detail about how to choose the right food for your cat amongst the staggeringly huge range of options.
Cat Food Brands in Australia
It would be an extremely long article to list every single cat food product available across Australia – so we've kept the list confined to the most prominent and widely available brands. Exclusion from this list doesn't necessarily mean it's a sub-par product – it's just not as popular or well-known. Many cat food brands are also produced by the same company, so we've mentioned the parent company for those.
Purina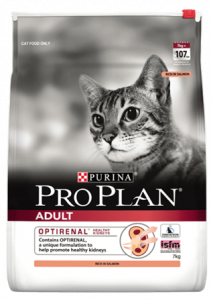 One of the biggest players in the pet food market, Purina manufactures a number of different pet food brands. Below are the cat food brands manufactured by Purina:
Pro Plan is marketed as a 'Super Premium' cat food that's designed to support cats' immune, digestive and renal systems, plus their coats. Apart from the basic kitten, adult and senior cat foods, Pro Plan also includes foods specifically designed for weight loss, indoor cats, sensitive stomachs, healthy skin and coat, kidney protection, and urinary tract health. The range covers both dry and tinned food. It can be purchased from veterinary practices and pet retail stores.
Purina One is a more affordable brand that is still claimed to provide high-quality health benefits to your cat. The range is restricted to solely products for adult cats, with two regular adult varieties, one for urinary tract health, one for hairball prevention, and one for indoor cats. It's available in many supermarkets as well as pet retail stores and other specialist retailers.
Fancy Feast is a range of mostly wet food products, in tins and sachets. As suggested by the name, Fancy Feast is a more 'gourmet' selection with prices to match. Fancy Feast meals include pate, giblets, fish pieces and meat slices dressed in gravy or broth. The range can be found in supermarkets and pet retail stores.
Felix has more 'fun' focussed marketing, as a more affordable brand of wet food and cat treats. All products come in sachets, with a choice of 'Sensations Sauces' (meat or fish pieces paired with different flavoured sauces), 'Sensations Jellies' (meat-filled flavoured jelly pieces) and 'As Good As It Looks' (meat or fish chunks in jelly). Felix also offers different resealable packs of bite-sized cat treats. Felix products can be purchased at supermarkets and pet retail stores.
Friskies is among the most affordable cat food brands on supermarket shelves, in both the dry and wet cat food sections. Dry food products include specialised kitten and senior options, with a range of flavours in the adult range.
Purina was a solid performer in our inaugural cat food review, achieving five stars for overall customer satisfaction, value for money and variety, which makes sense given its extensive range. It also received four stars for all other categories.
Hill's Pet Nutrition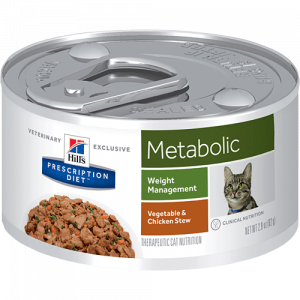 Founded by a vet in New Jersey, USA, to help provide better nutrition to guide dogs suffering from severe kidney problems, Hill's Pet Nutrition is now is a major producer of specialised pet food for those suffering from injury or ailment. Hill's started with its Prescription Diet product line, followed by the Science Diet brand.
Hills Prescription Diet foods are targeted towards cats managing or recovering from chronic or severe health issues, or recovering from surgery or other medical intervention. A few examples of these specialisations include urinary tract care, thyroid care, weight loss, joint care and weight reduction. Each is available in a choice of dry or canned food.
Hills Science Diet uses the same principles behind the Hills Prescription Diet but for broader consumption for the everyday cat. It covers the expected range of cat foods, for various life stages, hairball prevention, dental health, sensitive stomachs, indoor cats, and weight management. Again, Science Diet covers both dry and canned foods.
Hill's Pet Nutrition was a bit of a mixed bag this year, with four stars for overall satisfaction and variety, five stars for pet enjoyment, but just three stars on value for money and packaging.
Royal Canin
While it's best known for its chocolate (which is definitely not appropriate cat food), international corporation Mars also owns a huge range of pet food brands, including Royal Canin. Royal Canin is a veterinarian-founded company originating from France. It's an industry leader, being the first in a number of pet food specialisations.
Cat kibble covers the full range you would expect from a major cat food brand – kittens, adults, and seniors, as well as different kinds of cats – those with sensitive digestion, active cats, outdoor cats, sleepy indoor cats, and fussy cats. There are even a number of breed-specific formulas.
In the wet food department, the range covers pouches of mousse or chunks in jelly or gravy, with different varieties for specific nutritional requirements. The specialised Royal Canin Feline Care dry foods are designed to help address and manage specific health issues – hair & skin care, hairball care, light weight care and urinary care.
Royal Canin took out top marks on packaging but just three stars on value for money. It got four stars in all other areas, including overall satisfaction.
Whiskas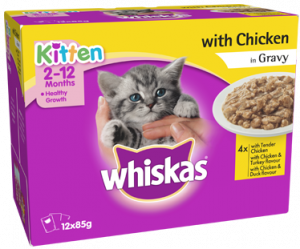 Also owned by Mars Petcare, Whiskas is a household name thanks to its affordable offerings for the family cat. Its packaging has a recognisable purple colour with a silhouette of a cat's head. The range caters to kittens, adults, and senior cats, plus it has a Milk Plus Lactose Free range as a supplement for cats with sensitive stomachs.
Whiskas offers cat food as meat-like pieces in cans, pouches or dry biscuits. There's quite a variety of flavours in the line-up, so expect your standard beef casserole and chicken loaf as well as sardine with prawn or chicken with rabbit.
The Whiskas bagged dry food range includes a few different flavours plus specialised mixes for hairball prevention and for indoor cats. Wet food covers meal sachets of meats with sauces, gravies, and jellies, sold as three-packs or boxes of twelve. There's also a range of canned loaf, casserole, mince and jelly-based meals.
Whiskas received five stars on value for money, four stars on variety and packaging, but just three stars for pet enjoyment and overall satisfaction.
Dine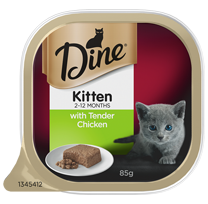 Yet another brand under the Mars Petcare umbrella, Dine serves self-described premium food for cats, with fine dining wet food coming in cans, trays and pouches, as well as some dry foods. The wide variety of "gourmet" tastes and textures are available for both kittens and full-grown cats.
The menu encompasses all kinds of cuts, slices, morsels and flakes served in gravy, jelly or sauce. There are also soups and mousses. Flavours include turkey, lamb, chicken, tuna, salmon and ocean fish just to name a few. It's a quite diverse menu so your cat won't get bored.
The Dine Desire range is said to be made with Australian meat while its Perfect Portions varieties are offered in a single serve to leave zero wastage, according to the company. In addition, it offers creamy treats in three different flavours as a one-off treat for your furry pal.
Despite scoring top marks on packaging, Dine was rated just three stars for overall satisfaction, pet enjoyment and variety, with four stars on value for money.
Other Cat Food Brands
Aside from the brands featured above, there are still a few others you may like to consider that have not made it into this year's ratings.
Advance Pet Nutrition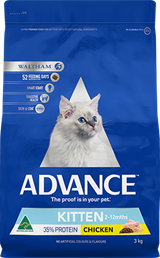 Owned by Mars Petcare, Advance Pet Nutrition is apparently designed for Australian pets, with consideration to our climate and our typical lifestyles. The Advance cat food range covers both wet and dry varieties for premium pet food for kittens and adults, as well as specialised recipes for dental care, weight management, hairball prevention, and indoor cats. Wet food comes in easy-open single-serve trays (sold individually or in multi-packs), while dry comes in bags of varying sizes, up to 6kg so you can keep well stocked for a hungry kitty.
Applaws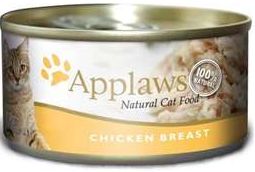 Taking a simplicity-focussed approach, Applaws cat food is grain-free and claims to use a minimum 50% animal protein in every product. Applaws cat food is also said to be free from artificial colours, flavours or preservatives, and promises to never use cheap and unnecessary fillers. The independent company produces a pretty diverse range of recipes, in single-serve tins, pots, and pouches, as well as dry food. The pots are ready-to-eat meals that save washing up kitty's bowl – just peel off the lid and it's ready to eat straight from the container. Recipes range from simple fish fillets and chicken breast pieces to mixed meats with vegetables or cheese, to meats served in broths and jellies.
Black Hawk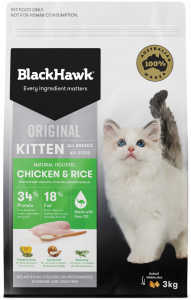 Started by a breeder to produce a pet food solution that uses only nutritionally beneficial ingredients, Black Hawk is part of the 'real food movement'. The brand was founded in Australia and is locally made without the use of wheat, corn, soy, gluten, artificial preservatives, colours, and flavours, or unnecessary fillers. Uniquely, Black Hawk contains emu oil which provides omega 3, 6 and 9. The brand is claimed to help pets become happier, healthier, and grow shinier coats. The product range covers only adult cat food. Black Hawk can be purchased from pet retail stores.
Coles
For a cat lover on a budget, Coles offers a wide range of choices while keeping grocery costs low. The range covers dry, tinned, and pouch cat food. The dry food range includes three different flavours, all available in 1kg boxes (as well as 4kg boxes for the Chicken & Salmon Flavour). Coles tinned varieties include three different 400g size tins. Finally, the 100g pouch packs are available individually in three different flavours, or as boxes of 12 each with three different flavours. There are four different variety packs, one each for 'meat', poultry, and fish.
IAMS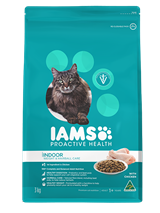 Owned by Mars, IAMS began based on founder Paul F. Iams' work with breeders and pet nutritionists to help improve nutrition and the quality of life of pets. His work and the work of his company led to new discoveries in the field of pet nutrition. Today, the product range for cats covers kittens, adults, and seniors, covering common cat health concerns such as hairball prevention and weight management. There are also a number of grain-free and grain-inclusive dinner tins to choose from.
Optimum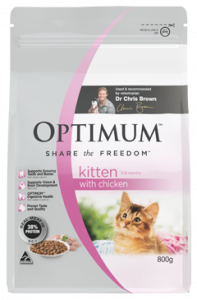 Optimum – owned by Mars Petcare and endorsed by celebrity vet Dr. Chris Brown – offers a simple range of six different dry foods – for kittens, adults, and seniors. You'll also find food formulated for preventing furballs and for oral care. For kittens it offers dry food with chicken while for adults it has the option of tuna, kangaroo or chicken flavours to choose from. These come in 800g bags and are claimed to provide additional vitamins and antioxidants to build your cat's immunity.
Woolworths Smitten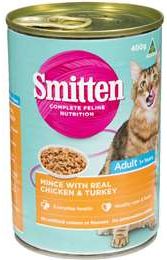 The supermarket's own brand cat food makes keeping your cat well fed much more affordable. The product range covers both dry and wet foods, with the latter coming in a range of tinned and pouch meals. All are formulated to meet the nutrition standards as defined by the Association of American Feed Control Officials (AAFCO) Cat Nutrient Profiles. Smitten dry food is available in 1kg boxes, with two different flavours for adult cats (Beef, Lamb & Vegetables and Sardine, Tuna & Prawn), and one flavour for kittens (Chicken & Tuna). 400g tinned food is available in six different recipes, including one kitten-specific dish. Meal pouches are available in a choice of two different recipes sold individually (100g) or as boxes of twelve.
Compare Pet Insurance with Canstar
What to consider when buying pet food
As well as finding out which cat food brands are highest rated, our research also identified the following drivers of customer satisfaction:
Value for money: 35%
Pet enjoyment: 34%
Variety/range: 18%
Packaging: 13%
Value for money was the most important factor for pet owners when it comes to buying cat food. With respondents spending an average of $67 per month, it can certainly add up. Despite the focus on value for money, our survey revealed that only 16% buy the cheapest brand of pet food, with 41% of Aussies always buying the same brand and 62% having tried multiple brands. It's important to keep in mind that some pets need dietary-specific food, with 9% of respondents attesting to this.
Is all cat food safe and healthy?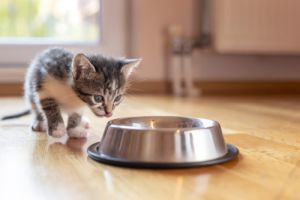 Not all cat food is the same – there can be a drastic difference between brands and their product lines. Unfortunately, it can be the case that cheaper is riskier as it may use cheaper, nutritionally deficit fillers or it may not be compliant with Australian standards. This can also happen at the top end of the price range, which is why it's so important to read the label.
The Australian pet food industry is largely self-regulated. In 2011, industry representatives, the RSPCA and various other relevant stakeholders developed the Australian Standard for the Manufacturing and Marketing of Pet Food (AS 5812-2011) which sets base standards for pet food nutrition, safety, and marketing. However, adherence to this standard is voluntary – check the packaging to see whether or not it states to be compliant with AS 5812-2011. Also, according to the RSPCA, the regulation of 'pet meat' products is seriously lacking.
One longstanding issue with pet food safety in Australia is the use of sulphur dioxide, sodium sulphite, and potassium sulphite as food preservatives. These can cause potentially fatal thiamine (Vitamin B1) deficiencies in cats and dogs. AS 5812 includes a requirement that any pet food product containing any of these preservatives must contain sufficient thiamine, to prevent a deficiency.
You may also be interested in:
How do I choose the best cat food?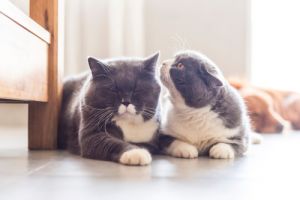 Cats have different dietary needs at different stages in their life – that's why you'll see different foods labelled for different kinds of cats.
Kittens are very active and need lots of energy to grow and strengthen their bones, teeth, and muscles. Kitten food is high in protein and fat.
Adult cats have lower energy needs than kittens. Excess body weight can lead to chronic health issues, much the same as with humans.
Senior cats are more sedentary as they spend their retirement relaxing. Senior cat food is fairly low-fat and contains easily digestible proteins to ease the burden on their aging kidneys.
There are also specialised food products available for special needs cats. If your cat has any chronic health issues, you should consult your vet about the appropriate diet to keep them healthy and happy.
The following ingredients should be avoided in cat food products:
'Meat' labelled as 'by-products', 'animal digest', and 'meal' – these are all the worst parts of the meat
Corn meal (aka maize)
Added sugars
Excessive carbohydrate fillers – some grains are good, such as barley and oatmeal, but cat food should be primarily meat based
Dry vs wet cat food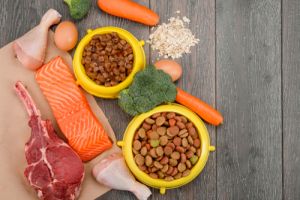 There's no clear consensus as to which type of cat food is better – dry or wet. 'Wet' cat food refers to all soft food types that come in tin cans, packets and sachets. Both wet and dry cat foods are nutritionally complete, provided they meet the Australian Standard. Dry cat food is generally considered to be good for teeth, while wet is considered good for bone and muscle development. However, it's not a huge difference between the two. In the end, the choice comes down to personal preference (of both you and the cat) and your vet's advice.
When asked which types of food they give their cats, respondents to our survey reported the following:
Dry food: 94%
Wet or tinned food: 82%
Leftovers from my meals: 20%
Other: 5%
Dry cat food (aka kibble, biscuits)
It's generally considered good to chew on something that requires a bit of work from the jaw and teeth, to keep both strong and healthy. Dry cat food can also be more convenient for pet owners – it can be left out for longer without spoiling. That means for busy owners who fill their cat's bowl quickly on the way out the door in the morning don't need to worry about the food becoming unsafe before they get home to dispose of any leftovers. While dry food is more energy dense, it also has low moisture content and can have more carbohydrate and less protein compared to wet varieties. Dry cat food is generally cheaper than wet.
Wet cat food (tins, packets, sachets)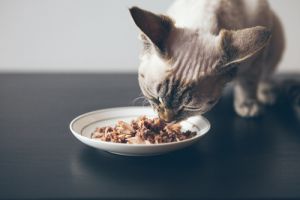 Many cats find wet food tastier. It's certainly much closer to the natural diet of raw meat. If you're concerned about your cat getting enough hydration, wet food is an easy way to increase water intake. You can even add more water and mix it into the food before serving. While content varies widely, wet cat foods generally contain more fat and protein (and fewer carbohydrates) than dry foods. However, wet food is less energy dense.
When choosing a wet food, avoid those with empty fillers such as corn and rice. Wet food spoils quickly, so it's best served under supervision so that the uneaten remains can be taken away quickly. Eating wet food that's been sitting out in the open for a few hours (particularly on a warm day) is a fast way to end up at the vet! Opened wet food should be stored in a sealed plastic or glass container (not in the tin) and kept refrigerated. It usually doesn't last more than a couple of days after opening. Wet cat food is much more expensive than dry food, so many cat owners choose to feed their cat a mixed diet of dry food and wet food.
Can cats be vegetarian or vegan?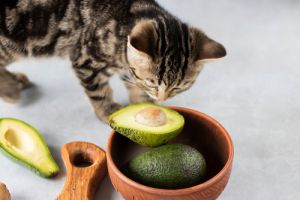 Unlike humans and even dogs, cats are obligate carnivores. They cannot get all of the nutrients they need from plant sources. There are also numerous plants that humans happily eat but can be toxic to cats. The most important nutrient that they need that cannot be sourced from vegan food is taurine. Some synthetic taurine does exist, but it's not yet clear whether or not it's a sufficient replacement for the real deal. There are some vegan pet food brands, such as Vegan Pet, which are claimed to be vet-approved. However, don't necessarily take their word for it – consult your vet. It's generally not advisable to make your cat eat completely vegetarian or vegan cat food.
Cats are vulnerable to permanent and life-threatening organ damage if they're fed an inappropriate diet. Prioritise the health of your fluffy little dependent first.
Where can I buy cat food?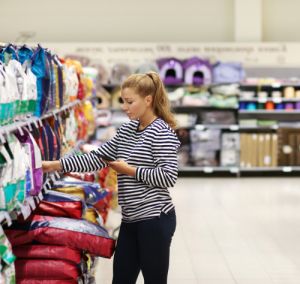 While the supermarket may naturally be considered the go-to for feeding your precious pet, as it is for humans, you should consider beyond supermarket shelves. As with many products, supermarkets don't necessarily stock the highest end or even the greatest range, although it is convenient to do your cat's grocery shopping at the same time as the human grocery shopping.
Cat food can be purchased from pet supply stores, online retailers, and sometimes direct from the manufacturers themselves. From our survey, 76% of respondents noted that they buy their pet food from the supermarket while 20% buy from a pet store and 2% buy from their vet.
It can be cheaper in the long term to buy bulk cat food online, particularly if you're buying the higher end stuff. One in 10 (12%) pet owners said they generally buy the largest capacity of food available. Just make sure that you're buying a reputable brand – do your research. If you're considering an unfamiliar brand, it's well worth your time looking for reviews and pet care forums to see what other cat carers' experience has been with the product. Your kitty's health and wellbeing are well worth your time.
About the author of this page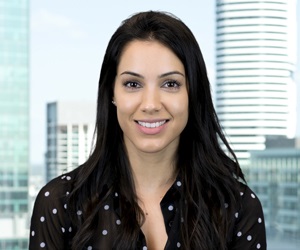 This report was written by Canstar Blue's Home & Lifestyle Content Lead, Megan Birot. She's an expert on household appliances, health & beauty products, as well as all things grocery and shopping. When she's not writing up our research-based ratings reports, Megan spends her time helping consumers make better purchase decisions, whether it's at the supermarket, other retailers, or online, highlighting the best deals and flagging anything you need to be aware of.
Picture credits: MaraZe/shutterstock.com, Impact Photography/shutterstock.com, Chendongshan/shutterstock.com, Veera/shutterstock.com, Yuriy Golub/shutterstock.com, zannaz/shutterstock.com, LADO/shutterstock.com