Masport cuts down the competition in lawn mower ratings
Mowing the lawn has long been a Sunday tradition for many Aussies, followed by sitting back with a cold drink afterwards to admire your hard work. With our climate, you can go months during winter without having to get your lawn mower out of the shed, but during the summer, many of us are out cutting the grass every couple of days to keep it properly maintained. As a result, you'll want a lawn mower that can handle the workload for when the grass gets away from you, as well as one that can handle the size and shape of your backyard.
With a number of mower types available, finding one that will make short work of your lawn can send shoppers into a head-spin, with the choice between 2-stroke, 4-stroke, electric and even self-propelled models enough for you to think about hiring someone to cut your lawn for you instead! But with 38% of respondents to our latest survey stating that they enjoy mowing their lawn, finding one that makes the job a breeze would be at the top of most people's priority list. Reliability and ease of use are crucial factors to consider, but so is quality of cut, value for money, noise emission and so on. That's why our annual lawn mower review can help you make a better-informed decision the next time you need to replace your garden mate, with our ratings based on the backyard experiences of people just like you.
Once again, we've surveyed hundreds of Aussies who have recently bought a new lawn mower to find out which brands are rated best. So, which lawn mower brand do Aussies rate a cut above the rest? In 2020, the answer is… Masport!
Best Lawn Mowers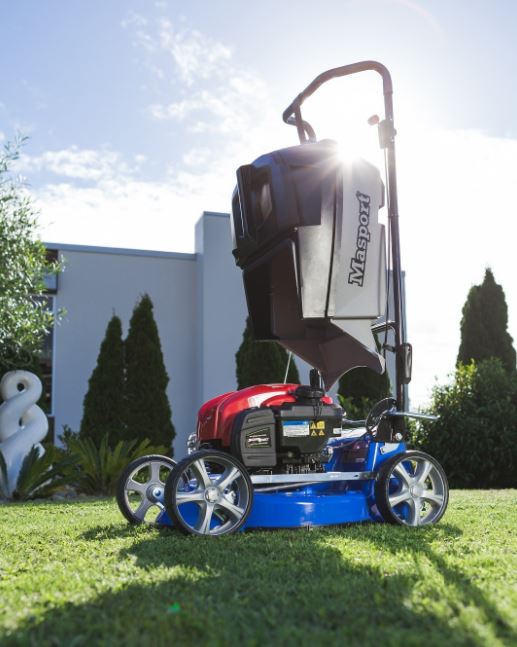 Here are the best lawn mower brands in Australia, as rated by consumers in Canstar Blue's latest review:
Masport
Ryobi
Victa
Honda
Ozito
Bosch
Masport topped our lawn mower ratings, earning five-star reviews across most research categories. These include performance & reliability, ease of use, quality of grass cut, design, maintenance & servicing, value for money and overall satisfaction.
Runner-up Ryobi got the edge over our ratings winner on noise while operating, as the only brand to receive five stars in that area, in addition to scoring full marks for performance & reliability, ease of use and design. Victa and Honda also managed to impress Aussies with their quality of grass cut, both earning five stars in that category.
Below, we cover what's available from each brand mentioned and explore others that didn't feature in our star ratings, but may still be worthy of consideration. We also spill the beans on what you should keep an eye out for when shopping for a lawn mower.
Top Lawn Mowers
Masport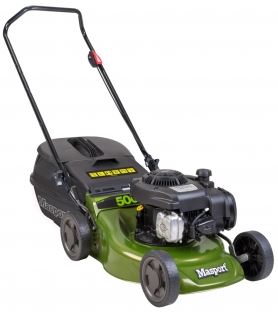 Founded just across the ditch in New Zealand, Masport has been operating for over 100 years, with the company today offering plenty of lawn mowers for households to choose from, whether you're after the traditional petrol model, an electric model, or even the classic hand mower.
Its petrol range includes three main series, including the President flagship model, which will cost you between $300 and $1,049. The introductory model, the 500 ST, comes with a steel chassis to handle rough terrain, as well as a solid plastic catcher for the clippings. With a two-blade cutting system and 16.5-inch cutting width, the 500 ST may be best suited for smaller yards, or those looking to stick to a budget.
If money is no issue, the 4000 AL may be more your speed, with a price tag of around $1,050. With a larger price tag comes larger dimensions and capacities, with a 46L catcher a prime example of the 'bigger is better' mentality. It also features adjustable wheel bearings, plus self-propelling functionality and mulching capabilities, ideal for those with larger lawns and green thumbs. With multiple height settings, you can cut the grass to your liking, saving you from mowing more frequently than you'd like.
If the President doesn't make the cut, you can check out the Contractor series, although the starting price of $999 may make some think twice before heading to the checkout. Features include adjustable wheel bearings, mulching capabilities as well as a 'Catcher Full' indicator, allowing you to ensure you're not drowning in clippings.
In addition to petrol mowers, Masport does offer an electric mower, although you won't have many models to choose from. Aptly named the 'Electric Mower', the model includes a 45L catcher and a 1600W motor, as well as a 16.5-inch cutting width, ideal for smaller yards. If you're looking to tackle an even smaller yard, you may be interested in the Cleveland 18-inch Hand Mower model, which features and old school design along with an adjustable cutting height, perfect for small strips of grass. Retailing for $269, the Cleveland won't break the budget, and won't wake up the neighbours on Sunday morning either.
Masport was rated five stars for performance & reliability, ease of use, quality of grass cut, design, maintenance & servicing, value for money and overall satisfaction. It got three stars for noise while operating.
Ryobi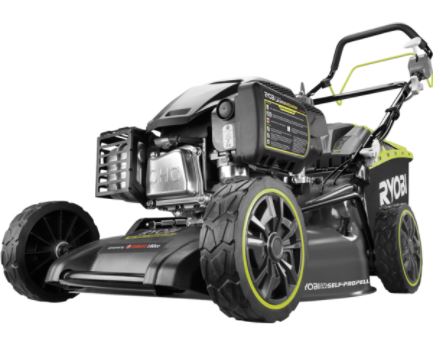 Known for a wide variety of tools, Japanese manufacturer Ryobi has a number of lawn mowers available for Aussie consumers to purchase, including both electric and petrol models. One of the more affordable ranges available on the market, Ryobi may be suitable for those hoping to stick to a budget, or for those looking for smaller models, with some Ryobi mowers available with a 13-inch cutting width.
Ryobi's petrol lawn mowers come in the 175CC series, comprising of two models, each with a 4-stroke Yamaha engine. However, the majority of Ryobi's range comes in the form of electric mowers, with 18V and 36V mowers available. Ryobi's 18V series operate a smaller cutting width – with the largest model available at 18 inches – preferable for those with smaller areas to cut, or those who have a lot of tight corners or edges to take into account.
The 36V range, in addition to the power increase, also provides a wider cutting width, ranging between 16 and 20 inches. The 16-inch mower has a catcher capacity of 50L, with five height options for a cutting range between 20mm and 70mm, while the 20-inch model bumps the height options up to seven, with a cutting height between 25mm to 75mm for your personal preferences. The 20-inch model also contains self-propelling functionality, making mowing the lawn an easier process.
Ryobi received five stars for noise while operating, design, ease of use and performance & reliability. It finished on four stars for overall satisfaction and in the remaining categories.
Victa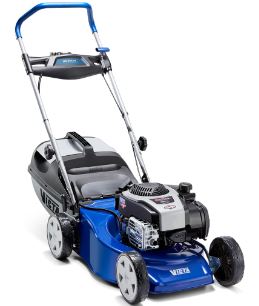 Founded back in the 1950s, the Victa lawn mower is an Australian icon, with the brand producing a variety of mowers to suit your needs, whether you have acres or metres to mow. Offering multiple series – which includes electric and self-propelled models – Victa mowers are generally priced between $300 and $1500, and are available at hardware stores and mower dealerships.
For a quintessential Aussie mower, Victa has the Classic Cut, which contains an 18-inch cutting width, with a dual-blade cutting system providing an effective way to catch the lawn clippings. Powered by a 4-stroke engine, the Classic Cut mower also features RapidStart technology for easy ignition, and is suitable for backyards 200m² in size.
The Ultralite may be suitable for those with tight corners – or have issues with heavier models – with the lightweight steel chassis trimming down the mower's weight, making it much easier to push around the backyard. Including similar height and width specifications as the Victa Classic Cut, the Ultralite should still be able to get the job done, with less effort.
For those after an electric lawn mower, Victa offers both a 40V and 82V cordless range, with each series including at least two model types. Powered by Lithium-Ion batteries, the 40V mower can cut through a 360m² backyard with a single charge, Victa claims, whereas the 82V mowers have a run time of up to 45 minutes. With additional batteries also available for separate purchase, Victa offers work-arounds for larger backyards, or for those who let the yard grow wild.
Victa earned five stars for its quality of grass cut and four stars in the majority of categories, except noise while operating where it got three stars.
Honda
Better-known for manufacturing cars, Honda also sells a variety of tools, including both electric and petrol-powered lawn mowers to help you cut through your weekend chores. Honda's electric mower, the (HRX217HZU) Electric Start, is priced at around $1,500 from select retailers and features a key start function, removing the need for 'plug-in' charging like other battery-operated or electric mowers.
If you're after a petrol model, Honda has plenty to offer, ranging in price from $700 up to over $1,700. Honda's introductory model, the (HRS216PKU) with side chute, has a 21-inch cutting width, with six adjustable height settings between 30mm and 100mm for a cut tailored to your preferences. Honda's other petrol mowers – the HRN and HRU ranges – all contain a catcher for grass clippings, with the HRN offering a larger cutting width. Another difference comes from the chassis, with the HRU made with lighter aluminium alloy, while the HRN is constructed from sturdy steel.
Honda got five stars for quality of grass cut and four stars in the majority of other categories. The only exception was value for money, where it landed on three stars.
Ozito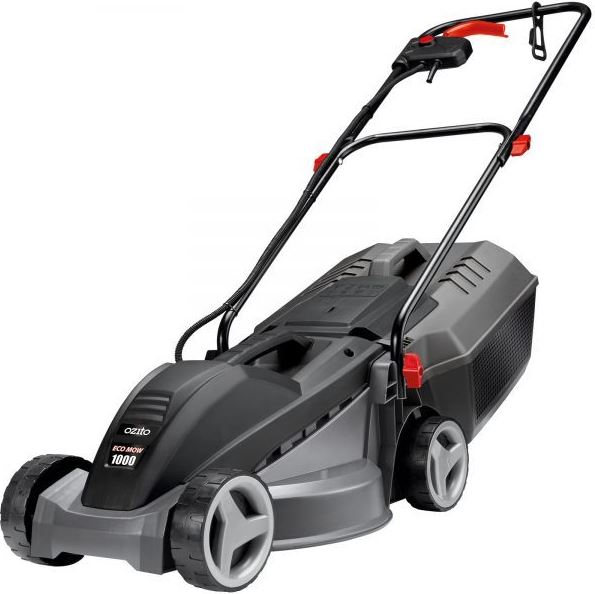 Sold exclusively through Bunnings Warehouse, Ozito mowers have been on the market since 1993, with the brand offering electric and hand models only. While you may be out of luck if you were after a petrol model, Ozito's electric mowers could be able to win you over with one of the cheapest ranges available, costing between $100 and $200.
Ozito's electric mowers come in a range of motor sizes, including 1000W, 1400W and 1500W options for all yard types. Known as the Ecomow range, all include safety features to ensure no accidental start-ups occur. With a folding handle for easy storage, and a catcher with up to 38L in capacity, the Ecomow range will be able to tackle small and medium-sized lawns.
Ozito's hand model, the Push Reel mower, would be a suitable option for those with a smaller yard, with the model containing self-sharpening blades for reduced maintenance, as well as slip-resistant wheels to ensure easy use, regardless of the weather. The Push Reel also has an adjustable cutting height between 14-42mm for a close cut, with a 300mm width cut able to make short work of narrow areas.
Ozito was rated four stars for ease of use, value for money and overall satisfaction. It got three stars in the remaining categories.
Bosch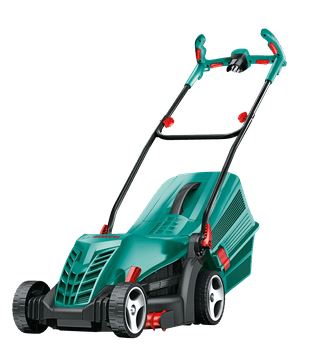 Known for a variety of household appliances, German manufacturer Bosch has also ventured outdoors to offer two lawn mower models − the ARM 37 and CityMower 18. Both feature the Ergoflex System, with adjustable handles for improved body posture while you mow, as well as an easy-grip handle.
With cutting heights of between 20mm and 70mm, the cutting width will vary between 14 and 16 inches depending on the model. Both models also feature a Powerdrive motor for a cleanly cut lawn in no time.
Bosch rounded up the results with three stars across the board.
Other lawn mower brands
While the six brands featured in our 2020 review can be considered some of the biggest around, there are others on the market that may be worth a look. These include:
ALDI Gardenline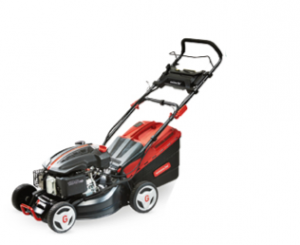 Part of the supermarket chain's Special Buys, you'll only be able to get your hands on a Gardenline Lawn Mower at select times throughout the year. While it may not have the same range size as other brands, if you're looking for a no-frills model, or you're simply after an affordable lawn mower that you can pick up with the bread and milk, ALDI may be best the option for you.
ALDI's petrol model includes a 161CC 4-stroke engine, with an 18-inch cutting width, suitable for smaller to medium-sized lawns. Other features include a 55L catcher, as well as seven adjustable heights to find the best length for your lawn, with ALDI generally selling this petrol model for under $200.
For those after an electric model, ALDI has also previously released a 2x20V cordless lawn mower, which features an adjustable handle for easier use and storage, as well as an integrated battery indicator to let you know when you're running on empty. With its brushless motor, the cordless mower has a 14.5-inch cutting width, ideal for smaller lawns, as well as an adjustable height of 25mm to 75mm, allowing you to give your lawn the look you want. It's worth noting, however, that ALDI's lawn mowers can change from one year to the next, so this summer's releases may look a bit different.
Makita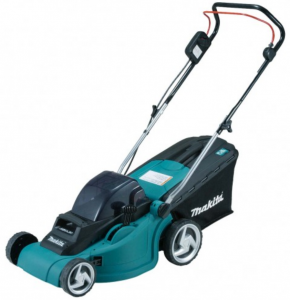 Founded more than a 100 years ago, Japanese manufacturer Makita offers a smaller range of mowers in comparison to other brands, but still enough for those after either a petrol and electric model. Makita's electric range consists of several cordless models, suitable for small to medium sized yards. The smaller model, which features six height settings and a 15-inch cut width, comes with a 40L catcher and has a runtime of just 17 minutes and there's another Makita electric model which consists of up to 13 height settings and a 17-inch width cut, more suitable for larger areas.
Makita's petrol range includes engine sizes between 140CC and 190CC, with 18-inch and 20-inch width cuts available. All petrol mowers include mulching capabilities to help with the gardening, in addition to a 60L catcher and an adjustable cut height between 20mm and 75mm.
Rover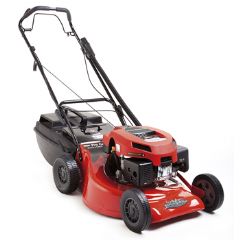 Operating within Australia for more than 60 years, Rover has a wide selection of lawn care products, including lawn mowers for every backyard type and size. Focusing on traditional petrol models, Rover has a competitively priced range, with the basic models starting from just $469 and the most expensive mowers costing over $2,600.
Rover's range predominantly features the Duracut and Pro Cut series, with the Pro Cut featuring larger engines and cutting widths, with additional features also including mulching plugs, larger catchers and self-propelled models. You can pick from the Steel Deck and Alloy Deck for a choice in manoeuvrability and weight, which may be worth exploring if you have to push your mower up a hill or if you have tight corners to deal with.
Things to consider when buying a lawn mower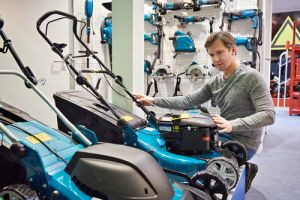 Like anything with a motor, there's plenty to consider when it comes to buying a new lawn mower, particularly as it could transform your lawn from jungle to award-winner. In addition to your budget, factors such as your lawn size, lawn variety and how often you're looking to mow will all influence what type of mower you purchase.
Height Settings & Cutting Width
An obvious area to consider is the cutting capabilities of the mower. All brands will list at what height the grass will be cut, as well as the variable height adjustment that each model is capable of. The more adjustable the height settings are, the more options you will have when it comes to mowing the lawn, meaning you'll get the cut you want, as well as giving your grass the attention and care it needs to grow properly.
Cutting width is also something to take into account, with the larger the width, the more you can cut in one go. The only trade off, however, is that with a larger width, manoeuvrability might become an issue for some, with larger widths also not suitable for smaller spaces.
Electric vs Petrol
The power source will also play a part in your decision process, as while it may seem a simple choice between petrol and electric motors, each has other aspects to consider. For petrol models, this includes choosing between a 2-stroke and 4-stroke model, which require different fuel types to run, and usually a trip to the petrol station to refuel.
Electric mowers are available in both cordless and corded models, which means you can either have one powered by a battery or powered by electricity through your home's wall socket. Buying a corded model means having to consider where you wall sockets are, as well as possibly carrying around an extension cord while mowing, which can present problems if you accidently run over it! Similarly, cordless models may also run out of charge before you finish mowing, leaving you with a half-finished job. Only 25% of survey respondents stated that their lawn mower's power lasts long enough to mow their entire lawn, meaning looking into the battery capacity and charging time can save you from standing around.
Features
Other areas to consider include features such as mulchers, catcher capacities, ergonomic handles and adjustable wheel bearings, as each may make your time outside more comfortable, particularly if you have a big lawn. Each feature may cost you a bit more, but may be worth it when it comes to comfort and convenience. With survey respondents spending just over $630 on their lawn mower purchase, and their previous mowers lasting nearly nine years, forking out for your next purchase may save you in the long run.
You may also be interested in:
Which lawn mower should I buy?
With plenty of brands and models to consider, which mower you end up unleashing on your lawn will come down to a variety of factors, as well as what you want your lawn to look like at the end of the day. Those with a bigger lawn may be better suited looking at models with a wider cutting width as well as larger motors or batteries to ensure the job gets done, while those with a garden on a slope may find a self-propelled model the best fit. If you're a bit of a green thumb, a mower with mulching capabilities may also be your best option, allowing you to take proper care of your lawn, while those with a small patch may even consider a hand mower.
Every backyard is different, and there are plenty of model types and brands to consider, so doing a bit of research into lawn mowers could potentially save you money in the long run, as well as save you time mowing, meaning there's more time to enjoy your lawn with that cold drink. And if you're looking to get the edge over your neighbours, be sure to check out our guide to whipper snippers to ensure your yard is a cut above the rest.
About the author of this page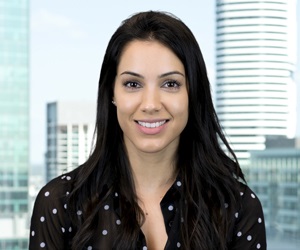 This report was written by Canstar Blue's Home & Lifestyle Content Lead, Megan Birot. She's an expert on household appliances, health & beauty products, as well as all things grocery and shopping. When she's not writing up our research-based ratings reports, Megan spends her time helping consumers make better purchase decisions, whether it's at the supermarket, other retailers, or online, highlighting the best deals and flagging anything you need to be aware of.
Photo Credit: Sergey Ryzhov/Shutterstock.com.