Summer is well and truly turning up the heat – and let's face it, those portable fans just aren't cutting it. Here's a crazy idea; it's time to get cracking on that brand-new swimming pool you've always wanted!
Logistically, building a pool in your own backyard is a lot easier said than done, and after months of research, planning, purchasing (a pool is no cheap venture) and the actual building process, your pool might be ready in time for summer next year. It may be an effort, but the payoff is big – you'll be making everyone jealous as you sip on cocktails and float down your new pool on your blow-up flamingo (either that or it'll keep the kids occupied!). We'll cheers to that. But this Aussie lifestyle comes at a cost. Read on to find out how much.
Building a pool: Where to start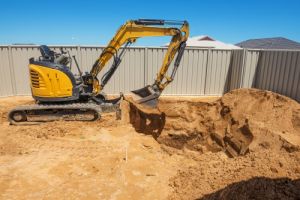 Okay, you're committing to a pool. But before any building takes place, a lot of planning and research needs to be undertaken, which all impacts on the cost of your pool. Here are some things to consider before diving in and taking the plunge:
Location: Where exactly can you build your pool in your backyard? Do you have a flat chunk of land or does prior work need to be done before a pool is even considered? This will add to your costs.
Specifications: You will need to consider size, shape and style to suit both the land you have available and your personal situation. For example, if the pool is just for splashing around, it probably won't be as large as 50 metre pool for training and swimming laps – it's all about what you want and what you can achieve in the land that you have!
Budget: How much are you willing to spend on a pool? It's a good idea to sit down and decide on a budget before you make purchases or other major decisions. Pools can easily escalate to ridiculous costs, and a pre-set budget will help to keep everything on track.
Safety: Any obstacles that pose a risk to the safety of the building of the pool, or the surrounding space, must be eliminated before building can commence.
Council requirements: You need to do your research when it comes to the council and building pools – different areas have different rules and regulations and in most cases, you will need to obtain a permit. Pool fencing is also mandatory now (we will go into more depth on that later).
What type of pool do you want?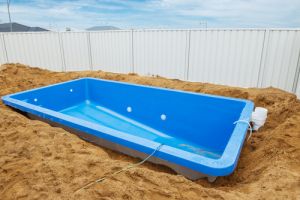 An important decision to make early on is whether you want your pool to be above or in-ground – this will greatly impact the cost of building, materials, maintenance and various ongoing costs and necessary accessories.
In-ground pools
These are typically much more expensive, as they are constructed and installed into the ground to create a permanent structure.
The installation of in-ground pools can range between $20,000 to $100,000.
This is merely for the installation of the pool, and doesn't factor in other building projects such as paving around the pool or decks, which can cost anywhere between $1500 to $5000.
Above ground pools
Above ground pools are usually much cheaper because you aren't doing any digging – but there are a lot of other costs to factor in.
For example, simply purchasing a decent temporary blow up swimming pool for the back yard can cost as little as $100, but the proper installation of a permanent above ground pool with a building structure can cost up to $20,000.
Just like in ground pools, additional building costs such a decking, concrete slabs etc. can drive up the overall amount of money you will be spending on your pool.
Materials and installation costs
The material that you chose to have your pool built with is another major factor and a decision that should be taken with a grain of salt. These are the most common materials used:
Fiberglass
Used primarily for in-ground swimming pools. According to Compass Pools, the entry level for professionally-installed fibreglass pools cost an average of $25,000 to $35,000, but could climb to $50,000 or more.
This range, of course, depends on the conditions of your site, the style, and size that you have chosen and other personal factors and choices. Fibreglass pools are also much quicker to install, so if you're keen to get the ball rolling this is a great choice.
Concrete
These are the most expensive option – installation of a concrete pool averages at approximately $50,000, but can cost anywhere between $30,000 and $100,000. They might be pricey, but they give you much more flexibility on size and shape.
Vinyl liner
These are the cheapest option, and you can use this material for building both in ground and above ground pools. For above ground pools, vinyl liner pools cost around $10,000, and for in ground it costs anywhere between $20,000 and $50,000, but on average usually around the $35,000 mark.
This option is not usually as popular for in ground pools as the liner needs to be changed every 8-10 years – expect to pay $3000 to $4000 for the repair.
Fencing/landscaping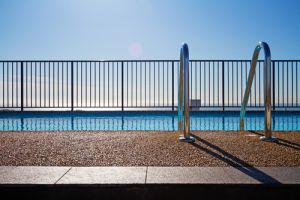 It's now the law throughout Australia that you must have fencing surrounding your pool – and that's an expensive addition to your growing list of costs. Obviously, the bigger your pool, the more fencing you will have to build, and the higher the cost, along with the material of the fence you choose to go with. According to Hipages, here's what you can expect to be quoted:
Semi-frameless glass pool fencing – $200 to $275 per linear metre.
Pine timber slate fence – $200 to $350 per linear metre.
Frameless glass pool fencing – $275 to $600 per linear metre.
Wrought iron fence – $450 to $600 per linear metre.
It's important to remember that you are not just building a swimming pool; you are building an entire space. Decks, paving, and garden landscaping are also huge expenses which often get left behind in the budget. A good quality deck will greatly improve the value and aesthetic of your pool area, but it is true that they can be pricey.
Prices to look out for
According to service seeking, the cost of building a deck ranges from $3,400 to $9,000 (which obviously fluctuates depending on size).
Price per square metre is usually between $160 and $220 per square metre, but can reach highs of $900 per square metres in larger decks.
Pavers usually range anywhere between $40 to $100 per square metre, plus $20 to $100 an hour for labour costs (or $0 labour costs if you give it a crack yourself!)
Landscaping your garden can be done on a very small budget if you do it yourself, or if you hire a landscaper expect to pay an average of $50 an hour (but can get up to $350 for larger projects!).
Equipment and ongoing costs
You didn't think we were done yet, did you? Oh no, there is still more expenses that you need to take into consideration, as well as ongoing maintenance (owning a pool is like having a child – there will be ongoing costs for the rest of your life).
Pool covers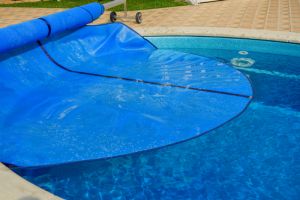 An important aspect in the upkeep and maintenance of your pool, covers don't come cheap. They come in a range of different materials to suit your climate, style and personal factors, and you will need to do your research before you make the big purchase. It's almost impossible to place a price on each cover, as quotes are generated by suppliers after an analyse of your own pool – but they can range anywhere between $60 for above ground winter covers to $10,000 for automatic covers and installation.
Pool pumps
These play a major part in keeping your pool running, clean and safe for use – but are an investment in themselves. Running a pool pump can cost households at least $800 to $1,200 annually – and that isn't even including heating or extra spa luxuries. The actual pool pump is not cheap either – expect to fork out anywhere between $150 to $800. If you're looking to spice up the pool with a heater, expect to add on an extra $75 or so to your electric bill every month.
Pool vacuum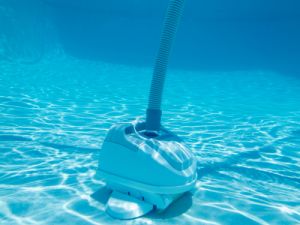 A vacuum is another important aspect you will need to invest in – more so for summer when the pool cover won't be on as much. These can range anywhere between $400 for a basic vacuum to $1,500 for more high-end cleaners. They may be costly, but once they are set up in the pool they require very little attention and keep the pool looking great all year round.
Chemical levels
You will need to make sure you are controlling the salt and chemical levels in your pool (we don't want anyone's hair turning green!). This can easily be done with annual tests to ensure your levels are safe, which can be done professionally for roughly $100 to $200.
If there is anything we learnt today, it's that pools are expensive. But, if you live in a warm climate they are definitely worth it – start saving now and look forward to saying hello to your new pool!