Australia is home to some of the most unique wildlife in the world, with kangaroos, wombats, koalas and plenty of other cuddly creatures not found anywhere else. Unfortunately, Australia is also home to many less cuddly creatures, such as spiders, snakes and all other types of insects, most of which have a habit of making themselves comfortable in your home.
While there are plenty of tips, tricks and old wives' tales to keeping unwanted guests outside, many Aussie homes turn to fly screens to keep bugs and other creepy-crawlies out without interrupting a cool breeze or a breathtaking view. But as handy as they are, there is plenty to consider when installing a fly screen, particularly if you're looking to cover large doors and windows. If you're sick of being bugged by, well, bugs, then read on to find out what to look for when purchasing fly screens.
Types of fly screens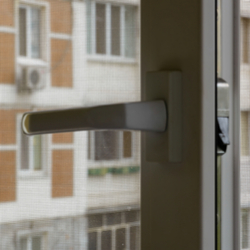 While at first inspection, all fly screens seem to be cut from pretty much the same cloth, consumers may be surprised to find that there's plenty of variety when it comes to the simple screen. Below are a few of the materials and types you might find at your local hardware store, with each potentially more suitable to your home, and the bugs you're looking to escape from.
The main point of difference when it comes to fly screens is the material they are made of, as well as how small the mesh is. Below is a list of popular fly screen materials:
Fiberglass – sometimes referred to as nylon mesh, fiberglass is popular as it doesn't corrode, rust or stain, but stretches and tears easier than other materials.
Aluminum – more durable than other materials, aluminum screens can unfortunately dent and crease easily.
Stainless steel – stronger than aluminum, stainless steel fly screens are recommended for homes in bushfire areas.
Solar – popular for areas where sun protection is needed, solar screens additionally block and absorb heat while also providing shade, making them ideal for areas near porches and verandas.
Pet screen – made from vinyl-coated polyester, pet screening is tougher to ensure your furry friends don't ruin your screens.
Sandfly screen – designed with a smaller weave to give you some respite from midges, specialised sandfly screens are ideal for those close to the beach.
If you're after a specific style or aesthetic, most installation providers offer additional options for you to choose from, ensuring you get the best fit for your home.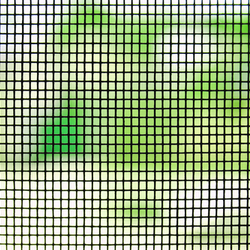 Another aspect that you'll have to consider when purchasing a fly screen is the weave of the screen itself, as there's no point buying a screen that insects can still squeeze through. The weave refers to how many strands are in a square inch, ultimately creating the spaces within the screen. Some materials are only available in set weaves, although this may depend on your local retailer.
As a general rule, the tighter the weave, the less likelihood that something can get in. The trade off is that tighter weaves may interrupt your view, so be sure to look at all your options before heading to the checkout.
Retractable screens
Alternatively, households can look at installing retractable screens for something that isn't as permanent as a traditional fly screen. While they work similarly to other fly screens – in that they keep those pesky insects outside where they belong – retractable screens can be stored away when they're not needed, making them a handy option for those who prefer open windows.
Operating on a track, retractable screens can be pulled in place either manually or through a motorised system, with a housing unit to the side for when you don't need the screen in place. There are a number of styles and sizes available, although this will depend on which screen supplier or retailer you purchase through, but may be worth looking into if you can't commit to having a fly screen in place all year round.
Where can I buy fly screens?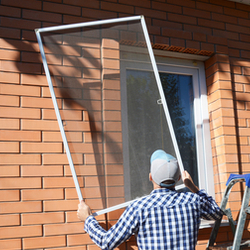 Fly screens are available for purchase and installation through select retailers and providers, with plenty of handyman services generally equipped to help with certain installations around the house. However, if you're unsure about which screen type is best for your house, it's best to go with a trusted provider to ensure you're not stung by any hidden costs.
If you're looking to do-it-yourself, hardware stores sell rolls of fly screen mesh in a number of sizes and weaves, meaning if you have the time and the skills, putting up a fly screen can be one of those chores you can tick of your to-do list over the weekend. However, you'll generally have to buy or build a frame, which means it may turn into a bigger job than what you anticipated. But if you've got the time – or like getting hands on – doing it yourself may be a better option for you.
Are fly screens worth it?
Considering how unforgiving the Australian climate can be, it's not surprising that insects try to take up residence in your home. While common practice is to have fly screens in Australia, it will come down to your personal situation, with factors such as location, climate and what insects you're dealing with all likely to impact your decision. While some mosquito repellent or bug spray might be all you need to survive the summer months, having a fly screen may be the more convenient option.